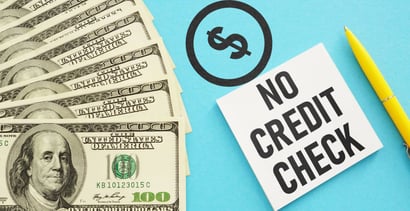 If you have bad or limited credit, I can imagine your eyes widening as you come across this article. Can you really get a slam-dunk loan with no questions asked?
Well, no, but we'll explore the closest possible option. The loan services in this review guarantee instant prequalification decisions without credit checks. That doesn't mean you'll receive final loan approval, but it's a good start. 
The reviewed online loan networks can find personal or payday loans without checking your credit, although some direct lenders may do so. The networks cater to consumers with fair, poor, or non-existent credit, charge nothing for their services, and can help you obtain funding as soon as the next business day.
Guaranteed Loans With No Credit Check
The following networks can match you to one or more direct providers of installment and small payday loans online without a hard credit inquiry. To prequalify, you must be a US citizen or permanent resident, 18 or older, with a steady income, bank account, email address, and phone number.
MoneyMutual gives you access to a network of lenders willing to compete for your business. It can link you to a direct lender that provides installment loans or payday cash advances of up to $5,000.
You can receive your money in as little as 24 hours upon final approval. Your lender will explain the interest rate, fees, and repayment requirements before you accept the loan. MoneyMutual is not available in New York and Connecticut.
The SmartAdvances.com network can find you one or more loan offers without checking your credit. Lenders determine the borrowing terms, including the loan amount, monthly payment, number of installments, interest rate, and fees. You should read and understand the online loan agreement before accepting an offer.
A direct lender will deposit your loan proceeds into your checking account and automatically collect payments from there. SmartAdvances.com supports honest lending practices and is a member of the Online Lenders Alliance.
The BillsHappen® network of bad credit lenders can deposit cash into your bank account as soon as tomorrow. When prequalifying your loan request, the company can find you multiple loan offers for $500 to $5,000 without a credit check.
You must be employed, self-employed, or receiving benefits to prequalify for a loan. You'll also need a valid state driver's license and Social Security number. The network uses the latest SSL technology to keep your information private and secure.
Guaranteed Loans That May Require a Credit Check
The following loan-matching networks don't check credit, but the lenders they find may pull your credit reports for personal loans (not payday loans). All guarantee an instant prequalification decision when you submit a short loan request form.
24/7 Lending Group declares, "When evaluating your request, most loan providers must perform a hard credit inquiry. Those loan providers will ask for your permission before doing so."
Even so, the network of direct lenders works with all credit scores and incomes, and you are never obligated to accept a loan offer. Submitting a loan request form is free, and you can compare the rates and terms of competing loan offers in just minutes.
CashUSA.com can connect you to direct lenders for quick loans up to $10,000. Expect a fast loan decision and funding — you may collect your loan proceeds as soon as the next business day.
CashUSA.com provides a free service, but interest rates, fees, and loan terms vary by lender. You must have a reliable monthly income of $1,000 or more to qualify. Loan repayment periods range from three to 72 months. 
BadCreditLoans.com has been finding lenders for subprime borrowers since 1998. It provides an option for no credit check loans and specializes in helping consumers with poor or thin credit. Its service is free, but it may receive compensation for sharing your information and marketing non-loan products.
Loans range from $500 to $10,000 with repayment terms of three to 60 months. You can apply for an installment loan, payday loan, secured loan, or other types of loans.
CreditLoan.com can match you to a lender that provides small loans to subprime borrowers. Since 1998, the company has helped more than 750,000 consumers arrange loans.
Its website features a helpful loan calculator to estimate monthly payments. Your direct lender sets the APR and terms if you qualify for a cash loan. 
PersonalLoans.com may find you a no-credit-check loan of $500 to $35,000 with repayment periods of three to 72 months.
This lending service operates in all 50 states. Direct lenders on the PersonalLoans.com network can approve quick loans and fund them as soon as the next business day. You can apply for personal, bank, and peer-to-peer loans.
What Are No Credit Check Loans With Guaranteed Approval?
Let's be clear: The reviewed loans guarantee fast prequalification decisions — we don't know of any lender that approves 100% of applicants. None of the networks check your credit when matching you to a direct lender. It's up to the network's direct lenders to decide whether to pull your credit reports, which hinges on the type of loan you request.
Personal loan providers usually check credit but may consider other factors such as income and recent credit history. The typical reasons for rejecting a bad credit personal loan revolve around recent negative events, such as bankruptcy, tax liens, debt collection, or foreclosure. You must satisfy the lender's financial requirements, as described below.

Payday lenders have a different set of requirements. They aren't concerned with your credit score, relying instead on you having sufficient cash inflows to fund your payments. Your income can come from job earnings, alimony, child support, and/or governmental benefits. 
For employed borrowers, payday lenders typically require a work history of 90 days or longer at your current job. You may have to provide proof of income in the form of pay stubs, bank statements, or tax returns. 
How Do No Credit Check Loans Work?
The reviewed loan-matching services operate similarly. They use networks of personal and payday loan providers that welcome subprime borrowers.
Loan-Matching Services
The reviewed websites find direct lenders willing to entertain your loan request even if you have bad credit. The reviewed companies:
Do not provide direct loans or have any control over the loan terms from the direct lenders in their networks.
Accept your request online and use it to prequalify you for a loan. The loan-matching services submit your request to one or more lenders if you meet the prequalification requirements.
Don't perform hard credit checks, so submitting a loan request doesn't hurt your credit score.
Charge no money for their service. Instead, they earn a finder's fee from a direct lender if you agree to a loan.
Using a loan-matching service frees you from trying to find suitable lenders and makes it easy to compare offers. 
Personal Loans
Unsecured personal loans do not use collateral. Instead, they rely on the lender's estimation of your creditworthiness. A personal loan is an installment loan, and you make fixed monthly payments over the loan term (typically three to 72 months). You can reduce your monthly payment by accepting a longer repayment term, but doing so increases the total cost of the loan.
You accrue interest on your unpaid balance and can repay the loan early, typically without penalty. The APR on a bad credit personal loan is usually capped at 36%.
Most direct personal loan providers check your credit when you apply. These credit checks have a minor impact on your credit score and remain on your credit report for two years (but affect your score for only one year).
Payday Loans
Payday loans charge high interest rates, up to 700% or more). These are small, short-term loans, so the high APR applies for only a few weeks unless you roll the loan over. Payday lenders seldom check credit, instead relying on your income to fund your payments.

Payday loan amounts rarely exceed $1,000. Typically, you must repay the loan in full on your next pay date. If you can't afford to repay the loan when due, the lender may offer you a rollover — a loan extension in which the lender adds the accrued interest and a late fee to your loan principal. The new due date is your next pay date. 
Repeated rollovers are dangerous because they could create a debt spiral that forces you into bankruptcy.
Online and storefront payday loans differ in several ways:
Repayment: A storefront payday lender may ask you to write a post-dated check to cover the amount due on the payment date. Online payday lenders access your checking account to deposit the loan proceeds and then withdraw the repayment amount on the due date.
Speed: You can collect your money from a storefront payday lender in minutes, which is helpful if you need an emergency loan. An online lender almost always requires at least one business day to deposit the loan proceeds into your checking account.
Safety: You can arrange an online payday loan in a comfortable and secure location, such as your home or office. If you travel to a storefront payday lender, you could be vulnerable to prying eyes and people who know you a significant amount of cash.

Payday lenders serve consumers who have limited or poor credit. If you have a choice between a payday loan or a personal installment loan, you'll avoid astronomical interest rates with the latter.
What Are the Requirements for a No-Credit-Check Loan?
The loan-matching networks enforce initial requirements to prequalify your loan request. Their prequalification criteria require you to be a US citizen or permanent resident, at least 18 years old, with a valid Social Security number or tax ID number. You must collect a specified minimum monthly income, own an active checking account in your name, and have a working phone number and email address.
Typical Requirements for a No-Credit-Check Loan
Be a US citizen or permanent resident at least 18 years old
Have a valid Social Security number or tax ID number
Own an active checking account
Maintain a specified monthly income
Have a working phone number and email address
Each lending service sets a minimum monthly income requirement, which may begin as low as $500.
Once you prequalify, direct lenders may want additional information about your sources of income, employment status, outstanding debts, and monthly housing costs. Some personal loan providers may require a minimum credit score.
Note that MoneyMutual arranges payday and personal loans. Other lending networks may specialize in just one loan type. 
What Are the Easiest Loans To Get With a Bad Credit Score?
The easiest loans don't require a credit check. Here's a of each loan type and why they may be easy to obtain:
Each loan has specific features that make it more accessible than traditional bank loans, especially if you have a limited credit history and immediate cash needs. But consider the high interest rates and risks associated with some of these loans (especially payday, pawn, and title loans) before proceeding.
Are No Credit Check Loans Legitimate?
We believe all the reviewed loans are legitimate, whether or not they require a credit check. However, there are dozens of competing lenders, so we've created this chart to help you assess their legitimacy:
| FACTOR | EVALUATION METHOD | IMPORTANCE |
| --- | --- | --- |
| Lender's Reputation | Research online reviews (such as this one), check for accreditation (e.g., the Better Business Bureau), and assess market presence | A reputable lender is more likely to offer legitimate and fair loan terms |
| Interest Rates & Fees | Compare rates with industry standards, check for hidden fees | Extremely high rates or hidden fees are red flags for predatory lending |
| Loan Terms | Read the fine print for repayment terms, penalties, and flexibility | Clear and reasonable terms indicate a fair loan agreement |
| Regulatory Compliance | Use the internet to verify the lender's compliance with state and federal lending laws; check for pending legal actions | Compliance ensures the loan is legal and adheres to established financial guidelines |
| Transparency | Assess how openly they communicate about fees, terms, and obligations | Transparency is key to understanding what you agree to |
| Customer Service | Evaluate the ease of getting support and the quality of customer service | Good customer service indicates a lender that values its clients |
| High-Pressure Tactics | Be wary of aggressive sales pitches, urgency to sign, or pressure to borrow more than you need | High-pressure tactics indicate a lack of concern for your best interests |
Inappropriate demands and unrealistic promises can often signify predatory lending practices. This behavior is not in your best interest, and you should consider finding another lender.
How Much Money Can I Borrow With a No Credit Check Loan?
The amount of money available from a no-credit-check loan depends on several factors, including the following:
Lender's policies: Many no-credit-check loans are small, short-term loans. These can range from a few hundred dollars up to a few thousand. Some lenders may offer larger amounts, but these are less common and often come with higher interest rates and more stringent repayment terms.
Type of loan: Small payday loans (usually $500 or less) are short-term loans to cover expenses until the following payday. Installment loans can offer larger amounts than payday loans. You repay them over a longer period in fixed, scheduled payments. Title loans may offer more funds, but you risk losing your vehicle if you default.
Your financial situation: Lenders will consider your income to determine how much you can borrow. They want to ensure that you have the means to repay the loan. Lenders may be cautious if you have other significant debts. 
State regulations: Some states have laws limiting the amount you can borrow or the interest rates lenders can charge on no-credit-check loans.
Lender's risk assessment: Since individuals with poor or no credit history often apply for no-credit-check loans, lenders may minimize their risk by limiting the amounts they offer.
The bottom line is that no-credit-check loans are usually small unless you provide collateral. Overall, the best solution is to improve your bad credit score by paying your bills on time and keeping your debt levels low. With an average or good credit score, you'll no longer need to resort to no-credit-check loans.
What Are the Interest Rates for No Credit Check Loans?
No-credit-check loans tend to be small and relatively expensive, especially if unsecured. Due to the lender's increased risk, interest rates for no-credit-check loans are typically higher than those for traditional loans. 
Since these loans cater to individuals with poor or no credit history, lenders compensate for the risk of default by charging higher interest rates, often ranging from around 15% to more than 300%. 
Payday, title, and pawnshop loans have exceptionally high fees and rates, sometimes equivalent to an APR of several hundred percent. Smaller, shorter-term loans with no credit check generally have higher APRs.
Some states have laws capping interest rates for payday and other short-term loans. In fact, a few states outlaw payday loans altogether.
By comparison, online unsecured personal loans may have APRs ranging from single-digit percentages up to about 36%.

High rates can make no-credit-check loans extremely expensive, especially if you can't repay the loan promptly. You may fall into a debt spiral if you miss a due date and must pay additional fees to extend the loan.
To save money, you may want to consider more affordable loan sources, such as your 401K, friends or family, assistance from community organizations, or low-income lending programs.
How Quickly Can I Get Funds From a No Credit Check Loan?
Many online lenders (including all those reviewed) offer quick processing times and same-day or next-business-day funding. Online platforms are speedy because they use automated systems for loan approval decisions and fund disbursement. 
Electronic funds transfers and money wires can occur instantly, but the time it takes for the money to become available depends on your bank's processing times, which can vary.
For immediate access to cash, you can use a lender that operates out of physical locations, such as a payday loan store, pawnshop, or title loan car lot. 
Be aware that applying outside standard business hours or on weekends and holidays can delay the process. Disbursement speed depends on how quickly you can provide the required documentation and meet the lender's conditions.
What Should I Consider Before Applying For a No-Credit-Check Loan?
Rushing into a loan agreement can be a mistake if you don't take the time to consider critical factors that may impact your finances in the long term. The following chart summarizes these factors:
| FACTOR | DESCRIPTION | REASON FOR CONSIDERATION |
| --- | --- | --- |
| Interest Rates and Fees | High interest rates and additional fees (such as origination fees and late fees) | To understand the total cost of the loan and assess if it's financially manageable |
| Repayment Terms | The length of the loan and the schedule for repayment | To ensure the repayment schedule fits into your budget |
| Lender's Reputation | Research the lender's background, customer reviews, and any legal complaints | To verify the credibility and trustworthiness of the lender |
| Loan Amount | The amount of money you're borrowing | To avoid borrowing more than needed, as larger loans have higher risks and costs |
| Financial Impact | Impact on your overall financial health, including potential debt spirals | To avoid getting into a situation where the loan worsens your financial challenges |
| Credit Check Alternatives | Other credit check alternatives or financial assistance that may be available | To ensure you're choosing the best financial solution for your situation |
| Potential Consequences | Late payment penalties, impact on credit score, and risk of debt accumulation | To be aware of the potential adverse outcomes if you're unable to repay the loan as agreed |
| Emergency vs. Non-Emergency | Whether the loan is for an emergency or a non-urgent expense | To assess the necessity of the loan and explore other options for non-urgent expenses |
| Collateral Requirements | Whether the loan requires collateral (as in title loans) and your risk of losing the asset | To understand the risks involved, especially in secured loans that can result in the loss of personal assets  |
| Potential Scams | Aggressive sales tactics or urgency from the lender; unclear terms; unbelievable claims | To avoid rushing into a decision that's not in your best financial interests |
Please consider these factors thoroughly to ensure you make an informed and financially sound decision. No-credit-check loans can be helpful in specific situations, but you must weigh their potential impact on your current and future economic well-being.
On the other hand, the availability of these loans can be a real lifesaver if you obtain a reasonable offer. The reviewed loan networks are an excellent place to start.
You Are Only Minutes Away From a Bad Credit Loan
We hope we've shown that poor credit shouldn't prevent you from borrowing money. The reviewed loan-matching networks cater to consumers with bad credit and arrange no-credit-check loans with next-business-day funding.
We've also made clear that rushing into any loan can create significant and unexpected challenges. Knowledge is the best defense against committing mistakes when borrowing money. Diving into the details takes a little time, but you'll thank yourself if you avoid loans that do more harm than good.
Advertiser Disclosure
BadCredit.org is a free online resource that offers valuable content and comparison services to users. To keep this resource 100% free for users, we receive advertising compensation from the financial products listed on this page. Along with key review factors, this compensation may impact how and where products appear on the page (including, for example, the order in which they appear). BadCredit.org does not include listings for all financial products.
Our Editorial Review Policy
Our site is committed to publishing independent, accurate content guided by strict editorial guidelines. Before articles and reviews are published on our site, they undergo a thorough review process performed by a team of independent editors and subject-matter experts to ensure the content's accuracy, timeliness, and impartiality. Our editorial team is separate and independent of our site's advertisers, and the opinions they express on our site are their own. To read more about our team members and their editorial backgrounds, please visit our site's About page.