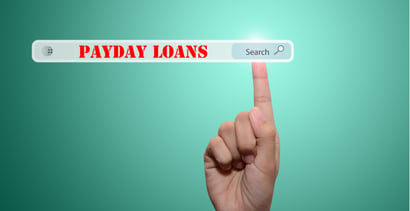 Payday loan organizations can come in many forms, and knowing which to avoid can save you a lot of money, stress, and headaches.
We've researched the best online lending networks that provide both personal loan and payday loan options. A bad credit personal loan will give you more than a couple of weeks to repay your debt, and won't overcharge you for the convenience.
The following list of lending networks proves that looking for the best payday loan organizations sometimes requires you to look somewhere other than a traditional payday lender.
Online Payday Loan Organizations
The online lending networks below can connect you to lenders that can approve bad credit installment loan applications. These loans often have lower interest rates than a payday loan and a longer loan term that makes them a better option for most consumers.
You can fill out a single loan request that will be sent to several direct lender partners, each of which may bid for your business. That may mean more than one installment loan offer to choose from and a lower interest rate.
Although they aren't a traditional payday lender network, every direct lender that works with MoneyMutual specializes in short-term loan options that give consumers time to repay their debt. 
You can use your personal loan for any purpose you choose — including as a debt consolidation loan, a payday advance, or to fund a large purchase. Your loan application takes less than five minutes to complete, and you can receive loan approval in a matter of seconds.
CashUSA provides some of the largest potential loans on this list, which makes it a great source if you need more money than your average payday lender offers. And since you may get as many as 72 months (six years) to repay your loan, you won't have to worry about stretching your budget.
Each lender on this network will consider applications from bad credit borrowers — and, unlike a bank or credit union, your online loan may come with lower interest rates and fast approvals despite past financial mistakes. 
BillsHappen partners with lenders that offer competitive loan amounts with an annual percentage rate that beats those of most of its competitors. A lender can deposit your small-dollar loan proceeds into your checking account within one business day and give you time to repay the debt.
Your application, credit check, and loan agreement take little time to complete, which means you can start and finish your loan process in a matter of hours without ever leaving your home.
CreditLoan.com offers secured loans, unsecured loans, and payday lending options for consumers who have bad credit. Each online loan comes with a unique loan term and annual percentage rate.
Each lender can process your loan quickly and have money in your bank account by the next business day without an additional expedited finance charge. 
BadCreditLoans.com partners with several financial institutions that offer loans — without the expensive fees associated with an internet payday lender — to consumers who have bad credit. These loans can be for as much as $10,000 and give you up to 60 months to repay your payday loan debt.
Your interest rate will depend on the lender's standard practices and the results of your credit check. But this network claims it can often find affordable loan options for any borrower — even one who other lenders have turned down.
PersonalLoans.com works with every borrower to find a loan package that matches their needs. That may include a secured loan, a cash advance loan, or an unsecured installment loan that you can use for any purpose you choose.
Since this network considers applications for larger loans, it's a great resource for a debt consolidation loan or payday loan consolidation at lower interest rates.
CashAdvance.com is an internet payday lender network that allows you to apply for a short-term loan and complete your loan agreement paperwork in a matter of hours. Just keep in mind that these financial institutions only offer cash advance loans.
That means you'll likely qualify for a loan without a credit check, but you'll also see a large finance charge and interest rates that climb much higher for payday loan borrowers. Consider a personal loan before accepting any payday lending options.
What Is a Payday Loan?
A payday loan is a financial product that's meant to help a borrower make ends meet between paydays. This is usually a small-dollar loan that the consumer pays back when their next paycheck arrives.
While these seem like altruistic loans, they often come with very high interest rates and can create more stress than they do debt relief.
A typical payday loan requires full repayment in one lump sum within 15 to 30 days. Interest rates can climb as high as 400% during that period, which means you'll likely pay around $15 in interest for every $100 you borrow.
If you cannot repay your debt on time, the payday loan lender will roll your debt into a new short-term loan with an even higher interest rate. This will continue until you satisfy the debt — which has seen some borrowers end up with more than $50,000 in interest charges for a small loan.
That's why we recommend looking into personal loan options (installment loans) instead of a payday advance loan. With a personal loan, you'll enjoy lower interest rates, fewer fees, and a long time to repay your debt through a series of monthly payments.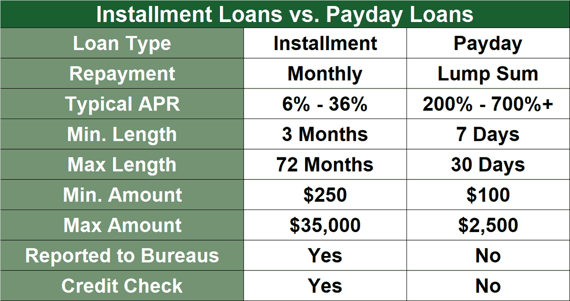 Personal loans also typically include larger loan amounts, and you won't have to worry about penalties and roll-overs like you would with payday loan debt.
And our top-ranked networks, listed above, won't deny you because you have a bad credit score. In fact, most of these lenders specialize in bad credit loan products designed to make it easy on your monthly budget.
How Can I Apply For an Online Payday Loan?
Just as with a credit card or bank account, the internet makes it easy to apply for a loan and get a credit decision within seconds. As we discussed in the question above, your best bet for obtaining money may be to instead apply for an online personal loan.
Thankfully, you can do this within a matter of minutes. The networks listed above all provide a loan request form that won't harm your credit and will take less than five minutes to complete.
This form uses a soft credit pull that won't leave an inquiry on your credit history. The network sends this modified version of your credit report to all of its partner lenders. Thanks to automated underwriting, each lender can render a credit decision in a matter of seconds.
You'll receive a credit decision email within minutes after you submit your loan request. This email may contain more than one loan offer to choose from. If you approve of any offer you receive, you can accept the terms, and the lending network will forward you to the lender's official website.
From there, you'll complete your full credit check and loan agreement. This typically takes an hour or less. Once the lender signs off on your loan during business hours, they will initiate a funds transfer that will deposit money in your linked checking account or another bank account within one business day.
While you can start your application and approvals process at any time of the day or night, you'll have to wait until regular business hours for the lender to officially sign off on your loan. That's why it's best to apply early on a weekday (not a holiday or weekend) to ensure that you can complete a same-day loan process.
How Soon Can I Get My Payday Loan Proceeds?
A high-interest loan through a local payday lender can pay out its proceeds instantly while you're in the office. This is a convenient option, but it's also the most expensive way to borrow money.
With an online loan, you can get same-day approvals and have the proceeds from a much more affordable loan in your bank account by the next business day. That one-day wait could save you a substantial amount in finance charges and interest fees.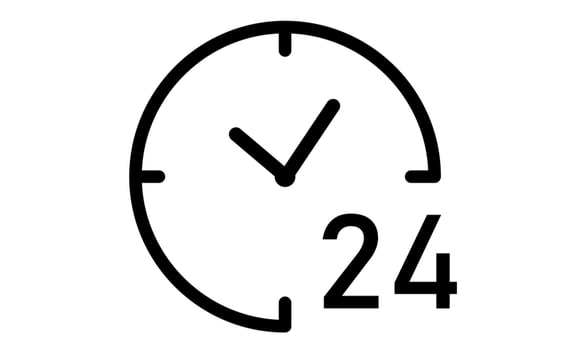 Some lenders that partner with the lending networks listed above offer expedited processing and payouts for an additional fee. This service wires the borrowed money into your bank account, which gives you instant access to the funds.
What's the Difference Between a Payday Loan and a Personal Loan?
Payday loans and personal loans may sound like similar financial products, but you should be aware of several key differences before you apply. Understanding the pros and cons of each type of loan can save you a lot of money and stress.
Payday loans require a full repayment within 15 to 30 days. Personal loans allow you to make monthly payments for up to 72 months (six years).
Payday loan interest rates can climb as high as 700%. Bad credit personal loans typically charge around 35%.
Payday loans and personal loans may charge an origination fee or other finance fees. Check your loan agreement before you sign it, so you understand your total cost of credit.
If you don't repay your payday loan on time, you may face a massive increase in your interest rate as a penalty. By law, personal loan lenders can't add this penalty.
Most payday loan lenders do not report your payment and balance history to a credit bureau, which can help rebuild your credit score. Personal loan lenders typically report to at least one credit bureau.
A payday loan is a form of secured loan and may not require a credit check. Most personal loan lenders will need access to your credit report to approve your loan application.
Personal loans may offer $15,000 or more to qualified borrowers. Payday loans rarely exceed $1,000.
Personal loans are traditionally more affordable than payday loans, though a payday loan may be easier to qualify for.
Thankfully, our favorite online lending networks make it easy to apply and qualify for an affordable personal loan despite your bad credit score. 
What Credit Score Do I Need For an Online Payday Loan?
There isn't a standard minimum credit score requirement for loan approval. While one lender may only consider applicants with a good credit score, others may quickly approve an applicant who has bad credit.
Traditional high-interest payday loans may not even require a credit check for approval. That's because these are secured loans (like a car title loan) that use your paycheck as collateral to secure your loan approval.
While a personal loan will likely require a credit check for approval, you may still qualify with poor credit (a score of 580 or lower). That's because a lender will look at more than your credit score when determining your loan eligibility.
For example, you may have previous financial mistakes that may be keeping your credit score below average, but your current debt load and income (your debt-to-income ratio) leave you in a good position to afford a new loan payment. In this case, a lender may look past your credit score to give you the loan you need.


Just remember that bad credit loans often come with higher interest rates and potential finance charges when compared with loans for consumers who have good credit.
Can I Get a Payday Loan With Bad Credit?
Payday loans are designed for consumers who have bad credit, making them ideal for anyone who cannot qualify for a traditional personal loan or other loan product.
That's also why these loans have very high interest rates and other finance charges. Whenever a lender approves a bad credit loan, it will often add fees onto the loan to offset the risk associated with the deal. It's an unfortunate but common practice.
Some payday lenders may not even look at your credit score when considering your loan application. Instead of conducting a credit check, the payday loan lender may want to see recent paycheck stubs that show that you have enough income to repay the loan within the stated time frame (typically 15 to 30 days).
If you can show that you're in a position to repay the loan on time, the lender will likely forgo a credit check and approve your loan application on the spot.
Can I Have Multiple Payday Loans at Once?
Every lender or lending network has unique qualification rules. Some payday lenders may approve your loan request even if you have other active payday loans (we do not encourage you to take out more than one payday loan at a time).
The online lending networks listed above will limit you to one active loan through the network at a time. That means you can accept a loan from a network, but you won't qualify for another loan until you satisfy the first debt.
But nothing prohibits consumers from having loans with more than one network at a time. So, for example, you could accept a loan from MoneyMutual and later accept a loan from PersonalLoans.com.
Remember, payday loans are not legal in every state, but personal loans are. And no rules limit how many loans you can have at a time.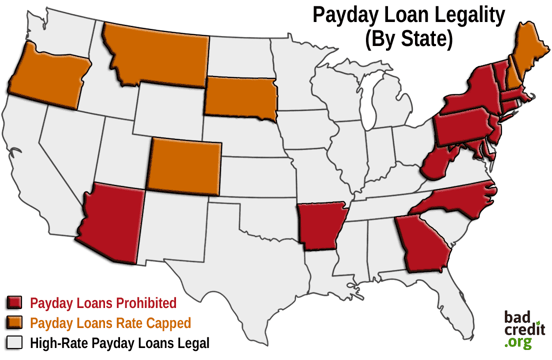 Every lender has the right to deny your loan request for any reason — including the presence of other active personal loans on your credit report.
Apply With Payday Loan Organizations Online
Gone are the days of begging your local bank or credit union for a loan. Instead of jumping through hoops to get the money you need, the online lending networks above allow you to apply on your time and get a near-instant approval decision.
Whether you're looking for a short-term payday loan or personal loan that gives you time to repay your debt, most payday loan organizations specialize in bad credit loans and want to work with you.
These loans not only give you the money you need, but a good personal loan can also help you rebuild your credit score with on-time payments. That means you could build your credit score up to the point where you'll qualify for a larger and more affordable loan, such as a large auto loan or home loan to upgrade your lifestyle.
Advertiser Disclosure
BadCredit.org is a free online resource that offers valuable content and comparison services to users. To keep this resource 100% free for users, we receive advertising compensation from the financial products listed on this page. Along with key review factors, this compensation may impact how and where products appear on the page (including, for example, the order in which they appear). BadCredit.org does not include listings for all financial products.
Our Editorial Review Policy
Our site is committed to publishing independent, accurate content guided by strict editorial guidelines. Before articles and reviews are published on our site, they undergo a thorough review process performed by a team of independent editors and subject-matter experts to ensure the content's accuracy, timeliness, and impartiality. Our editorial team is separate and independent of our site's advertisers, and the opinions they express on our site are their own. To read more about our team members and their editorial backgrounds, please visit our site's About page.