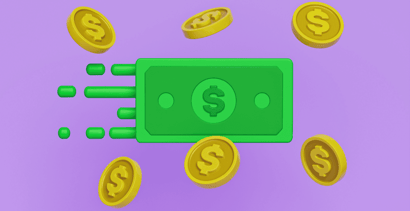 Your need for speed is paramount when cash suddenly runs low. You may worry that your bad credit score will limit your borrowing options, and to a certain extent, that's true. 
That's why we've compiled a list of more than a dozen fast loans for bad credit. All of them can get you money within a business day; some require only a few minutes to put cash in your wallet.
We review direct lenders and lender-matching networks, unsecured and secured loans, loans you repay in a lump sum or installments, and loans for small or large amounts of money. We've got you covered, so don't waste time — dive right in and discover the best loans for fast cash.
Fast Short-Term Loans For Bad Credit
These lender-matching services can find you one or more short-term or payday lenders in just a few minutes. That's the time it takes to submit a short loan request form, prequalify for a payday loan, and connect to a recommended lender. 
Payday loans are an expensive type of emergency loan, but they're also fast and don't require a credit check.
Submitting an online request to MoneyMutual for a loan takes less than five minutes. This service doesn't charge you a fee or oblige you to take a loan. 
If you meet the prerequisites, you may receive a loan offer within minutes. You must have a monthly income of at least $800 to prequalify for a bad credit loan through MoneyMutual. Most lenders can close the loan on the same day and wire funds to your checking or savings account as soon as the next business day.
CreditLoan.com distributes your loan request form to a network of lenders that provide loans to subprime borrowers. You may quickly receive multiple loan offers with next-business-day funding.
The lenders on the CreditLoan network set the terms for their loan offers. You can transfer to a direct lender's website, complete the loan application, and review the loan terms before e-signing the loan agreement. In addition to finding fast-funding payday loans, CreditLoan provides lender reviews, borrowing guides, and other practical tools that everyone can use.
BillsHappen®can find you fast payday and personal loan offers from multiple direct lenders that begin at $100. You must collect monthly earnings or government benefits of at least $1,000 to prequalify for a loan.
You can use the website's loan calculator to find a repayment schedule that fits your budget. As a member of the Online Lenders Alliance (OLA), SmartAdvances.com commits to a responsible lending policy that complies not just with the letter of federal law but also with its spirit.
Fast Installment Loans For Bad Credit
You may want to consider applying for a personal loan to borrow a large amount of money and repay it in monthly installments. Unlike a mortgage or auto loan, personal installment loans can be used to pay any expenses, including those arising from a financial emergency.
24/7 Lending Group is an around-the-clock network that can quickly find installment loans you can repay over several months, even if you have a bad credit score. This lending network welcomes everyone, regardless of their credit history. 24/7 Lending Group earns an "Excellent" rating from Trustpilot and works only with direct lenders that conform to the Fair Debt Collection Practices Act.

Loans of varying sizes are available, but bad credit may limit the amount you can borrow. Low credit scores are not necessarily the most important factor for loan approval — applicants must show they can afford to repay the loans they request. Unfortunately, the company's website doesn't specify the minimum income required.
The CashUSA.com lender-matching service requires you to collect an income of at least $1,000 a month after taxes to prequalify for a personal loan. Regardless of your credit profile, you can prequalify for an emergency loan from this lending network. 
CashUSA can provide you with a prequalification decision and lender referrals in minutes. You can then finish applying to your lender of choice for a quick loan decision and next-day funding if your application is approved.
PPersonalLoans.com can arrange large loans of up to $35,000 for applicants with good credit. But bad credit borrowers will only be eligible for smaller loans unless they indicate they'll use the money for debt consolidation. 
This lender-finding site requires you to be at least 18 years old and have enough income to repay your loan. Full-time employment, self-employment, disability payments, and Social Security benefits are acceptable sources of income. If you meet the borrowing requirements and accept a loan offer, you can collect your money as soon as the next business day.
Fast Cash-Out Auto Refi Loans For Bad Credit
These companies can find you an auto lender who may offer you a quick and easy cash-out refinancing loan. They arrange loans with competitive rates and help subprime consumers tap into their vehicle's equity (i.e., the car's value minus the current loan balance). 
The Auto Credit Express network can match you in minutes with multiple direct auto lenders. To apply online, fill out a form, and you could receive multiple auto refinance offers based on your credit. To expedite the process, have your current auto loan information on hand, including your monthly payment amount, APR, loan term, and payoff amount.
You can compare competing offers and choose the refinancing loan that best fits your needs. You may be able to get cash, reduce your car loan rate, lower your monthly payment, and/or take more time to repay your loan. The website's car loan refinance calculator lets you run the numbers to see how much you can borrow.
RefiJet is an auto-refinancing network that helps consumers of every credit profile connect to loan partners. You may be able to reduce your monthly payments and take cash out through a longer repayment term and lower annual percentage rate (APR).
To prequalify, you must have a verifiable source of income, a record of on-time auto loan payments, a valid driver's license, and proof of vehicle registration. Your vehicle must have full coverage insurance and cannot be more than 10 years old. RefiJet customers can skip their first three monthly payments, which should relieve some financial stress. 
The myAutoloan.com lender-finding network works with many auto lenders specializing in subprime loans. The website explains the borrowing procedure and provides a rate estimator and payment calculator to help you size your loan.
You can prequalify for a loan without cost or obligation. After you prequalify, you can review up to four competing offers to select the loan offer that's right for you. Once you choose a loan offer, myAutoloan.com redirects you to the lender's website to complete the transaction. 
Fast Paycheck Advances For Bad Credit
A cash advance app can provide fast funding if you need a small loan to get you through to your next paycheck. These apps can offer qualifying applicants up to $500 or more and instant funding via an online money transfer.
10. Dave
The Dave app provides cash advances of up to $500 with no interest, credit checks, minimum balance requirements, or late/overdraft fees. You can withdraw your advances from the MoneyPass ATM network without a fee. Signup takes only minutes — there's no lengthy application process or waiting period.
More than 7 million consumers have downloaded the Dave app. The Dave Spending Account in the app lets you get paid two days early. You can earn up to 15% cash back with the Dave Debit Card. Dave's automatic budgeting feature makes it easy to know how much you can spend and still cover your bills. 
11. EarnIn
The EarnIn app provides paycheck advances by linking to your checking account and electronic time sheet. You must provide information about your bank account and job to qualify. If the app approves your advance, it will wire the money to your bank account within minutes for a fee or in one to three days for free. The app uses the latest in security technology to protect your data.
Earnin doesn't charge interest or mandatory fees, but you can leave a tip. No credit check is required. The app limits new users to a maximum advance of $100. Over time, the app may increase the limit to $750 per pay period. Earnin has advanced more than $15 billion in earnings to its customers, and more than 15 million users have downloaded the app.
12. Possible
It takes only minutes to borrow up to $800 from the Possible mobile app. More than 1 million consumers have accessed the app for short-term payday-style loans. Possible doesn't do a credit check to determine your eligibility for a cash advance. Instead, the lender reviews your regular pay schedule and work history to accept or reject your loan application.
The app and credit card never charge interest or late fees. The cost of membership is $8 or $16 monthly. You can repay the loan all at once or in four installments. The app lets you access credit in minutes and monitor your expenses. 
Alternative Fast Cash Loans For Bad Credit
Here are some additional ways for subprime consumers to borrow money quickly.
13. Credit Union Payday Alternative Loans
The National Credit Union Administration created Payday Alternative Loans (PALs) to combat predatory payday loans by providing a less expensive option. The two types of PALs (PAL I and PAL II) differ in their loan amounts and repayment schedules. 
The following chart compares the two PALs:

Some credit unions don't offer PALs, and those that do may offer only one type. You can use the national credit union locator tool to find a nearby credit union that offers PALs of up to $2,000 with a one-year repayment term and reasonable interest rate.
14. Pawnshop Loans
Pawnshops provide fast cash loans you secure with your property — such as cameras, electronics, guns, jewelry, and collectibles, among other valuables. You'll need only a few minutes to obtain one of these secure loans at a pawnshop: Walk in, complete the paperwork, and collect your money and a pawn ticket. 
The ticket specifies the loan due date. The pawnbroker will put your property up for sale if you don't repay the loan before the ticket expires.
Pawnbrokers don't check credit, so it doesn't matter if yours is terrible. The downside of easy borrowing is that this secured loan charges an APR that can top 20% per month. A pawnshop will typically lend you between 25% and 60% of your property's value. Despite their high costs, loans from reputable pawn shops are fast and easy to obtain. 
15. Auto Title Loans
You can usually complete an auto title loan in an hour or two. These loans are available to owners who owe no money on their vehicles.

A title loan lender usually won't perform a credit check since the car's title collateralizes the loan. These loans typically charge a monthly finance fee of 25%, which equals a 300% APR. 
Most title loans lend 25% to 50% of your car's resale value. You can usually borrow from $100 to $5,500, although some loans may exceed $10,000. The loan amount depends on the vehicle's current value and what you can afford to borrow.
Title loans are more than expensive — they're risky too. When you take a title loan, the lender places a lien on your vehicle. The lien allows the lender to repo your automobile without a court order if you default on the loan. 
The Consumer Financial Protection Bureau (CFPB) reports that 20% of title loan borrowers default on this type of secured loan and lose their vehicles. 
What Is Bad Credit?
Individuals with bad credit have a FICO score below 580, a score that makes finding affordable loans challenging. FICO, the largest credit reporting system for US consumers, uses scores that range from 300 (worst) to 850 (best) to predict the likelihood a borrower will default on a debt within the next two years.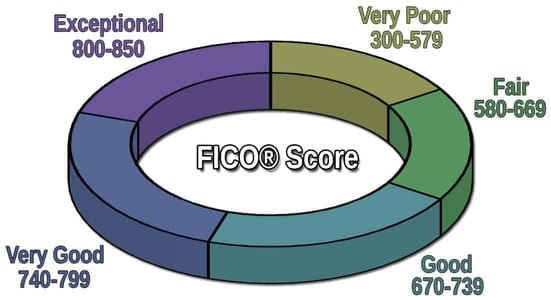 The three major credit bureaus (Experian, Equifax, and TransUnion) calculate consumer credit scores by collecting data from creditors and public records. If you have a bad credit rating, your credit report likely contains late payments, defaults, collections, repossessions, or bankruptcies.
Bad credit will not necessarily prevent you from borrowing money but can increase your costs. Consumers with poor credit pay high fees and interest rates on loans and may be unable to borrow large amounts.
But bad credit need not be permanent. Your credit mistakes age off your credit reports, although it may take up to 10 years. The good news is that you can rebuild credit and raise your credit rating by adopting creditworthy behavior.
It may take a year or more to see results, but paying your bills on time and reducing your debt can repair the damage to your credit. Using your credit responsibly over time should qualify you for better credit cards and cheaper loans.
Consider removing errors from your credit reports before applying for a loan. You can dispute incorrect, obsolete, and unverifiable report items by yourself or through a reputable credit repair company. Fixing your reports may boost your credit score, although results aren't guaranteed.
Fortunately, many lenders welcome cosigners who have good credit. Having a cosigner should ease your access to a fast loan at a lower interest rate. 
Credit unions and smaller banks often encourage bad credit borrowers to use cosigners for personal loans, although approval may take weeks. Take care when recruiting a cosigner — you can ruin a personal relationship if you fail to make timely payments.
How Do Fast Loans For Bad Credit Work?
The four types of reviewed loans work differently, and they each have distinct requirements, application procedures, advantages, and disadvantages. The following compendium describes various loans so you can better decide which one will work best for you.
How Payday Loans Work
Payday loans have astronomical interest rates and require full repayment on your next payday, typically in one to four weeks. Because these loan terms are so short, the loan amounts are often limited to $1,000 or less. 
Payday lenders allow borrowers who cannot repay on time to roll the loans to the next payday. In a rollover, the lender adds the initial interest to the loan principal and tacks on a new set of fees. 
Some borrowers face a nightmare scenario in which they repeatedly roll over their loans, falling further behind as fees and interest costs mount. This situation can lead to a debt spiral that potentially ends in bankruptcy court.
Payday loan horror stories tell of consumers who borrow as little as $400 and eventually owe more than $12,000. Several state governments have become so alarmed by the 300% to 700% APRs payday loans charge that they have enacted regulations that either outlaw the loans or drastically limit how much payday lenders can charge borrowers.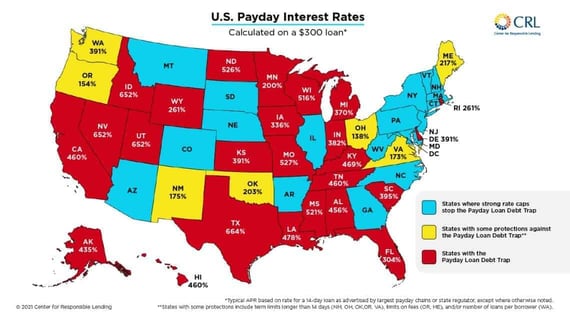 Payday loans do not require credit checks, which helps explain their high costs:
| | |
| --- | --- |
| Principle Loan Amount | $500 |
| Finance Charges | $20 per $100 Borrowed |
| Total Finance Charge | $100 |
| Repayment Term | 2 Weeks |
| Total Repayment Amount | $600 |
| Effective APR | 521% |
The chart depicts a payday loan that requires you to repay 120% of your original loan amount at the end of the two-week loan term. The APR is 521%, but we've seen examples of interest rates as high as 2,000%!
Requirements
Online payday loans generally require borrowers to:
Be at least 18, although some states may require them to be 19.
Be a US citizen or permanent resident
Have a Social Security number
Have a current job with a specified after-tax monthly income. Some payday lenders accept income from benefits or other reliable sources.
Provide verifiable proof of employment.
Have an active checking account
Have a valid telephone number
Have a valid email address
If you satisfy these requirements, online payday loan-finding services will usually prequalify your loan request. The direct lenders on the services' networks may require additional information before approving your loan application.
How to Apply
You can apply for a payday loan online or at a brick-and-mortar storefront. These are the steps required:
Fill out and submit an online loan request form to a lender-finding service providing the desired loan amount and the other required information.
Receive an instant prequalification decision.
If the loan-finding service prequalifies your request, it will put you in touch with one or more offers from direct lenders.
Finish the application process by submitting any additional information the lender requires.
Receive a final loan decision. If the decision is favorable, it will include the loan amount, due date, and costs.
Review and e-sign the loan agreement.
Collect the loan proceeds in your bank account on the next business day.
If you prefer, you can travel to a storefront payday lender, where you fill out the required paperwork and hand it to a teller. If the lender approves your loan, you may need to write a check, postdated to your next pay date, for the repayment amount. 
Alternatively, you'll give the lender permission to withdraw the repayment directly from your bank account on the due date. The teller will then hand you the cash, although some may provide a money order by request.
Advantages of an Online Payday Loan
Convenience: You can get the loan online without the need to visit a lender in person
Speed: Once the lender approves the loan, it will deposit the proceeds into your bank account quickly, usually by the next business day.
Fewer requirements: Payday loans have fewer requirements than other types of loans. For example, payday loans do not require you to post collateral or have good credit.
Credit score: Lenders usually do not check your credit score; if they do, a low credit score may not automatically disqualify you.
Note that storefront payday loans give you immediate access to your money if you're willing to travel to the lender's location and leave with the cash in your wallet.
Disadvantages of an Online Payday Loan
High interest rates: Payday loans usually come with extremely high interest rates that can lead to a cycle of debt.
Short term: You must repay your payday by your next payday, which may not give you enough time to get your finances in order.
Fees: Payday loans charge high fees for late payments, which further increase loan costs.
No building credit: Payday lenders don't report your loans to the major credit bureaus, which means you can't use payday loans for building credit.
Debt spiral: Due to high interest rates and short repayment periods, you may need to repeatedly roll over your loan, which can lead to a debt spiral and even bankruptcy.
These disadvantages lead us to recommend that consumers consider alternatives before taking a payday loan.
How Personal Loans Work
A personal loan is an installment loan you repay over several months or years. They differ from payday loans in that they are less expensive and available in larger amounts, and they require a credit check,  but do not require a lump-sum repayment.
All the personal loan lending networks in this review can deposit funds into your bank account as soon as the next business day. That means a borrower who applies on Monday will probably receive the loan proceeds on Tuesday. A consumer who applies on Friday may have to wait until Monday to get the money. Note that some networks can deliver same-day funding.
Requirements
Personal and payday loans generally share the same acceptance criteria, except a personal loan provider will perform a credit check before it offers you a loan. In addition, a personal loan lender may require a higher monthly income than that necessary for a payday loan.
Personal loan providers may place an upper limit on your debt-to-income (DTI) ratio, which is your monthly debt payments divided by your gross monthly income. This ratio helps lenders assess your ability to manage monthly payments and repay debts.


Personal loan lenders may also look at the age of your credit accounts, your repayment history, and any collections or bankruptcies.
This unsecured loan does not require collateral. But secured personal loans do need you to post collateral, such as a house or a car, which the lender can seize if you fail to repay the loan.
How to Apply
The procedure to apply for an online personal loan from a lender-finding service is almost identical to that for a payday loan, except for the following personal loan specifics:
You usually must specify more details about your income, debts, and housing expenses
You must submit to a credit check before receiving the final loan approval
You may be able to post collateral to secure a personal loan
You'll need to agree to the monthly payment amount and the number of loan installments 
Aside from these differences, the prequalification, approval, and funding steps are the same whether you use an online lender-finding service for a personal or payday loan.
Advantages of An Online Personal Loan
Personal loans provide several advantages, including some not available from payday loans. These advantages include:
Convenience: You can apply for an online personal loan anytime from the comfort of your home. You don't have to visit a bank or loan office during specific hours.
Speed: Online lenders can approve and disburse funds faster than can traditional lenders. Sometimes, you may even receive the funds on the same day.
Loan amounts: The reviewed lenders can arrange loans for as much as $35,000, much more than the amount available through a payday loan.
Flexibility: You can request a loan term that results in affordable monthly payments. You don't have to worry about a lump-sum repayment.
Cost savings: The maximum you'll pay for a bad credit personal loan is 36%, compared to a payday loan's triple-digit APR. You'll pay even less if you secure your personal loan with collateral.
Easier to compare: Online platforms make comparing loan terms from different lenders easier, which will help you find the most favorable offers.
Credit building: Most personal loan providers report your payments to a major credit bureau, which lets you build credit through timely payments.
Though bad credit personal loans aren't perfect, they may be your best option when you need to borrow a large sum quickly. 
Disadvantages of An Online Personal Loan
Here are a few flies in the ointment (ask your grandparents what that means):
Credit check: A personal unsecured loan requires a credit check that may impact your credit score. Poor credit will limit the amount you can borrow and increase the cost of the loant.
Origination fees: Some personal loan providers charge an up-front origination fee that may range from 1% to 10%.
Prepayment penalties: Try to avoid loans that charge a penalty for early payoff.
Legitimacy: The online lending industry has its share of bad actors. We recommend you stick to lenders that receive good reviews from trusted sources such as BadCredit.org.
The bottom line: The advantages of online personal loans clearly outweigh the disadvantages. 
How Cash Advance Apps Work
Cash advance apps are mobile-device applications that allow you to borrow between $50 and $500 or more. Full repayment is due when you receive your next paycheck. 
Several apps lend money without interest charges or fees. Some apps offer an optional tip feature that lets you choose how much you'll pay for the service (including $0).
Requirements
Any US resident 18 or older with a bank account can qualify to use a money lending app. Each mobile application will require that you sign up for an account before you can apply to borrow money.
Signing up requires you to provide your name, home and email address, bank account number, phone number, and Social Security number. The app uses your bank account and routing numbers to confirm your recurring direct deposits and deposit your borrowed money.
How to Apply
These are the general steps you'll follow to get a cash advance from a mobile app:
Download the app: Find the app you want in your device's app store and download it.
Create an account: Open the app and follow the prompts to create an account. You must provide some basic information, such as your email address.
Connect your bank account: You must provide your bank account information. The app uses the account to track when you get paid and when to debit repayments.
Add employment details: The app will verify your employment by tracking your location to see if you're going to your workplace regularly or by connecting to your company's online timesheet system.
Request a cash advance: You can request a cash advance based on your work hours. The maximum amount you can borrow per pay period varies by app and your payment history.
Repayment: Most apps automatically deduct the amount you borrowed from your bank account on your next payday. There are usually no fees or interest, but the app may ask for optional tips.
Advantages of Cash Advance Apps
In no particular order: 
Prevent overdraft fees: These apps help you avoid overdraft fees by providing a short-term loan until your next paycheck.
Fast funding: Once you set up your account, the app can transfer funds quickly, often on the same day as your loan request. 
Low cost: These apps often charge minimal fees and don't require interest, making them a low-cost loan alternative 
No credit check: Cash advance apps typically don't check your credit score, making them a good choice for people with a poor or limited credit history.
Budgeting tools: Some apps, such as Dave, offer budgeting tools to help you manage your finances
Disadvantages of Cash Advance Apps
Some cash apps may have a few grains of sand in their gears:
Limited amounts: The amount you can borrow is often limited to $100 to $500, depending on the app and your income level.
Employment restrictions: These apps require proof of steady employment or income and do not accept all forms of earnings.
Potential for overdependence: Regular use of these apps can lead to a cycle of debt, in which users rely on the advances instead of improving their finances.
Fees: Some apps charge fees. For example, Dave charges a monthly fee regardless of whether you borrow money.
Privacy concerns: To use these apps, you must share sensitive information such as your bank account details, work schedule, or location. You may not be comfortable sharing this information.
No credit building: Cash advance apps typically do not report your loans to the major credit bureaus, so they do not help you build credit.
Cash advance apps are a much less expensive way to get a payday advance. They are among the best bad credit loans with no credit checks available, but the amounts you can borrow are relatively small. 
How Cash-Out Auto Refi Loans Work
Cash-out auto refinancing works similarly to a regular auto refinance but with one key difference: In addition to replacing your existing auto loan with a new one (usually with a lower interest rate or more favorable terms), it also allows you to borrow more than you owe on the vehicle and keep the difference as cash. 
Some providers of cash-out refi loans will let you borrow up to 125% of your car equity (i.e., the difference between the vehicle's value and your loan balance).
Requirements
While they can vary among lenders, these are the standard requirements for a cash-out auto refinance loan:
Equity in your car: You need to have positive equity in your vehicle.
Loan-to-value (LTV) ratio: Each lender has a maximum LTV ratio, which is the ratio of your loan amount to the value of your car. You may find it challenging to qualify if you're trying to borrow more than your car is worth (i.e., more than 100% LTV).
Credit score: While the reviewed lenders approve borrowers with bad credit, having a good to excellent credit score typically gets you more favorable terms and interest rates.
Income: Lenders want to see that you have a stable income and can afford the new loan payments. You may need to provide proof of income, such as pay stubs or tax returns.
Vehicle specifications: The make, model, age, and mileage of your vehicle can all impact your eligibility. Many lenders do not refinance cars that are over 10 years old or vehicles with more than 100,000 miles.
Existing loan terms: Some lenders may require that you've made a certain number of payments on your existing loan, or they may only refinance loans of a specific size.
Documentation: Lenders typically require full coverage auto insurance and copies of your driver's license and vehicle registration.
How to Apply
You can apply to the reviewed lending networks to generate one or more loan offers from direct lenders. Simply fill out and submit the loan request form with the required information about your income, debts, housing costs, and vehicle details. You should receive multiple loan offers within minutes. 
You can select a loan offer and complete the application process online. The lender will set a time for you to bring your car for inspection and sign the loan papers. The lender may give you a check for the cash-out amount or wire the money to your bank account.
As with any financial product, a cash-out car refinance loan has advantages and disadvantages. Understanding these is crucial before deciding if it's the right option for you.
Advantages of Cash-Out Car Refi Loan
A cash-out refi loan offers several benefits:
Access to cash: Perhaps the most significant advantage of cash-out refinancing is that it allows you to tap into your equity and convert it into money you can use however you want.
Potentially lower interest rates: If you initially got your car loan with a high interest rate, refinancing may lower this rate, particularly if your credit score has improved since then.
Debt consolidation loan: You can use the cash you obtain from the loan to pay off other high-interest debts and save money.
Disadvantages of Cash-Out Car Refi Loan
While not precisely sugar in the gas tank, the disadvantages of a cash-out refi loan may stop some borrowers in their tracks.
Higher interest costs: Borrowing more than what you currently owe means you'll pay extra interest over the life of the loan, especially if you extend the loan term.
Longer loan term: Extending the loan term means you'll be in debt longer and pay more interest over time.
Risk of negative equity: You could end up "underwater" — owing more on the loan than the car is worth — if the vehicle depreciates faster than expected. Negative equity can become problematic if you need to sell the vehicle or an accident totals it. 
If you are worried about negative equity, consider getting GAP insurance to pay for any shortfall should the car suffer significant damage or theft. 
How Can I Increase My Odds of Loan Approval?
Consider the following steps if you're looking to improve your chances for loan approval:
Improve your credit score: Your credit score is important for certain types of loans. Pay your bills on time, reduce your debt, and don't apply for new credit unless necessary. Also, review your credit reports and dispute incorrect information.
Lower your DTI ratio: Earning more income or paying down existing debts can lower your DTI ratio and make you more attractive to lenders.
Ask for a lower amount: The lower the loan amount, the less risk for the lender. See if you can settle for less if you can't get the loan you want.
Consider a cosigner: Having a cosigner with a good credit score and stable income can increase your approval chances. But remember that your cosigner is equally responsible for repaying the loan if you don't.
Choose the right lender: Different lenders have varying requirements. For example, some lenders specialize in working with subprime borrowers. The lenders we cover in this review are good choices.
You can accelerate the borrowing process by preparing the required documentation, including proof of income, employment, bank statements, tax returns, and other financial information.
What Do I Do When I Can't Repay My Debts?
Here are a few tips if you find yourself unable to repay your debts:
Communicate with your creditors: Many people try to avoid their creditors when they can't pay their debts, but communication is essential. Many creditors will work with you if they understand your situation. They may be able to offer hardship programs, lower your interest rate, or even temporarily reduce or delay your payments.
Create a budget: If you haven't already, create a budget that covers your basic needs, such as housing, food, and healthcare. Then allocate any remaining funds toward your debts.
Seek help from a credit counselor: Credit counseling organizations can help you manage your money and debts, develop a budget, and access free educational materials and workshops. 
Debt settlement or consolidation: These options for handling unsecured debt come with risks and can harm your credit score, so it's essential to do your research before proceeding with a settlement plan or a debt consolidation loan.
Bankruptcy: As a last resort, you may want to consider bankruptcy. It can offer a fresh start but has severe consequences, including significant damage to your credit score. Speaking to a qualified attorney or financial advisor before you choose this option is wise.
One thing is sure: Don't ignore a chronic inability to pay your bills. Doing so only makes the matter worse.
Compare Fast Cash Loans For Bad Credit
Our review describes many ways to borrow cash quickly despite a lousy credit score. When deciding the best loans to pursue, consider the amount you require, how long you'll need to repay it, and how much you can afford. Be sure to read the fine print of any loan agreement, lest you encounter an unpleasant surprise down the road.
MoneyMutual & Other Resources
We hope you've found our guide "15 Best Fast Loans For Bad Credit (Sep. 2023)" to be helpful in meeting your financial needs. To learn more about MoneyMutual, our top recommendation in this guide, be sure to visit the MoneyMutual website for full details about the offer.
Our experts rate MoneyMutual as one of the best options in personal loans for those with bad credit, giving it a 4.8/5.0 rating overall. Among its features:
Short-term loans up to $5,000
Online marketplace of lenders
Funds available in as few as 24 hours
Simple online form takes less than 5 minutes
Trusted by more than 2 million customers
For more resources similar to this "15 Best Fast Loans For Bad Credit (Sep. 2023)" guide, see our other popular picks for those with bad credit:
Whether you choose MoneyMutual or any other option in our personal loans category, be sure to read and understand the terms before signing up. You'll find that taking the time to fully understand personal loans is one of the smartest financial decisions you can make.
Advertiser Disclosure
BadCredit.org is a free online resource that offers valuable content and comparison services to users. To keep this resource 100% free for users, we receive advertising compensation from the financial products listed on this page. Along with key review factors, this compensation may impact how and where products appear on the page (including, for example, the order in which they appear). BadCredit.org does not include listings for all financial products.
Our Editorial Review Policy
Our site is committed to publishing independent, accurate content guided by strict editorial guidelines. Before articles and reviews are published on our site, they undergo a thorough review process performed by a team of independent editors and subject-matter experts to ensure the content's accuracy, timeliness, and impartiality. Our editorial team is separate and independent of our site's advertisers, and the opinions they express on our site are their own. To read more about our team members and their editorial backgrounds, please visit our site's About page.