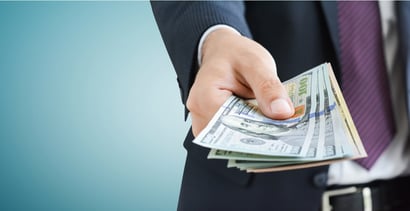 Cash loans that don't require proof of income may be convenient, but they're also risky and expensive. Proof of income (POI) is an often misunderstood part of a loan application. Most people think income can only come from regular employment, but that isn't the case.
Many online lenders will consider several forms of income when reviewing your loan request, including government benefits, retirement funds, investment returns, alimony or child support payments, student loan money, and several other forms of income.
That means you may qualify for a bad credit loan from the online lending networks below without regular employment. Click the "loans without POI" link below for some alternative ideas for getting a loan without providing proof of income.
Loans With POI | Loans Without POI | FAQs
Cash Loans With Flexible Income Requirements
The online lending networks below all require proof of income to get a personal loan, but you can include any type of recurring income you receive on your application. This is different from a traditional loan from a bank or credit union.
The lenders that partner with these networks offer bad credit loan options and will consider nearly any credit score for a personal loan. Any online lender willing to work with you will present you with an interest rate, monthly payment, and loan term. You may receive multiple loan offers within minutes of applying and can get your money within one business day.
Short-term loans up to $5,000
Online marketplace of lenders
Funds available in as few as 24 hours
Simple online form takes less than 5 minutes
Trusted by more than 2 million customers
| Loan Amount | Interest Rate | Loan Term | Loan Example |
| --- | --- | --- | --- |
| Up to $5,000 | Varies | Varies | See representative example |
You can use several sources of monthly income to increase your chances of loan approval with MoneyMutual. Your loan application will take only minutes to complete, and you could receive multiple loan offers in your email inbox within minutes after you submit your application.
And since MoneyMutual maintains one of the largest online lender networks, you may find that your income is enough to satisfy multiple lenders' requirements. And when lenders compete for your business, you'll get their best possible offers.
CashUSA.com partners with many personal loan lenders throughout the U.S. to offer instant personal loan options to consumers with a bad credit history. Your unsecured loan will come with a competitive interest rate and monthly payment that's designed to fit your budget.
And since these are installment loans, you'll have several months to pay the debt off through a series of monthly payments. The number of payments you'll make will depend on your loan amount and the lender's offer.
SmartAdvances.com provides cash advance and emergency loan options and will accept varying sources of income on your loan application. You must earn at least $1,000 per month to qualify, whether it's from benefits, a job, or self-employment.
Just make sure you add all your regularly occurring income sources to your application to improve your chances of approval. Lenders want to know you can comfortably pay your monthly payment without stressing your budget.
BadCreditLoans.com lives up to its name by providing low-income loans to individuals and families that need a payday loan alternative. Every qualified borrower may receive multiple loan offers from which to choose the best fit for his or her needs.
You may still qualify for a loan even if you have a recently discharged bankruptcy. The network will not accept your loan request, though, if your bankruptcy case is still pending in court.
CreditLoan.com works with consumers in need of a bad credit loan to help them find an option that works with their needs and monthly budget. Approved applicants can close their loan within hours and receive their money by the next business day.
Some lenders on the CreditLoan.com network will even provide access to expedited loan servicing that can put money in your account even faster. This service will charge a fee that will vary depending on the lender you work with.
PersonalLoans.com maintains two unique divisions within its online lending network. One specifically works with applicants who have good credit, and the other is dedicated to borrowers with bad credit. This structure ensures that your loan application will only go to lenders that are ready and willing to work with you.
That's an important factor to consider because it means you won't waste your valuable time when applying for a loan. You may receive multiple loan offers within minutes after you submit your loan request.
Cash Loans Without POI Needed
You still have options if you need to skip the income verification process on your loan application, but they're not going to come from a traditional lender. You may be able to get a secured loan, which can be a risky and expensive option.
Lenders generally rely on three things when considering a loan application — your credit score, monthly income, and the payment history on your credit report. If you can't provide access to one or more of those things, a lender may refuse your business. But options still exist for securing funds without proof of income, including the options below.
7. Pawnshop Loan
A pawnshop can offer you an instant loan if you can provide collateral. This means you must leave something valuable with the pawnbroker in case you do not repay the loan. If this happens, the pawnbroker will keep your valuables and sell them to get back the money lost in the bad loan.
Not only do you risk your valuables with this type of no-income loan, but you'll receive little money for your goods. The average pawnbroker will only loan between 25% and 60% of the item's value. That means you may have to risk an item valued at $4,000 just to get a $1,000 loan.
8. Car Title Loan
An auto title loan requires you to sign over the title to your vehicle to receive a small loan for far less than the value of the automobile. If you can't repay the loan on time — along with the sky-high interest rates — the lender will repossess your vehicle.
A car title loan is not only a risky way to get a loan without income verification, but it's also expensive. Along with a possible origination fee and other charges, you can expect to pay back far more than you borrow from the auto title loan company.
9. Borrow From a Loved One
Borrowing money from a loved one is risky. If you don't repay the debt, you could harm your relationship with your family member or friend. Nonetheless, it's a way to get a cash loan without proof of income, and your friend or family member is likely to provide you with fair repayment terms.
Just make sure you repay your cash loan so you don't sully your reputation and ruin an important personal relationship.
How Can I Get a Loan Without Proof of Income?
There are ways to get an instant cash loan without providing proof of income, but these are often costly and risky ways to obtain money. Whether you're going to a pawnshop or an auto title loan company, you're going to have to risk your valuables and pay far more than you would through a traditional loan.
The online lending networks listed above require income verification, but you can use several different sources of income on your loan application, including but not limited to:
government benefits
retirement funds
investment returns
alimony
child support
money from a structured settled or an annuity
student aid or student loan money
Some lenders won't consider unemployment benefits since that type of funding only lasts for a set number of weeks, depending on the state you live in.
You can use multiple streams of income on your loan application to bolster your overall income and help increase your odds of loan approval. Even if you have a bad credit score, you may qualify for an unsecured loan, a business loan, a student loan, or a personal loan for self-employed borrowers.
You can also recruit a cosigner to help you secure a loan. A cosigner is someone who has a better credit score than you and is willing to sign your loan agreement to guarantee repayment.

Remember that any late payments or defaults will damage your credit score, as well as the credit score of the person who cosigned for you. That's a big responsibility. But many lenders will consider approving a low-income loan by using the income proof provided by the cosigner.
Loans with a higher cash requirement will almost always require income verification. You will have trouble finding a no-income verification mortgage, business loan, or any other type of large loan that doesn't require POI.
A stated income mortgage was a type of home loan program that allowed borrowers to simply state their income without the mortgage lender verifying the borrower's income and credit history. Stated income mortgages contributed to the 2008 housing market crash and were reformed in 2010. A stated income loan is no longer an option for most borrowers.
How Can I Prove My Income If I'm Paid in Cash?
If you run a business or work in a field where you're paid in cash instead of receiving a regular paycheck, you may qualify for a bank statement loan by giving the lender access to your bank account records. This helps the lender see that you make regular deposits.
You can also use invoices, receipts, or get a notarized document from your employer that states your regular income. These self-employed loans will also require access to your credit history to show that you have a clean record of making timely payments.
Can I Get a Loan If I'm Unemployed?
You may qualify for a loan despite being unemployed if you have sufficient monthly or biweekly income from other sources.
Lenders want to know that you have the means to make your weekly or monthly payments without overstretching your current budget. Just make sure that you can prove the income to the lender during the loan underwriting process. You can do this by showing bank records, invoices, check stubs, or other official documentation of your benefits.
Can I Use My Proof of Income Instead of a Credit Check?
Most lenders require you to provide proof of income and undergo a credit check during the underwriting process.
That's because proof of income and a credit check both provide very different information for lenders. Proof of income shows that you make enough money to afford your loan payments. A credit check shows the types of credit account you have, when they were opened, account balances, and your payment history on past and existing debts.
Your credit report does not show your current income information, just as your proof of income doesn't show your payment history. This data plays an important role in determining your creditworthiness.
There is one type of loan that relies on proof of income instead of a credit check, and that's a payday loan. Payday loans usually require total repayment within a month or less, and the lender will want to automatically withdraw payments from your account when you receive your next paycheck.

Payday loans provide a quick means to get by until your next paycheck, but they charge astronomically high interest rates for the convenience.
Find the Best Cash Loans Without Proof of Income Online
Most consumers think they must be employed to qualify for a loan. With the rise in online lending — and competition among lenders in the space — that is no longer the case.
Lenders that partner with online lending networks, including those listed above, will consider many different sources of income aside from a traditional paycheck. This may help you qualify for a loan even if you're unemployed.
These loans have very flexible credit score requirements and won't cost you nearly as much as cash loans without proof of income. Plus, you won't have to risk your valuables as collateral to qualify for the loan you need.
Advertiser Disclosure
BadCredit.org is a free online resource that offers valuable content and comparison services to users. To keep this resource 100% free for users, we receive advertising compensation from the financial products listed on this page. Along with key review factors, this compensation may impact how and where products appear on the page (including, for example, the order in which they appear). BadCredit.org does not include listings for all financial products.
Our Editorial Review Policy
Our site is committed to publishing independent, accurate content guided by strict editorial guidelines. Before articles and reviews are published on our site, they undergo a thorough review process performed by a team of independent editors and subject-matter experts to ensure the content's accuracy, timeliness, and impartiality. Our editorial team is separate and independent of our site's advertisers, and the opinions they express on our site are their own. To read more about our team members and their editorial backgrounds, please visit our site's About page.