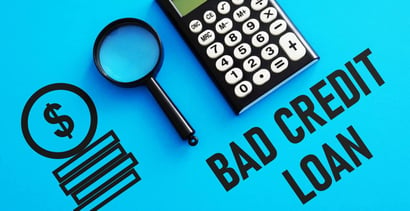 If life has handed you a bad credit rating, you may have trouble wrapping your brain around the concept of an easy loan. We're here to unwrap the subject by showing how you can borrow $5,000 or more despite a less-than-glorious credit score. 
Mind you, easy preapproval is not the same as an iron-clad guarantee, but it does describe the loans we review in this article. If you need to borrow a sizable chunk of money, the chances are good that the loan will come from one of these sources. 
Bad Credit Loans of $5,000 or More With Easy Approval
The easiest way to land a $5,000 loan is through a lender-finding network or your local credit union. The following networks don't require you to expend much effort to prequalify for a subprime personal loan online. Once they preapprove your loan request, they can connect you to one or more direct lenders that will welcome your business. 
MoneyMutual is an online service that lets borrowers apply to multiple loan companies simultaneously. Unlike a direct lender, MoneyMutual prequalifies your loan request before dispatching it to the lending network.
MoneyMutual earns the top position on this list because it has been in business for decades and has maintained an excellent reputation for connecting subprime borrowers with willing lenders.
Having satisfied more than 2 million customers, MoneyMutual has a prominent presence in the personal loan space. Borrowers can get preapproved in minutes and receive up to $5,000 within 24 hours following final approval.
24/7 Lending Group works around the clock to find consumers loan offers of up to $35,000, but only those with good credit will be eligible for the highest loan amounts. The company is an intelligent choice for borrowers who need a long-term installment loan they can repay over several months or years.
Applicants must have a job or receive government benefits to qualify for a bad credit loan. The recommended direct lenders will likely check your credit and, if one approves your loan, may deposit money in your bank account by the next business day.
This network has an excellent rating on Trustpilot from more than 2,200 reviewers and is committed to responsible lending practices.
CashUSA.com connects borrowers with a network of lenders that specialize in subprime loans. Bad credit borrowers benefit from CashUSA circulating their loan requests in its network because it increases the odds of them finding the right lender.
The lenders on the CashUSA network offer several loan products, giving you many options. But to borrow $5,000 or more, you will want to apply for a personal loan, as payday loan amounts are much smaller.
You should know that some CashUSA customers have received third-party emails and calls after submitting their loan applications, but this is a risk common to many loan networks. 
SmartAdvances.com is a sensible choice when you want a single loan offer from a willing direct lender. This service requires you to have a monthly income of at least $1,000 to prequalify for a personal loan.
This network accepts loan requests of up to $20,000, though only applicants with good credit will qualify for such large loan amounts.
SmartAdvances.com is a member of the Online Lenders Alliance (OLA), which adheres to a fair credit policy consistent with federal law. The website's personal loan calculator lets you determine a repayment term that won't bust your budget.
BadCreditLoans.com has a long record of accomplishment, connecting borrowers to its direct lender network since 1998. In addition to a wide range of personal loan options, the Bad Credit Loans website provides essential information about predatory lender traps and scams.
Bad Credit Loans maintains a network of loan companies that serve subprime individuals and small business owners with various borrowing options, whether they need a debt consolidation loan, short-term cash loan, or a loan for an unexpected expense.
By submitting a single loan application, you can choose among multiple personal loan providers and receive amounts of up to $10,000 within one business day of approval. 
CreditLoan.com sets itself apart from many others in the loan industry by having different lender networks for prime and subprime borrowers. A few questions and a soft pull of your credit report show CreditLoan.com where to direct your loan request.
While CreditLoan.com advertises personal loans of up to $25,000, the lenders in the company's subprime network cap their loans at $5,000, an above-average amount for bad credit personal loans.
It takes only five to 10 minutes for CreditLoan.com to connect you with multiple lenders. After signing a contract with a direct lender, you'll receive the loan proceeds via a direct deposit to your bank account as soon as the next business day.
BillsHappen®, which launched in 2018 in Plantation, Florida, is a relative newcomer to the bad credit loan market. Our research shows that the company is legitimate despite a shorter track record than that of most other networks on this list.
BillsHappen uses a single loan application and performs a soft inquiry of your credit history to find you the most appropriate direct lenders. Once BillsHappens preauthorizes your loan request, you can work with preselected lenders to find a suitable bad credit personal loan to fit your needs.
BillsHappen hasn't received very many reviews because it is a newbie among personal lending networks. Still, our experts confirm it is a reliable company, and the reviews it has received are primarily favorable.
PersonalLoans.com uses a high-tech algorithm to evaluate each loan application before submitting it to the company's lending network. PersonalLoans.com can save you time, but its minimum credit score is slightly higher than that required by other options on our list.
This online lender offers various loan options, including peer-to-peer loans (P2P), signature loans, secured loans, and installment loans.
Many participants in the PersonalLoans network offer flexible borrowing options. The company is an excellent place to look if you want a range of borrowing options to meet your emergency loan needs.
Do Any Subprime Loans Guarantee Approval?
They do not! Precious few guarantees are available in finance, and loan approvals for subprime borrowers are no exception. The loan-finding networks guarantee an instant preapproval decision, which is not the same as a final loan approval. 
Personal loans are usually unsecured, requiring no more than your signature on a loan contract. To expect a lender to guarantee every loan application based on just a signature is lunacy. 
You can reduce the madness by asking for a secured personal loan instead. You must post collateral of equal or greater value than the loan amount to get a secured personal loan.
Secured loans aren't guaranteed either, but they come pretty close. This kind of loan may require lively negotiating about collateral values before the participants can agree. You may want to consider a secured loan if you don't qualify for an unsecured loan.
How Do I Apply For a $5,000 Bad Credit Loan?
Prequalifying before you apply for an individual loan is a valuable feature of working with a lending network. Each online lender network sets prequalification criteria for subprime borrowers.
To prequalify for a personal loan, you generally must satisfy the following requirements:
Minimum age: 18 
Citizenship or permanent residence: USA
Monthly income: $500 to $1,000 from a job or government benefits
Bank or credit union account: Active, in your own name. It's quick and easy to open a bank account if you don't have one.
Identification: Email address, phone number, and Social Security Number
Working with any of the reviewed loan-finding websites is straightforward. You begin the process online by completing a short loan request form in which you provide information about your employment, income, housing costs, and debts.
At this point, the lending network performs a soft credit pull and verifies that you satisfy its prequalification requirements. The soft inquiry won't impact your bad credit score in any way. From there, the finding service matches you to one or more bad credit lenders in its network. 
Prequalification improves your chances for final approval by verifying that you meet the essential requirements for borrowers and that your profile matches the requirements of one or more lenders in the network. But prequalification isn't as rigorous as final approval, so a direct lender may ultimately decline your loan application even though you've successfully prequalified.
You don't have to worry about further damage to your credit reports when you attempt to prequalify. Prequalification doesn't risk worsening an already lousy credit situation.
If you apply to a recommended direct lender, the loan-matching service will transfer you to the lender's website, where you can complete its application. The lender usually may need several more items from you before it decides whether to offer you a loan agreement. These items may include the following:
Proof of identification: Typically, a photo ID such as a driver's license, but some lenders are flexible and will accept any government-issued identification

Proof of income: Pay stubs, invoices, bank and credit union statements, or tax returns that show you make the minimum income the lender requires
Proof of address: Lenders generally accept utility bills or similar items that verify your address

Proof you are 18 or older age: Your ID document may prove your age, but if not, you may have to provide a copy of your birth certificate
Bank account for direct deposit: Lenders need your account number and your bank's routing number so they can distribute your funds and collect payments

Proof of citizenship: Most lenders require a birth certificate, passport, green card, visa, or another document to prove you are a US citizen or permanent resident
Most lenders allow you to begin your application even if you don't have all your documents. You can return to the application once you have all your documents. You'll receive a loan offer and agreement if the lender approves your application.
A loan agreement details a loan's terms and conditions, including loan amount, interest rates, fees, number of installments, the monthly payment amount and due date, and other information about the loan. Please read the agreement carefully — you don't want any unpleasant surprises to pop up later. 
You can e-sign the loan agreement if you're satisfied with the terms. The lender will acknowledge your signature and forward the loan proceeds to your bank account. You may receive the funds on the same day, but they will more likely arrive on the next business day.
How Much Will a $5,000 Subprime Loan Cost?
Lenders charge interest and fees when you borrow money. The total cost depends on the loan amount, repayment term, interest rates, and your credit score. Most personal loans charge a fixed interest rate, but some may impose a rate that adjusts to changes in a benchmark, such as the prime rate.
You can use an online calculator to compute the cost of a personal loan. Just enter the loan amount, interest rate, and loan term. For example, a five-year, $5,000 loan with a 27% APR results in a monthly payment of $152.68. The total cost of 60 loan payments is $9,160.60, of which $4,160.60 is interest.

Any origination fee will increase the cost of the loan. In the above example, suppose the lender charges a 5% origination fee (i.e., $250), which produces a higher interest rate of 29.657%. You can have the lender deduct the fee from your loan proceeds, which means you will actually receive $4,750, not $5,000.
Alternatively, you can pay the origination fee upfront and receive the entire $5,000 loan proceeds. Either way, you will pay $9,410.60, which includes  $4,410.60 in interest and fees. Your monthly payment remains unchanged.
Some lenders allow you to roll the origination fee into the loan. In this example, rolling the fee will raise your monthly payment by $8.04 to $160.72. Your total expenditure will be $9,643.20, of which $4,643.20 is the finance charge, compared to $4,410.60 without the roll-in. 
In other words, financing the $250 origination fee adds another $232.60 to your total cost, so you'll save money by paying the fee upfront.
What Are the Easiest $5,000 Loans to Get Approved For?
You have several options when you need to borrow $5,000. Your property secures the first four loans in the following list. Of the remaining two, 401K loans are unsecured (you are borrowing from yourself), and loans from family and friends may be secured or unsecured — it depends on your relationship with the lender.
Cash Out Auto Loans
You can arrange a cash-out auto loan online from a direct lender or loan-finding network if your vehicle has positive equity (i.e., the current value exceeds the amount you owe). A loan network may be able to find you one or more offers after you submit a loan request form, and that can result in quick funding.
The customary qualifications for refi cash loans include the following:
Your outstanding auto loan balance doesn't exceed the lender's limits
Your poor credit score hasn't dropped since the initial car loan
You are up to date on your loan payments
Your vehicle satisfies the age and mileage requirements set by the lender
You owe less on an existing car loan than the vehicle's current Kelley Blue Book value
You are at least 18 years old
Most auto lenders also require a verifiable monthly income (typically at least $1,500) to consider an application. Depending on the lender, you may need to provide the following:
Proof of auto insurance
A copy of your current driver's license
A pay stub with current year-to-date earnings.
Personal reference contact information
The lender will arrange to pay off your current loan after closing on your new loan. You receive the cash remaining after you retire the previous loan.
From this point forward, you'll make monthly payments to the new lender. Some lenders may defer your initial payment for one or more months.
Auto refi lenders may be willing to refinance up to 125% of your current vehicle equity. That means you may be able to get a $5,000 cash-out loan with as little as $4,000 in equity.
The new loan's monthly payments will typically be greater than those of the old loan because you owe more money than you did before. But you may be able to reduce your monthly payments if you get a lower interest rate and/or longer loan term. An online refi calculator can help you find your best financing option.
The following table compares auto cash-out loans with subprime personal loans:
| | Auto Cash-Out Loan | Personal Loan |
| --- | --- | --- |
| Availability | You must own and have equity in the vehicle. Typical loans range from $5,000 up to 125% of the available equity. | Your credit score, debts, and income determine how much you can borrow. Multiple offers are available from network lenders online. Typical loan amounts range from $500 to $35,000. |
| Costs | A subprime cash-out loan's APR is typically between 10% and 20%. You may have to pay registration, transaction, and title transfer fees that may add several hundred dollars to the cost. GAP insurance options may cost $500 to $700 per year. | Typical subprime personal loans charge an APR below 36%. You may have to pay an origination fee of 1% to 5%. There are various forms of optional credit insurance that make payments when you can't. Costs are generally low but can vary. |
| Risks | A lender can repossess your vehicle if you miss a scheduled payment. It will then sell your car, recoup the loan money (including any fees and legal costs), and refund the remaining amount, if any, to you. If you do not have GAP coverage, a lender may also sue you if there is a shortfall on an underwater loan. | Lenders often charge a late payment fee and can apply a high penalty APR. Some loan agreements allow a lender to call for immediate repayment if you miss a due date. The lender may throw delinquent loans into collections, file a lawsuit, or instigate binding arbitration. |
Auto Title Loans
Car owners may be able to borrow $5,000 or more through a secured auto title loan. No credit check is necessary, but you must possess a clear title that shows you own your vehicle.
Vehicle owners with any type of credit can qualify for a title loan, and many lenders do not require credit checks to approve a secured loan. 
The loan amount is typically 25% to 50% of the vehicle's appraised value. This means your car must be worth between $10,000 and $20,000 to obtain a $5,000 title loan. Expect the lender to ascertain the vehicle's age, condition, mileage, and market value before it offers you a secured loan.

If you take the loan, the lender will place a lien on the title to your vehicle. The lien allows the lender to repossess your car without first going to court should you default on the loan. The Consumer Financial Protection Bureau reports that 20% of title loan borrowers lose their vehicles to a lender.
Auto title loans are expensive, with APRs averaging around 300%. The high cost of these loans and the risk of losing your car should give you pause to consider other types of loans first.
Home Equity Lines of Credit
A home equity line of credit (HELOC) is a revolving credit line that allows homeowners to borrow money against the equity in their homes. Your equity equals your home's current value after subtracting your outstanding mortgage balance.
For example, if your home is worth $220,000 and you have a $100,000 mortgage balance, your equity is $120,000. Depending on your income, debt, and credit score, the lender usually caps the HELOC at 80% to 90% of your equity. This limit means you'll need $4,000 to $4,500 in equity to get $5,000 from a HELOC.

A HELOC is typically active for five or 10 years, during which time you can borrow any amount up to the credit limit, similar to how a credit card cash advance works.
HELOCs charge a variable interest rate that rises and falls with the prime rate. You typically pay a 7% to 15% or higher interest rate on the amount you actually borrow, not the entire credit line. 
HELOCs are easy for homeowners to obtain but potentially dangerous, as the home is collateral for the loan. The lender can foreclose on the house to recover the outstanding balance if you fail to make the required payments.
Pawnshop Loans
You collateralize a pawnshop loan with personal property, such as jewelry, a camera, a musical instrument, collectibles, and guns. The pawnbroker determines how much it will lend you based on the item's condition, market value, and demand. 
You will usually receive only 25% to 60% of your property's value via a pawnshop loan. To borrow $5,000, you'll typically have to hock property worth $8,333 to $20,000. 
Depending on state laws, pawnshop loans may charge a monthly interest of 20% or more. This rate is equivalent to an APR of at least 300%. Additional fees may apply.
You don't have to undergo a credit or income check to get a pawn loan, but you will forfeit your pawned property if you don't repay the loan before it expires. If you don't repay, the pawnbroker can sell the item. Forfeiting pawned property does not harm your bad credit score because pawnshops don't report to the major credit bureaus.
Pawnshop loans are easy to get but expensive. They are a fast way to raise cash when you own valuable property.
401K Loans
Federal regulations allow you to borrow money from your 401K if your plan allows it. You can borrow up to $50,000, or half the account balance, whichever is less. But you can borrow up to $10,000 of your balance regardless of the percentage.
You must repay a 401K loan, with interest, within five years, but you can stretch the loan term to 15 years if you use the money to buy or build your first home. The interest you pay, minus fees, goes back into your account.

While it can be easy to borrow from your 401K, you may encounter specific problems, including:
Your 401K plan may not allow loans
The money you borrow misses out on interest-free growth until you repay it
The IRS will tax the loan as a withdrawal if you don't repay it by the deadline
Many plans charge fees for 401K loans
It can take a week or two to arrange a 401K loan and collect the proceeds
If you can overcome these obstacles, a 401K loan may be a convenient way to borrow $5,000.
Loans From Friends and Family
Many folks turn to family and friends when they need a loan. But $5,000 is not insignificant to most people, so you may have trouble borrowing it from loved ones unless they are affluent. 
It's best to treat a sizable loan formally by using a written agreement with the family member or friend lending you the money. The contract should contain all the parameters governing the loan, including the amount, repayment schedule, and interest charges. The terms may be lenient, and credit reporting is not an issue.
While these loans may seem like an ideal way to borrow, they can create interpersonal problems if you don't honor your agreement to repay. You should weigh the emotional risk inherent in these loans before approaching a loved one for money.
What If My Loan Is Denied?
Credit issues, including an adverse credit history or low credit scores, may cause a lender to deny your loan application. If a lender decides to reject your application because of your credit, it must provide you with an Adverse Action Notice describing the following:
The name of the credit bureau that provided the credit report the lender reviewed during your application

Instructions on how you can request your credit report(s) for free for 60 days after a lender denies your loan application

A discussion of your right to dispute information on your credit report that you believe is inaccurate or unverifiable
The credit score your lender relied upon
The feedback you receive from an Adverse Action Notice can help you address your credit issues, the first step in correcting them. You can do so by improving your credit score: Pay your bills on time and keep your debt levels in check. 
You can also hire a credit repair service to fix mistakes in your credit report. For quicker action, consider recruiting a cosigner or posting collateral to get a $5,000 loan despite your bad credit.
Compare Subprime Loans for $5,000
This article described several ways for subprime borrowers to obtain loans of $5,000 or more. If you choose to apply for a personal loan, the reviewed lending networks will provide you with the easiest path to success. It's good to know a poor credit score doesn't have to disqualify you from borrowing a significant sum when you need to.
MoneyMutual & Other Resources
We hope you've found our guide "8 Guaranteed Approval $5,000 Bad Credit Loans (Sep. 2023)" to be helpful in meeting your financial needs. To learn more about MoneyMutual, our top recommendation in this guide, be sure to visit the MoneyMutual website for full details about the offer.
Our experts rate MoneyMutual as one of the best options in personal loans for those with bad credit, giving it a 4.8/5.0 rating overall. Among its features:
Short-term loans up to $5,000
Online marketplace of lenders
Funds available in as few as 24 hours
Simple online form takes less than 5 minutes
Trusted by more than 2 million customers
For more resources similar to this "8 Guaranteed Approval $5,000 Bad Credit Loans (Sep. 2023)" guide, see our other popular picks for those with bad credit:
Whether you choose MoneyMutual or any other option in our personal loans category, be sure to read and understand the terms before signing up. You'll find that taking the time to fully understand personal loans is one of the smartest financial decisions you can make.
Advertiser Disclosure
BadCredit.org is a free online resource that offers valuable content and comparison services to users. To keep this resource 100% free for users, we receive advertising compensation from the financial products listed on this page. Along with key review factors, this compensation may impact how and where products appear on the page (including, for example, the order in which they appear). BadCredit.org does not include listings for all financial products.
Our Editorial Review Policy
Our site is committed to publishing independent, accurate content guided by strict editorial guidelines. Before articles and reviews are published on our site, they undergo a thorough review process performed by a team of independent editors and subject-matter experts to ensure the content's accuracy, timeliness, and impartiality. Our editorial team is separate and independent of our site's advertisers, and the opinions they express on our site are their own. To read more about our team members and their editorial backgrounds, please visit our site's About page.