Although you can get through life without ever opening a bank account, having one is inarguably more convenient and efficient — and for more than just storing your cash. Having a bank account is required to get most types of credit, and it can also be useful for things like direct deposit or cashing a paycheck.
Not so long ago, your options for banking were limited to your geographic area, which often meant paying high fees and dealing with large deposit requirements. Today, however, the internet has exponentially increased the number of banks a consumer can access, and that competition has been good for customers.
Now, you can open a bank account online, with no deposit, with bad credit, and even with no monthly maintenance fees in many cases. Opening a bank account in the digital age is a simple two-step process, thanks to the wide selection of banks and credit unions you can find through the web.
1. Choose a Bank or Credit Union with $0 Deposit Req's
As you might expect, the first step to opening a bank account is to find the bank and account that fit your needs. The right bank account for you may differ from the right account for your neighbor.
For example, if you're happy doing your banking through a website or mobile app, then an online-only bank may be a good fit. If you prefer to do your banking face-to-face, however, then stick with a local or national bank that has a physical branch nearby.
Chime was created from the ground up to be an online-only business, and it's the absence of physical branches that allows Chime to offer banking services that are almost entirely fee-free. Account holders pay no monthly maintenance fee, overdraft fee, or foreign transaction fees.


60,000+ fee-free ATMs¹
Online transfers & direct deposit allowed²
No monthly maintenance fee
No minimum balance requirements
Receiving, accessing, and transferring funds is also fee-free. Users will receive a Visa® Debit Dard to use wherever Visa cards are accepted. They can also accept direct deposits, mobile check deposits, take advantage of more than 60,000 fee-free ATMs around the country, and send fee-free mobile payments, all from the mobile app.
Chime is a financial technology company, not a bank. Banking services and debit card are provided by The Bancorp Bank, N.A. or Stride Bank, N.A. Members FDIC.
Another online-only bank, Current charges no surprise hidden fees and has no minimum balance requirements. It also doesn't require any money upfront to open an account, which can be done easily online in just a few minutes.


40,000 fee-free ATMs
Get paid up to 2 days faster with direct deposit
Earn cash back points with over 14,000 merchants
No minimum balance to open
Current also offers free mobile check deposits and cash reloads at over 60,000 stores nationwide. There's no credit check required to sign up. Account holders can also automate savings through the Savings Pod feature, which rounds up purchases to the nearest dollar and transfers the difference into the pod when the transaction finalizes.
Sable is an online-only bank that offers a zero fee promise — no monthly fees, ATM fees, overdraft fees, or foreign transactions fees. Sable partners with Mastercard for its debit card, which means you can use the card to make purchases everywhere Mastercard is accepted.


No minimum balance requirement
No monthly fee or signup fee
1% cash back on eligible purchases
Funds are FDIC insured for up to $250,000
Additionally, your Sable debit card is compatible with Apple Pay, Google Pay, and Samsung Pay mobile wallets. This debit card also comes with travel features that include emergency card replacement, Mastercard Airport Concierge, and identity theft protection.
Although Discover is most known for its popular cash back credit cards, the online-only bank also offers a full range of deposit accounts, including both checking and savings accounts, though it's the Cashback Debit checking account that really stands out.


Earn 1% cash back on up to $3,000 in eligible debit card purchases each month
No monthly fee
No minimum balance to open
Large network of fee-free ATMs
For one thing, the account has no minimum deposit requirements and no monthly or annual maintenance or service fees, and account holders have access to 60,000 fee-free ATMs. Additionally, users can earn 1% cash back on debit card transactions.
Capital One offers a lot of products, from credit cards for fair credit and rebuilding to loans and deposit accounts. The 360 Checking account is the bank's only (non-teen) checking account, but it packs in all the expected features without excess fees.


70,000 fee-free ATMs
Online transfers & direct deposit allowed
No monthly maintenance fees
No minimum balance to open
The Capital One 360 Checking account has no balance minimums to open or maintain, and there are no monthly or annual maintenance fees. Account holders can use any of Capital One's ATMs for free, and users who also have a savings account can set up free overdraft transfers.
No matter what type of financial product you need, your local credit unions are worth exploring, as they often offer the same products as major banks, and they do so more affordably. Most credit unions should offer at least one checking account option that has no monthly fees, and many will have no or extremely low (~$5) deposit requirements.


Checking and savings accounts available
Online transfers & direct deposit allowed
Fee-free accounts available
Minimum deposit may vary
You can search for a local credit union online through the Credit Union Locator tool provided by the National Credit Union Administration. Credit unions require you to become a member to use their services, and membership qualifications will vary based on the individual credit union. In general, living or working in the credit union's geographical area will qualify you for membership.
2. Fill Out the Online Application
Once you've found the right bank account, much of the hard work is over. Now, all you need to do is fill out your application — a process that the internet has made remarkably simple.
The application is usually just a button away from the account website or the bank's mobile app. The specific application will vary based on the individual bank or credit union, but most applications will ask for the same type of information.
Personal Contact Information: Providing your personal information and contact details is standard practice for an application for just about anything, and bank accounts are no exception. Even online-only banks will request your contact information as well as your digital data, so you'll usually need to provide:
Your legal name
Your physical address
Your phone number
Your email address
Be sure that everything is spelled correctly and that you provide the most up-to-date information possible. This can avoid any issues that slow down your application.
Identification Information: Financial institutions are required by law to verify your identity when you open a new account. To help with this, most bank account applications will require you to provide additional details to prove your identity, including:
Your date of birth
Your driver's license or state ID number & expiration
Your Social Security or Tax ID number
If you don't have a U.S. Social Security or Tax ID number, your bank or credit union may accept a foreign passport number (with the country of issuance), an alien identification card number, or another government-issued ID number.
Funding Information: Depending on the specific account, you may also need to provide information when you apply about how you will fund your new bank account. The methods you can use to fund your account will vary by institution, but may include:
Debit or prepaid card
Credit card
Bank transfer
Mobile check deposit
Existing account transfer
Even accounts that don't require a deposit to open will typically ask for funding information at the application stage, so plan ahead before you apply. If cash is the only way you can make a deposit, you may need to apply in person.
Do Banks Check Credit Reports for Deposit Accounts?
Although opening a new bank account doesn't generally involve any sort of credit, your credit profile can still impact your ability to get a loan. That's because some banks and credit unions will check your credit report as a part of the application process.
For the most part, this credit check won't prevent you from getting a bank account, though it may influence what types of accounts you can open. And certain red flags — like bankruptcy or charge-offs with previous banks — may also negatively influence your options.
On the bright side, this credit check will generally be a soft credit pull rather than a hard pull. This means that applying for a new bank account shouldn't impact your credit scores.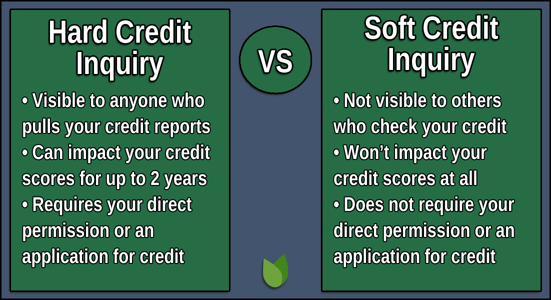 However, while your credit report can influence a financial institution's decision, what's more important to your ability to get a bank account is a different type of consumer financial history: your ChexSystems report.
In many ways, your ChexSystems report (or TeleCheck, Early Warning Systems report, or FACTA, depending on the bank) is like a credit report — you even get a ChexSystems score — but instead of containing information about your loans and credit cards, this report has information about your banking history.
But banks aren't concerned about how much you save or what you spend at the coffee shop — at least, not directly. What they're really looking for is whether you keep your account in good standing.
Essentially, financial institutions want to minimize the risk that you'll abuse your bank account, and a history of poor banking behavior is considered a red flag. For example, if you regularly overdraft your account and, worse, fail to repay the overdraft fees, you may be turned down for a new checking account.
As with your credit reports, you are entitled to a free copy of your ChexSystems report each year, so you can see what the banks see. You're also entitled to a copy of your report if you have been rejected for a bank account within the last 60 days.
Anyone can make mistakes, so you may occasionally find an error on your ChexSystems report. Fortunately, you also have the ability to dispute any inaccurate information in your ChexSystems report, a process that can be done online, by mail, or by phone.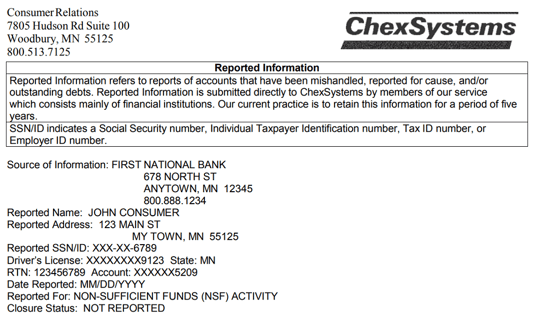 If you do happen to have a poor banking history, you won't need to fear bank account applications forever — most ChexSystems items will be deleted from your report after five years. Of course, you should keep in mind that individual banks have their own records; if you have a bad history with a particular bank, it may be held against you for a while.
What Are Online-Only Banks?
Online-only banks — banks without physical bank branches — are becoming a prevalent part of consumer banking. Without the costs associated with building and maintaining bank branches, online-only banks can offer accounts with lower fees and better interest rates, making them an increasingly attractive alternative.
These banks also tend to offer robust online and mobile banking options, which often appeal to busy consumers who don't want to waste time going to the bank.
However, online-only banks do have a few drawbacks, starting with the absence of in-person customer support — you can't head into the local branch to ask a question about your account. You also can't pop in for a quick cash deposit or to change out a few bills for foreign currency.

While online banking tools, like mobile check deposits, can make some of these cons less of a problem, they may be a larger impediment when first opening your account due to the initial funding requirements of most bank accounts, especially troublesome if you don't have another bank account from which to transfer funds.
If you need to make an initial deposit and can't fund the account from an existing bank account, you may want to ask if you can use a prepaid debit card to fund your account. Alternatively, see if a friend or family member will fund your account (just be sure to give them the cash). If nothing else, consider looking for an account at a local bank or credit union where you can make a cash deposit.
What Are Second-Chance Bank Accounts?
While the idea may not occur to most people — at least, not until it happens to them — you can be turned down for a bank account. That's not to say most banks and credit unions are going to turn you down for no reason (because they generally don't), but they may deny your application if you have a poor banking history.
As we explain in more detail below, many financial institutions use a banking history reporting company called ChexSystems to check an applicant's recent banking history. If you have a record of unpaid overdraft fees or bank fraud, new banks may be wary of offering you an account.
Second-chance bank accounts are deposit accounts from banks that either don't use ChexSystems or that purposefully offer accounts to applicants with troubled banking histories. While easy to obtain if you've been turned down elsewhere, keep in mind that these accounts may have higher fees than are charged by other accounts, and they typically have minimum deposit requirements.
How Are Banks & Credit Unions Different?
One common complaint about Big Banks is that they are cold corporations more concerned about profits than customers. The reality behind this is that most banks do, in fact, have shareholders to whom the bank must make payments before any potential savings can be passed on to customers.
While credit unions offer many of the same products as do banks, credit unions have a very different organizational structure. Namely, credit unions are effectively owned by their members, rather than by nameless investors or shareholders.
As a result of the organizational structure of a credit union, each member has a say in the way the institution operates. Additionally, the credit union's profits are put back into the organization, often in the form of lower fees and better interest rates than are offered by banks.
The main drawback of a credit union is that membership is typically restricted; most credit unions require you to live, work, worship, or go to school in a set geographic area, or to belong to a specific partnership organization.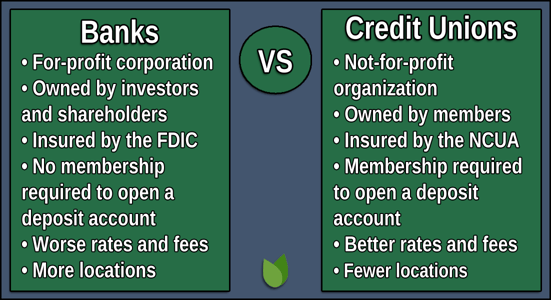 Another con of credit unions versus big banks is that the big, multinational banks have profits in the hundreds of millions — profits that can be used to research and implement cutting edge financial technologies and customer benefits. Banks also often have larger physical footprints, with branches in multiple cities, states, or even countries.
Credit unions, on the other hand, are generally limited in size and scope, with locations often restricted to a given county or region (though some credit unions may have broader membership eligibility). Local credit unions may also have fewer resources for development, and they tend to offer more conservative features.
What Are the Consequences of Owing Money to a Bank?
In theory, there is little risk inherent in bank accounts for the banks themselves, as you deposit the money you spend instead of having a line of credit. However, depending on your financial situation, there are several ways you could wind up with a negative checking account balance and a debt to the bank.
The most common path to a negative account is likely from overdrafting, which occurs when you make debit card purchases or write checks that you do not have the funds to fulfill. Not only can these transactions send your balance into the red, but the overdraft or non-sufficient funds (NSF) fees can make the problem even worse.
So long as you quickly add funds to your account to cover the negative balance, most banks will just let it go at that — you can continue using your account as usual. However, a pattern of repeatedly overdrafting your account and/or bouncing checks can cause the bank to close your account.
That history can also wind up on your ChexSystems report, impacting your ability to open new bank accounts.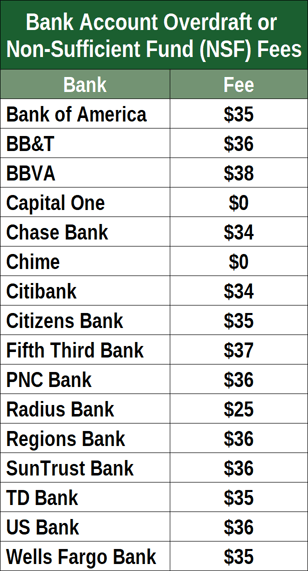 Another way your bank account can wind up in the negative is if you have a loan with the same institution with which you keep a checking or savings account. That's because banks and credit unions have the right to setoff debts against bank account balances, potentially dropping your account balance to $0 and causing you to overdraft on any outstanding transactions.
For example, suppose Jack has both an auto loan and a checking account with Imaginary Bank. If Jack falls behind on his auto loan payments, Imaginary Bank has the right to setoff what he owes by removing money from his checking account to cover the debt.
If you owe money to the bank and fail to bring your account back into good standing, the bank will likely close your account. If you continue to ignore the debt, the bank will likely charge off that debt. This means having a charge-off reported to the credit bureaus, which will mean serious damage to your credit score. Additionally, your debt will likely be sold to a collection agency.
Furthermore, no matter how you wind up owing money on your bank account, don't just assume you can open a new bank account and go on like normal. Some banks will check your credit reports when you apply for a new bank account, and seeing a charge-off from another bank will be a big red flag.
And don't forget about that all-important ChexSystems report that tracks your banking history. Any bank that pulls your ChexSystems report (or any other bank history report) will likely see your history of overdrafts or that you owe money to another bank, either of which can get your application for a new account rejected.
Although all of these consequences can be severe, it's worth noting that none of them include jail time. Debtor's prison was (technically) abolished close to two centuries ago, and you can't be arrested — or threatened with arrest — just for owing money on consumer debts like credit cards, loans, or medical bills. (Court debts are sometimes a different story.)
You typically can't be arrested for owing money on consumer debts like credit cards, loans, or medical bills.
Of course, while owing a bank isn't necessarily illegal, defrauding the bank is illegal. You absolutely can (and likely will) be arrested and criminally prosecuted in cases of fraud, including bank account fraud, check fraud, or credit card fraud.
What If I Can't Open a Bank Account?
If you're unable to open a bank account online, one viable alternative is to get a prepaid debit card. Many of these cards function similarly to bank accounts by offering direct deposit, mobile check upload, and a safe place to store your money.
You can use a prepaid card to pay bills and buy necessities online and in-person, just as you would with a debit card attached to a checking account. But prepaid cards aren't usually fee-free, as they may charge a per-use fee or monthly maintenance fee. However, these fees are usually waived by having $500 or more direct deposited into your account each month.
Some of our favorite prepaid cards include:
Move money from your PayPal account to fund your prepaid card account.
Earn cash back and personalized offers, just for using your card.
With Direct Deposit, you can get paid faster than a paper check.
Card issued by The Bancorp Bank, Member FDIC. Card may be used everywhere Debit Mastercard is accepted.
Click PayPal Prepaid Mastercard® for additional features & program details, and to request a Card.
| Application Length | Interest Rate | Reports Monthly | Reputation Score |
| --- | --- | --- | --- |
| 5 minutes | N/A (Prepaid) | No | 9.5/10 |
With Direct Deposit, you can get paid faster than a paper check.
No late fees or interest charges because this is not a credit card.
Use the Netspend Mobile App to manage your Card Account on the go and enroll to get text messages or email alerts (Message & data rates may apply).
Card use is subject to activation and ID verification. Terms and Costs apply.
Card issued by Pathward N.A., Member FDIC. Card may be used everywhere Visa debit card is accepted.
See additional NetSpend® Prepaid Visa® details.
| Application Length | Interest Rate | Reports Monthly | Reputation Score |
| --- | --- | --- | --- |
| 5 minutes | N/A (Prepaid) | No | 7.5/10 |
Greenlight is a debit card for kids, managed by parents
Parents set flexible controls and receive real-time alerts while kids monitor their balances, set goals, and learn how to manage money
Feel secure knowing Greenlight blocks unsafe spending categories
Receive Mastercard's Zero Liability Protection
Upload a photo of your choice to create a unique custom card
Debit cards are FDIC-insured up to $250,000
Easily turn your Greenlight card on or off and receive real-time spending notifications
| Application Length | Interest Rate | Reports Monthly | Reputation Score |
| --- | --- | --- | --- |
| 5 minutes | N/A (Prepaid) | No | 7.0/10.0 |
You can also use your prepaid card to withdraw cash from a large network of ATMs for free, and some even come with convenient bill pay features. The only drawback is that a prepaid card won't help you build credit or be reported to ChexSystems to improve your banking history.
Leave Unbanked Behind
Love it or hate it, a bank account is an important — if not vital — financial tool, and that importance is only increasing as our society moves ever closer to becoming cashless. Happily, the same cultural shifts that have made bank accounts a near necessity have also impacted the banking industry in remarkable ways.
One of the most notable impacts has been the emergence of online-only banks and other financial technology companies that have stimulated a resurgence of low- and no-fee bank accounts. Not only can online resources make it easier to find an affordable bank account, but they can also help consumers with a poor credit history find flexible and second-chance bank accounts to get back on track.
---
1 Out-of-network ATM withdrawal fees may apply except at MoneyPass ATMs in a 7-Eleven, or any Allpoint or Visa Plus Alliance ATM.
2 Sometimes instant transfers can be delayed. The recipient must use a valid debit card to claim funds. Once you are approved for a Chime Checking Account, see your issuing bank's Deposit Account Agreement for full Pay Anyone Transfers details. Please see the back of your Chime debit card for your issuing bank. See Terms and Conditions.
Advertiser Disclosure
BadCredit.org is a free online resource that offers valuable content and comparison services to users. To keep this resource 100% free for users, we receive advertising compensation from the financial products listed on this page. Along with key review factors, this compensation may impact how and where products appear on the page (including, for example, the order in which they appear). BadCredit.org does not include listings for all financial products.
Our Editorial Review Policy
Our site is committed to publishing independent, accurate content guided by strict editorial guidelines. Before articles and reviews are published on our site, they undergo a thorough review process performed by a team of independent editors and subject-matter experts to ensure the content's accuracy, timeliness, and impartiality. Our editorial team is separate and independent of our site's advertisers, and the opinions they express on our site are their own. To read more about our team members and their editorial backgrounds, please visit our site's About page.