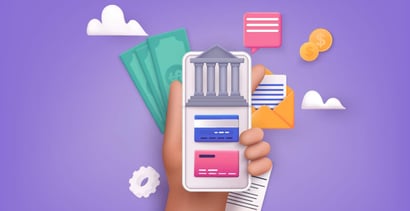 No credit check bank accounts are not rare. Many banks and financial institutions do use ChexSystems Reports to review your past banking and credit history when you apply for an account. If you have a spotty checking account history, you could be denied an account or only qualify for a high-fee second chance checking account. 
Luckily, good credit is not a requirement for a bank account as it often is for a loan or credit card. Plenty of options exist if you're looking to start fresh and open a bank account. 
Most bad credit checking account options don't use consumer reporting agencies like ChexSystems when evaluating a potential customer. You may have to pay a few fees or adhere to other special terms to get an account, but this could provide a great opportunity to get a bank account. 
1. Current
Current provides premium financial services through its custom-built banking technology. You'll receive a Visa debit card that provides everything you need, including mobile banking access, free ATM withdrawals, fast direct deposits, and mobile check deposits. There are no hidden fees or overdraft fees. 
Cardholders can get overdraft protection for up to $200 when they receive direct deposits of at least $500 per month. This is important for those who've struggled with overdraft fees in the past and are working on budgeting their money. 
2. Chime® Account
Chime® Checking Account was founded by Chris Britt and Ryan King in 2013 on the premise that basic banking services should be helpful, easy, free, and accessible to everyone. It is dedicated to providing member-first financial products that make it easier to get ahead financially and manage money. 
Chime is a financial company that provides banking services with no credit check. Chime accounts also don't charge many fees, and you can get paid up to two days earlier with direct deposit. Chime will also spot you up to $200 in overdrawn debit card purchases if you sign up for the optional overdraft protection.
Chime debit cards can be used anywhere Visa cards are accepted. You'll also have access to thousands of fee-free ATMs if you need to withdraw cash. You can easily send other Chime account holders money with Instant Pay for free.⁴
3. GO2bank
GO2bank is a mobile no credit check bank account that comes with a Visa debit card and many services to help you manage your money. There is a minimum deposit required to open an account as well as a cash deposit fee. But you can avoid the deposit fee and monthly fee when you set up recurring direct deposits.
You can also deposit checks into your checking account via the mobile app's check deposit feature. Use the GO2bank app to manage your account and monitor transactions for your checking and savings accounts. 
You will be charged an overdraft fee for any purchases that exceed your available balance unless you enroll in overdraft protection. Overdraft protection can cover debit card transactions that exceed your balance by up to $200.
4. Oxygen
Oxygen is a financial technology company that provides banking services through Bancorp Bank, a member of the FDIC. Awarded the Best Overall Fintech App in the U.S. at the Fintech breakthrough awards, Oxygen offers personal and business checking account services to help you manage your money.
There are four different types of Visa debit cards that represent the four main elements: earth, water, fire, and air. Oxygen provides cash back on regular purchases, earlier access to your paycheck with direct deposit, a savings account that earns interest, and free access to more than 40,000 ATMs.
Some cardholders can also enjoy cellphone protection, extended warranty protection, and more benefits, depending on the tier they sign up for. While the basic Visa card, named Earth, is free and has no fees, the other three options do charge an annual fee and impose monthly spend and direct deposit amount requirements. 
5. Flare Account
Flare Account is a debit card and mobile banking service that was developed in partnership between ACE Cash Express and Netspend. The companies wanted to simplify the banking experience and provide consumers with the tools they need to manage their money despite having a limited banking history or credit issues. 
With a Flare spend account, you can enjoy no-fee cash withdrawals, deposit checks, and manage your account using the mobile app. Flare provides daily text alerts to keep you up to date on your transaction history, deposits, and other notifications that can be modified in the app.
When your card arrives in the mail, you can activate it online and mobile deposit a check, initiate an ACH transfer, or make a transfer from an external bank to fund your new account. Flare charges a monthly maintenance fee, but this can be waived if you receive at least $500 in deposits each month.
What Is a No Credit Check Bank Account?
A no credit check bank account is an account that you can apply for without the financial institution using ChexSystems to verify your information and banking history. 
No credit check bank accounts are also referred to as second chance bank accounts by some banks. This is because they are geared toward consumers with bad credit scores and spotty banking histories who want to start over. 

If you have a limited banking history or have had bank or credit issues in the past, you probably realize how challenging it can be to get a bank account with a traditional bank or credit union. Most banks will pull your credit report or banking history through a tool called ChexSystems. 
ChexSystems is a credit reporting agency that operates under the Fair Credit Reporting Act (FCRA). This is different from a personal credit report that you can pull up using a tool like Credit Karma.
Instead, the company may check other information such as your income, address, and employment details. This makes it a little different from basic bank accounts. 
A monthly maintenance fee may be included for second chance bank accounts to protect any risk your history may pose to the bank. For example, the Wells Fargo Clear Access Banking checking account has a monthly fee, but it can be waived under some circumstances. 
No credit check bank accounts can also be offered through financial tech companies, such as the ones listed above. While these companies aren't actually banks, many are backed by banks or allowed to offer bank-like financial services.
So while you may not receive a checkbook, you can still have access to features such as mobile account management, direct deposit, a debit card, and free ATM access.
How Do I Open an Online Bank Account?
Opening an online account is easy and can be done in just a few minutes. You can even open a business bank account online just as easily. 
Make sure you're applying from a secure and legitimate website. Here are some basic steps you'll need to follow to open either a personal or business checking account online.
Step 1: Choose the account you want. Sometimes, there are multiple options for an online checking account including personal and business bank account options. Evaluate your choices to see what would fit best for your preferences and financial goals.
Step 2: Submit your application. Submit your application online and be ready to include personal information such as your address, birth date, driver's license number, proof of address, and other required documentation. 
Step 3: Agree to terms. You may be presented with the terms of use agreement before you submit your application, or it may show up once you get approved to open an account. Either way, be sure to carefully review the account terms to make sure you understand and agree with them. Pay attention to fees, any card use limitations, and other features important to you. This is also a great time to ask questions if anything doesn't make sense. 
Step 4: Fund the account. Once you've agreed to the terms, the last step is to fund your account. Some companies have a minimum opening deposit requirement while others don't. You can typically fund an online bank account in a few ways. One option is to connect another bank account (referred to as an external account) and transfer money from that account to your new one. You can also use the app to make a mobile deposit of a check if your account allows it. In other cases, you may be able to send a wire transfer to the bank account or transfer funds from PayPal.
What Features Should I Look For?
When choosing a bank account with poor credit, it's important to think about what makes an account worthy to you. Compare the features of one account to another to ensure you're making the best choice for your situation. 
Among the most important features to look at are the fees. Avoiding a monthly maintenance fee is important to some people. If the bank account you're looking at does charge a monthly fee, see if there's a way to waive it — such as by setting up direct deposit — and whether it's something you can do.
Other banking features you may want to consider are:
Whether the bank offers a user-friendly mobile-banking app
Minimum balance requirements
The interest rate on savings account balances
Rewards and perks such as cash back or purchase protection
Customer service
FDIC insurance
Overdraft or card replacement fees
Also, consider the options to deposit and withdraw money. Is direct deposit easy to set up? Are there in-network ATMs or do you have to pay an ATM fee to withdraw your money?
How Long Does It Take to Sign Up and Get a Debit Card?
Signing up online usually only takes a few minutes if you have all the information you need to apply. Once you're approved and have funded your account, you should receive your debit card within five to 10 business days.

Some companies send updates on when your card was shipped and when it should arrive. Others allow you to track the status of your card and delivery once it's been shipped. When your card arrives, you'll need to activate it before you can start using it. 
What Happens If I Overdraft My Account?
If you end up spending more money than what's currently in your account, you will go into overdraft. Most banks charge overdraft fees, but with a no credit check bank account, you may be able to avoid this. 
Overdraft protection may be available to help you avoid fees and other penalties. Chime, Current, and Go2Bank all provide overdraft protection of up to $200. To get started, you'll need to enroll or opt in to this protection feature. You'll also need to set up direct deposit. 
They will review your transactions and the amount of your direct deposit to determine how much overdraft protection you qualify for. While you may start with a lower amount, such as $25 or $50, this amount could increase to the $200 maximum as time goes on and you continue to use your account wisely.
This is how it works: When your account overdrafts due to a purchase that exceeds your available balance, the amount(s) will be covered up to your approved overdraft protection limit. Even though your account will be negative, you won't have to pay extra fees. 
When your direct deposit comes in, the amount of overdraft protection you used is repaid automatically.  
Will an Online Bank Account Affect My Credit Score?
No, your online bank account won't affect your credit score because bank accounts don't typically go on a credit report. This is unlike a credit card or loan where all your payment history gets reported to each major credit bureau. 
Other types of loans or accounts that could impact your credit include:
business loan
personal loan
unsecured credit card
secured credit card
Or any type of loan where you borrow from a lender
According to Experian, bank account transactions and balances are not reported to national credit bureaus and don't appear on credit reports at all. The only way a bank account would contribute to poor credit is if you have a negative account balance that gets sent to collections. 
Current debts and delinquent accounts appear on credit reports, so it's important to make sure your account balance is always positive. If you can't keep a positive balance or no longer wish to use the account, you can always close the bank account to avoid negative credit score consequences.
Do Second Chance Banks Offer Loans?
Remember that a second chance checking account is just one of the many banking services a financial institution may offer. Many offer loans as well, whether you're looking for a personal loan, a credit builder loan, or even a secured credit card.
Loans differ from basic bank accounts since the bank will need to check your personal credit score or FICO score to approve you for the loan. If you have a bad credit score, this is where you can run into issues. 
LendingClub Bank is another option for personal loans with low fees and interest rates if you have fair credit — generally a credit score of at least 600. Try to steer clear of lenders that offer payday loans since these can have very high interest rates and fees. 
Some online lenders offer options for a bad credit loan and no credit check loan with low borrowing limits and higher initial interest rates. But these loans can help you borrow the money you need quickly and without undergoing a credit check.
Get a Bank Account With No Credit Check Online
Plenty of credible options exist if you're looking for a no credit check bank account. Whether you have bad credit or no banking history, many fintech companies and other financial institutions offer convenient banking solutions to help you manage your money.
Compare the features and consider one of these options to open a free checking account with little to no fees. Also, be sure to review your credit reports to see if and where you can improve your credit score since it affects your ability to get a credit card or an installment loan in the future. 
---
1 Out-of-network ATM withdrawal fees may apply except at MoneyPass ATMs in a 7-Eleven, or any Allpoint or Visa Plus Alliance ATM.
2 Early access to direct deposit funds depends on the timing of the submission of the payment file from the payer. We generally make these funds available on the day the payment file is received, which may be up to 2 days earlier than the scheduled payment date.
3 Chime SpotMe is an optional service that requires a single deposit of $200 or more in qualifying direct deposits to the Chime Checking Account each month. All qualifying members will be allowed to overdraw their account up to $20 on debit card purchases and cash withdrawals initially, but may be later eligible for a higher limit of up to $200 or more based on member's Chime Account history, direct deposit frequency and amount, spending activity and other risk-based factors. Your limit will be displayed to you within the Chime mobile app. You will receive notice of any changes to your limit. Your limit may change at any time, at Chime's discretion. Although there are no overdraft fees, there may be out-of-network or third party fees associated with ATM transactions. SpotMe won't cover non-debit card transactions, including ACH transfers, Pay Anyone transfers, or Chime Checkbook transactions. See Terms and Conditions.
4Sometimes instant transfers can be delayed. The recipient must use a valid debit card to claim funds. Once you are approved for a Chime Checking Account, see your issuing bank's Deposit Account Agreement for full Pay Anyone Transfers details. Please see the back of your Chime debit card for your issuing bank. See Terms and Conditions.
Advertiser Disclosure
BadCredit.org is a free online resource that offers valuable content and comparison services to users. To keep this resource 100% free for users, we receive advertising compensation from the financial products listed on this page. Along with key review factors, this compensation may impact how and where products appear on the page (including, for example, the order in which they appear). BadCredit.org does not include listings for all financial products.
Our Editorial Review Policy
Our site is committed to publishing independent, accurate content guided by strict editorial guidelines. Before articles and reviews are published on our site, they undergo a thorough review process performed by a team of independent editors and subject-matter experts to ensure the content's accuracy, timeliness, and impartiality. Our editorial team is separate and independent of our site's advertisers, and the opinions they express on our site are their own. To read more about our team members and their editorial backgrounds, please visit our site's About page.