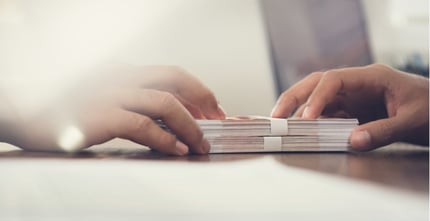 Where can I get a loan with bad credit? That's a common question among America's subprime borrowers. There's no doubt that a bad credit score hampers access to loans, especially loans with a favorable interest rate.
However, few demands go unmet in the American marketplace, and each online lender reviewed here stands ready to work with consumers who need a loan despite poor credit scores. Use the links below to skip ahead to the loan type you're looking for:
Personal Loans | Auto Loans | Home Loans | FAQs
Where to Get Personal Loans for Bad Credit
You may think personal loans would be unavailable to consumers with bad credit because these loans are not secured by collateral. However, the six lending services reviewed below work with networks of direct lenders who are comfortable helping bad-credit borrowers get a personal unsecured loan without the need to put up collateral.
These services require no minimum credit score and charge users no origination fee. And you are never under any obligation to accept a loan offer from an online lender.
Short-term loans up to $5,000
Online marketplace of lenders
Funds available in as few as 24 hours
Simple online form takes less than 5 minutes
Trusted by more than 2 million customers
Not available in NY or CT
| Loan Amount | Interest Rate | Loan Term | Loan Example |
| --- | --- | --- | --- |
| Up to $5,000 | Varies | Varies | See representative example |
MoneyMutual can facilitate a small personal unsecured loan even if you have poor credit. The loan request form can be completed quickly and then matched to a direct lender on the MoneyMutual network that is willing to work with you to approve your loan.
When you are transferred to the lender's website, you'll provide additional required information and receive an instant decision. If approved, your money will be deposited into your checking account as soon as the next business day.
MoneyMutual is headquartered in Las Vegas, Nevada. It can arrange a one- to two-week short term loan or an unsecured personal loan with terms from three to 72 months — the direct lender will explain all the details of its offer. Make sure you understand how much interest you'll be paying before accepting the offer.
Generally, you must be at least 18 years old, have a bank account, and earn at least $800 per month to qualify for a loan on the MoneyMutual network.
CashUSA is another lending service based in Las Vegas that specializes in arranging personal loans for consumers who do not have good credit. Loan amounts vary and are repayable in equal monthly installments.
To prequalify, you must be a U.S. citizen or permanent resident, 18 or older, earn at least $1,000/month after taxes, and have a checking account, email address, and phone number. There is no minimum credit score required.
You can complete and submit the loan request form in just a few minutes. CashUSA will then connect you to a lender willing to work with you.
After completing the application process, approved loans will be deposited in your checking account within a day or two. A customer support desk can answer any questions that arise during the process.
Don't let your bad credit rating keep you from applying to CreditLoan for a personal loan. This Tampa-based lending service can connect you to a direct lender specializing in helping consumers with poor credit. Just fill out the short request form to be matched with an appropriate lender.
If you're approved, your checking account will receive the loan proceeds in as little as one day. You can repay your loan in equal installments over three to 60 months.
CreditLoan offers many online resources and tools, including a bad credit personal loan calculator, that have educated more than 33 million visitors on important financial topics. The website has been awarded the TRUSTe® seal for privacy and security.
Like all the other services on this list, this bad credit personal loan network charges no origination fee.
Tacoma-based Bad Credit Loans specializes in matching consumers with lenders experienced in helping folks with bad credit. Lending rates and terms vary with each direct lender on the Bad Credit Loans network. To prequalify, you must be 18 or older with proof of U.S. citizenship or residency, and have regular income, a bank account, and a valid phone number and email address.
The company's network contains both state-licensed and Tribal lenders that can find you a loan whatever your credit rating. If you wish to accept a loan, you'll need to agree to the loan terms via an electronic signature. If you prefer, you can request a line of credit that allows you to control when and how much to borrow.
PersonalLoans can arrange a long-term installment loan of up to $35,000. It takes only a few minutes to fill out the short loan request form and be matched to a direct lender where you complete the application process.
If approved, your loan proceeds will be deposited into your bank account as quickly as the next day. Many lenders on the PersonalLoans network specialize in delivering loans to consumers with bad credit.
PersonalLoans is headquartered in Roosevelt, Utah. Customer representatives stand ready to answer your question via email or phone. You must be at least 18 years old to apply. You also must document a monthly income of $500+ and have an active bank account.
CashAdvance can facilitate a small short term loan to a consumer with credit problems. It prequalifies borrowers who are U.S. citizens, age 18 or older, and have an income of at least $1,000 a month after taxes.
You'll also need a phone number, checking account, and email address. Just fill out the short loan request form and, if you qualify, you'll be transferred to a direct lender that will complete the loan transaction. Lenders will automatically debit your bank account for each month's repayment amount.
CashAdvance is located in Roosevelt, Utah, where it's been arranging online loans since 1997. It emphasizes key values such as trustworthiness, superior customer care, and security. The company doesn't perform credit checks on its customers, although the members of its lending network may.
Where to Get a Bad Credit Auto Loan
Most car buyers require a loan to purchase a vehicle, and these three lending networks can oblige you even if your credit is poor. Consumers may be less familiar with cash-out refinancing loans available from these lenders that quickly put money in their pockets.
Because these loans are collateralized by your car, your low credit score is of secondary importance, especially at dealerships that self-finance their auto loans. Each of these networks includes many self-financing dealerships that will be happy to work with you to get you the loan you need.
Network of dealer partners has closed $1 billion in bad credit auto loans
Specializes in bad credit, no credit, bankruptcy and repossession
In business since 1999
Easy, 30-second pre-qualification form
Bad credit applicants must have $1500/month income to qualify
| Interest Rate | In Business Since | Application Length | Reputation Score |
| --- | --- | --- | --- |
| 3.99% - 29.99% | 1999 | 3 minutes | 9.5/10 |
It takes only a minute or two to prequalify for a bad credit car loan arranged by Auto Credit Express. You can prequalify by filling out an online loan request form, entering your pre-tax monthly income, average credit score, minimum monthly debt repayments, housing costs, and wage garnishments.
If you're 18 or older and satisfy the income requirement, Auto Credit Express will match you to a local dealer or lender that will work to offer you a loan. If your loan is approved, you'll receive a check or coupon for the loan amount in as little as one business day.
Auto Credit Express, located in Auburn Hills, Michigan, is a member of the Internet Brands Auto Group. You can work with a loan specialist to explore your options for purchasing or refinancing a vehicle. In addition, the company's online loan calculator will estimate your likely approved loan amount based on the information on your application.
Car.Loan.com encourages consumers with bad credit to apply for a car loan from a local direct lender on its network. You can fill out the short loan request form in a jiffy.
Car.Loan.com then shares your loan request with its network of dealers that are comfortable lending to folks with subprime credit. You'll typically get an immediate response from a dealer or lending partner matched to your needs.
Car.Loan.com was founded as a member of the Internet Brands Auto Group and is based in El Segundo, California. Its website offers a loan estimator, payment calculator, and informative articles about bad-credit borrowing. The company emphasizes how quickly it can arrange a loan and you may receive a follow-up phone call within minutes of submitting your application.
myAutoLoan.com is operated out of Irving, Texas, by Horizon Digital Finance. Prequalified subprime borrowers can use myAutoLoan.com to arrange a loan with no payments for 90 days from select lenders. In addition to arranging loans, the company's website offers valuable tools and information about car financing.
The myAutoLoan.com lending service is unique in that it can provide multiple links to lenders in your neighborhood. To prequalify, you must be a U.S. resident, 18 or older, have a yearly income greater than $18,000, and a need to borrow $5,000 or more.
If you plan to refinance your car, it must be no older than 10 years and have an odometer reading below 125,000 miles.
Where to Get Home Loans for Bad Credit
Your credit — good, fair, or bad — is less of a concern when seeking a home loan because the home and any equity you've built up in it serve as collateral to secure the loan. The types of home loans you can apply for include mortgages, home equity loans, home equity lines of credit, reverse mortgages, and cash-out refinancings.
The three resources reviewed here offer a variety of strategies for helping you purchase or refinance your home regardless of your low credit score, for the most part.
FHA Rate Guide is not involved in offering or arranging home loans. Instead, its mission is to provide you with leads for home loans guaranteed by the Federal Housing Administration.
You can quickly receive links to as many as four providers of FHA-guaranteed home refinancing loans. The information you enter will be used to send you preapproved quotes.
The service is free, and you're under no obligation to accept any offers you receive. If you are a veteran, you may want to apply for a VA loan instead. You can apply for a VA loan here.
LendingTree is a portal for many types of peer-to-peer loans, including home loans. To be eligible for a home equity loan from LendingTree, you must live in a participating state and have equity in your home.
If you qualify, marketplace lenders will review your request and may offer you a home loan.  LendingTree is a marketing lead generator and its service is free to you.
Wells Fargo Home Mortgage directly offers a variety of home loans to the public, including Federal Housing Administration, Veterans Administration, and conventional loans.
Moreover, its Easy to OwnSM Guaranteed Rural Housing program offers affordable home loans to financially challenged borrowers. Wells Fargo can quickly preapprove your loan request and provide final loan approval after finishing its underwriting process.
Where Can I Get a Loan if I Have Bad Credit?
There are many sources of bad credit loans, but not all of them are worth pursuing. In this review, we evaluate three strategies that make sense for many consumers with bad or no credit.
Personal loans for consumers with bad credit are available through the six loan-matching services in our review. Each service works with a network of lenders that may be able to accommodate your borrowing request. They all share the same basic criteria for loan prequalification that include age, residency, income, and expenses.
You don't need a cosigner, although a cosigner may be helpful. These services are free, and they save you the time and energy to find suitable lenders on your own. You can use the loan proceeds any way you choose, including as a boat loan or as a way to pay for a vacation.
The three reviewed car loan matching services facilitate auto financing for new and used cars without reference to credit score. They can also arrange cash-out refinancing loans to help you turn the equity in your vehicle into cash.
Some of their network members self-finance auto loans and therefore do not have to adhere to carmakers' financing credit policies. You benefit because self-financing dealerships seldom do credit checks.
If you own or want to buy a home, we recommend three resources that can address the concerns of consumers with bad credit. FHA Rate Guide helps you identify a loan program that can provide FHA financing that doesn't rely on credit scores.
LendingTree is a P2P marketplace that allows you to interact directly with providers of non-conventional and conventional loans interested in offering home loans to consumers with all types of credit profiles.
Wells Fargo Home Mortgage offers several options that allow you to get a home loan despite poor credit. It also offers cash-out refinancing loans that you can use instead of, say, a boat loan to purchase a sailboat.
You can also get a short term or emergency loan in the form of a credit card cash advance. Typically, these have APRs in the 20% to 35% range. The nice thing about these is that if you own a credit card with a cash advance feature, you do not have to go through an application process each time you need an emergency loan.


However, the credit cards available to folks with poor credit usually offer small cash advances, and some don't offer any at all. In fact, you may be able to get a bigger advance from a secured credit card, but you will first have to put down cash collateral to obtain the card.
We do not advocate payday loans. Even though they are specifically geared to consumers with bad credit, they charge an astronomical interest rate and late fees that could land you in a debt spiral.
Which Loan Company is the Best for Bad Credit?
In the personal installment loan market, our top choice for the best bad credit loan company is MoneyMutual. We like it because it has lenient income requirements and a large network of direct lenders ready to accommodate borrowers with poor credit.
Short-term loans up to $5,000
Online marketplace of lenders
Funds available in as few as 24 hours
Simple online form takes less than 5 minutes
Trusted by more than 2 million customers
Not available in NY or CT
| Loan Amount | Interest Rate | Loan Term | Loan Example |
| --- | --- | --- | --- |
| Up to $5,000 | Varies | Varies | See representative example |
MoneyMutual can find you short term payday loan alternative lenders as well as providers of personal loans you repay over multiple installments. Perhaps that's why they're trusted by more than 2 million customers.
Auto Credit Express is our favorite bad credit car loan network. In business since 1999, it specializes in helping folks with poor or no credit as well as those who've experienced collections, repossessions, bankruptcies, and foreclosures.
Network of dealer partners has closed $1 billion in bad credit auto loans
Specializes in bad credit, no credit, bankruptcy and repossession
In business since 1999
Easy, 30-second pre-qualification form
Bad credit applicants must have $1500/month income to qualify
| Interest Rate | In Business Since | Application Length | Reputation Score |
| --- | --- | --- | --- |
| 3.99% - 29.99% | 1999 | 3 minutes | 9.5/10 |
Auto Credit Express has facilitated more than $1 billion in bad credit auto loans. Your monthly income must be at least $1,500 to prequalify.
myAutoLoan.com deserves an honorable mention because it alone quickly identifies up to four dealers that may offer you a car loan. If you accept a loan after receiving loan approval, you can get an online check or loan certificate in as little as 24 hours. The direct lenders on the myAutoLoan.com network are eager to work with bad-credit customers for a new car, used car, or refinancing loans.
Homeowners and homebuyers that want to participate in an FHA loan program should be very satisfied with FHA Rate Guide since it can give you multiple leads for lenders who specialize in no-credit-check FHA home loans.
Options for home purchase or refinance
Get 4 free refinance quotes in 30 seconds
Network of lenders compete for your loan
Trusted by 2 million+ home loan borrowers to date
Interest rates are near all-time lows
| Interest Rate | In Business Since | Application Length | Reputation Score |
| --- | --- | --- | --- |
| Varies | 2004 | 4 minutes | 8.5/10 |
If you like the idea of getting multiple offers from a single application, you may prefer LendingTree. The P2P lenders on its marketplace portal compete with each other to fund home purchases and home equity loans.
Our favorite bank offering bad-credit mortgages and home equity loans is Wells Fargo. It has a special program that can help rural folks with bad credit obtain a mortgage.
Is it Possible to Get a $5,000 Loan with Bad Credit?
It is not only possible to get a $5,000 loan with bad credit, it's downright easy if the loan is collateralized by sufficient equity in your home or car. If you want to borrow $5,000 using these assets, you will probably need to have at least $6,000 to $7,000 in equity to cover the lender's down payment requirements.
If you have enough equity in your home, you can choose between a home equity loan and a home equity line of credit (HELOC). The former is a lump sum loan you repay over a set number of equal monthly installments.

A HELOC is more flexible because it is a revolving account that allows you to borrow only the amount you need when you need it, up to the credit limit. If you've owned your home for a few years, you probably have more than sufficient equity to get a $5,000 loan.
That loan amount is a little trickier when a refinancing loan is secured by your car. You will need at least $6,250 in equity to qualify for a $5,000 loan if the dealer requires a 20% down payment. If your original loan term is seven or eight years, it may take several of those years to build up the equity you need, depending on the size of the original down payment.
On the other hand, if there are no outstanding loans on your car, then you can get title loans quickly that amount to 80% to 90% of the vehicle's value. However, we recommend an alternative to car title loans because 20% of borrowers lose their vehicles through repossession.
It's harder to get a $5,000 unsecured personal loan when your credit is poor. A couple of the recommended lending services (MoneyMutual and CashAdvance) have loan limits below $5,000. Lenders with higher-limit personal loans may reserve them for borrowers with good credit.
Can I Get a Small Business Loan with Bad Credit?
A bad credit rating certainly complicates your ability to get a small business loan. But you can take some steps that may yield positive results.
The first is to try applying for a loan from a financial institution that specializes in lending to challenged businesses. Small local banks and credit unions are usually very understanding and are a good place to apply. Try applying in person and come armed with strong arguments and documentation that support your request.
We reviewed LendingTree in the context of a home loan provider, but it also facilitates business loans through its online marketplace. You don't have to be a corporation to qualify for a LendingTree loan — it works with sole proprietorships, partnerships, and LLCs.
If you have bad credit, loan providers will probably ask you to personally guarantee a business loan. These are called recourse loans and they allow lenders to attack the delinquent borrower's personal assets, as well as garnish wages and levy accounts. These lenders may require you to put up your house, cars, and other personal assets to collateralize a recourse loan.
If you can't arrange a business loan, try a personal loan instead. The loan-matching services we reviewed above may be able to help you get a personal loan, and one — PersonalLoans – facilitates loans of up to $35,000.
Can I Get a Debt Consolidation Loan with Bad Credit?
Debt consolidation allows you to combine two or more smaller loans into a larger one. The idea is to achieve better terms and/or lower monthly payments while simplifying your monthly bill paying. For example, you may have credit card debt costing you 20% to 35%, as well as private student loan debt and perhaps a personal loan.
You can use the proceeds from any of the personal loan networks we've reviewed to perform your own debt consolidation if your bad credit score shuts you out from conventional loan sources. You'd be in good company, as more than one-third of personal loan recipients use the proceeds for debt consolidation.
For example, if you currently owe $7,000 in credit card and personal loan debt, you can take out a new personal loan large enough to pay off your current debt. You then will have one fixed installment to repay each month.
Your monthly payment amount will become more affordable by extending the term of the loan. If you set up autopay, you won't have to remember to make the payments on time each month.
You can also use the proceeds from a cash-out car or home refinancing loan to consolidate other debt. However, understand that doing so may involve replacing unsecured debt with secured debt.
You won't lose your home if you default on credit card debt, but you face foreclosure if you default on a home loan. Similarly, you can have your car repossessed if you are delinquent on your bad credit auto loan.
If your debt is limited to credit cards, you may be able to transfer your balances to consolidate your debt to a single card. Borrowers with fair or better credit may be able to get a new credit card that offers interest-free balance transfers (fees apply) for an introductory period.
However, if you have bad credit, transferring credit card balances becomes problematic on several counts:
The credit cards available to consumers with bad credit offer extremely limited credit limits that may not come close to the amount you need to consolidate your other cards.
These cards often don't provide cash advances, and almost none offer any introductory bonus period for interest-free balance transfers.
These cards have high interest rates that make consolidation costly.
Your bad credit score may prevent you from getting a new credit card that offers balance transfers.
For these reasons, the lenders reviewed in this article offer the best opportunity for you to consolidate your existing debt.
Can I Get a Federal Student Loan with Bad Credit?
Federal student loans are available to Americans who meet certain eligibility requirements. But those requirements do not include a person's credit score — the federal government does not use credit score when deciding who gets a student loan.
Therefore, you certainly can get a federal student loan with bad credit, as long as you meet the other requirements. These include:
Demonstrating financial need.
Having a valid Social Security number.
Being a U.S. citizen or eligible noncitizen.
Enrolling as a regular student in an eligible degree program.
Completing the Free Application for Federal Student Aid (FAFSA) form attesting that you are not in default on a student loan/grant and that you will only use the proceeds for your education.
Being a high school graduate or equivalent.
The picture is quite different for private student loans. These are more like personal loans in that they rely on the borrower's financial credentials and credit score.
What is a Secured Loan?
A secured loan is backed by collateral. For example, home and auto loans are secured by your home and car, respectively.
The purpose of collateral is to help ensure you repay a loan in full and on time, lest your collateral be confiscated through a home foreclosure or car repo. Cash deposited into a locked account can also serve as collateral, as can other assets — you only have to visit your nearest pawn shop to view a wide array of collateral.
You seldom will be able to borrow an amount equal to the current value of your non-cash collateral. You instead take a "haircut," meaning the lender lets you borrow less than 100 cents on the dollar.
The haircut represents your equity contribution to the loan. Lenders depend on your equity to reimburse their expenses if they have to seize and liquidate your collateral.
The home and auto loan-matching services in this review are all secured loans. For home loans, you may have to contribute as little as 3.5% for FHA loans or up to 20% for conventional mortgages or refinancing loans. Auto loans typically require 10% to 20% down payments, depending on your credit score and other factors.
The personal loan matching services in this review offer unsecured loans. They are often called signature loans because your signature is the only thing "securing" the loan.
However, we have also reviewed providers of secured personal loans that you may want to consider. Consumers with bad credit will find it easier to obtain this kind of personal loan.
We reviewed Wells Fargo Home Mortgage above, but the bank also offers personal loans secured by a Wells Fargo savings account or CD. Because the collateral is cash (or near-cash), you can borrow up to the full amount on deposit. The collateral is frozen until the loan is fully repaid.
You may be familiar with secured credit cards from issuers like Capital One, OpenSky, and Discover, among others. With a secured card, you deposit an amount not less than your credit limit.
The deposit serves to protect the bank against missed payments or spending past the credit limit. Secured credit cards are easy to obtain from your bank or credit union no matter your credit score. As a bonus, they usually offer relatively low APRs.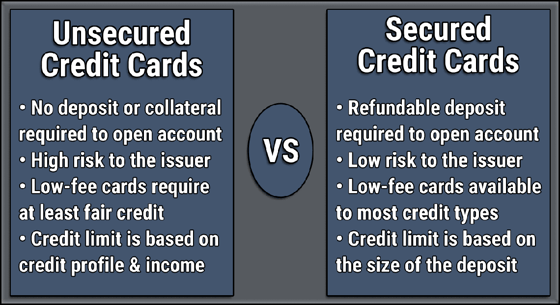 Secured credit cards are a good vehicle for rebuilding your credit. The issuer reports your payments to one or more of the three credit bureaus (Experian, TransUnion, or Equifax).
The job of a credit bureau is to maintain your credit history. When you pay on time over a period of months, you should see the credit bureau reward you with a higher score as your credit history reveals that you are now a more creditworthy consumer.
Credit builder accounts are another way to use a secured loan to improve your credit profile. In this type of account, you are lent money that is immediately deposited into a locked account controlled by the lender.
Your monthly payments reduce your loan balance and are reported to the credit bureaus. When you repay the loan, your money (plus interest) is returned to you. Credit builder accounts are widely available at credit unions and by private companies such as Self Lender.
What Will My Loan Term and Monthly Payment Be?
Cash advances can have terms as short as a week or two before they are fully repaid. At the other extreme, home mortgages can run 30 years or longer.
The loan term depends on the type of loan, who issuers it, how much is borrowed, and who the borrower is. Thus, there is no hard and fast rule for knowing a loan's term and monthly payment — these variables are situational.
The personal loans described in this article typically have terms between three and 60 months, although some extend to 72 months or longer. The monthly installments are fixed and are roughly equal to the loan amount plus interest divided by the number of months in the loan term.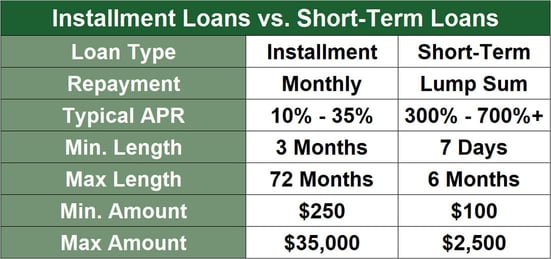 Auto loan terms usually extend between three and eight years. As mentioned, mortgages can run for 30 years, although 15-year terms are also popular. Home equity loans may have shorter terms.
Auto, home, and personal loans are amortized, which means your monthly installments are composed of principal and interest. In the early months, your payments go mostly toward interest. Over time, you begin paying down more principal and less interest.
By the end of the term, your payment is almost entirely principal. It works this way because lenders like to book their interest income as quickly as possible.
Naturally, the longer the term, the smaller the monthly repayment amount. While this may make your monthly budget more manageable, understand that this will increase the amount you pay in overall interest since your lender's money will be on loan for a longer period.
You want a loan that doesn't charge you a prepayment penalty. By paying off the loan sooner than expected, you reduce the overall amount of interest you'll pay.
Some loans have prepayment penalties that expire sometime during the loan term. Read the fine print to avoid unwelcome surprises.
Now You Know Where to Get a Loan with Bad Credit
You asked, "Where can I get a loan with bad credit?" And we answered with this review of loan providers and matching services that highlight our top choices for bad-credit personal, auto, and home loans.
All of these lenders are willing to work with you to get you the money you need despite having bad, very bad, or downright miserable credit. That's because these lenders look beyond credit scores to see whether your income and expenses will allow you to repay the loan on time.
In the case of home and auto financing, the loans are secured by collateral, making them relatively easy to obtain. All of these loans are superior to payday loans that charge huge APRs and fees.
Advertiser Disclosure
BadCredit.org is a free online resource that offers valuable content and comparison services to users. To keep this resource 100% free for users, we receive advertising compensation from the financial products listed on this page. Along with key review factors, this compensation may impact how and where products appear on the page (including, for example, the order in which they appear). BadCredit.org does not include listings for all financial products.
Our Editorial Review Policy
Our site is committed to publishing independent, accurate content guided by strict editorial guidelines. Before articles and reviews are published on our site, they undergo a thorough review process performed by a team of independent editors and subject-matter experts to ensure the content's accuracy, timeliness, and impartiality. Our editorial team is separate and independent of our site's advertisers, and the opinions they express on our site are their own. To read more about our team members and their editorial backgrounds, please visit our site's About page.