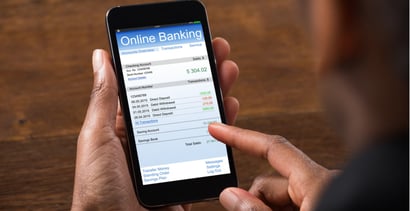 Online bank accounts for bad credit are an attractive alternative to a regular checking account. These accounts offer the checking and savings services you expect without a lot of fees and red tape. 
But these accounts also provide innovative features that make banking more convenient and rewarding. Best of all, these banks welcome folks who have less than perfect credit records, people that a traditional financial institution may shun. 
Bank Accounts For Bad Credit
These five online banks offer consumers with bad credit a second chance bank account to enjoy the benefits of second chance checking, including the use of a debit card, ATM withdrawal without ATM fees, and direct debit and deposit.
They are a type of streamlined financial institution that doesn't have expensive brick-and-mortar branches, a tremendous savings that they share with their second-chance checking customers. 
Current offers a free basic account, a premium account that costs $4.95 per month, and a teen account. You can add money to your free checking account through mobile check deposits, cash deposits at selected retailers, or direct deposits of your paycheck or benefits.
Using the Current mobile app, you can set up budgets for one or more spending categories, perform a mobile deposit, and receive instant notification for purchases. The premium account adds immediate gas station authorizations and early access to direct deposits.
offers an online second-chance account with a mission: to help its customers restore their financial health. It's characterized by low fees and options that encourage savings. It also offers a SpotMe® feature that covers you up to $200 on debit card purchases with no overdraft fees¹.
Chime encourages savings by rounding up debit card transactions to the nearest dollar and transferring the round-up to your savings account. You can also specify a portion of your direct deposits to be automatically transferred into your savings account. 
GO2bank comes with all the features you'd expect from an online bank account, plus so much more. This account is similar to others featured in this review, but this one requires a $20 minimum deposit to open, whereas the other accounts have no minimum deposit requirements.
GO2bank also offers a secured credit card you can use to help you build credit. You'll also have access to a high-yield savings account that pays 10X over the national savings rate average.
Oxygen offers personal and business accounts, making it a great choice for entrepreneurs. This account charges no monthly or minimum balance fees. And depending on the account you choose, you may have access to travel benefits and metal cards.
Oxygen says it offers "one app to spend, send, and save." And it does just that, with tailored options to meet the needs of its accountholders.
The from ACE Cash Express offers online second chance banking services and linkage to a high-yield savings account. Its mobile app enables check capture and payback rewards you can activate to earn cash back credited to your account on select purchases.
The core Flare Account charges a monthly service fee of between $5.00 and $9.95, and you receive 0.01% APY on your deposited funds. You can link other bank accounts or your PayPal account for easy transfers of money.
What Is a Bank Account For Bad Credit?
Unless you have bad credit, you may not know that banks don't necessarily open accounts for everyone who applies. As we'll explain later, many banks are risk-phobic and refuse to deal with consumers who've made credit-related mistakes. In addition, many banks no longer offer a free checking account.
If you're looking for a more enlightened perspective, the banks and bank-like financial institutions reviewed above should interest you. They share a commitment to giving consumers with blemished credit histories a second chance. 
You can identify a second chance bank because it doesn't use ChexSystems to inquire about a consumer's banking history. ChexSystems is a credit reporting agency that tracks recent banking history, including negative items like overdrafts, unpaid fees, or fraud.
While focused primarily on checking accounts, these banks frequently also offer savings accounts and credit cards. If you didn't know better, you may have little clue that an account is a second-chancer, except for the fact that it accepted you as a customer despite your low credit score.
Another clue that online-only banks are different is that they have no branches. 

Note that not all online-only banks are sensitive to the needs of a bad credit consumer.
No-credit-check banks don't always offer physical checkbooks. However, all provide several ways to access your deposited money, including debit cards, online transfers, mobile e-wallets, and ATMs. 
Mobile banking apps are another commonality among online-only banks (and many traditional banks too). These apps offer many features — they may let you manage your account, check balances, transfer funds, pay bills, freeze your debit card, and scan checks for remote deposit. 
Implementations of these features exhibit varying degrees of ergonomic friendliness. Some mobile apps offer intuitive interfaces that seem to anticipate your requests, while others are just clunkers.
For the most part, online banks provide online platforms with the same or more functionality than their mobile counterparts. The platforms eliminate long lines at branches, face-to-face meetings with bankers, and in-person handholding when you need it. As explained below, online banks for bad credit may charge fewer fees, but this perk varies by bank.
Be careful to read the fine print concerning items like sign-up bonuses, cash back or point rewards, and interest paid to you on your checking or savings account. Rewards may be limited to purchases at participating merchants, sign-up bonuses may require a commitment for a minimum amount of direct deposit activity, and high interest rates on savings accounts may apply to only a small balance.
How Do I Open an Online Bank Account? 
To no one's surprise, you open an online bank account online. Some also let you sign up using a mobile app. 
When you apply for a second-chance account, the bank will collect a fair amount of personal and financial data. This isn't unusual since they don't depend on credit checks, the usual source of credit-related information.
Some banks may not collect your Social Security number. If you use this kind of bank, find out whether its accounts are FDIC-insured — you don't want to do business with a second chance bank that doesn't offer some form of account insurance.
After you apply for an account, you'll often receive the bank's decision right away, and chances are it will be positive — after all, offering second chance banking to consumers who have bad credit is the core of their business. 
Do Banks Require a Credit Check to Open an Account? 
The majority of banks and credit unions check the banking history of applicants using ChexSystems, a national consumer reporting agency that tracks bank customers. If you've mismanaged your bank account (i.e., you bounced checks or didn't pay penalty fees), ChexSystems will keep a record of it for five years.
ChexSystems reviews bank applicants much like the three major credit bureaus (Experian, Equifax, and TransUnion) review credit card applicants. The company collects information and generates a risk score on a scale from 100 (worst) to 899 (best) for potential bank and credit union customers. 
If your bank rejects your application, you may want to request a copy of your ChexSystems score and report (known as a consumer disclosure). You can dispute information on your report that is incorrect or outdated by contacting ChexSystems and your bank.

Banks may also run a standard credit check with the major credit bureaus if you apply for overdraft protection or some other credit-based product. 
The unique characteristic of second-chance checking accounts is that they do not use ChexSystems (or its competitors, including Early Warning Services and Telecheck).
What Fees Are Associated With Online Bank Accounts?
Some of the online bank accounts reviewed above have only a few fees. For example, a Chime account doesn't charge a monthly maintenance fee, overdraft fee, lost card fee, or foreign transaction fees, and it doesn't have any minimum balance requirements.
In contrast, the Flare Account charges many fees, including monthly maintenance, overdrafts, ATM usage, OTC cash withdrawals, replacement cards, and foreign transaction fees.
Other fees you may encounter include those for debit card issuance or usage and receiving paper statements.
Are There Business Bank Accounts For Bad Credit?
Not unexpectedly, banks want to know business owners' personal banking and credit history before allowing them to open a business checking account. This may include seeking information from the bank where the applicant maintains a personal account.
A bank may allow you to open a business checking account after evaluating your banking and credit history, but it may also place restrictions on the account. For example, bad credit may prevent you from obtaining business credit cards or overdraft protection on a business bank account.
There is no magic formula that will guarantee you a business bank account. However, some important factors that influence banks' decisions include you having:
Business owners with bad credit have a few options to open business checking accounts. The easiest path is to open a second chance checking account for businesses that don't require information from ChexSystems. 
You may have to be a sole proprietor to open a business account without ChexSystems interference. That's the case for BBVA Business Connect Checking, which is now part of PNC Bank.
If you plan to apply to a bank or credit union that uses ChexSystems, first review your banking report for errors that you can correct. It can take 30 days to resolve inaccuracies on your report, longer if you appeal a negative decision. 
Simultaneously, pay any outstanding banking fees or debts that are negatively impacting your ChexSystems score. Doing so may boost your score, and asking your bank to report your payment may accelerate the process.
Another option is to form a limited liability company (LLC), which is a separate legal entity. In the process, request a Taxpayer Identification Number from the IRS. These steps will help you separate your personal credit from that of the company.

It never hurts to establish a relationship with a bank before applying for a business account. If possible, interact with the same banker for all your activity. 
You also may want to consider using a credit union instead of a bank. Credit unions are usually more flexible regarding the needs of their members. You may have to open a personal credit union account before getting access to a business account.
Can You Be Refused a Bank Account? 
If your financial history contains certain red flags, you may indeed be refused an account from a bank or credit union. But you have options should this happen, including applying for a second chance checking account. 
Here are several reasons a bank may turn down your application:
Legitimate Negative Items on ChexSystems
Your application may be shot down if your ChexSystems report contains negative information, such as:
Account closures due to money you owe for overdrafts and other unpaid fees
Too many applications for new accounts in the past five years
Bounced checks within the past four years
Too many check orders in the past five years
You can review a copy of your ChexSystems report for free. If you find out that you legitimately owe money to a previous bank, you can make the payment and hopefully accelerate the item's removal from your report. Otherwise, you may have to wait up to five years for derogatory items to age off your report.
Errors on Your ChexSystems Report
Mistakes crop up from time to time, and they can hurt your lifestyle. If you are the victim of mistaken or stolen identity or just human error, you can initiate a dispute on ChexSystems. 
You can also dispute items you think are inaccurate, unfair, or obsolete. If you win the dispute, ChexSystems will correct the error and adjust your score.
Your Current Bank Account Has Problems
If your current bank account shows several negative items, a new bank may deny your request to open an account even if it doesn't use ChexSystems. The types of problems that may lead to a denial include:
Late bill payments
Overdrafts and unpaid overdraft fees
Excessive withdrawals from savings
You can avoid these problems by adopting safe banking measures, including:
Setting up automatic payments to prevent late bill payments
Using a debit card instead of checks to reduce the occurrence of overdrafts
Signing up for overdraft protection (but first, check out the possibility of fees)
Using a personal finance app such as Quicken or CountAbout provides many features to manage your money
With a little effort, you can reduce the risks of mistakes that hurt your banking record.
Filing For Bankruptcy
Different banks respond to bankruptcy in various ways. Most will be hesitant to open your account if you are currently in active bankruptcy proceedings. You may have better luck if your bankruptcy has already been discharged. 
If a bank denies your application on account of bankruptcy, you'll have to shop around for another bank. For example, some of the banks reviewed in this article may be willing to open your account. 

In some cases, you may be approved for a savings account only, without an accompanying checking account. If you still have debts that weren't discharged in a bankruptcy court, beware that creditors may legally snatch the funds in your bank account.
Unverifiable Identity
Under U.S. federal law, you will need two forms of identification to open a basic bank account in this country. Some forms of identity accepted include:
A government-issued photo ID, such as a U.S. passport, government employee ID,  driver's license, or military ID
Foreign individuals may have to provide a passport or consular ID
Green card or work ID
Your Social Security card
Your birth certificate
Marriage certificate
School ID
Health insurance card
Credit card
Voter registration card
A recent bill with your name and address
There are several reasons a bank may have trouble verifying your account. For example, your credit report may be frozen, or there may be conflicting information among your identification documents. 
You will want to ensure that you unfreeze your credit reports at all three major credit bureaus. If problems persist, check with a bank manager to see if they'll exhibit some flexibility in accepting the proofs you can offer.
If your account application is turned down because of your identification documentation, shop around for another bank that may be more understanding. In the end, you may have to obtain new identification documents that satisfy the bank's requirements.
Compare Online Bank Accounts For Bad Credit
Online bank accounts for bad credit are available and accommodate the needs of consumers who've made financial mistakes. Second-chance accounts at your bank or credit union do not rely on ChexSystems to check your banking history, which gives you a fighting chance to overcome your financial history.
The five no-credit-check online banks reviewed above all provide checking accounts to folks with bad credit. Be sure to review all the terms and conditions before opening a checking account — fees and services vary significantly.
If you find it impossible to open a basic bank account, consider getting a prepaid debit card instead. These cards don't check your credit, but that also means you can't use them to build your credit. 
On the plus side, a prepaid debit card can be used wherever a debit card is accepted, they don't require the use of credit, and you don't have to worry about late or overdraft fees. 
---
1 Chime SpotMe is an optional service that requires a single deposit of $200 or more in qualifying direct deposits to the Chime Checking Account each month. All qualifying members will be allowed to overdraw their account up to $20 on debit card purchases and cash withdrawals initially, but may be later eligible for a higher limit of up to $200 or more based on member's Chime Account history, direct deposit frequency and amount, spending activity and other risk-based factors. Your limit will be displayed to you within the Chime mobile app. You will receive notice of any changes to your limit. Your limit may change at any time, at Chime's discretion. Although there are no overdraft fees, there may be out-of-network or third party fees associated with ATM transactions. SpotMe won't cover non-debit card transactions, including ACH transfers, Pay Anyone transfers, or Chime Checkbook transactions. See Terms and Conditions.
2 Out-of-network ATM withdrawal fees may apply except at MoneyPass ATMs in a 7-Eleven, or any Allpoint or Visa Plus Alliance ATM.
3 Early access to direct deposit funds depends on the timing of the submission of the payment file from the payer. We generally make these funds available on the day the payment file is received, which may be up to 2 days earlier than the scheduled payment date.
Advertiser Disclosure
BadCredit.org is a free online resource that offers valuable content and comparison services to users. To keep this resource 100% free for users, we receive advertising compensation from the financial products listed on this page. Along with key review factors, this compensation may impact how and where products appear on the page (including, for example, the order in which they appear). BadCredit.org does not include listings for all financial products.
Our Editorial Review Policy
Our site is committed to publishing independent, accurate content guided by strict editorial guidelines. Before articles and reviews are published on our site, they undergo a thorough review process performed by a team of independent editors and subject-matter experts to ensure the content's accuracy, timeliness, and impartiality. Our editorial team is separate and independent of our site's advertisers, and the opinions they express on our site are their own. To read more about our team members and their editorial backgrounds, please visit our site's About page.