Finding the best checking accounts for bad credit situations can be a daunting prospect, but several banks offer that specific access. 
We've done our research and found the five best options for those seeking a second chance bank account with a range of different features and benefits. 
If you're trying to get your banking situation back on track, it's a good idea to start with a checking account that meets you where you are.
Best Checking Accounts For Bad Credit
A bank account is a necessity for everyday life, and bad credit makes it much more difficult to find a willing banking institution to work with. But it isn't impossible to find a bank that will work with you. It's just a question of knowing what to look for. 
By comparing features and requirements, you can find a second-chance checking account that works for you.
1. Chime®


Chime Account has become one of the leading online banking services providers, and its stated goal is to build "A new kind of online bank account that helps members get ahead by making managing money easy." 
The account is fully online, and Chime partners with regional banks to provide services like ATM access and member financial products to go along with basic bank account functions. Chime is FDIC-insured, and the process to sign up is easy, with few requirements, no hidden fees, and a refreshing lack of penalty fees built into the account types. 
High Points:
No ChexSystem review
No monthly fee
No minimum deposit or application fee
No overdraft fees (up to $200)¹
"Pay Anyone" electronic funds transfer built in²
Mobile check deposit
Credit building options³
60,000 in-network ATMs, with a $2.50 fee for ATM access outside of network⁴
Reviews for the mobile banking app are overwhelmingly positive and focus on the ease of use and convenience that Chime offers.
Chime is a financial technology company, not a bank. Banking services and debit card provided by The Bancorp Bank, N.A. or Stride Bank, N.A.; Members FDIC.
2. Sable


Sable established itself first as an option for international consumers who needed a U.S. checking account, no Social Security number (SSN) or credit check required. Since then, the company has expanded its offerings while keeping core traits that make it internationally friendly.
According to the company, the process is simple: Sable states that customers can expect their virtual card and account to be ready in as little as five minutes, regardless of credit history. The company also maintains a strict "no fees" policy on basic bank transactions, ATM, and overdraft.
High Points:
No monthly fee
No minimum deposit/balance
No ATM fees, international or domestic
No foreign transaction fees
No credit check
Free international bank transfers to/from over 55 countries
Credit building opportunities
Free bill pay
For those seeking a rewards program, both Sable credit and debit cards have cash back and rebate offers available. 
3. Current


Current sets itself apart from other bad credit bank account options with a holistic approach to second chance banking. The company offers basic bank account and teen account options, among other products geared toward helping those with bad credit manage their money.
One major, if unexpected, perk that Current offers is Instant Gas Hold Removals. When purchasing gas at the pump, many gas stations put an initial authorization of $50, $75, or even higher amounts, which takes hours or days to drop off. Current customers receive an automatic refund of the authorization amount, freeing up their money right away.
High Points:
Faster direct deposits with premium account
Cash back program with over 14,000 participating companies
No fee for in-network ATM withdrawals
No minimum balance
No overdraft fees
Teen banking with prepaid debit card and parental controls
Easy-to-use mobile app
Fast application process complete in as little as 2 minutes
The teen account options Current offers are another innovation. Powered by a prepaid debit card, it allows parents to monitor teen spending, top up the account instantly, automate their child's allowance, and safely introduce teenagers to money management and bank functions.
Current is a financial technology company, not a bank. Banking services provided by and Visa® Debit Card issued by Choice Financial Group, Member FDIC, pursuant to a license from Visa U.S.A. Inc and can be used everywhere Visa debit cards are accepted.
4. Flare Account


Another newcomer to the online banking industry, the Flare Account is the result of a 2017 partnership between ACE Cash Express, Netspend, and MetaBank. The company sets itself apart through the features it offers and its attachment to charity, and it promises to be an account that grows with you.
The Flare Account doesn't offer the same access to fee-free ATM withdrawals that other banks on this list boast. But through the partnership that makes the account possible, members can access up to $400 per day in cash at participating ACE Cash Express locations without a fee. 
This may not be as convenient in some situations, and it does require a qualifying direct deposit, but it's an innovative workaround and a good choice for someone who doesn't need ATM access often.
The account comes with a monthly maintenance fee, which ranges from $9.95 for accounts that don't receive the necessary $500 minimum direct deposit, and $5.00 for accounts that do get the required minimum direct deposit. The application process is simple, however, and there are many options for adding money to your account.
High Points:
Optional overdraft protection
Payback Rewards
2 days faster Direct Deposit
Fee-free cash withdrawals at ACE Cash Express locations
Charity Card accounts give back to deserving organizations
Optional savings accounts give access to a competitive interest rate savings account
Mobile banking app that includes mobile deposit
Flare Account Virtual Card for added protection and security when making online purchases
The charity card programs set the Flare Account apart, taking the place of a rewards program for account holders who are more interested in making charitable contributions. Instead of donating directly, charity cardholders generate donations for one of several organizations through their purchases.
Donations go to Homes For Our Troops, Save The Children, The Humane Society of The United States, or the National Breast Cancer Foundation based on the purchase amounts charged to the respective debit card.
5. PNC Foundation Checking Account


The PNC Foundation Checking Account is a second chance checking account that comes closest to a traditional bank account and is for those who aren't interested in perks like rewards checking programs or cash back. PNC has been in the industry for decades and has established itself as a respected brand.
The PNC Foundation Checking Account offers basic digital banking tools, including online bill pay, PNC Pay, mobile banking functions, and so on. The account also comes with a benefit in the form of PNC Bank's services, especially its money management advice and training. If you need advice and help in managing your budget and understanding how to improve your finances, the PNC Foundation account services can be an excellent resource.
The minimum deposit to open a PNC Foundation Checking Account is $25, a modest amount. And while there is a monthly service fee of $5, the PNC brand commands a lot of respect. 
High points:
Low monthly fee
No overdraft fees
Low minimum deposit
Access to PNC Bank financial advice and money management services
BankOn National Account Standards Approved
No ATM fee in-network
Ability to grow status and rebuild credit with PNC
Most like a traditional bank account
One strong point for this account is that there is no overdraft fee or returned item fee, which helps you keep your account in good standing. 
What Is a Checking Account For Bad Credit?
Banks often turn down customers with bad credit histories when it comes to checking account access. While it can be difficult to find a traditional bank willing to take the chance, several financial institutions have taken the lead to offer banking services to people who have run into problems.
It's nearly impossible to conduct everyday life without access to a checking account, credit card, or debit card, especially as more services go fully digital and, therefore, cashless.
While second chance bank account institutions sometimes include fees or restrictions that aren't typical with more standard bank account types, they represent a method of getting back on track managing finances and a valuable tool to avoid falling further behind.
How Do I Sign Up For a Checking Account?
Depending on the bank you choose to apply to, signing up for a checking account or a savings account involves a few steps. The standard requirements include providing a form of identification, and some requirements are specific to the type of checking account. 
For example, you may need different documents for a joint checking account versus a standard account.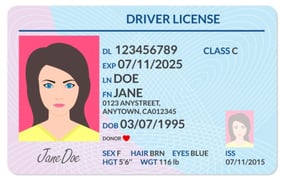 Once you have chosen the financial institution you want to work with, verify the documentation it requires. Most bad credit checking account options make things easier by bypassing steps like a ChexSystems report, but it's a good idea to verify before you put in your application.
In general, the best checking accounts for bad credit will allow several different forms of identification because they're geared toward people in a range of financial and personal situations. 
However, you will need some form of verifiable, government-issued I.D., such as a passport, driver's license, identification card, or something similar. You will also need proof of address, such as a utility bill.
Fortunately, many bad credit bank account companies are fully digital, which means that you can apply for your second chance bank account without having to leave the house. And that same digital approach also means that the process is quick and relatively painless, using electronic and automatic systems for verification and approval.
What Is The Minimum Deposit Required to Open a Checking Account?
The minimum deposit required to open a checking account varies from one bank to another and sometimes from one account type to another within the same bank. A minimum balance requirement is one method a bank may use to avoid potential issues with customers who are more likely to overdraft, but it's not a universal requirement for every banking company.
Most second chance bank account providers do not require a minimum deposit to open a checking account, partly because the companies recognize that this creates a hurdle to opening the account. Choosing a bank that does require a minimum deposit has its benefits, but there are so many options available for bad credit checking account services that it doesn't have to be an issue.
Minimum deposit requirements are more common with basic bank options, and to a lesser degree, with credit union accounts. They function as a measure of security for the banking institution and the customer alike. 
Which Banks Don't Require a Credit Check to Open a Checking Account?
None of the second chance bank account companies listed in this article require a credit check to open a checking account. However, some other options for basic bank accounts do. Traditional bank companies use ChexSystems report tools to assess risk and make decisions regarding current and potential customers.
ChexSystems, a reporting agency specific to banks and credit unions, collects data about your history in the financial world. It checks the frequency of bounced checks and overdrafts, suspected fraud or identity theft, account abuses, and other problems. Banks use the report to decide whether to approve an account, increase credit lines, or take other actions with prospective and existing customers.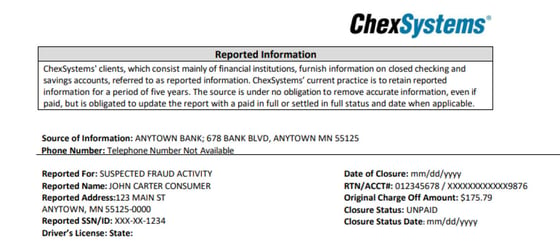 The best option for a bad credit checking account is to work with a company that does not look at credit history when determining approval. A bank that specializes in the second chance account market is less likely to do a credit check at all, although the company will likely have restrictions, and there may be other fees and conditions in place. 
Can I Be Denied a Checking Account?
Anyone can be denied a checking account because every bank has a certain amount of discretion over who it chooses to do business with. A few specific reasons are more likely to result in being denied a checking account, especially if you're seeking a regular checking account with a traditional banking company.
If you're concerned about the risk of being turned down for a checking or savings account, it may be worth looking over your credit report beforehand. Do some research to find a banking institution or financial company that offers checking account services without conducting a credit check.
A standard checking account is a necessity, and working with a company with a higher tolerance for risk means less chance that you'll be denied.
Can I Get a Business Checking Account With Bad Credit?
Opening a business checking account with bad credit is definitely possible, but it requires a general understanding of the differences between business checking and personal checking accounts.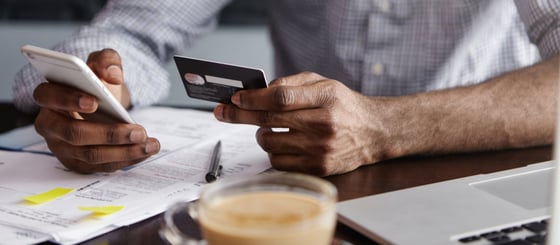 Your credit score does affect how willing banks will be to approve a business bank account. As the person running the business, your personal financial activity and history are also relevant. Bad credit will affect your credit card options in business banking, and will often mean that a secured credit card is a more realistic option. 
Business checking accounts are also more likely to charge fees, particularly for business owners with a bad credit history. Certain requirements, including a monthly maintenance fee or minimum balance fee and maintaining a minimum balance, are more likely for business checking accounts than they are for personal checking and savings. 
Do Credit Unions Offer Second Chance Checking Accounts?
Credit unions operate somewhat differently from most traditional banks, with different restrictions on what they can and can't do and offer. Many credit unions offer second chance checking accounts for consumers with bad credit looking to improve their situation. This puts them in a position to help people seeking a way out of difficult life situations.
A second chance checking account through a credit union may have some restrictions you don't see in traditional bank accounts, including an initial deposit requirement and sometimes a monthly membership fee.
But there are advantages to banking with a credit union as well. For instance, you are more likely to find ATM fees with a traditional bank than you are with a credit union.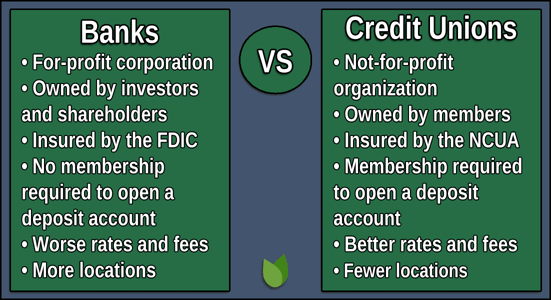 Many credit unions offer accelerated direct deposit options that make it possible to access your deposits days before they would traditionally appear in your account with the average bank. While credit unions typically have limited mobile banking options, more of them are embracing online banking and mobile deposit capability for the sake of convenience. Since credit unions are membership-based, there's also a stronger reliance on customer feedback.
Compare the Best Checking Accounts For Bad Credit Online
Comparing the best checking accounts for bad credit doesn't have to be a daunting task. Both online and brick-and-mortar banks are available to you so you can get the bank account you need.
With minimal to $0 deposit requirements, obtaining an account should be a fast and affordable process, even with bad credit. You can expect to receive your new debit card in the mail within seven to 10 business days.
---
1 Chime SpotMe is an optional service that requires a single deposit of $200 or more in qualifying direct deposits to the Chime Checking Account each month. All qualifying members will be allowed to overdraw their account up to $20 on debit card purchases and cash withdrawals initially, but may be later eligible for a higher limit of up to $200 or more based on member's Chime Account history, direct deposit frequency and amount, spending activity and other risk-based factors. Your limit will be displayed to you within the Chime mobile app. You will receive notice of any changes to your limit. Your limit may change at any time, at Chime's discretion. Although there are no overdraft fees, there may be out-of-network or third-party fees associated with ATM transactions. SpotMe won't cover non-debit card transactions, including ACH transfers, Pay Anyone transfers, or Chime Checkbook transactions. See Terms and Conditions.
2 Sometimes instant transfers can be delayed. The recipient must use a valid debit card to claim funds. Once you are approved for a Chime Checking Account, see your issuing bank's Deposit Account Agreement for full Pay Anyone Transfers details. Please see the back of your Chime debit card for your issuing bank. See Terms and Conditions.
3 To apply for Credit Builder, you must have received a single qualifying direct deposit of $200 or more to your Checking Account. The qualifying direct deposit must be from your employer, payroll provider, gig economy payer, or benefits payer by Automated Clearing House (ACH) deposit OR Original Credit Transaction (OCT). Bank ACH transfers, Pay Anyone transfers, verification or trial deposits from financial institutions, peer-to-peer transfers from services such as PayPal, Cash App, or Venmo, mobile check deposits, cash loads or deposits, one-time direct deposits, such as tax refunds and other similar transactions, and any deposit to which Chime deems to not be a qualifying direct deposit are not qualifying direct deposits. On-time payment history can have a positive impact on your credit score. Late payment may negatively impact your credit score. Results may vary.
4 Out-of-network ATM withdrawal fees may apply except at MoneyPass ATMs in a 7-Eleven, or any Allpoint or Visa Plus Alliance ATM.
Advertiser Disclosure
BadCredit.org is a free online resource that offers valuable content and comparison services to users. To keep this resource 100% free for users, we receive advertising compensation from the financial products listed on this page. Along with key review factors, this compensation may impact how and where products appear on the page (including, for example, the order in which they appear). BadCredit.org does not include listings for all financial products.
Our Editorial Review Policy
Our site is committed to publishing independent, accurate content guided by strict editorial guidelines. Before articles and reviews are published on our site, they undergo a thorough review process performed by a team of independent editors and subject-matter experts to ensure the content's accuracy, timeliness, and impartiality. Our editorial team is separate and independent of our site's advertisers, and the opinions they express on our site are their own. To read more about our team members and their editorial backgrounds, please visit our site's About page.