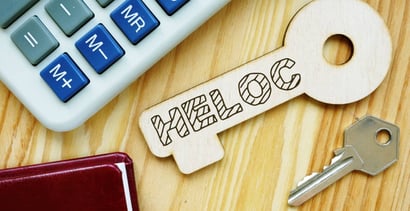 When your credit score needs to look up to see 600, you probably have trouble obtaining a reasonable interest rate on a loan (or even getting a loan itself). But if you own a home and have built up some equity, cheer up! You can get a home equity line of credit with bad credit. 
Let's break it down, step by step:
7 Steps For Getting a HELOC With a Poor Credit Score
Much of the work involved in getting a home equity line of credit, or HELOC, is preparatory. You'll have much smoother sailing if you organize first. 
1. Check Your Credit Reports
You want to put your best foot forward when you apply for any loan, especially if you have bad credit. One beneficial exercise is to review your credit reports from the three major credit bureaus (Experian, Equifax, and TransUnion). 
You can get free copies once a year via AnnualCreditReport.com. Examine them closely for mistakes that may be weighing down your credit history (or, worse, indicating possible fraud). 
Look for items such as:
Accounts you don't recognize
Balances that seem wrong
Credit applications you didn't make
Missing payments
Purchases you didn't make
You can challenge any of these items if you feel they are indeed errors. The credit bureaus each have a webpage that allows you to dispute credit report items online. Alternatively, you can hire a credit repair company for $50 to $150 per month to do the job for you. 
Most results of any credit repair law firm
Lexington Law Firm clients have seen more than 81 million removals from their credit reports since 2004
Get started today with a free online credit report consultation
Cancel anytime
| Better Business Bureau | In Business Since | Monthly Cost | Reputation Score |
| --- | --- | --- | --- |
| See BBB Listing | 2004 | $99.95+ | 8/10 |
Credit bureaus have 30 days to decide whether they should remove a disputed item from your reports. If they agree with your challenge, they will remove the offending item and recalculate your credit score. 
At the very least, you'll know your credit reports are in shape before lenders peer into them. In the best case, your credit score will increase because the bureaus have removed inaccurate information. It's a win-win.
2. Calculate the Estimated LTV & Organize Your Information
Before applying for a HELOC, you must decide the credit limit you want and whether it is feasible.
You must have enough equity in your home to interest a lender. Equity is the home's current value minus what you owe on the property (i.e., your mortgage balance). A HELOC is usually a second mortgage unless you've already paid off the original mortgage. 
Lenders look not only at the amount of equity you've built but also at the loan-to-value (LTV) ratio, which is the remaining loan balance divided by the home's market value. 
For example, if your home would sell for $500,000 and you still owe $400,000 on the mortgage, your LTV ratio is $400K / $500K, or 80%. Most home lenders require your current first mortgage plus your proposed HELOC not to exceed an LTV ratio of 85%. 
In this example, an 85% credit limit equals $425K, meaning the most you can borrow through a HELOC is $25,000 — probably less after you account for closing costs. 
Another critical number is your debt-to-income (DTI) ratio, which is the percentage of your gross monthly income you use to repay debt. Most lenders will not accept a DTI greater than 43%, even with good credit. But with a bad credit score, your maximum DTI may be lower. 
You'll also need a good idea of your home's current market value. You can get advice by speaking to a realtor or spending a few hundred dollars on a professional home appraiser. Remember that no lender will accept an appraisal you commission — they prefer to do their own.
Check the loan's feasibility by calculating your equity, your home's likely selling price, and your LTV ratio. Even if the loan is feasible, you must decide whether you can get a HELOC large enough to make the cost and effort worthwhile. 
Also, think about why you want the loan. Is it to finance a gambling junket or buy cryptocurrency? That's pretty risky. But a HELOC may make good sense if you use the money to improve your house or pay off high-interest debt.
If you decide to proceed, you'll need to gather and organize a goodly amount of information, often in documentary form, including:
The original closing documents for your current mortgage
A current mortgage statement indicating your current balance, monthly payment amount, loan term, and interest rate 
Proof of income (see below)
Proof of identity
Information on other loans (including credit card debt, student loans, personal loans, etc.) and monthly obligations (utilities, insurance, garnishments, alimony, child support, back taxes, HOA fees, etc.)
Other assets in addition to your home
Keeping the information well-organized will make the application process much more manageable.
3. Apply For a HELOC
The next step is to choose a lender. Many consumers prefer to compare rates through loan-matching services (such as eMortgage) that line up quotes from multiple online lenders without having to search for them individually. 
Get today's mortgage rates from the top mortgage lenders and banks
Easily compare and choose mortgage lenders with no obligations or fees
Review current mortgage rates side by side
Pick mortgage lenders that meet your specific needs
Compare rates from pre-qualified and approved mortgage lenders — 100% online, 100% free
| Interest Rate | In Business Since | Application Length | Reputation Score |
| --- | --- | --- | --- |
| Varies | 1979 | 4 minutes | 8.5/10 |
When evaluating HELOC offers, you'll want to check out the following items:
The loan's annual percentage rate. Home equity loans can offer variable or fixed interest rates. During inflationary times, fixed interest rates will save you money.
The size of the credit line, which depends on your current debt and equity.
Minimum monthly payment. A HELOC is a type of secured revolving credit similar to a credit card. You can choose how quickly to repay your balance, but you must shell out at least the minimum amount each month. Many lenders offer automatic payment of the minimum amount due.
Expiration date. HELOCs typically expire after a set withdrawal period, such as 10 years. You then continue to pay on any balance you may still owe for an additional five to 20 years.
Always verify you are dealing with an equal housing lender. Every lender has its own application, whether on paper or online. But the information requested is generally the same, with some minor variations. You'll typically submit the following:
Information about the property, including whether it is your primary residence, its current value, and the mortgage balance
The loan amount requested and how you plan to use the money
Personal information, including name, address, phone number, email address, date of birth, citizenship, and Social Security Number
Whether you currently rent or own and your monthly payment amount 
Financial information, including your employer, type of employment, work location, occupation, bank or credit union account, annual gross income, total debt, alimony, and child support.
Miscellaneous information
A joint applicant must provide the same information if you are applying with another person.
4. Submit Your Income Documentation
Hopefully, you've already organized all your income documents and can submit them on the spot. To expedite the application, they should be in electronic form, either downloaded from the source or scanned by you. 
Lenders want to know more than just your income. They also are interested in whether your income is stable. 
Lenders usually allow you to electronically transmit the proof-of-income documents — look for lenders that encrypt your data to help protect your security. Some lenders may insist on receiving paper documents, but this practice is going the way of the dinosaurs.
The following types of documents can serve as proof of income:
Latest pay stubs
Most recent W-2 and 1099 forms
Bank statements
Two years of federal tax returns, which the lender will obtain directly from the IRS after you sign Form 4056-T, authorizing the IRS to release the returns
Proof-of-income letter from your employer
If self-employed, a profit and loss statement for your business
In many cases, your tax returns alone will suffice to prove your income. But if you have bad credit, the lender may ask for more extensive documentation. 
5. Await the Lender's Decision
No one likes to wait, but you should receive an initial decision within three days. Remember, according to the equal housing lender rules, the lender cannot discriminate against you based on your personal characteristics.

If the lender provides conditional credit approval, it will send you the terms and conditions and arrange for the home's appraisal. 
6. Undergo the Home Appraisal
This step is out of your hands. The lender will arrange for an appraiser to inspect your property, and you need only agree to an appointment date and time. 
Not all appraisals require entry into the home. With so-called drive-by appraisals, the appraiser literally looks at the property from their car. Some appraisers may want to go through your home to assess its value.
You should receive a copy of the completed assessment document. Based on the results, the lender will provide a final credit approval decision and terms for the HELOC, including closing costs.
You have three days to consider the offer and review the documentation. If you're OK with the loan terms, you can work out a closing date and time with the lender.
7. Close on the HELOC
You must sign the loan documents and pay any closing costs. Depending on the lender, you may have to attend the closing in person, or you may be able to complete the process online. 

You will receive a checkbook and/or debit card that you use to draw funds from the HELOC. You can also transfer money online.
FAQs About HELOCs
Refer to these FAQs to round out your understanding of HELOCs.
How Does a HELOC Work?
Drawing funds from a HELOC is similar to taking a credit card cash advance. But HELOCs charge far less than even the best credit card. And if you have bad credit, the best credit card is far out of reach.
You can use HELOC funds at any time for any purpose. Interest charges accrue on the borrowed balance; if you never use the HELOC, you won't pay a penny in interest. Most HELOCs use a variable annual percentage rate that may change over the life of the account (typically 10 years) in response to variability in the Prime Rate.
Interest accrues and compounds daily. You can repay and reborrow according to your schedule as long as you pay the minimum amount due (if any) each month. Although the HELOC's withdrawal period may expire after 10 years, you will have additional time (up to 20 more years) to repay any open balance.
Remember, your home collateralizes the HELOC. You could lose your home to foreclosure if you fail to make the minimum payments each month.
Can I Get a Home Equity Line of Credit With a 500 Credit Score?
The better your credit history, the easier it is to qualify for a HELOC. But you may be able to get the credit line even if you have a 500 credit score if other factors are in your favor, including:
A lender that specializes in home loans to consumers with bad credit
The size and LTV ratio of the HELOC
Your DTI ratio
Your income and assets
Your recent credit history
It can be challenging to obtain a HELOC if your FICO score is below 600. An online loan-matching service can help you identify the home equity lenders most likely to offer you a HELOC despite your poor credit.
How Does a HELOC Differ From a Home Equity Loan?
Both are forms of a second mortgage. Whereas a HELOC has a revolving credit line similar to a credit card, a home equity loan provides a lump-sum distribution that you repay in monthly installments over a specified period. 
In this way, a home equity loan resembles (at least superficially) a personal loan or student loan. But unlike them, your home secures an equity loan, and you risk losing it if you default on the debt. 

A home equity loan is more likely to have a fixed APR. You pay the same amount each month until the repayment period (i.e., loan term) ends.
Your monthly payment covers both interest charges and repayment of principal. You can prepay the loan to save interest, but the lender may charge a prepayment penalty. 
How Much Does a HELOC Cost?
You'll likely have to pay closing costs, which may include origination, legal, notary, title search, appraisal, document prep, and recording fees. Closing costs can reach 5% of the loan amount, but some home equity lenders partially or fully waive these charges.
The ongoing cost of a HELOC depends on how much you borrow and how quickly you repay the money. For example, a HELOC with a 7% APR would cost you $70 per year in interest on an average balance of $1,000. 
If you have bad credit, expect to pay a higher interest rate than the one teased by loan advertisements.
What Happens If I Can't Repay My HELOC?
In the worst case, your lender can foreclose on your home and sell it to recoup the money you owe. If this happens, you lose your home, your credit scores will plummet, and your credit reports will list the foreclosure for seven years. 
Before things reach this point, you should reach out to your lender and see if you can work out an accommodation, such as reduced monthly payments or a lower interest rate. You may be able to arrange a short suspension of monthly payments to allow you time to work out your financial problems. You can also consider working with a credit counselor to help revamp your budget. 
The Consumer Financial Protection Bureau warns about using third parties offering fraudulent loan modification and related scams. They also caution against crooks identifying as agents of the Consumer Financial Protection Bureau.
Consider a Home Equity Line of Credit When You Need to Borrow
If you own a home, you may qualify for a home equity line of credit with bad credit. You will need equity in the property and sufficient income to cover your payments should you draw the maximum amount from the HELOC. 
This type of secured loan is a good deal because home equity loan rates (similar to mortgage rates) are well below those for unsecured debt. A HELOC offers immediate access to loan funds when you need them and flexible repayment terms. Remember that failure to repay a HELOC can result in foreclosure, so only get one if you're positive you can afford the higher interest rate stemming from bad credit.
Advertiser Disclosure
BadCredit.org is a free online resource that offers valuable content and comparison services to users. To keep this resource 100% free for users, we receive advertising compensation from the financial products listed on this page. Along with key review factors, this compensation may impact how and where products appear on the page (including, for example, the order in which they appear). BadCredit.org does not include listings for all financial products.
Our Editorial Review Policy
Our site is committed to publishing independent, accurate content guided by strict editorial guidelines. Before articles and reviews are published on our site, they undergo a thorough review process performed by a team of independent editors and subject-matter experts to ensure the content's accuracy, timeliness, and impartiality. Our editorial team is separate and independent of our site's advertisers, and the opinions they express on our site are their own. To read more about our team members and their editorial backgrounds, please visit our site's About page.