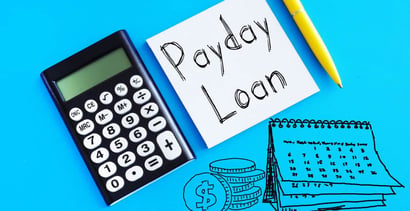 Has an expected expense caught you off guard and left little money until your next paycheck? Payday loans are short-term loans that are designed to help people cover their bases until their next paycheck. 
While online payday loans offer a convenient way to apply for and receive cash quickly, payday loans often come with high interest rates and fees. Several lenders offer small payday loans online, but rates and terms can vary. 
Best Small Payday Loans You Can Get Online
Payday loans are typically geared toward people who have bad credit or who experience trouble getting approved for personal loans through traditional lenders. With so many options for small payday loans online, it's important to shop around and compare features, rates, and fees. These seven lenders offer the best small payday loans online.
MoneyMutual specializes in payday lending and helps you secure a loan of up to $5,000. While Money Mutual is not a lender, the company connects you to several lenders that can provide fast funding. You just need to fill out a simple online form, and Money Mutual's lending partners will review your information and present you with a loan offer if you meet the requirements. 
If approved, some lenders deposit the funds into your account within 24 hours of signing your loan agreement. Loan eligibility requirements can vary, but in general, you'll need to have a steady income and earn at least $800 per month. You also must be a US resident 18 years old or older and have a valid checking account.
Money Mutual has a free loan service, but the lender may include fees or other charges you should consider. Applicants with bad credit or those working to rebuild their credit score are encouraged to apply for these short-term loans. 
24/7 Lending Group helps connect borrowers with good and bad credit loans as well as payday loans which can be repaid in as few as 61 days. 24/7 Lending Group is a network that can help match you with reliable lenders likely to approve your application.
You can choose from a wide range of loan amounts, and the online application process is simple. 24/7 LendingGroup also has special relationships with lenders that exclusively accommodate consumers with bad credit. 
Start by filling out a loan request form online to get a quote. This initial step helps you earn preapproval and will not negatively impact your credit score. From there, you can compare loan rates and terms from different lenders to see which option would be best for your situation. When you choose a lender, submit an application to see if you earn final approval. The entire process is streamlined and can take around 24 hours.
CashUSA.com is another online loan marketplace that can help connect you with payday lenders and bad credit loans quickly. You can borrow up to $10,000, and you simply fill out a short initial loan request form to get started.
CashUSA.com can help you find a short-term loan with a repayment term of around 90 days, and when you're approved, its lending partners can deliver funds to your account via direct deposit in just one business day. 
To qualify for a loan, you must be a US citizen at least 18 years old, and be employed for at least 90 days. Each lender has its own minimum monthly income requirements, but it's typically around $1,000 per month. You should also have a checking account in your name and a valid email address. CashUSA.com also offers additional financial education resources for debt relief, credit repair, and similar services but you are not obligated to sign up for anything. 
SmartAdvances.com can help you get a small cash advance or payday loan by connecting you with loan offers from various online lenders. Whether you're looking for a small cash loan of just a few hundred dollars or want to borrow thousands, you can fill out the loan request form online to receive an offer in less than two minutes. 
SmartAdvances.com is a member of the Online Lenders Alliance (OLA) and partners with several credible and trustworthy lenders. Each lender has its own requirements and fees, such as an origination fee that some charge when you receive your loan. This fee is usually a small percentage of the loan ranging from 1% to 3%. To qualify for a loan, borrowers need to have a steady income, a valid US driver's license, and a bank account — so you can receive your loan funds via direct deposit.
The lender will also consider your credit score, loan history, and other financial qualifications. Even if you have a poor credit score, lenders may be willing to offer you a loan. Some lenders will also accept other forms of income such as Social Security benefits, disability, and retirement income. 
BadCreditLoans.com is another free service to consider using if you're looking for small payday loans online. You can get a loan starting at $500 through one of its network lenders. As the name suggests, BadCreditLoans.com also has a network of lenders who will consider your application even if you have poor credit.
To get started, complete the loan request form online to match with a lender. If BadCreditLoans.com can't find a lender in its network, it will show your loan inquiry to an extended network of third-party, non-lender lender networks. The goal is to gather several quotes from different lenders so you can compare loan options and apply for a loan that meets your needs and preferences. 
To qualify for a loan, you must be a US citizen at least 18 years old and have a regular income from full-time employment, self-employment, disability, or Social Security benefits. 
If you're looking for a small payday loan, CreditLoan.com works with lenders that offer loans up to $5,000. CreditLoan.com has a network of lenders who will consider your application even if you have poor credit. The application process is straightforward, and you can expect to receive your funds within one business day. 
If you get preapproved or matched with a lender, it does not guarantee approval, and you'll still need to meet the lender's eligibility requirements. You will submit an application on the lender's website to gain final approval. You don't need a bank account to receive an online payday loan, but the lender will do a credit check and look at your debt-to-income ratio. 
BillsHappen® is another credible way to find bad credit loans for up to $5,000. You can use your loan for any reason, including auto repairs, medical expenses, or other emergencies.
To get started, submit your loan request online to receive quotes from different lenders, and start narrowing down your options. If a lender approves your application, you can receive your loan funds as soon as the next business day. 
Bills Happen works with lenders that accept borrowers with any credit score, so you are likely to find a loan option to suit your situation even if you have bad credit. To qualify, you'll need a driver's license, bank account, and home address. You also need to be employed and meet the lender's minimum monthly income requirements. 
How is a Payday Loan Different From a Personal Loan?
A payday loan is a short-term loan that is designed to help you cover basic or small expenses until you reach your next payday. Payday loans work similar to a cash advance and often have shorter repayment terms and may be due by your next payday or within 30 to 60 days. This is why borrowing amounts are often much lower than personal loans. 
The average payday loan amount is $500, and these loans also come with fees, such as an activation or processing fee, and higher interest rates. According to the Consumer Financial Protection Bureau, payday loan interest rates can be as high as 400%.
Given the high fees and short repayment terms, people who receive payday loans often struggle to pay back the principal balance plus interest on time. This can lead to even more fees or needing to take out an additional loan for temporary relief. 
A personal loan, on the other hand, allows you to borrow a higher amount, typically ranging from $1,000 to $50,000, and pay back the balance plus interest in monthly installments. A personal installment loan may have a term of up to six or seven years, depending on the lender.

Banks, credit unions, and online lenders offer personal loans. If you have poor credit, you should look into an online lender or loan marketplace that caters to borrowers with bad credit scores. 
The bottom line is that payday loans and personal loans are not the same. Payday loans are often more expensive — but easier to acquire if you have very bad credit or no credit at all. Even if your credit score is below 600, for example, it's best to consider an online personal loan lender and shop around using some of the companies from this list, including Money Mutual, 24/7 Lending Group, and BadCreditLoans.com.
Are Payday Loans Secured Loans?
Payday loans are typically unsecured loans, meaning that you do not need to put up any collateral to receive the loan. This can make them a more accessible option for those who don't have the assets to secure a loan.

A popular alternative to a payday loan is a title loan, which uses your vehicle's title as collateral to secure the loan. But the Consumer Financial Protection Bureau reports that 1 in 5 title loan borrowers defaults on their debt, making this loan type among the riskiest there is.
With payday loans and bad credit personal loans, lenders will want to see that you can afford to repay the loan on time. Your source of income and how much you bring home each month are important factors that can help you qualify for a loan.
The lender may also ask to see a bank statement and details on your other existing debts to determine your debt-to-income ratio. 
If you have too much debt and not enough income, you may not be approved for the loan. 
Which Payday Loan Lender Has the Lowest Fees? 
It's difficult to say which payday loan lender has the lowest fees, as they can vary depending on the state you live in and your creditworthiness. Your interest rate and fees can also vary based on your credit history and the amount you need to borrow. 
However, some lenders may offer lower fees and rates than others. Financial institutions, especially credit unions, tend to offer better rates and fees for members.
You typically have to join the credit union though and open an account to apply for any loan products. The National Credit Union Administration (NCUA) has developed its own payday alternative loans to help members borrow smaller amounts of cash if needed. 

It's important to shop around among lenders to find the best loan option for your unique needs. The easiest way to narrow down your options quickly is by getting preapproved online so you can see rates and offers from several lenders at once. From there, you can compare fees and features side-by-side to see what works best for you. 
What Are Some Bad Uses For a Payday Loan?
Payday loans are intended to provide you with quick cash, but they should only be used in emergencies and when you can't qualify for a traditional loan. Payday loans are costly, and the shorter repayment term can lead to financial stress if you are unable to pay back the balance quickly. 
You probably don't want to use a payday loan for non-emergencies such as a vacation, shopping trip, or a large unnecessary purchase. This can lead to a cycle of debt that will be difficult to break. Not to mention, you'll be paying more for your purchase due to interest and fees. 
Also, consider alternative options to payday loans depending on your situation. If you have a utility bill that's due the following week and don't have the funds to cover it, reach out to the company and ask if you can split the payment or if they will give you an extension. You can also consider selling items from your home for extra cash or picking up extra hours at work. 
Shop Around and Repay Small Payday Loans Quickly
While a variety of online payday lenders exist, each has its own unique terms and rates. Assess your finances and consider alternative options before applying for a bad credit loan online. Payday loans may be acceptable as a one-time or limited option, but it's best to work on developing healthy financial habits that allow you to save up a small cash reserve so you can avoid high-cost, short-term loans in the future.
If you need of an online loan now, realize that shopping around and submitting a loan request form will not negatively impact your credit. Doing this will help you research terms and rates to better decide if small online payday loans are the best option for you. 
Advertiser Disclosure
BadCredit.org is a free online resource that offers valuable content and comparison services to users. To keep this resource 100% free for users, we receive advertising compensation from the financial products listed on this page. Along with key review factors, this compensation may impact how and where products appear on the page (including, for example, the order in which they appear). BadCredit.org does not include listings for all financial products.
Our Editorial Review Policy
Our site is committed to publishing independent, accurate content guided by strict editorial guidelines. Before articles and reviews are published on our site, they undergo a thorough review process performed by a team of independent editors and subject-matter experts to ensure the content's accuracy, timeliness, and impartiality. Our editorial team is separate and independent of our site's advertisers, and the opinions they express on our site are their own. To read more about our team members and their editorial backgrounds, please visit our site's About page.