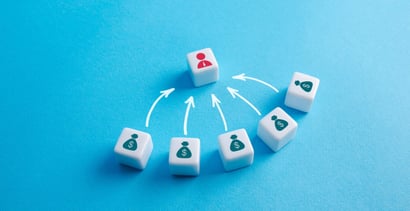 Remember Venn diagrams from high school? Imagine Circle A, representing the 69% of Americans with less than $1,000 in savings, intersecting Circle B, the 16% with bad credit. The overlapping Segment C representing 11% means that more than 36 million Americans have bad credit and may need a small loan from time to time.
If you occupy Segment C, this article discusses 15 loan sources that fit the bill and answers several related questions. You may want to bookmark this page just in case. And remember, you're in good company.
$1,500 Personal Loans For Bad Credit
Personal loans come in handy when you must borrow a modest amount and have bad credit. These loan-finding networks can get you the money you need quickly and efficiently despite your low credit score.
MoneyMutual is an online service that connects borrowers with bad credit to direct lenders. MoneyMutual's network of lenders can arrange a $1,500 unsecured loan if you earn at least $800 a month, are 18+ years old, and satisfy a few other criteria.
The application process is brief, and you're likely to hear back from a personal loan provider within a few minutes. If you accept the loan, you can expect funding in as little as one business day.
You can contact 24/7 Lending Group around the clock when you need a bad credit personal loan for $1,500. You may receive multiple offers within minutes after submitting a short loan request form.
Trustpilot gives 24/7 Lending Group an Excellent rating due, in part, to working exclusively with lenders that comply with the Fair Debt Collection Practices Act, a consumer-protection law.
The lenders in the CashUSA.com network offer subprime borrowers personal loans ranging from $500 to $10,000 with repayment terms of three to 72 months. 
To qualify, you must be 18 years old and a US citizen or permanent resident, collect at least $1,000 a month after taxes, have your own checking account, provide work and personal phone numbers, and have a valid email address.
BillsHappen® can help you gather multiple offers for a $1,500 loan with acceptable interest rates. In fact, BillsHappen is one of the best personal loan-finding services.
Each direct lender on its network decides which applicants to approve and what terms to offer. Your credit history will impact the loan's APR, but even folks with poor credit scores may qualify for a fast personal loan.
CreditLoan.com may prequalify you for a loan even if your credit history includes a recently discharged bankruptcy. Its network of lenders offers secured and unsecured personal loans you can use for any reason, including debt consolidation and emergency loans.
It takes less than five minutes to prequalify on CreditLoan.com and receive multiple quotes. To pursue an offer, submit any additional required information. If the direct lender approves the loan, you'll collect your money as soon as the next business day.
The BadCreditLoans.com network deals only in bad credit loan products. Your lender will work with you to nail down a $1,500 loan offer that fits your budget, and your bad credit score doesn't have to satisfy a minimum for loan approval.
You can use your loan proceeds any way you want. BadCreditLoans.com can help you find offers even when other lenders can't.
PersonalLoans.com has separate divisions for consumers with good to excellent credit and those with fair to bad credit. This structure ensures your loan application goes to the appropriate lenders.
Although the network offers substantial personal loans, you'll receive responsive, courteous service even if you need to borrow only a modest loan amount. With multiple offers, you can select the lender with the best interest rates and loan terms.
SmartAdvances.com is an intelligent choice when you want to hook up with one or more direct lenders. You must have an income of at least $1,000 a month to prequalify for a personal loan.
As a member of the Online Lenders Alliance (OLA), SmartAdvances.com enforces a fair credit policy that complies with federal law. You can use the website's bad credit personal loan calculator to determine the repayment term that best fits your needs.
Other $1,500 Loan Options For Bad Credit
Here are a few more options for obtaining $1,500 if you'd like to consider something other than a personal loan. 
9. Credit Union PALs
Payday Alternative Loans charge no more than 28% for loans of up to $2,000. You must belong to a credit union and pay a small application fee to access this loan. PALs are some of the cheapest bad credit loan products available.

You can repay a PAL over periods of one to 12 months. Many credit unions limit enrollment, but others are open to everyone. You can locate a credit union using this tool from the National Credit Union Administration.
10. Title Loans
You may consider a car title loan if you need $1,500 immediately. Most vehicle owners who've paid off their automobile loans qualify for a car title cash loan, and many lenders don't require a credit check for loan approval. That's no surprise since you'll use your car's title as collateral to secure the loan. The lender will place a lien on your title, allowing it to repossess the vehicle without going to court if you stop making payments.
These are risky, expensive loans in which 1 in 5 borrowers lose their vehicles due to default. Although title loans are as expensive as payday loans, you have more to lose if you miss a payment. Therefore, it's prudent to consider your other loan options if you have a bad credit history.
11. Auto Equity Loans
You may qualify for a cash-out refinance loan if you have equity in your vehicle. Equity is the difference between the car's current market price and the remaining loan amount. 
Auto equity loans pay out your car's current value, and you pocket the cash remaining after you pay off your existing car loan. You then repay the new loan under the new terms.

Online automobile loan networks, consisting of car dealers and other lenders, work with vehicle owners of varying credit backgrounds to arrange cash-out refinancing loans that access vehicle equity. As with title loans, you can lose your car if you fail to repay the loan. But the interest rates on auto equity loans are much lower than those for title loans.
12. Pawnshop Loans
A pawnshop loan is a secured loan. You bring in something of value to a pawnshop, and the pawnbroker will pay you cash for the item you can get back after you repay the loan. 
The monthly interest on pawnshop loans can exceed 20%, depending on the state where you live. The highest APRs exceed 300%, but at least these short-term loans require no credit check or proof of income. You can lose the property you hock (e.g., jewelry, cameras, collectibles, etc.) if you don't redeem your pawn ticket before it expires and the pawnbroker puts the item up for sale. 
Not only do you risk your property with a pawnshop loan, but you'll receive little money for your goods. On average, you will receive between 25% and 60% of the item's value. This means you may have to risk property worth $6,000 to get a $1,500 pawn loan. Still, when you need an emergency loan, pawnshops offer quick cash. 
13. Credit Card Cash Advances
Most credit cards allow you to withdraw cash from your available credit limit. If your available credit supports a $1,500 withdrawal, you can visit the nearest ATM or bank branch to take out a cash advance.

A credit card cash advance differs from a bank account withdrawal because you have to repay it with interest as high as 36%. You'll also have to pay a fee of 3% to 8%, and the cash advance APR is usually higher than that for purchases. Cash advances do not provide an interest-free grace period, which means interest begins to accrue immediately. 
14. 401k Loans
Unlike an IRA, you can borrow money from your 401k, subject to permission from the plan administrator. You can borrow half the balance or up to $50,000, whichever is less. But you can borrow up to $10,000 even if it exceeds half of your balance.
You must repay your loan, with interest, within five years, but you can take longer to repay a loan to buy or build your first home. The interest you pay, minus fees, goes back into your account. 
Borrowing from a 401k may not be advisable (or possible) for several reasons, such as:
You do not have a 401k account
Your 401k does not permit loans
It can take weeks to arrange a 401k loan
Most plans charge a fee for 401k loans
The money you borrow misses out on interest-free growth 
If you don't repay the loan by the deadline, the IRS will treat it as a taxable withdrawal
If you can overcome these obstacles, a 401k loan offer may be helpful when you need a $1,500 loan and can wait a week or two for the money.
15. Tax Refund Loans
Many tax preparation services offer tax refund loans to their customers. The tax preparers partner with banks and other lenders to fund these advances. Later, when the IRS sends your refund, part or all of it will go directly to the lender to repay the bank loan.
Tax preparers usually don't charge interest or fees for these loans. Still, you pay for this convenience because preparers roll the costs into your income tax service. No free lunch, I'm afraid. 
Naturally, this loan option can source $1,500 only if:
You are expecting a refund of at least $1,500
You are in the January to April 15 time frame when you have the information required to file a tax return
The IRS has not placed a lien on your income due to unpaid taxes
These loans are attractive and have little downside. The biggest problem would probably be a botched filing in which the tax preparer incorrectly overstated your refund.
What Is a Loan For Bad Credit?
Bad credit loans are for consumers who are too risky for traditional lenders. These loans often come from smaller online lenders that know how to make money despite the risk of some borrowers defaulting on their loans. 
The interest charges you pay on the money you borrow generate revenue for the lender. The loan money can come from various sources. For example, banks and credit unions pay interest on saving deposits and then lend the money at a higher interest rate. The difference between the interest and fees a bank loan earns and the interest a bank pays on deposits comprises the lion's share of its profits.
When a borrower doesn't repay a loan, the lender fails to collect anticipated interest and must earn enough elsewhere to compensate for the lost money. This is why typical financial institutions don't lend to consumers with poor credit (i.e., FICO scores of 350 to 600), creating a void that the subprime loan industry fills.
What Credit Score Do I Need For a $1,500 Loan?
Personal loans do not need you to post collateral or pay three-digit APRs, but they usually require credit checks. Surveys have found that scores around 560 are the lowest personal loan providers will accept. 
But remember that you may qualify for a loan offer even if you have a bad credit score lower than 560 and that a higher credit score doesn't guarantee final approval.
The real question is how much you'll have to pay for a $1,500 loan because several types of loans don't require a minimum credit score, including:
Pawnshop loans
Title loans
Some secured loans
Credit card cash advances
Payday loans
401k loans
But these loans may be costly or contingent upon owning other things, such as a 401k account or a credit card that allows cash advances. 
How Much Will a $1,500 Loan Cost?
You can use an Excel spreadsheet or a calculator (online or handheld) to determine the costs of a $1,500 loan. Here are a few cost examples for a $1,500 loan with a six-month repayment term:
A personal installment loan charging a 28% APR and a $75 origination fee will cost about $125 in interest and a total of $200. An alternative payday loan will cost about the same amount of interest, but the fee would drop to $40, making the total bill $165.
A short-term loan, i.e., a payday loan or cash advance, with a $20 finance charge per $100 borrowed, would equal about a 434% interest rate for a total debt amount of $1,750.
A credit card cash advance at a 36% APR would cost $161 in interest if you repay about $277 per month. But if you wait six months to repay the advance, the interest expense would be about $296. In either case, a 5% transaction fee would add $75 to the cost.
If you're fortunate enough to borrow the money from your 401k, the interest will have no net cost since you pay it to yourself. If the plan charges a 1% fee, your net cost is only $15. 
That sounds pretty good, but remember that the $1,500 did not earn tax-deferred income during the loan term. The loss of sheltered income may be a minor consideration in this case but will be much more significant if you borrow $50,000 for five years, the maximum available from a well-funded 401k.
What's the Easiest Loan to Get With Bad Credit?
The most accessible loans are the most costly: pawnshop, payday, and title loans. These loans don't require a credit check for approval, but they do require either collateral or a steady job. All usually charge APRs greater than 200%, and a payday loan may exceed 2,000%. 

A credit card cash advance is easy to get, but only if you have the available credit. A 401k loan requires you to jump through several hoops, and other loans also present challenges. 
It would help if you rebuild your credit to make borrowing easier. This requires you to repay your loans on time and keep your debt levels low relative to your income and available credit. 
What Will Happen If I Can't Repay My Loan?
Lenders may become aggressive when you fail to repay a loan. To start with, they may report payments 30 or more days late to the credit bureaus, causing an immediate drop in your credit score. The delinquency remains on your credit report for up to seven years.
Lenders may also send your loan to collections if you go 180 days without making a payment, meaning a debt collector will be on your case. For secured loans, the lender may seize the collateral and liquidate it to recoup the loan proceeds. Depending on the type of secured loan, you could lose your car or home.
For all these reasons, try to pay at least the minimum amount due each month on your loans and credit card debt. Consider consulting with a credit counselor if you find it hard to repay your debt. 
Bad Credit Need Not Stop You From Borrowing $1,500
Folks needing $1,500 loans for bad credit have many options. Some loans don't check your credit, and many accept low credit scores. 
If you need a small loan quickly, consider one of the lending options reviewed above. With any luck, one or more will be a good fit for your needs.
Advertiser Disclosure
BadCredit.org is a free online resource that offers valuable content and comparison services to users. To keep this resource 100% free for users, we receive advertising compensation from the financial products listed on this page. Along with key review factors, this compensation may impact how and where products appear on the page (including, for example, the order in which they appear). BadCredit.org does not include listings for all financial products.
Our Editorial Review Policy
Our site is committed to publishing independent, accurate content guided by strict editorial guidelines. Before articles and reviews are published on our site, they undergo a thorough review process performed by a team of independent editors and subject-matter experts to ensure the content's accuracy, timeliness, and impartiality. Our editorial team is separate and independent of our site's advertisers, and the opinions they express on our site are their own. To read more about our team members and their editorial backgrounds, please visit our site's About page.