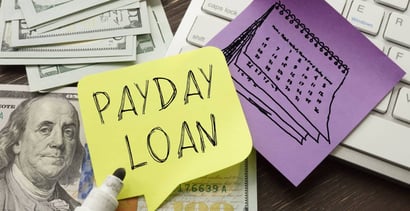 Running low on cash can be quite a pain. When you need money quickly, you want a bad credit loan without much fuss. Many folks in this situation turn to easy-to-get payday loans. 
You only need a steady income to get a payday loan, and you can arrange one online in just a few minutes, even if you have bad credit. That convenience comes at the price of high interest rates, but they apply for only a short period. 
We review nine payday and alternative bad credit loans to put money in your bank account as soon as the next business day.
Payday and Other Short-Term Loans With Easy Approval
The reviewed online loan networks can find you a payday or personal loan in minutes. Payday loans, which don't usually require a credit check, are the easiest to get if you have bad credit. 
But you can also apply for a personal loan with better terms. In either case, you'll find that online lending networks offer unmatched speed and efficiency. 
MoneyMutual finds both personal loans and payday loans online. The prequalification process is the same for either bad credit loan type. If you prequalify, MoneyMutual can connect you to a direct payday lender in minutes. You must be 18 with an income of at least $800 a month to be eligible for a short-term loan. We rank MoneyMutual tops for providing the best online payday loans.
CashUSA.com finds short-term loans through its extensive online network. You must be at least 18 years old with an after-tax income of at least $1,000 a month to prequalify. CashUSA is a good alternative to MoneyMutual if you need a larger personal loan.
BillsHappen® can get you a fast payday loan, but it is better known for arranging personal loans. Prequalification is quick and can result in multiple offers within minutes. Your credit score need not prevent you from obtaining a loan from the BillsHappen lender network.
CreditLoan.com welcomes borrowers who need a short-term loan right away. Its cash loan network can get you a personal loan as soon as the next business day. The flexibility of a personal loan's term allows you to repay without busting your budget.
BadCreditLoans.com can find you a personal loan whatever your credit history. The company, started in 1998, can help you borrow as little as $500. The members of its online network charge interest rates much lower than those of payday lenders.
PersonalLoans.com can find you a personal loan to suit your needs even if you have a low credit score. You must collect a minimum of $500 in monthly income to prequalify. As with all the reviewed loan-finding networks, PersonalLoans.com does not pull your credit to prequalify your loan request, but its direct lenders may after you choose a loan offer.
You can contact 24/7 Lending Group anytime you need an easy-to-get personal loan. You may receive multiple offers within minutes after submitting the online loan request form. Trustpilot gives 24/7 Lending Group an "Excellent" rating, and the company complies with the Fair Debt Collection Practices Act.
SmartAdvances.com responds quickly when you want to find a direct lender. You must collect at least $1,000 a month to prequalify for a personal loan. SmartAdvances.com enforces a fair credit policy that complies with federal law and is a member of the Online Lenders Alliance (OLA). 
CashAdvance.com focuses on fast cash loans. Started in 1997, the company works with an online payday lending network willing to extend small bad credit loans to consumers with immediate financial needs. You must earn at least $1,000 in after-tax monthly income to prequalify for a quick cash advance.
Alternatives to Payday Loans
Payday loans online are but one type of easy-to-get loan. Consider these other sources when you want to borrow without hassles.
Secured Personal Loans
While unsecured personal loans predominate the online lending marketplace, many lenders also accept collateral to secure an installment loan. You can pledge collateral such as your home, car, securities, jewelry, and other valuables. 
If you have poor credit, you may be able to arrange a secured personal loan without a credit check and for less interest than the unsecured kind.

You typically have at least three months to repay a secured installment loan in equal monthly payments, but the loan term can extend up to five years. You can keep your monthly payments affordable by choosing an appropriate repayment term.
Title Loans
You might consider a car title loan if you need fast cash. Most vehicle owners who've paid off their automobile loans qualify for this type of cash loan, and many lenders don't require a credit check. 
You use your car's title as collateral to secure the loan. The lender places a lien on the title, which gives it the right to repossess the vehicle without going to court if you miss a payment.
Title loans are expensive and risky. Although title loans are no cheaper than payday loans, you have more to lose if you don't make the payments.
Twenty percent of title loan recipients forfeit their vehicles due to default. That's why it's a good idea to consider your other loan options if you worry about making your payments on time.
Credit Union Loans
Credit unions offer Payday Alternative Loans (PALs) that charge no more than 28% for amounts of up to $2,000. You must first join a credit union if you aren't already a member and pay a small application fee, usually $5, to get a PAL. These are some of the least expensive subprime loan products available.

You can take up to 12 months to repay a PAL. Many credit unions limit enrollment, but some are open to all applicants. You can use this tool from the National Credit Union Administration to locate a nearby credit union.
Pawnshop Loans
You can secure a pawnshop loan with personal property, such as a camera, gun, or musical instrument, among other possessions. The pawnbroker lends you cash for the item, and you can redeem your property by repaying the loan by a set date.
Depending on your state of residence, you may pay more than 20% in monthly interest on pawnshop loans. The loan APRs can exceed 300%, but you don't have to submit to a credit or income check. You forfeit pawned items if you don't redeem your pawn ticket before it expires, at which point the pawnbroker will attempt to sell the property.
Another negative of pawnshop loans is that you'll receive little money for your property. On average, you will get between 25% and 60% of your property's value. Still, pawnshops offer an easy way to raise cash when you need an emergency loan.
Credit Card Cash Advances
If you own a credit card, chances are it allows you to withdraw cash from your available credit limit. You can visit your nearest in-network ATM or bank branch to take a cash advance.

A credit card cash advance loan charges an APR as high as 36%. Plus, the issuer will assess a fee of 3% to 5% per advance. Cash advance interest begins to accrue immediately — this type of loan does not provide an interest-free grace period.
Cash Advance Apps
Cash advance loan apps allow eligible workers to take an advance from their upcoming paycheck. Eligibility criteria vary by app, and loan amounts range from $100 to $500. These low-cost cash advances help you avoid predatory payday lending practices of even the best online payday loans.
Cash advance apps limit the amount you can borrow. Most loan amounts start between $100 and $250, though over time, you may be able to increase your limit.
Cash advance apps don't offer installment loans. Instead, you repay the entire loan — including any interest or other fees — when you receive your next paycheck.
What Is a Payday Loan?
A payday loan allows workers to borrow small cash advances against their next paycheck. These loans can keep you afloat for one to four weeks when you're short on cash. Because of their high interest rates, consider them strictly an emergency source of cash.
Payday lenders typically collect payments via post-dated checks or directly from bank accounts. The lender will roll over your loan and charge you a late fee if you fail to repay the total amount on time.
Interest rates on personal loans are on par with those for credit card cash advances and well below the APRs for payday loans. But personal loans require a credit check — a hard pull of your credit report that may impact your credit score.

An online payday loan usually funds a direct deposit to your bank account as soon as the next business day, but some lenders can facilitate a same-day direct deposit for an additional fee.
Can I Build Credit With a Payday Loan?
No, payday loans neither check nor build credit. That would require payday lenders to communicate with the major credit bureaus, which they don't — unless you fail to repay your loan. Payday loans can only hurt your credit, not improve it.
If you are interested in rebuilding poor credit, consider instead a personal loan or PAL, which are credit check loans that report payments to at least one credit bureau.
How Can I Easily Get a Payday Loan?
You can arrange a payday loan online through a loan-finding service that works with a network of direct lenders. You fill out a short loan request form that the networks use to prequalify your loan. If you pass, they then forward you to a direct payday lender to complete the application process.

The loan-matching services don't charge a fee, and you're not obligated to accept a loan offer. The loan amount appears in your bank account as soon as the next day if the referred lender provides loan approval and you sign the loan agreement.
You repay in a lump sum on your next pay date. The interest rates on even the best payday loans range from 300% to 700% or more. The rate is exorbitant, but the traditional loan period is short.
Do Payday Loans Guarantee Approval?
Payday loans generally do not check credit. Still, no lender guarantees 100% loan approval. 
Indeed, the best payday loans are among the easiest to get, but you must satisfy specific criteria related to age, income, and existing debt. While most easy payday loans rely on a borrower's job to provide the required income, you also may qualify if you receive regular governmental benefits or pension checks. 
How Soon Will I Have to Repay a Payday Loan?
Payday loans are due on your next pay date, typically one to four weeks from the loan date. You must repay the entire amount — loan principal and financing fee — on the due date. 
If you can't make the payment on time, the lender will add the financing fee to the loan principal, attach a new fee, and roll the due date forward to your next pay date. You can easily slip into a debt spiral by failing to repay a payday loan.
Payday Loans Are Expensive But Generally Easy to Get
Easy-to-get payday loans are desirable but dangerous. They are a fast, convenient way to get a cash advance on your next paycheck, and using them occasionally shouldn't cause great harm. 
But if you overuse them, their three-to-four-digit APRs can overwhelm your ability to repay. If possible, try first to obtain a less expensive personal loan, PAL, or cash advance from a credit card or app. 
Advertiser Disclosure
BadCredit.org is a free online resource that offers valuable content and comparison services to users. To keep this resource 100% free for users, we receive advertising compensation from the financial products listed on this page. Along with key review factors, this compensation may impact how and where products appear on the page (including, for example, the order in which they appear). BadCredit.org does not include listings for all financial products.
Our Editorial Review Policy
Our site is committed to publishing independent, accurate content guided by strict editorial guidelines. Before articles and reviews are published on our site, they undergo a thorough review process performed by a team of independent editors and subject-matter experts to ensure the content's accuracy, timeliness, and impartiality. Our editorial team is separate and independent of our site's advertisers, and the opinions they express on our site are their own. To read more about our team members and their editorial backgrounds, please visit our site's About page.