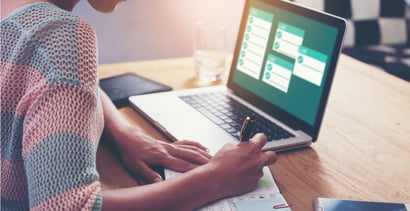 Our list of online payday lenders is lengthy, illustrating the great many choices you have when you need a payday loan. We cannot vouch for lenders we haven't reviewed, so use the list with caution.
In fact, we recommend you stick with lenders who have earned good ratings from us, and even then, you should always read the fine print before agreeing to any loan.
The Best Online Payday Lenders
The following seven companies are intermediaries that can prequalify you for a loan and then connect you to their online direct payday lender networks. To be eligible, you must be at least 18 years old and a U.S. citizen or resident.
All the networks include payday lenders or providers of payday loan alternatives. In all cases, the service is free, offers an instant loan approval decision, and places you under no obligation to apply for or accept a loan offer.
Situated in Las Vegas, MoneyMutual has been arranging loans since 2010. The company can put you in touch with payday lenders that require the loan to be repaid on your next payday.
You must collect a monthly income of at least $800, either from a job or through benefits, to prequalify.
Also headquartered in Las Vegas is CashUSA, which works with personal loan lenders that specialize in helping consumers with bad credit. It offers payday loan alternatives that charge less interest and allow longer repayment periods.
To prequalify, you must have an after-tax income of at least $1,000 per month as well as a checking account and an email address.
BillsHappen has a network of direct online lenders to arrange short repayment term loans. Although its primary focus is short-term personal loans, its lender network may include payday loan providers that can accommodate you.
To prequalify, you must have a reliable monthly income from work or benefits. If your loan is approved, the lender will deposit the money into your bank or credit union account as soon as the next business day.
Prequalification requirements are not shared on the CreditLoan website, but we are confident that they closely match those specified for other lender networks. You can apply for a short-term installment loan that you can repay in as few as three months.
While not primarily a source of payday loans, this lending network may be able to provide you with contacts to several payday lenders if that is your preference.
Washington-based Bad Credit Loans was founded in 1998 and works with a network of state-licensed lenders and Tribal loan providers. The company concentrates primarily on arranging installment loans with a monthly payment schedule but does not rule out payday loans.
You must have a dependable monthly income, an active checking account, and a valid email address and phone number to prequalify.
Although it is located in Utah, PersonalLoans can arrange personal loans in all 50 states as an alternative to payday loans.
You must have an income of $500 or more per month to prequalify for a loan. Several of the network's direct lenders may require a credit score no lower than 600, but others may instead make loans based on income.
CashAdvance of Utah has been dedicated to matching borrowers with poor credit to its direct payday lender network since its inception in 1997. The cash advance loans its lender network offers are short-term, high-cost arrangements repaid on your next payday.
To prequalify for a cash advance, you'll need an after-tax income of $1,000 a month or more, as well as a valid email address, an active bank account in your name, and a work phone number.
Complete List of Online Payday Lenders
Here is an extensive list of online payday lenders. All entrants have one thing in common: a promise to deliver your loan as quickly as possible, often in just one business day.
Ace Cash Express: Has over 900 locations across the country as well as an online platform.
Advance America: Has provided over 134 million loans over the last 23 years.
Bad Credit Loans*: Seasoned network of online installment loans.
BillsHappen®*: Loan-matching network providing short-term loans.
CashAdvance®*: An online loan-matching service dealing exclusively with payday loans.
Cash Central: Provides payday and installment loan offers in many states across the nation.
Cash Store: Payday loans up to $865 and installment loans as high as $5,000.
CashNetUSA: Utilizes alternative credit checks to enable lending to those with less than perfect credit.
CashUSA*: A network of online personal loan providers for consumers with bad credit.
Check City: Provides several types of loans online and through storefronts in four states.
Check Into Cash: Online and storefront payday loans from $50 to $1,500, depending on your state.
Check n' Go: Has issued more than 46 million online and storefront loans over the past 25+ years.
CreditLoan®*: Lending network specializing in short-term installment loan arrangements.
DirectPaydayLoans: Can connect you to payday lenders offering loans of up to $1,000.
LeapCredit: Acts as a direct lender or a matching service for online payday loans, depending on your state.
Loan By Phone: Fast online payday loans and instant approval, but the borrower must be at least 21 years old.
MaxLend: Offers payday loan alternatives in loan amounts up to $3,000.
Money Key: Online provider of installment loans and lines of credit.
MoneyLion: A bank alternative offering 0% cash advances based on your direct deposits.
MoneyMart: Provides storefront and online payday loans, as well as mobile check cashing.
MoneyMutual*: A leading lender-matching service for payday and personal loans.
Moneytree: Offers online payday loans up to $255 in several states.
My Payday Loan: You can borrow up to $1,000 online and at payday advance storefronts.
NetCredit: Partners with Republic Bank and others to offer loans up to $10,000 using alternative credit check algorithms.
Oasis Payday Loans: Oasis is a nationwide network of payday and personal installment loan lenders. The maximum available loan amount is $5,000.
OppLoans: A direct online payday lender that doesn't base funding decisions exclusively on FICO credit scores or credit history.
PaydayChampion: Online loan matching service offering leads for payday and installment loans.
PersonalLoans*: A network dealing exclusively with online personal loans.
SpeedyCash: Offers payday and other types of loans from $50 to $26,000.
1F Cash Advance: An online network that helps applicants secure loans of $100 or more to cover emergency expenses.
*Recommended lender reviewed in this article.
What Is a Payday Loan?
Payday loans are designed as short-term stopgaps that allow you to make it through to your next paycheck. They are structured to be repaid in full on your next payday, although they can be rolled over for an additional fee.
These loans are primarily based on your income and not your credit score, nor are they reported to the credit bureaus. Therefore, you cannot use payday loans to rebuild your credit, although you can certainly hurt your credit score if you fail to repay.
You must have a job or other dependable source of income to qualify for a payday loan. You can get a payday loan through an online portal or at a payday loan store.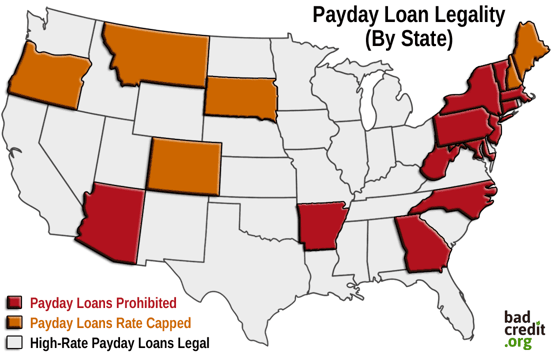 The seven companies reviewed above are all online payday lender-matching services that put you in touch with direct providers of payday loans and/or alternatives, including bad credit personal loans.
Payday loans are unsecured and charge an astronomical interest rate range, typically from about 400% to more than 1,000%. Payday lenders justify their high annual percentage rate and fees by pointing out the risks they take as one of the few loan sources for consumers with bad credit.
Payday loans are a type of small loan to be repaid in full by your next payday, but alas, this often proves to be untrue. According to the Consumer Financial Protection Bureau (CFPB), "Over 80% of payday loans are rolled over or followed by another loan within 14 days (i.e., renewed)."
In fact, 15% of new payday loans begin a sequence of 10 consecutive loans. Approximately 75% of payday loans go to consumers who take out 11 or more loans per year. Typically, the size of each small loan in a payday sequence grows over time as fees mount.
Almost half of payday loan borrowers have experienced at least one loan sequence during the year. The majority of borrowers who regularly take payday loans monthly are likely to remain in debt for at least 11 months.
Rolling over payday loans can be severely injurious to your financial health. It extends the period in which you are paying a nose-bleed annual percentage rate, compounds your fees, and can throw you into a debt spiral ending in bankruptcy.
Nonetheless, payday loans are an accessible source of quick cash advances for workers or benefit recipients who have poor or no credit. Perhaps that's why federal attempts to outlaw payday loans have so far faltered, with one exception.
Several states have banned payday loans entirely, and other states cap the maximum interest rate a payday lender can charge. Some states regulate the total number of payday loan rollovers or the waiting period between loans.
How Do I Get a Payday Loan Online?
You can apply for a payday loan online from either a direct provider of these loans or through a lender-matching network like the ones reviewed in this article.
One advantage to online payday loan networks is the convenience of arranging a loan from the security of your home. Obtaining an online payday loan from a lender-matching service involves the following steps:
Choose a loan matching service, seven of which are reviewed in this article (simply click on the START NOW link).
Find out whether you can prequalify for a loan by filling out and submitting a short loan request form.
Upon prequalification, you'll be transferred to the website of a direct lender on the service's network. Some services send you multiple potential loan offers from which to choose.
Finish the application process by submitting any additional information required by the lender.
If you receive loan approval, you'll be shown a loan agreement for you to carefully review before signing.
If the loan repayment term seems satisfactory, e-sign and submit the agreement.
Collect your money, which will be dispatched via direct deposit to your checking account as soon as the next business day.
During the application process, you will be asked to furnish your Social Security number and information about your income, place of employment, and paycheck schedule, among other factors. You may have to send in additional documents before receiving final loan approval.
How Is a Payday Loan Repaid?
Part of the information you must provide when applying for an online payday loan is your checking account number. That enables the lender to deposit your loan proceeds and then electronically collect your repayment on the loan's expiration date.
Another option would be to take a deferred deposit loan from a payday storefront, which means you write a post-dated check for the full amount plus interest. The lender would cash the check on the deferred deposit loan due date.
Most payday loans must be repaid in a week or two. Typically, the loan financing or origination fee is added to the loan amount you must repay.
When the due date arrives, the online lender will simply order your bank to wire the payment. However, if you can't repay the loan by the due date, you may request a rollover. Additional fees, including any origination fee, will be tacked on to the loan, and the due date is reset.
Your bad credit loan will be automatically rolled over if your bank account has insufficient funds. Of course, you'll be hit with penalty fees by your bank and possibly by the lender.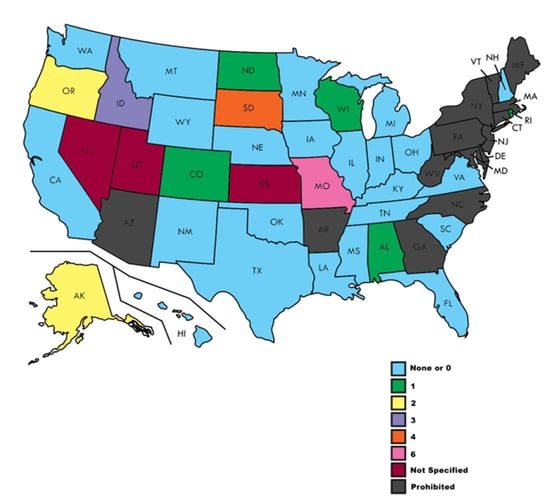 You should check with your state to see if it limits the number of times you can roll over a payday loan. Also, find out whether there is a mandatory waiting period before you can rollover the loan.
How Much Does a Payday Loan Cost?
Payday loans charge humongous APRs. However, the charges may seem reasonable because they are meant to apply for very short periods.
For example, you may be charged $15 for every $100 borrowed. Assuming the loan is for two weeks, the APR turns out to be 391%. That means if you held the bad credit loan for a year instead of two weeks, you'd have to repay almost quadruple the loan amounts borrowed.
In some states, payday loan rates are completely unregulated, and you may face an APR of 600% or more. For example, if you took a 14-day, $400 payday loan with a finance charge of $100, your APR would be 651.79%, and you would owe $500 on the due date.
If you then rolled over the loan for another two weeks, you would owe $625 on the new due date, assuming you didn't have to pay any extraneous fees on top of the finance charge.
As you can see, rolling over a payday loan multiple times can lead to financial disaster. The lender may refer your case to a collection agency that could result in legal action.
Personal loans are a much better alternative because they have a maximum APR of 36%. Moreover, you repay personal loan lenders in multiple fixed installments that are more affordable than the lump sum repayment of a payday loan.

You may be able to get an unsecured loan even if you have bad credit, and all but one of the reviewed lending networks (i.e., CashAdvance®) offer personal loans. Unlike payday loans, you can use a personal unsecured loan to rebuild your credit by making each payment on time.
What Are the Dangers of Payday Lending?
Let's recap the reasons why you may want to avoid taking a payday loan:
The dreaded debt spiral: A payday loan may provide temporary relief when you need a cash emergency loan. However, you may be positioning yourself for a total financial collapse if you can't repay the emergency loan on time.

With 75% of payday loans going to a borrower who takes at least 11 loans annually, it's apparent that many folks can't afford these loans. They're forced to roll over their payday loans, thereby creating a vicious cycle of debt.

High fees: As we show above, the high APRs charged by payday loans are initially masked by the short loan term. That mask drops away once you start rolling over the loan and see your debt mushroom out of control.

There may be other types of loans that charge as much as payday loans, but we venture to say that most of them are illegal. You may think of a payday loan as lifesaver during a cash crunch, but more likely it will turn out to be an anchor that submerges you in further debt.

Rollovers are too easy: The new fees are tacked onto the loan principal each time you resort to a rollover. Unsurprisingly, your payday loan lender will probably make it very easy to roll over your loan, automatically extending it if you can't pay on time.

Don't look to your payday loan lender to offer you credit counselling. Instead, contact a nonprofit agency like the National Foundation for Credit Counseling to work out a debt management or debt consolidation plan.

Next month's bills: Even if you can repay your payday loan, doing so may leave you unable to pay next month's bills. That's because a payday loan leaves you with less money than you had before you accepted the loan.

Failing to pay your other bills can ruin your credit, lead to repossessions and collections, and cause all sorts of financial headaches. Tread lightly when considering a payday loan and figure out in advance how it will impact your finances over the next few months. You may even consider debt consolidation so you can reduce your indebtedness.

Not for building credit: Payday loans are not reported to a major credit bureau, whereas personal loans, credit card cash advance debt, some title loan arrangements, mortgages, and so forth, are reported to a major credit bureau. In that regard, a payday loan is similar to a secured loan, although a payday loan is not a secured loan. You therefore will not accrue any benefit from a credit bureau for paying your bill on time.

On the other hand, the credit bureaus will be told if you default on the loan or it goes into collection. In other words, your credit score can't win, but it may lose.
We haven't even touched upon the emotional turmoil that a payday loan may cause through repeated rollovers. If you survive a bout with payday loans, we hope it will help you focus on long-term changes you can make to avoid falling prey to them again.
See If You Qualify For Payday Loan Alternatives
Armed with our list of online payday lenders, you have the information you need to begin exploring whether you want to use one.
When you suffer a legitimate cash emergency, you may have good reason to resort to a payday loan if your credit is bad and your alternatives are few. If that is your decision, perform some due diligence on potential lenders to ensure they are trustworthy.
That's the standard we set when we review the payday lending networks, and we trust they will deliver as promised.
Advertiser Disclosure
BadCredit.org is a free online resource that offers valuable content and comparison services to users. To keep this resource 100% free for users, we receive advertising compensation from the financial products listed on this page. Along with key review factors, this compensation may impact how and where products appear on the page (including, for example, the order in which they appear). BadCredit.org does not include listings for all financial products.
Our Editorial Review Policy
Our site is committed to publishing independent, accurate content guided by strict editorial guidelines. Before articles and reviews are published on our site, they undergo a thorough review process performed by a team of independent editors and subject-matter experts to ensure the content's accuracy, timeliness, and impartiality. Our editorial team is separate and independent of our site's advertisers, and the opinions they express on our site are their own. To read more about our team members and their editorial backgrounds, please visit our site's About page.