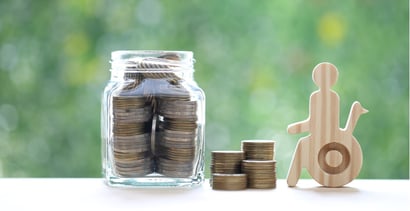 If you are one of the 8.2 million people receiving Social Security Disability Insurance (SSDI), you may be very interested in loans for people on disability. 
We do not recommend payday loans for people with disabilities. First, many payday loan providers require you to be employed. But more importantly, payday loans are risky, providing you cash for only a week or two and charging a ridiculous interest rate. A payday loan is the last refuge for disabled borrowers.
We review reputable lending networks that can help connect you to a legitimate loan with manageable terms. There's a lot to cover, so let's jump in.
Personal Loans For People on Disability Benefits
Personal loans are available for folks receiving disability benefits, even recipients with bad credit. The following loan networks arrange personal loans for people with all sorts of credit. 
The personal loan providers on these networks require disabled borrowers to have a reliable source of income, including SSDI, long-term disability insurance, and annuities. 
MoneyMutual remains our top-ranked personal loan network for consumers with bad credit. It can instantly prequalify your loan request and connect you to a suitable direct lender. To qualify for a disability personal loan, you must be a US citizen or permanent resident, age 18 or older, collecting $800/month in disability benefits or other income sources. You also need a valid phone number, email address, and bank account to qualify.
You can get multiple quotes from 24/7 Lending Group for disability personal loans of between $1,000 and $35,000. It is a credit loan matching service with more than 15 years of experience helping consumers. After receiving loan approval, you can collect your money within 24 hours or less.
You can quickly qualify for a disability personal loan from CashUSA.com even if your credit is not good. You must be 18 or older, a US resident, and collect benefits and income of at least $1,000/month after taxes. You also need a valid email address, an active checking account in your name, and a working phone number. The available long repayment terms make budgeting loan payments more manageable. CashUSA.com arranges loans with no minimum credit score requirement.
The SmartAdvances.com network accepts borrowers who receive disability checks, but you must earn at least $1,000 per month to qualify. You'll also need a driver's license or state-issued ID, as well as a bank account to qualify for a loan offer. This is used to help the lender verify your identity.
BadCreditLoans.com serves borrowers of every credit type. To prequalify, you must receive enough benefits and income to afford the monthly payments. The company can also arrange revolving lines of credit for additional flexibility. Its website contains numerous articles about loan scams and how to avoid them.
The CreditLoan.com lending network can quickly prequalify you for a disability personal loan offer even if your credit score is low. This lender-matching service strives to ensure that its network contains no predatory lenders. The company's security certification from TrustedSite proves its commitment to safe browsing.
BillsHappen® guarantees an instant prequalification decision when you request a disability personal loan. Its network provides small- to medium-sized loans to accommodate your individual needs. BillsHappen® does not specify a required minimum income, but you must have a valid Social Security number.
PersonalLoans.com has the best lender network for large loans. It can quickly prequalify you for a disability personal loan for as much as $35,000, although bad credit will reduce the amount you can borrow. You must collect at least $500 per month in benefits and income to qualify. You can use PersonalLoans.com to connect you to providers of various financial services, including credit monitoring, credit repair, and debt settlement.
How Do I Qualify For a Personal Disability Loan?
The reviewed lender-matching services can prequalify you for a personal disability loan if you meet the following requirements:
You are a US citizen or permanent resident and have a Social Security number.
You are at least 18 years of age.
You have a valid email address and phone number.
You have an active bank account in your name. 
You have a steady source of income through benefits and work.
Each direct lender also has its own requirements, including the minimum amount of income needed for a given loan. While the lender-matching services do not pull credit, most direct lenders on their networks do.
The application process is straightforward, consisting of the following steps:
Fill out and submit the network's loan request form, which asks for data about your identity, income, and housing costs.
Receive an immediate prequalification decision.
After you prequalify, the matching service will forward you to a personal loan provider's website or present you with multiple links to suitable lenders. 
Fill out the lender's application form, which may already contain the information from your loan request.
Receive a quick loan decision. You can sign a loan agreement online and collect your money in as little as 24 hours following approval.
As we always point out, please do not sign any loan contracts until you read all the accompanying disclosures. 
Can I Get A Personal Loan On Social Security Disability? 
Disability benefits may qualify you for personal loans from lending networks we have reviewed, depending on the type of disability you experience and the amount you want to borrow. Your credit score and existing debt also factor into your ability to get a personal loan.
You'll want to make sure there are no errors on your credit reports before applying for a personal loan. Inaccuracies on your reports, such as accounts you don't recognize, hard inquiries you didn't authorize, and "late" payments you made on time, can hurt your credit score and compromise your ability to get a loan.

You can challenge erroneous credit report items by filing disputes with the major credit bureaus. The bureaus accept challenges online and by mail:
Equifax
Mail: Equifax, PO Box 740256, Atlanta, GA 30374-0256
Experian
Mail: Experian, PO Box 4500, Allen, TX 75013
TransUnion
Mail: TransUnion LLC, Consumer Dispute Center, PO Box 2000, Chester, PA 19016
If the credit bureau confirms your dispute, it will remove the incorrect item, inform recent report recipients, and recalculate your credit score.
You may prefer to hire a credit repair company to do the work on your behalf, which will cost you between $50 and $150 per month. Subscriptions typically last for four to six months, but you can cancel at any time.
What Are Social Security Disability Benefits?
The Social Security Administration (SSA) pays disability benefits through its SSDI program to insured workers and their families. To receive these Social Security disability payments, you must have worked long enough and recently enough to qualify. Only earnings on which you paid Social Security tax count toward insurance. 
Disabled individuals (and their families) with limited income and resources who don't qualify for SSDI can still receive Social Security disability payments through the Supplemental Security Income (SSI) program.
Both programs share the same medical requirements. You and your family can receive benefits if you have a disabling medical condition expected to last at least one year or result in death. To be "medically disabled" means you cannot perform any substantial gainful activity because of your condition.
You can meet the non-medical requirements for SSDI by accumulating the necessary work credits. You earn work credits by paying Social Security taxes. For SSI, the non-medical requirement is to demonstrate the extreme need for financial aid. 

For 2022, the average SSDI payment is $1,358 per month, but those who earned a high income in recent years can collect up to $3,345 per month. The SSA imposes waiting periods before you can begin collecting benefits, but you can receive disability back pay once the wait ends. Other disability payments, such as workers' compensation (WC) settlements, may reduce your SSDI benefits.
You can collect SSDI benefits even if you earn money through work, although your earnings must be less than the set limit. If you make more than the limit, you engage in a substantial gainful activity (SGA, which is SSA-speak for a job) and cannot collect SSDI benefits. 
In 2022, the monthly SGA amount for statutorily blind individuals is $2,260, and that for the non-blind is $1,350. SGA limits do not apply to blind SSI recipients.
For 2022, the SSI disability benefit is $841 per month for an eligible individual and $1,261 per month for an eligible couple. The payments may be higher for large families in need.
You may attempt to go back to work while receiving SSDI benefits. SSA gives you a four-month trial work period to collect earnings and SSDI benefits. The maximum work earnings for the trial work period are lower than the SGAs.
The SSDI and SSI programs compare favorably with similar ones in foreign countries. For example, the UK offers the Personal Independence Payment program that pays extra money to help those with an illness, disability, or mental health condition. The Payment Independence Payment program sends about $116 per week (at current exchange rates) to individuals who have a severely limited ability to carry out daily living activities. 
In addition, many UK agencies offer enhanced protections for their disabled workers. For example, the country's Financial Conduct Authority enforces robust disability initiatives for its employees.
How Does a Loan Affect My Disability Benefits?
You can take out a loan without impacting your SSDI benefits. 
The story is more complicated if you take a loan when receiving SSI. The loan has no effect if you spend the money in the same month. But any money you don't spend in the month will count toward your SSI resource limit next month. If your resources exceed the SSA limits (i.e., $2,000 for an individual, $3,000 for a couple), you won't receive the SSI benefit.
What Alternatives Are Available to Disabled Persons?
Disabled individuals are eligible for resources and benefits beyond those they receive from the SSA. This is a partial list, but if you become disabled, you will want to research all the available alternatives from federal, state, and private sources. 
Student Loans
Untaxed Social Security benefits (SSDI and SSI) do not count as income on the Free Application for Federal Student Aid (FAFSA) when applying for financial assistance, including federal student loans, grants, and work programs. 
Student loan borrowers must report other disability income, including workers' compensation, when applying for financial aid on the FAFSA. Additional disability benefits may affect the financial assistance available to student loan borrowers.

You are eligible to have your federal student loans forgiven if you become totally and permanently disabled (TPD). You must provide proof of your disability to the Education Department when applying for the discharge of your student debt. TPD also allows discharge of your Teacher Education Assistance for College and Higher Education Grant Program service obligation. 
Student loan forgiveness usually creates an income tax liability on the unpaid portion of student loan debt. But those with federal student loans experiencing TPD do not have to pay income tax when the Education Department approves student debt forgiveness. 
Forgiveness of student loan debt is one of the better benefits available to members of the disabled world. 
VA Home Loans For Disabled Vets
Veterans deserve universal credit for their service to the United States. The government recognizes this by providing programs and services to help the disabled veteran service members who sacrificed so much to defend their country. 
For example, the Veterans Administration has direct and guaranteed home loan programs for current and veteran service members. These loans usually require no down payment and have low interest rates. 
The VA exempts disabled veterans from paying a home loan funding fee, a benefit worth thousands of dollars. In addition, the VA offers veterans several grant and tax credit programs, a few of which serve the needs of disabled veterans:
VA Home Improvements and Structural Alteration Grant: Pays for home alterations that improve accessibility
VA Special Housing Adaptation Grant: Helps to adapt a home to accommodate the needs of a disabled veteran
VA Specially Adapted Housing Grant: Assists disabled homeowners who want to live independently in a barrier-free home.
You can contact the VA to learn more about disability benefits, loans, tax credits, and grants.
The Fair Housing Act makes it illegal to deny housing to anyone because of physical or emotional disabilities, among other factors. Disabled veterans have legal recourse if they experience discrimination. Many states provide services to help the disabled enforce their rights under the Fair Housing Act. 
Credit Card Cash Advances
A credit card cash advance is one of the quickest ways to obtain a short-term loan. You don't need to fill out any loan forms or undergo a credit check if you already own a credit card that permits cash advances. 
The maximum APR on a cash advance is 36%, and you can borrow up to your cash advance credit limit. 

Your credit card may provide online cash advances in addition to access via ATMs, bank branches, and cash advance checks. Online access may be especially convenient if you have limited mobility.
Credit cards charge a flat fee for each cash advance transaction, typically 2% to 8%. You may also have to pay extra fees if you take the advance at an ATM. 
A credit card's APR is usually higher for cash advances than it is for purchases. There is no grace period on cash advances, and interest starts accruing on the transaction date. That's why it's best to think of a credit card advance as a very short-term loan.
Government Assistance
The federal government offers numerous assistance programs to disabled individuals. You may be eligible for help with your medical bills, access to a support animal, and assistance with your housing.
People with disabilities can open tax-free Achieving a Better Life Experience (ABLE) savings accounts. Your disability must have occurred before the age of 26 to qualify for an account. You can contribute up to $16,000 to an ABLE account. Earnings and withdrawals are tax-exempt.
Workers' Compensation (WC)
You may be entitled to WC benefits if you sustain injuries while on the job. Most states require employers to carry WC insurance to cover injured employees. 
The WC benefit is temporary until a physician certifies you as permanently disabled. Once approved, you can apply for SSDI and state benefits.
Under certain circumstances, you may be able to collect a government disability benefit and WC at the same time. 
"You may be eligible for state disability benefits for any day you are also entitled to receive workers' compensation (temporary or permanent disability) benefits, if state disability benefits are higher than the workers' compensation benefits."

FindLaw.com
You may also qualify for simultaneous WC and unemployment insurance payments if your employer cannot offer you work and you can't find a job elsewhere.
Private Disability Insurance
Private insurers sell disability insurance policies that replace income lost due to a disability. The cost of these policies is highly variable due to differences in coverage and eligibility.
Some policies pay when you can't work in your chosen profession, while others require that you be completely unable to work.
One key cost factor is the policy's elimination period, the waiting period before benefits kick in. Another is the benefit period, the length of time you'll continue to receive payments. 
Private disability insurance policies typically cost 1% to 4% of your annual income. Alternatively, you should expect to pay a monthly premium equal to 2% to 6% of the policy's monthly benefit. 
Disability Loans Are Available Even If You Have Bad Credit
Our review of loans for people on disability reveals how you can borrow money despite having health challenges and bad credit. These loans don't affect your SSDI benefits and don't require you to have work income. 
You may want to enlist legal assistance when you apply for SSDI benefits. The SSA rules are complex, but a lawyer can help you obtain all benefits for which you qualify. 
Advertiser Disclosure
BadCredit.org is a free online resource that offers valuable content and comparison services to users. To keep this resource 100% free for users, we receive advertising compensation from the financial products listed on this page. Along with key review factors, this compensation may impact how and where products appear on the page (including, for example, the order in which they appear). BadCredit.org does not include listings for all financial products.
Our Editorial Review Policy
Our site is committed to publishing independent, accurate content guided by strict editorial guidelines. Before articles and reviews are published on our site, they undergo a thorough review process performed by a team of independent editors and subject-matter experts to ensure the content's accuracy, timeliness, and impartiality. Our editorial team is separate and independent of our site's advertisers, and the opinions they express on our site are their own. To read more about our team members and their editorial backgrounds, please visit our site's About page.