We've prepared a road map to help you find online loans that don't require a credit check. The journey starts at lender-matching websites that will prequalify you for a subprime loan without pulling your credit.
Once you've selected a lender-matching network, you've reached a fork in the road. You can continue on the no-credit-check route by applying for a payday loan. Payday loans are expensive but easy to get. Or you can go for a personal loan — it's less costly but requires a credit check.
The ultimate choice is yours, but we can direct you to several online lending networks at which you can quickly prequalify for a loan without a credit check. You may receive your money by the next business day if all goes well.
Best Online Loans That Don't Check Credit
The following websites don't make loans; they find them. You need only a few minutes to prequalify for a subprime loan and receive one or more links to willing online lenders. All this is yours without cost, obligation, or credit checks.
MoneyMutual is an online platform that can connect you to online lenders from its extensive network. You may receive a fast preapproval for a bad credit loan of up to $5,000 and collect the funds in your bank account in as few as 24 hours.
Once you submit a loan request form, MoneyMutual will check that you're 18, a US citizen or resident, employed, and earn at least $800 per month. If you successfully prequalify, the website will transfer you to a payday or personal loan provider eager to work with you.
You can review the terms and conditions once the direct lender makes you a loan offer. Upon final approval, you'll likely receive your funds on the next business day. MoneyMutual is the best personal loan network in this group for borrowers with limited or poor credit.
24/7 Lending Group is a lender-finding network that can quickly find you a personal loan at any time of day or night. A personal loan requires you to make monthly payments over a period of three months to seven years.
You can prequalify for an installment loan even if you don't have good credit because 24/7 Lending Group doesn't check your credit history before connecting you to a lender. Direct lenders within the network offer loans of $500 to $35,000, but poor credit will reduce the maximum amount you can obtain.
Although a bad credit score isn't the decisive factor for final loan approval, applicants must demonstrate they can afford the monthly payments.
You may be able to find a personal installment loan for $500 to $10,000 on the CashUSA.com network. You can repay the bad credit loan over the course of 90 days to 72 months at an interest rate set by the online lender you select.
You can submit an online loan request to see if you prequalify for a subprime loan without a hard credit check. Keep in mind that although CashUSA.com won't perform a credit check because it's not a direct lender, its lending partners will likely do so. 
To be an eligible borrower through CashUSA, you must earn $1,000 monthly after taxes and have a valid email address, phone number, and checking account. To qualify for a loan offer, you must be a US citizen or permanent resident.
SmartAdvances.com is one of the leading-matching services for payroll and personal loans. It can prequalify you for a loan offer without a credit check.
Each direct lender on its network sets the terms and approval standards for the loans it offers. You may qualify for a payday loan even if you have a bad credit score because no credit check is required. 
If you apply for a personal loan, the direct lender will check your credit and set your interest rate based on the results. 
BadCreditLoans.com is a website that matches lenders with online loan requests. You can take advantage of its services even if you have a bad credit score.
You may be able to get a personal loan of up to $10,000. To prequalify for a personal installment loan, you must be a US resident,18 or older, with a valid bank account, phone number, and email address.
Since its founding, Bad Credit Loans has functioned as a finance-focused platform that provides extensive information about various loan topics. You can find information on personal loans, credit cards, auto loans, and home loans, among others.
Approval Tips For No Credit Check Loans
Even the best personal loan provider doesn't approve all the loan applications it receives, even if it doesn't perform a credit check. Here are a few tips to increase your chances of getting a loan.
Ask For Less
A lender may turn you down if you ask to borrow an excessive amount. Of course, "excessive" is a relative term whose meaning varies from one lender to the next. 
The amount you ask for should be small enough for you to repay the loan on time. Your income, savings, and other bills factor into how much you can afford to borrow. 
Lenders often check a borrower's debt-to-income (DTI) ratio to ensure it's below a set threshold (generally 36%, but it varies by lender). Your projected DTI ratio may disqualify you if you ask for a relatively large loan. 
Alternatively, the lender may make you a counter offer for a smaller loan amount. You'll have the smoothest approval process if you ask for the bare minimum you need for your current circumstances.
Recruit a Cosigner
Lenders love cosigners because they reduce default risk. You and your cosigner share the obligation to repay the loan on time. Payday loan borrowers seldom use cosigners, but you should consider enlisting a cosigner if you apply for a personal loan.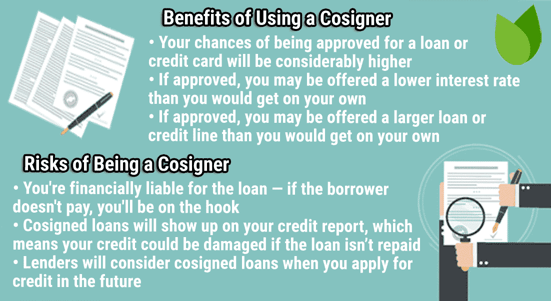 Personal loan providers usually report payment activity to at least one major credit bureau. The bureau will record the information for both cosigners, so both of you will feel the effect of your payment behavior. On-time payments will lift your credit scores; payments more than 30 days late will lower your scores. 
Post Collateral
In the eyes of many lenders, collateral is even better than a cosigner. Collateral is the property you post to secure a loan. If you default on your debt, the lender will seize and sell your property to recoup the secured loan amount.
The collateral for an online payday loan is your bank account. The payday lender electronically withdraws your payment, including the finance fee (interest), from your bank account on your next pay date. 
If the account has insufficient funds, the lender will add fees to your loan principal and roll the new due date to your next payday. Repeated a few times, rollovers can put you in a debt spiral that leads to bankruptcy.
Most personal loans are unsecured, but some lenders make secured personal loans. You should avoid secured loans if you don't want to risk losing your pledged collateral. On the other hand, a secured loan may be your only option if your credit is poor.
Alternatives to Online No Credit Check Loans
Online payday and personal loans from lender-matching websites are fast and convenient. But they're not for everyone.
Storefront payday lenders provide cash advances to individuals who need money to cover emergency expenses or to make ends meet until their next pay date. You may have to write a post-dated check for the loan amount plus fees to obtain a storefront payday loan. 
The lender doesn't cash your check until your next payday. If the check bounces, the bank will charge you overdraft fees, and the lender will contact you (or a collection agency) to arrange repayment.
Alternatively, you can give the payday lender permission to withdraw your payment from your bank account on the due date. If your account has insufficient funds, the lender will roll over the loan by adding fees and rescheduling the due date. 
All payday loans charge very high interest rates, typically 300% to 700%. They're usually for people who have no better options. 
Pawnshop Loans
A pawnshop can provide you with a fast cash loan secured by your property — cameras, electronics, jewelry, firearms, collectibles, etc. Getting a pawnshop loan takes only a few minutes: Walk into the shop, complete minimal paperwork, and collect your cash and pawn ticket. 
The ticket specifies the loan expiration date — the pawnbroker will attempt to sell your property if you don't repay your loan before it expires.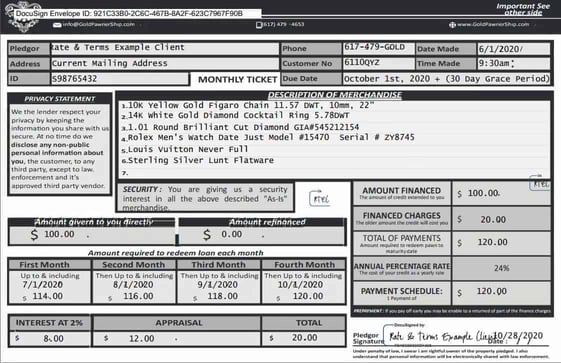 Pawnbrokers don't check credit, but easy borrowing comes at a high price: These secured loans charge an APR that can exceed 240%. Pawnshop will typically lend you between 25% and 60% of your property's value. Despite the high costs they charge, pawnshops provide easy loans when you need money with few questions asked.
Cash Advance Apps
You can access cash advance apps on your mobile device. The apps let you borrow small amounts you repay on your next payday. These apps offer a quick and convenient way for workers to access earnings without a credit check. 
To employ a cash advance app, link it to your bank account or debit card and provide the required information about your job and earnings. The app determines your eligibility for an unsecured cash advance and the amount you can borrow (typically $100 to $500). 
If the app approves your advance, it wires the money to your bank account or debit card within a few hours. Some apps charge nothing for their services but allow you to leave a tip. Others charge a flat fee for advances that have a fixed repayment term (such as 30 days). 
You can choose a cash advance app with additional features, including budgeting and educational tools. Here are three of the best:
Dave is a cash advance app that offers early payday access to as much as $500 if you have a Dave bank account. You can use Dave to receive your direct deposit paychecks up to two days faster than you would via the delivery of a mailed paper check. The Dave Debit Mastercard pays up to 15% cash back on selected purchases.
EarnIn lets you borrow up to $100 per day — a maximum of $750 per pay period — without a credit check. As with other cash advance apps, you must link your employment and bank information to EarnIn to establish your eligibility. If the app approves your account, you'll be able to transfer funds directly to your bank.
Brigit provides up to $250 in same-day loans. It costs you $9.99/month to access this Instant Cash feature. For even faster service, you can opt for Express Delivery (for an additional small fee) to get your money in minutes. To obtain an advance, download the Brigit app, connect your primary checking account, request a loan, and set a repayment date (typically your next payday).
What is the Fastest Way to Get a Loan?
If you want an immediate loan, consider using your credit card at an ATM. You can borrow up to your available credit line for cash advances (which may differ from the card's overall credit limit). 
Credit cards charge daily interest on cash advances until you repay the total amount. A transaction fee, typically 3% to 5% of the advanced amount, will also apply.
Other sources of fast loans are pawnshops, cash advance apps, and storefront payday lenders, all of which we discussed earlier.
How Do Online Personal and Payday Loans Differ?
Personal installment loans and short-term payday loans differ in several significant ways, as this chart depicts: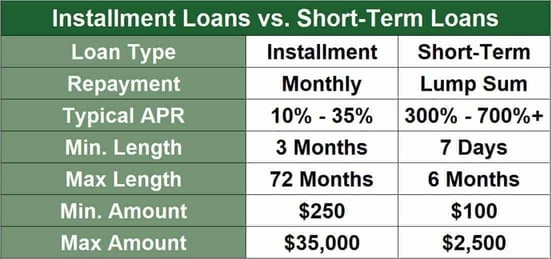 Note that personal loans require credit checks, but payday loans do not. The best use for payday loans is to provide fast cash when you run short of money. They are an expensive way to get a small, short-term loan, but they're relatively easy to obtain if you have a steady income.
Personal loans make sense when you need larger amounts of money and want to repay in monthly installments. Their APRs are much lower than those for payday loans, but the interest charges can mount up if you stretch your payments over multiple years. 
To limit costs, agree to the shortest loan term that allows you to afford the monthly payments.
Is a No-Credit-Check Loan a Good Idea?
Consumers who don't have good credit may find no-credit-check loans appealing. Before jumping in, please weigh the pros and cons that we've laid out:
Pros
Reasons to seek a no-credit-check loan include the following:
Less strict requirements: You can get this type of loan even if you have terrible credit or no credit at all. You still may have to meet income requirements.
Fast approval: The lender doesn't have to spend time pulling and evaluating your credit report.

Convenience: You can get no-credit-check payday loans online and receive the funding on the next business day.
Cons
Consider these disadvantages before taking a no-credit-check-loan:
Higher costs: Payday, pawn, and title loans do not require credit checks but have astronomical APRs. You risk falling into a debt spiral if you can't repay these loans on time.

Possible short repayment term: You must repay a payday loan on your next payday, typically in one to four weeks. You may have difficulties meeting this tight schedule.

May not build credit: Lenders that don't check credit don't usually report your payments to the credit bureaus. Without this reporting, you can't build credit.
Possible scams: Always use a trusted loan provider, as some no-credit-check lenders use high-pressure, predatory practices.

In summary, no-credit-check-loans may not be worth their costs. Consider taking one only as a last resort.
Online Bad Credit Loans Are Available Without a Credit Check
When your credit is poor, limited, or non-existent, a no-credit-check loan may be one of your few ways to borrow money. This article reviewed several lender-matching networks that can prequalify your loan request without checking your credit report. 
You may be able to get a no-credit-check payday loan through one of these websites, but be prepared for high interest rates and short repayment periods.
MoneyMutual & Other Resources
We hope you've found our guide "5 Online Bad Credit Loans With No Credit Check (Sep. 2023)" to be helpful in meeting your financial needs. To learn more about MoneyMutual, our top recommendation in this guide, be sure to visit the MoneyMutual website for full details about the offer.
Our experts rate MoneyMutual as one of the best options in personal loans for those with bad credit, giving it a 4.8/5.0 rating overall. Among its features:
Short-term loans up to $5,000
Online marketplace of lenders
Funds available in as few as 24 hours
Simple online form takes less than 5 minutes
Trusted by more than 2 million customers
For more resources similar to this "5 Online Bad Credit Loans With No Credit Check (Sep. 2023)" guide, see our other popular picks for those with bad credit:
Whether you choose MoneyMutual or any other option in our personal loans category, be sure to read and understand the terms before signing up. You'll find that taking the time to fully understand personal loans is one of the smartest financial decisions you can make.
Advertiser Disclosure
BadCredit.org is a free online resource that offers valuable content and comparison services to users. To keep this resource 100% free for users, we receive advertising compensation from the financial products listed on this page. Along with key review factors, this compensation may impact how and where products appear on the page (including, for example, the order in which they appear). BadCredit.org does not include listings for all financial products.
Our Editorial Review Policy
Our site is committed to publishing independent, accurate content guided by strict editorial guidelines. Before articles and reviews are published on our site, they undergo a thorough review process performed by a team of independent editors and subject-matter experts to ensure the content's accuracy, timeliness, and impartiality. Our editorial team is separate and independent of our site's advertisers, and the opinions they express on our site are their own. To read more about our team members and their editorial backgrounds, please visit our site's About page.