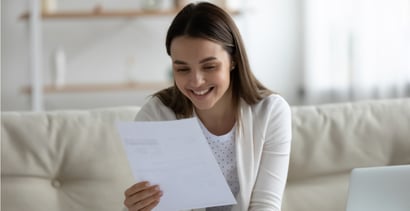 If your credit score is struggling and you need to borrow money, consider bad credit loans that report to credit bureaus. Not only can these put some needed cash in your pocket, but they can also help you improve your credit. 
Two birds, one stone – you decide. 
Bad Credit Installment Loans That Report to Credit Bureaus
These five lending networks can help you get an installment loan that will report your payments to one or more credit bureaus. Unlike a payday loan that you repay in a lump sum and isn't reported to credit bureaus, these personal loans bill you in monthly installments and charge far less interest. 
Some of these companies offer both types of loans, so make sure you understand the loan offer before accepting it. 
CashUSA.com maintains a network of lenders that offer personal loans with varying terms. To prequalify, you must be a U.S. resident, age 18 or older, and receive at least $1,000 a month in after-tax income. 
You must also have a valid phone number, email address, and an active checking account. Upon prequalification, CashUSA.com will match you to a direct provider of personal loans for a quick decision and funding. 
BillsHappen® can help you obtain an unsecured personal loan (secured personal loans are rare) through its extensive lender network. If a direct lender approves your application, it will wire the money to your financial institution as quickly as the next business day. 
The company is serious about your privacy. It secures your personal information by encrypting all transmitted data.
CreditLoan.com has attracted more than 33 million website visitors since its inception. One reason is its collection of online tools and resources, including a handy loan calculator.
The company's lender network specializes in helping consumers with bad credit borrow money quickly. You'll have at least three months to repay the loan and longer if you need it. 
BadCreditLoans.com helps consumers with poor credit obtain installment loans that cost far less than payday loans. To prequalify, you must live in the United States, be at least 18 years old, and have a reliable monthly income, checking account, and an email address. 
If the company matches you to a lender that approves your loan, your money should appear in your bank or credit union account within one to two business days.
If you need to borrow a substantial amount, consider PersonalLoans.com, which can arrange personal installment loans of up to $35,000. You must provide your Social Security number to prequalify for a loan from the company's online lender network. 
You can take up to six years to repay your installment loan. This extended term helps you arrange a monthly payment schedule that fits into your budget.
What Is a Bad Credit Loan?
In the credit world, everything is more challenging when you have bad credit. Of the several loan types available to you, none are cheap. But personal loans (or "signature loans") charge relatively reasonable interest rates if you can call APRs up to 36% reasonable.
Still, when compared with triple-digit payday loans and predatory pawnshop loans, you can do a lot worse than land a personal loan.

For one thing, personal loans do not require collateral, which means your home or car is not at risk should you have trouble making timely payments. By extending payments over several months or years, you can keep your budget from imploding. 
Moreover, many unsecured personal loan lenders welcome consumers with bad credit scores. Lenders that provide secured personal loans are even happier to help consumers with bad credit.
The question that arises is how lenders can afford to make loans to risky borrowers – the risk being that the lender won't receive repayment. Lenders will quickly go bankrupt if they experience too many loan defaults. Therefore, they've learned to craft bad credit loans that minimize their risk.
Lenders' risk-reduction tactics include the following: 
Structuring loans for affordability: If lenders made their loans ridiculously unaffordable, they'd have trouble recruiting borrowers and collecting payments. Yet, they must charge enough to compensate for any borrowers who fail to repay. Personal loan lenders crack this problem by offering a long repayment term. Even if the loan is expensive in the aggregate, lenders can make it affordable every month by adjusting the number of installments granted to the borrower.

The math is simple: Increasing the number of installments cuts the monthly payment amount. Of course, longer terms mean higher overall costs because of the extra interest charges.

Installment loans are very different from payday loans that require a lump sum repayment within a week or two. Borrowers frequently roll over their payday loans to delay reimbursement, a practice that can lead to a debt spiral and even bankruptcy.

Accommodating a low credit score: The reviewed lenders don't exclusively focus on credit scores. If they did, they'd pass up the lucrative market of consumers with bad credit. These lenders take a holistic approach, assessing income, employment, current indebtedness, housing expenses, and other factors.

Verifying income: It's bad business to lend money to people who can't afford to repay. Lenders require applicants to disclose their income and sometimes require documentary proof in the form of pay stubs, W-2 statements, bank statements, or tax returns. The reviewed lending networks require borrowers to collect monthly income or benefits ranging from $500 to more than $1,000. Lenders also inquire about your current job status and compare your answer to your credit history. Insufficient income is one of the principal risk factors that cause lenders to decline loan applications.

Controlling loan size: Lenders consider your income, financial obligations, and payment history to help determine how much they will lend. Lenders who compete in the subprime credit market tightly control risk by limiting loan sizes.
Your first loan may be the hardest to obtain due to your lack of credit history. You should find borrowing easier after successfully repaying a loan unless your financial circumstances deteriorate.

Imposing high costs: Lenders are in business to earn interest income and fees. Although the reviewed lender-matching companies don't charge applicants, the direct lenders who make the loans often impose an origination fee. Borrowers must then decide whether the cost seems too high. As you review a loan offer, note any additional fees, including fees for prepayments and late payments. Lenders that serve subprime borrowers require high APRs to make a profit. Many personal loans top out at a 36% APR, but the maximum legal interest rate varies by state.

Encouraging debt consolidation loans: A personal loan may be easier to get when you use it for debt consolidation, since it does not add to your indebtedness.
Consumers with high credit scores usually apply to conventional lenders such as banks or credit unions. Conversely, the lending networks work mainly with subprime consumers and charge much higher APRs. 
Direct lenders compete for your business, and this helps to temper the interest rates they charge. However, don't count on competition to save you much money, as the lenders in the sector share the same risks. 
Can I Get a Loan If I Have Bad Credit? 
The reviewed companies specialize in arranging personal loans for folks with bad credit. These networks have remained in business for decades, indicating a thriving market for subprime loans. Nevertheless, there is no guarantee that you'll be able to get a loan from one of these networks. 
You have other options if you're unable to obtain a personal loan. If you own a home, you may consider taking an equity loan. Lenders find it easier to offer secured loans collateralized by property, as their risk of loss is much smaller. Cash-out auto loan refinancing provides similar possibilities to potential borrowers.
The biggest threat facing borrowers who take secured loans is the possibility of losing their property. Lenders routinely repossess cars and foreclose on homes when borrowers default on their loans. 
You can quickly get a pawnshop loan if you have suitable personal property. However, these loans are expensive, and you'll lose your property if you don't repay the loan on time.
One novel way to establish or improve your credit is through a credit builder loan. The money you borrow from a credit builder loan provider goes into an escrow account that you redeem through monthly payments reported to the three credit bureaus. When you repay the loan, the provider refunds your money.
Unsecured loans, including payday loans and credit card cash advances (but not loans from a secured credit card), are less risky for borrowers. But like personal loans, these other credit accounts have high interest rates. 
In particular, payday loans carry APRs of 300% to 800% or higher, depending on each state's usury laws.

Sometimes, a company owner who can't qualify for business loans will turn to personal loans instead. Personal loans may charge higher interest rates than those for business loans.
What Is the Role of the Credit Bureaus?
The three major credit bureaus (Experian, Equifax, and TransUnion) collect consumer credit information, compile credit history reports, and calculate credit scores (e.g., FICO®, VantageScore, etc.). Your credit score predicts your likelihood of repaying debts.
FICO®, the leading credit scoring system, uses a scale that ranges from 300 (the minimum credit score) to 850 (perfect credit), with the average just above 700. A bad credit rating is 580 and lower, whereas scores above 740 indicate excellent credit. Fair scores, between 580 and 669, begin to limit your access to credit. 
You can usually achieve a good credit score by paying your bills on time. But you can expect your credit rating to plunge when a credit reporting agency starts receiving delinquency notices (i.e., you have a payment 30 or more days late). 
Just one late payment can cause your score to drop from good to fair. Two or more instances may leave you with bad credit. Note that missed payments stay on your credit reports for seven years. 
If you want to repair your credit score, you'll need a credit bureau to collect positive information about your use of credit. Some loans do not report your payments to the credit bureaus (for example, payday loans). 
Personal loans report payments, making them suitable vehicles for lifting your scores when you consistently pay your bills on time. 
Ideally, you'd like a lender to report your credit activity to all three credit bureaus simultaneously. The scores that result from triple reporting reinforce each other regarding your creditworthiness. 
You want all three scores to rise simultaneously as a result of your better financial habits. If one score is out of line, you'll need to learn why and correct the problem.
To investigate why you have a low credit score or inconsistent scores, you can order free copies of your three credit reports from AnnualCreditReport.com and review each one for incorrect data. You can then file disputes with the credit bureaus to fix any errors you find.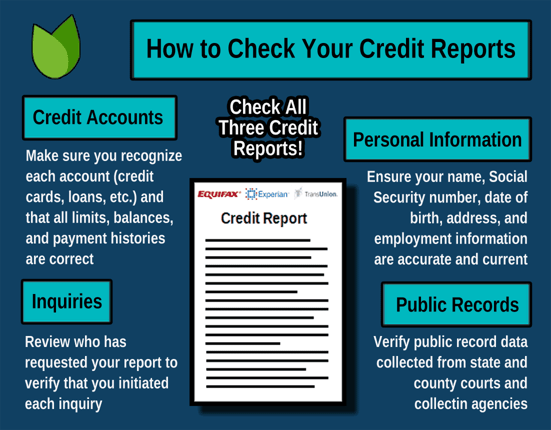 If you don't want to undertake the task on your own, you can hire a credit repair company to fix errors in your reports that may be damaging your scores. 
How Do I Get a Bad Credit Loan?
The five online lender networks operate similarly. You can go to any one of them and submit a short loan request form that asks for basic information about your identity, income, and housing costs. The lending service will instantly let you know whether you prequalify for a personal loan.
If you are successful, the service will attempt to match you to a direct lender on its network and then transfer you to the lender's website. At this point, you complete the application process by providing any additional information that the lender requires. You should receive the final decision shortly after that.
If the lender makes you an offer, you'll need to e-sign a lending agreement specifying the loan term, rates, and fees. You should read and understand the contract before signing it. Upon accepting your loan, the lender will wire the proceeds to your checking account within the following one or two business days.
The loan agreement will likely give the lender permission to collect your monthly payments directly from your bank account. Otherwise, you will have the responsibility of ensuring timely payment. Expect to pay a penalty fee if your payment is late or if your bank account has insufficient funds.
The lender will acknowledge receipt of your payment and report it to at least one of the major credit bureaus. The credit reporting agency will update your credit report to reflect your payment and recalculate your credit score by the end of the month.
Unless the loan specifies a prepayment fee, you'll be able to pay it off ahead of schedule without penalty, reducing the overall cost of the loan. 
If you miss one or more payments, the lender will report your delinquency (no sooner than 30 days) to one or more credit bureaus. The missed payments will drive down your credit scores and remain on your credit reports for seven years.
The industry reporting standards require the credit bureaus to categorize late payments as follows:
30-59 days late
60-89 days late
90-119 days late
120-149 days late
150-179 days late
180+ days late
The credit bureaus will not record a late payment until it is at least 30 days overdue. This policy doesn't prevent the lender from assessing late fees as soon as you miss the due date.
Late payments are the most significant single factor (35% of the total) contributing to your FICO score.

In the FICO scoring model, late payments immediately impact your credit score. However, the effect begins to fade after two to three years, even though the report continues to carry the negative item for seven years. 
The lender may eventually turn your account over to a collection agency, which will report the event to the credit bureaus. The collection will inflict further damage on your credit scores and remain on your reports for seven years.
You may be able to negotiate a pay-to-delete agreement with the collection agency and the lender. Under this agreement, you pay the outstanding loan balance in return for the removal of the late payment or collection from your credit reports. 
The credit bureaus frown upon pay-to-delete agreements because it obscures the truth about a consumer's creditworthiness. The bureaus' primary obligation is to its paying clients, including banks, credit card issuers, and other lenders.
Given the negative consequences, it's a good idea to warn a lender before it reports late payments. You can explain that you're having trouble paying the bill and negotiate a relief measure, such as a longer loan term or a lower interest rate. Hopefully, the new arrangement will not require an entry on your credit report, leaving your bad credit score intact.
Which Loans Don't Check Credit?
Some types of lenders do not check your credit when you apply for a loan. These include providers of the following loan types:
Payday loans: This type of loan requires you to have a job and a steady paycheck. The repayment term is the period until you next get paid. Folks with bad credit often turn to payday loans to tide them over for a week or two. 
Credit card cash advances: If you own a credit card that permits it, you can take a cash advance at any time without a new credit check. The card issuer may have performed a credit inquiry when you first applied for the card. You can get a credit card cash advance at your bank branch or a participating ATM. You can also arrange to tap your cash advance line through an online transfer to another account. You'll usually pay a 3% to 5% fee for a cash advance plus daily interest on the outstanding loan amounts. The maximum APR on a credit card cash advance is 36%.
Pawnshop loans: These are cash loans based on the (heavily discounted) value of personal property you bring to a pawnshop. Even a minimum credit score is immaterial to the loan. The only thing that counts is the item you hock. Popular pawnshop items include cameras, jewelry, guns, and collectibles. You receive a pawn ticket at the time of the loan. You have a set period within which to redeem the ticket by repaying the loan, including any interest and fees due. If you fail to claim your property, the pawnshop takes ownership and is free to sell it to its customers. Pawnshop loans are costly. You typically can borrow an amount that is only a tiny percentage of the pawned item's value. Interest rates and fees are high. 
Federal student loans: You can get a federal student loan without regard to your credit score. Indeed, you don't even need to have a credit score to get a federal student loan.
You may be able to borrow money from a friend or family member. This type of loan will probably be the cheapest and easiest loan you can get, at least the first time you ask for one. While it's possible, the lender will likely not pull your credit report or check your score.
How Much Money Can I Borrow ASAP?
The loan amounts you can borrow in an emergency depend on several factors. While the lender-matching services advertise personal loans of up to $35,000, the loan amounts available to borrowers with bad credit are substantially lower. 
Your credit score, income, expenses, and other factors determine the offered loan size. The typical amounts of other loan types are:
Payday loans: The loan amount will be some percentage of your regular paycheck, subject to state maximums. Most payday loans are for $500 or less.
Credit card cash advances: You can borrow up to an unsecured credit card's cash advance limit. These amounts are usually a small percentage of total limits on credit accounts. You can generally get a cash advance from a secured credit card too.
Pawnshop loans: The amount you can borrow is usually well under 50% of the pawned item's value. 
There's no saying how much you can borrow from family and friends, as all sorts of complex issues may influence the amount. 
Understand the Terms of Bad Credit Loans That Report to Credit Bureaus
Bad credit loans that report to credit bureaus offer consumers a way to rebuild their credit. Ultimately, your behavior determines whether the credit bureaus receive positive or negative reports. 
If you pay on time and keep your debts in check, you stand an excellent chance of boosting your credit score, although it may take the better part of a year. As we frequently advise, pay close attention to a loan's terms and conditions before accepting an offer. 
Advertiser Disclosure
BadCredit.org is a free online resource that offers valuable content and comparison services to users. To keep this resource 100% free for users, we receive advertising compensation from the financial products listed on this page. Along with key review factors, this compensation may impact how and where products appear on the page (including, for example, the order in which they appear). BadCredit.org does not include listings for all financial products.
Our Editorial Review Policy
Our site is committed to publishing independent, accurate content guided by strict editorial guidelines. Before articles and reviews are published on our site, they undergo a thorough review process performed by a team of independent editors and subject-matter experts to ensure the content's accuracy, timeliness, and impartiality. Our editorial team is separate and independent of our site's advertisers, and the opinions they express on our site are their own. To read more about our team members and their editorial backgrounds, please visit our site's About page.