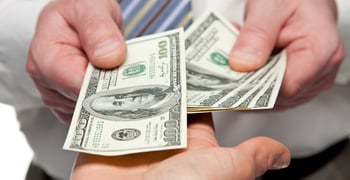 Finding a selection of cash loans without direct deposit isn't easy, but it's not impossible.
Most subprime lenders require borrowers to have an active, linked checking account where they can deposit the borrowed funds and withdraw recurring payments. This acts as a security feature for the lender and makes it easier for borrowers to repay their debt.
But not everyone has access to a checking account — and that shouldn't disqualify them from receiving a loan. You can get the cash you need without a bank account through the lenders listed below.
Local Loans | Online Loans | FAQs
Local Cash Loans without Direct Deposit
The reality is that most online lenders require a bank account to approve your loan request. Because these lenders are located all over the country, they need your bank information to deposit your money and withdraw payments.
Therefore, your best bet for getting a cash loan without a bank account may be to research local lenders that will accept your application in person. These lenders typically fund your loan via cash and accept in-person payments at a local branch or payment center, bypassing the need for a bank account.
Keep in mind that lenders don't usually like to take risks. When they approve your loan without first setting up automatic payments, they have no way to recoup the money they lend unless they sue you if for some reason you fail to make your payments.
To offset that risk, the lender will often charge a high interest rate and origination fees. That said, desperate times call for desperate measures. Here are a few lenders we found around the U.S. that provide loans to folks who don't have access to a bank account.
1. MoneyTree
MoneyTree offers payday loans to residents of California, Colorado, Idaho, Nevada, and Washington state. Terms vary by location and creditworthiness, but options include loans for applicants who don't have an active bank account.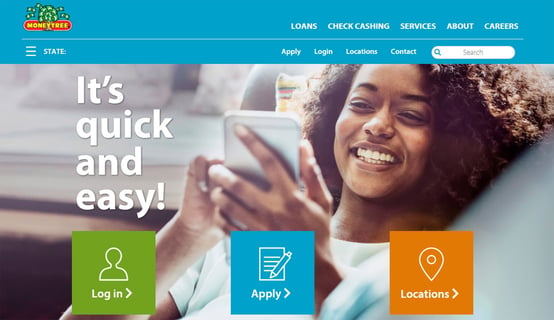 For example, a loan in California will cost approximately $17.65 per $100 borrowed. The same loan in Idaho and Nevada will cost approximately $16.50 per $100 borrowed.
Either way, these loans are quite pricey and have short repayment windows that typically stretch no more than 98 days.
2. Regional Finance
If you live in one of the 11 states serviced by Regional Finance, you can prequalify for a personal loan of between $600 and $10,000. If approved, you can pick your funds up from a Regional Finance branch office and make your monthly payments at the same location.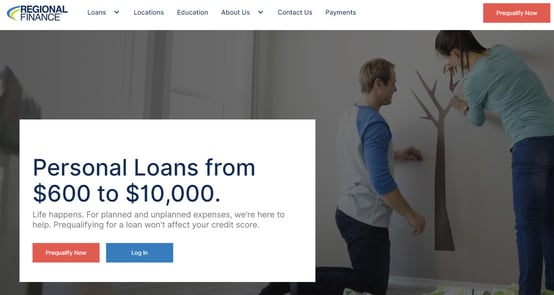 Qualified applicants must have a credit score of at least 550 — with other loan terms and costs based on your overall creditworthiness.
3. Dollar Loan Center
Dollar Loan Center offers signature loans of up to $5,000 to residents of Nevada and Utah. You won't need a checking account or collateral for approval, and you can pick up your funds (or apply for a loan) at any of the business's 52 locations.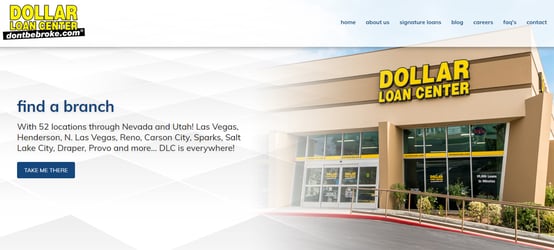 Dollar Loan Center can process short-term, signature loans in less than 30 minutes and reports your payments to the three credit reporting bureaus — which helps rebuild your credit with responsible behavior. This is a valuable feature most short-term lenders do not provide.
4. Pawnshop Loans
Just about every town or city in America has a pawnshop that's ready to loan money. These loans work differently than those from banks or the payday loan centers listed above.
You should fully understand the terms before accepting a loan from a pawnshop. Most prominently, pawnshop loans require collateral.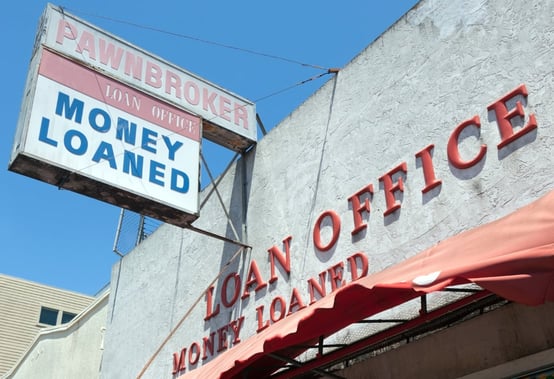 Collateral can be any valuable property (jewelry, antiques, collectibles, etc.) that secures your loan should you fail to repay within the agreed-upon terms (typically 30 to 60 days).
The pawn shop will return your collateral upon the full repayment of the loan. If you do not pay off your loan, the shop keeps your item(s) and sells it to recover the money you borrowed. Not only will you lose your property, but you'll also lose the money you paid into the loan.
That can make this type of loan very costly (perhaps emotionally, depending on what you offered as collateral) if you don't pay it off on time. It doesn't help that pawnshop interest rates can range between 12% and a staggering 240%.
5. Title Loans
Title loans are possibly the most dangerous option on this list if you're not certain you can pay off your loan on time. While a pawnshop loan could cost you your collateral — say a ring, necklace, or piece of furniture — a defaulted title loan could cost you your vehicle.
In fact, recent research found that 1 in 5 consumers who accept this type of loan end up losing their vehicle due to non-payment.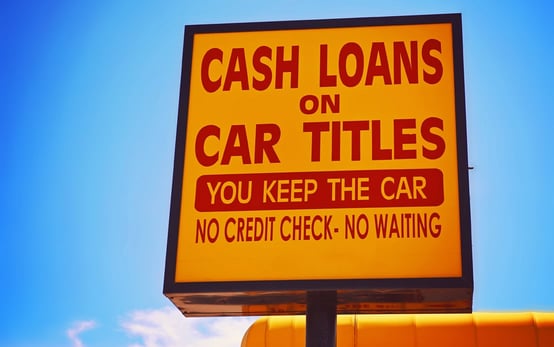 With these loans, you essentially use your vehicle as collateral by signing the title over to the lender. If you repay your loan on time, the lender returns the title and you retain ownership of the vehicle.
If you default on the loan, the lender keeps the vehicle and all of the money you put into the loan — even if you were down to your last payment. In other words, proceed with caution.
Consider Opening a Free Bank Account
People don't have bank accounts for several reasons. Perhaps you don't want to deal with minimum deposit requirements and other fees banks typically charge for their services. Maybe you simply don't like the bank nearest you.
Thankfully, the expansion of online banks has increased competition among banks and brought about some pretty amazing savings account interest rates and other perks. You don't have to live near a branch to open an account and the process is fast — most online banks offer signup in minutes.
You can then deposit and withdraw funds as well as qualify for a vast array of online loans. And, best of all, most accounts are free and don't require minimum deposit amounts. They may even waive overdraft fees.
You'll also get peace of mind knowing your money is safe and secured by the same FDIC protection and deposit insurance the big banks around America have. Here are a few free online bank accounts for you to consider:
If you decide to take the leap and open an account, you can apply for one of the more affordable loan options below.
Online Cash Loans with Direct Deposit
While the loan service providers below all require a bank account for approval, you'll find that each has very flexible approval standards and can provide a decision within minutes. Once approved, you can typically receive your funds via direct deposit within one business day.
Short-term loans up to $2,500
Online marketplace of lenders
Funds available in as few as 24 hours
Simple online form takes less than 5 minutes
Trusted by more than 2,000,000 customers
Not available in NY or CT
| Loan Amount | Interest Rate | Loan Term | Loan Example |
| --- | --- | --- | --- |
| Up to $2,500 | Varies | Varies | See representative example |
Loans from $500 to $10,000
All credit types accepted
Receive a loan decision in minutes
Get funds directly to your bank account
Use the loan for any purpose
| Loan Amount | Interest Rate | Loan Term | Loan Example |
| --- | --- | --- | --- |
| $500 to $10,000 | 5.99% - 35.99% | 3 to 72 Months | See representative example |
Quick loans up to $5,000
Submit one form, get multiple options
All credit ratings welcome
Requires bank account and SSN
As seen on CNN, FoxNews, and others
| Loan Amount | Interest Rate | Loan Term | Loan Example |
| --- | --- | --- | --- |
| $500 to $5,000 | Varies | Varies | See representative example |
And, since you'll support your loan application with a bank account, you'll also likely receive better interest rates and lower fees, which decreases your overall cost of credit. That perk alone may make it worthwhile to open an online bank account to help fund your monthly loan payments.
Plus, you can apply and receive your money all without leaving the comfort of your home. The benefits of having a bank account are many.
Can I Get a Loan without a Bank Account?
You can, but you'll often have to pay more for the loan.
This is because most banks and independent lenders require a linked bank account to deposit loan funds and withdraw monthly payments. This acts as a security net for the lender, who doesn't want to see a borrower disappear with their funds without making a payment.
To offset the risk the lender takes by approving a loan for an applicant who doesn't have a bank account, the lender will often tack on higher interest rates and other fees to make it worth their while.
For example, the average payday lender charges a sky-high 400% interest rate on short-term loans. Some lenders, like MoneyTree listed above, also tack on a finance fee for every $100 you borrow with a short-term loan.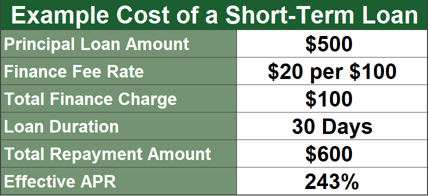 Pawnshop loans can charge interest rates as high as 240%. That can add hundreds of dollars onto even a modest loan if it isn't repaid on time.
If you don't have a bank account, you'll likely have to shop your loan needs to a local payday or title lender who accepts in-person payments. But with a bank account, you can access the many online lending networks that have competitive interest rates and flexible approval standards.
Do You Need Direct Deposit for a Payday Loan?
Most online payday lenders require you to have a bank account that accepts direct deposit to approve you for a loan. That's because these loans have ultra-short repayment windows that rarely extend beyond two weeks.
You can often find payday loan options that don't require a direct deposit if you look at local lenders. These businesses often fund loans in cash and allow in-person payments at specified locations in your area.
Before you accept one of these loans, determine your full pay-off amount so you can understand your total cost of credit. Some of these loans charge incredibly high interest rates, and you should only consider these loans as a last resort.
You may find that personal loans, or signature loans, offer a more affordable alternative to payday loans. Many local lenders won't require direct deposit for approval (though a bank account may lower your overall cost of credit) and you can still receive a loan with an extended repayment window and lower possible interest charges.
Some of these loans may require you to place a valuable item as collateral to secure the loan. You should make certain you can afford to repay the loan on time to avoid losing your collateral in the case of default.
Can I Get a Loan with a Prepaid Debit Card?
Many payday loan offices now allow direct deposit of loan funds onto a prepaid debit card. While you may encounter a fee for this service, it could be one of the easiest ways to obtain a loan if you don't have a bank account.
A prepaid card is a type of payment card you load funds onto for spending. A key advantage of prepaid cards over other types of non-bank payment methods is that they accept most forms of electronic deposits.
This means that a lender can wire the money to your prepaid debit card account and have it reflect almost instantly on your available balance. In some cases, the lender can also schedule recurring loan payments on that same account.
You can typically find and purchase prepaid cards at local grocery or convenience stores for a small fee. The same stores often provide services where you can load more money onto the card — for a fee — at that location.
You can also compare your options and open a prepaid debit card online. There are no credit checks since it's not a credit card. Here are a few of our favorite prepaid debit cards:
With Netspend Direct Deposit, you can get paid faster than a paper check.
No late fees or interest charges because this is not a credit card.
No Overdraft Fees on purchases using your card.
Use the NetSpend Mobile App to manage your account on the go and get text message or email alerts (Message & data rates may apply).
Card issued by MetaBank®, Member FDIC. Card may be used everywhere Visa Debit cards are accepted. "Apply Now" for full details.
| Application Length | Interest Rate | Reports Monthly | Reputation Score |
| --- | --- | --- | --- |
| 10 Minutes | N/A (Prepaid) | No | 7.0/10 |
Just remember that these cards only allow you to spend up to the amount of money deposited in your account. If the lender attempts to collect payment from your prepaid card that is more than your available account balance, you could receive a returned payment fee or other collection charges.
Check with the lender before applying to make certain the business has the capabilities to fund your loan via a prepaid debit card.
Get the Money You Need without a Bank Account
More than 14 million Americans don't have bank accounts. Does that mean that approximately 6% of the country's population shouldn't qualify for loans?
With so many lenders competing for business, your lack of a bank account with direct deposit shouldn't hinder your ability to get money when you need it. But it does mean your loan will likely be more expensive.
Seriously consider opening an online bank account that will help you qualify for a wider range of affordable loans. But if that isn't possible right now, the providers of cash loans without direct deposit listed above should help you access funds without the need for an active bank account.
Advertiser Disclosure
BadCredit.org is a free online resource that offers valuable content and comparison services to users. To keep this resource 100% free for users, we receive advertising compensation from the financial products listed on this page. Along with key review factors, this compensation may impact how and where products appear on the page (including, for example, the order in which they appear). BadCredit.org does not include listings for all financial products.
Our Editorial Review Policy
Our site is committed to publishing independent, accurate content guided by strict editorial guidelines. Before articles and reviews are published on our site, they undergo a thorough review process performed by a team of independent editors and subject-matter experts to ensure the content's accuracy, timeliness, and impartiality. Our editorial team is separate and independent of our site's advertisers, and the opinions they express on our site are their own. To read more about our team members and their editorial backgrounds, please visit our site's About page.