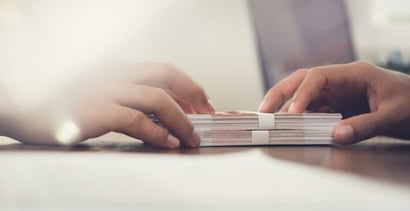 On the spectrum of human certainty, knowing you need a loan is much easier than knowing where to get a loan or even what type of loan to get. Personal loans are often a good choice because they do not require collateral (which may be in short supply) and can generally be used for any purpose. 
You can go straight to the source and apply with a direct lender, or you can use a lending network to connect you with direct lenders of bad credit personal loans. In this article, we'll compare and contrast direct and indirect lenders. They work together to provide loans to consumers of every credit stripe.
Direct Lenders of Subprime Personal Loans
These three direct lenders offer some of the best personal loans for bad credit borrowers. Some work with partners to offer financing options while others fund loans in-house. They provide a loan option for every consumer profile, from good credit to poor.
1. OneMain Financial
You can directly apply online for a bad credit personal loan from OneMain Financial or meet with a loan officer at one of its 1,400+ brick-and-mortar locations throughout the United States. At the meeting, the officer will verify your information, respond to your questions, and have you sign the loan agreement.
Loan amounts range from $1,500 to $20,000 
Fixes rates and payments
Loan origination fees apply
Required minimum credit score: None
Loan amounts depend on state law, credit score, and other factors. OneMain Financial has been issuing loans for more than a century.
2. LendingClub
LendingClub partners with individuals and institutions to directly fund various types of loans, including personal loans. You may receive multiple offers for loans that can be funded in as little as four days. LendingClub facilitates the loan from beginning to end, all loans are fixed-rate with no prepayment penalties.
Personal loans available from $1,000 to $40,000
APRs range from 8.30% to 36%
Loan origination fees apply
Required minimum credit score: 600, but the average is 700
Loan terms from LendingClub are three to five years. You'll incur a fee that is the greater of $15 or 5% for payments more than 15 days late. The company does not provide a mobile app for loan management.
3. Rocket Loans
Famous for its mortgage business, Rocket Loans also makes direct personal loans of up to $45,000. This is one of the few direct lenders to offer same-day funding. Loan terms are either 36 or 60 months.
Personal loans available of up to $45,000
APRs range from 8.416% to 29.99%
Loan origination fees apply
Required minimum credit score: 580, but the average is 710
Rocket Loans does not have a joint or cosigner loan offer. You cannot choose your initial payment date. Loans are not available in Iowa, Nevada, and West Virginia.
Lending Networks For Bad Credit Personal Loans
The following three companies can find you a personal loan from a direct lender that is matched to your request and qualifying criteria. There is no credit check involved to see your loan offers. These networks specialize in helping bad credit borrowers and charge no finder's fees.
MoneyMutual is a well-known lender network that has helped subprime borrowers obtain loans for more than a decade. You may remember Montel Williams was a spokesperson for the company from 2010 to 2018. If you don't like the first offer you receive, you can decline it and resubmit to find another lender.
You can get a loan of up to $35,000 from a direct lender on the 24/7 Lending Group network. Though you'll need good credit to qualify for a loan that large, borrowers with subprime credit can still qualify for smaller personal loans with manageable repayment terms. Applicants must be employed to receive a loan offer from this network.
CashUSA.com is another popular personal loan network. A bank account is required to accept your loan deposit. One knock against this company is that you may also receive offers for services such as debt relief or credit repair, which isn't always helpful when you need cash fast.
PersonalLoans.com is a large network dedicated to helping consumers of all credit types, not just those who have bad credit. As such, only borrowers with good credit will qualify for the top loan amount available, but people with poor credit are welcome to apply and see what they may qualify for with no credit check.
Direct Lenders vs. Lending Networks
Direct lenders self-fund their loans, using their own money with or without contributions from partnering lenders. Indirect lenders do not make loans; they merely find them based on your loan request and credit history. 
Comparison of Operations
You apply to a direct lender by filling out its loan application and other forms. In most cases, you can do so online, but some lenders also require a personal appearance. The direct lender will usually pull your credit when you apply, which will place a hard inquiry on your credit report that will remain on your credit report for two years, but minimally if at all, affect your credit score.
The personal loans that direct lenders offer have fixed terms and monthly payments. This makes budgeting less uncertain because you pay the same amount each month. Each installment goes toward principal and interest. 
Typical repayment periods last up to five years or longer. You can prepay the balance before the loan term expires, but make sure your lender doesn't charge a prepayment penalty.
Lending networks put you in touch with direct lenders after you fill out an online loan request form. They prequalify you for a direct loan by collecting basic information, including your name, address, income, and housing costs.

To prequalify for a loan from a lending network, you must:
Be at least 18 years of age
Be a US citizen or permanent resident
Have a steady income from a job or government benefits. Each loan finder sets a minimum monthly income requirement, as low as $500. 
Have a Social Security Number
Provide your phone number and email address
Have a bank account in your name
Assuming you prequalify, the loan service will check with its direct lender network to find you one or more loan providers interested in working with you. It will either provide you with a set of links or transfer you to the lender's webpage, where you can complete the application — the online lender usually requires very little additional information. 
At this point, the lender will check your credit and give you a decision. If positive, the lender will disclose the loan terms: loan amount, interest rate, repayment period, monthly payment, and fees. The lender's loan agreement contains all this and more information. 
Be sure to read it thoroughly to avoid unpleasant surprises down the road. If all seems OK, e-sign the contract. The lender will deposit the money into your bank account as soon as the next business day.
Advantages and Disadvantages of Direct Lenders
You may prefer dealing with a direct lender because:
You know in advance with whom you will be dealing, so you can begin your research ahead of time.
You can limit your applications to well-known companies.
Compared to lending networks, you'll be dealing with one less party.
Fast funding is available.
But you may not like these aspects of dealing with direct lenders:
You have to find a lender that suits your situation and needs. This search takes time, and you probably aren't familiar with the dozens of no-name lenders that make subprime personal loans.
You must fill out separate paperwork for each lender.
These lenders usually lack no credit check loans, meaning you will suffer a small amount of credit damage due to a hard credit pull without knowing whether your approval is likely (or possible).
Direct lenders may not be your first choice if you have poor credit because it will be harder to find a suitable one that will accept your application.
Advantages and Disadvantages of Lending Networks
Lending networks provide several advantages over direct lenders, including:
You need to fill out only one loan request form to apply to multiple lenders.
They can prequalify you for a loan without harming your credit score.
They have access to dozens of lenders, many small and obscure, specializing in bad credit loans, 
They charge nothing for their service.
You are under no obligation to apply for or accept a loan.
Fast funding is available.
There are hardly any disadvantages to lending networks:
They are online, and you may prefer to deal with a loan officer in person.
There isn't any guarantee they'll find you a suitable direct lender.
The network may use your info to cross-promote other services tailored to your credit profile, such as credit repair or debt relief
Either road ends with a direct lender — it's just a question of whether you'd prefer to start with a lending network. Given the value they add at no cost to you, working with a lending network seems like a no-brainer.
How Do Personal Loans Work?
An unsecured personal loan is an installment loan. You receive the loan proceeds as a lump sum and repay the money over time in a fixed monthly amount. Each monthly payment includes an interest charge and some of the principal you owe. 
Because an unsecured loan doesn't require collateral, it is riskier for the lenders but less risky for bad credit borrowers. In the case of secured loans, the lender can seize the collateral if a borrower fails to repay. This ability protects providers of secured loans from losses and puts extra pressure on borrowers.
The reverse is true for an unsecured loan. Lenders do not have a lien on the borrower's property and must resort to collections or legal action to get their money from delinquent borrowers. On the other hand, borrowers don't have to worry about a lender taking their property without a court verdict. 
The interest rate on an installment loan shouldn't exceed 36%, and many are far less expensive. But bad credit will limit your choices to higher-APR loans.

You can stretch the repayment period to make the monthly payments more affordable, but this will increase the total cost of the loan.
Consumers often use personal loans for debt consolidation. To save money, you need an interest rate for debt consolidation below the average of your outstanding loans. For example, it wouldn't make sense to take out a debt consolidation loan to pay off a student loan. A student loan, especially a federal one, costs less than a subprime debt consolidation loan.
How Much Do Subprime Personal Loans Cost?
Your credit history and score determine how much you'll pay for a subprime personal loan. Here are a couple of examples:
APR 12.90%, 60-month, $20,000 loan with a $1,200 origination fee: With this loan, you'll receive a deposit of ($20,000 – $1,200) or $18,800. Your monthly payments will be $462.81, which amounts to a total loan cost of $27,768.60.

APR 25%, 60-month, $20,000 loan with a $1,200 origination fee: The same loan at a higher interest rate requires a monthly payment of $587 and costs $35,221.59.

APR 36%, 60-month, $20,000 loan with a $1,200 origination fee: The same loan at the maximum interest rate requires a monthly payment of $723 and costs $43,359.55.
The impact of a bad credit rating on loan costs is dramatic. It's in your financial interest to improve your bad credit score before applying for a personal loan, whether direct or through a network.
What If the Lender Denies My Bad Credit Personal Loan Application?
You have alternatives if you fail to locate a lender willing to offer you a personal loan. Approach these with caution, as several are extremely expensive, and you should reserve them for when you need an emergency loan:
Pawnshop loans: The interest rate on pawnshop loans can range from 2.5% (in California) to 25% per month (in Florida). On an APR basis, that can be as high as 300%. But these typically are short-term loans, and they require no credit check. You can lose the property you hock (i.e., jewelry, cameras, collectibles, etc.) if you don't redeem your pawn ticket by a set date.
Credit card cash advance: Most credit cards offer cash withdrawals against your available credit limit. But the cash advance APR is usually higher than the APR for purchases, and the interest begins accruing the day you take out the advance. Not to mention you'll be charged a cash advance fee, usually about 5% of the amount withdrawn.
Payday loans: With APRs in the 300% to 700% range, these short-term loans can get out of control if you can't repay them on time. The usual payday loan term is one to four weeks, coinciding with your next paycheck. Payday lenders do not require credit checks but will verify your employment status.
Payday alternative loans (PALs): Credit unions offer these sensible alternatives to a payday loan. They have a maximum APR of 28%. The most you can borrow is $2,000, and you can take up to a year to repay. To access this type of emergency loan, you must belong to a National Credit Union Administration (NCUA) credit union. 
Title loans: You can pledge your car's title to obtain a short-term loan with an average APR of about 300%. Typically, title loan providers tack on extra fees, and you can lose your vehicle if you miss a payment.
Selling personal property: A yard sale is a traditional way to raise money. You can also try selling some personal property online through websites such as Craigslist, eBay, and Etsy. If you need a large sum of money, you may be able to sell a valuable asset, such as real estate or a vehicle.
Side gigs: Consider additional income sources, such as driving for Uber, online gigs at Upwork, part-time work at a local business, etc. If you earn more than $600, you'll have to report it on your federal tax return.
Borrowing from friends or family: This may be the easiest way to raise cash, depending on your relationship with the lender. You just may get an interest-free loan with an indeterminate term. But be careful — if you don't repay the loan, you may sour your relationship with the lender.
Plasma/sperm donation: Your bodily fluids can earn you small amounts of money. The going rate per plasma donation is $30 to $60 per session, with some centers offering as much as $100. You can donate once every two days but no more than twice in seven days. Sperm donations usually yield $100 to $150 per visit. If you donate twice a week, you can raise about $4,000 in six months.
Gambling is not a good way to earn money, as the expected return is negative. That is, the odds are that you will lose money.
Lending Networks Are the Best Way to Find Direct Lenders
Ultimately, lending networks offer the most efficient way to find and qualify for online personal loans, while direct lenders are the funding sources. Getting an unsecured personal loan when you have bad credit doesn't have to be challenging.
Loan networks can send your loan request to dozens of online lenders, saving you time and effort. And they can do so without any fees or harm to your credit score. 
Advertiser Disclosure
BadCredit.org is a free online resource that offers valuable content and comparison services to users. To keep this resource 100% free for users, we receive advertising compensation from the financial products listed on this page. Along with key review factors, this compensation may impact how and where products appear on the page (including, for example, the order in which they appear). BadCredit.org does not include listings for all financial products.
Our Editorial Review Policy
Our site is committed to publishing independent, accurate content guided by strict editorial guidelines. Before articles and reviews are published on our site, they undergo a thorough review process performed by a team of independent editors and subject-matter experts to ensure the content's accuracy, timeliness, and impartiality. Our editorial team is separate and independent of our site's advertisers, and the opinions they express on our site are their own. To read more about our team members and their editorial backgrounds, please visit our site's About page.