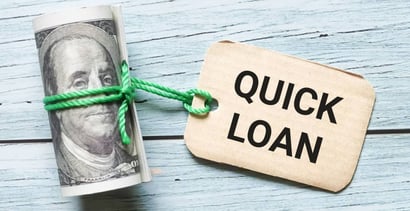 Sometimes, you borrow money after careful planning, say, to finance a vacation or a life event. But there are other times when life suddenly explodes and you need cash now. That's where same-day loans come in handy. The amount need not necessarily be large (although that's possible), but it better show up quickly.
The lending services we review below are speedy. You can choose a personal or payday loan depending on your circumstances and needs. If you submit a loan request early in the day, you may receive your money by the close of business or, more likely, the next business day. Beyond fast, these loans are convenient and efficient. 
Same-Day Network Loans For Bad Credit
These companies do not lend money. Instead, they work with networks of direct lenders to quickly find you one or more loan offers. Some offer only personal loans, while others also work with online payday lenders. Some lenders offer expedited deposits for an additional fee.
It takes no more than five minutes to submit a loan request to MoneyMutual for a personal or payday loan. You can do so without cost or obligation. You must have a monthly income of at least $800 to prequalify for a bad credit loan. 
You may receive a loan offer within minutes if you meet the prequalification requirements. Most lenders can close a loan the same day and deposit the funds to your linked checking or savings account within one business day.
24/7 Lending Group is a lender network that can help you quickly secure an installment loan you can repay over several months, even if you have bad credit. This lending network allows everyone to find a loan regardless of credit history.
Loans of up to $35,000 are available, but bad credit will reduce the maximum amount you can obtain. And while a bad credit score is not decisive, applicants must prove they can afford to repay the loan.
CashUSA.com can find loans of up to $10,000 for prequalified applicants. You simply fill out a short application on the network's website. You will quickly receive an email with a loan decision and possible offers. 
CashUSA is unusual in that it can also find you a revolving credit line that lets you use all or part of your available credit. After making a payment, you can reuse the credit up to your limit. 
SmartAdvances.com can find you fast cash loan offers starting at $100 from one or more direct lenders. You must collect a monthly income of at least $1,000 to prequalify for a personal loan.
The website's loan calculator helps you find a repayment schedule that fits your budget. SmartAdvances.com belongs to the Online Lenders Alliance (OLA), which requires a fair credit policy complying with federal law. 
BadCreditLoans.com provides a simple and quick application process. You must be a legal citizen, 18 years or older, and meet the other prequalification criteria to receive a loan offer. 
This network lives up to its name by enlisting direct lenders willing to provide bad credit loans. You can apply for several types of loans, including personal, home, auto, student, and business. You can even apply for a credit card.
CreditLoan.com shares your single bad credit loan request form with a network of lenders that approve bad credit loans for subprime borrowers. You may receive multiple loan offers of up to $5,000 with quick funding.
Each lender on the CreditLoan network independently sets the terms for its loan offers. CreditLoan will transfer you to the lender's website, where you can complete the loan application and review the loan terms, interest charges, and repayment schedule.
BillsHappen® is one of the best personal loan-finding services. It can provide multiple loan offers with acceptable interest rates and fast funding. 
Each direct lender on its network decides what terms to offer and which applicants to approve. You may qualify for a fast personal loan even if you have a bad credit score, but your credit history will impact the loan's APR.
PersonalLoans.com partners with lenders that will consider giving you an unsecured loan even if you have damaged credit. Keep in mind that the larger loans are for consumers with fair credit or better.
PersonalLoans.com can quickly find an installment where you'll make monthly payments to your lender — not to PersonalLoans.com. You may have three to 72 months to pay off your personal loan.
5 Tips For Getting a Subprime Loan on the Same Day
These tips will save you time, effort, and money when you need a loan.
Installment loans cost less than payday loans: It may indeed take a little longer to line up an installment loan, but the money you'll save on interest may make the wait worthwhile. In fact, many of the reviewed lending networks can get you funded by the next business day. A personal installment loan will have a maximum APR of 36%, whereas payday loans may charge 300% to 700% or more. In addition, you may be able to borrow more via an installment loan.
Online lending networks encourage competition: The reviewed networks allow multiple lenders to compete for your business, letting you compare offers to find the best one for your needs. Networks do the searching so you don't have to, and they do so without cost or obligation. They can automatically transfer you to a direct lender's website, where you can provide any additional application data and get an immediate loan decision.
Read before signing: Your loan agreement is the only binding contract, notwithstanding any verbal statements or marketing language. Carefully reviewing it lets you understand a loan's cost and repayment terms while avoiding potential surprises. If you take a payday loan, the agreement will specify your financing fee and the costly consequences of missing your payment due date. A personal loan agreement lays out the number of monthly installments and the amount you'll pay each month. It's a good idea to avoid late payments by setting up an autopay arrangement.
Consider using a credit card instead: You may need quick cash to pay a bill or make a purchase. A credit card can do those things for you, potentially without interest charges. Virtually all credit cards provide a grace period of at least 21 days following the end of the billing cycle to pay your bill interest-free. You'll never pay interest if you repay the entire amount due each month. But if you stretch out your payments, your APR won't exceed 36%, which is much lower than a payday loan's cost. You can also take a cash advance from a credit card, often up to the credit limit, and still pay no more than 36% (albeit without a grace period and with a 3% to 5% transaction fee). Many secured and unsecured credit cards are available to consumers with poor credit. But please be mindful of their potentially high costs.
Get ready to borrow ahead of time: You may require an emergency loan during desperate times. It's far better to prepare for the sudden need to borrow by researching in advance where to apply and what information you'll need to provide. Many Americans have meager savings, so prudence suggests that you understand your borrowing options well in advance.
A little forethought can help ensure your access to fast cash, knowing the requirements and pitfalls ahead of time. When it comes to borrowing, you always want to avoid unpleasant surprises.
What Are the Easiest Loans To Get?
You may be able to quickly obtain a payday, pawnshop, title, cash advance, or friend/family loan despite having limited or poor credit. Most of these can provide you with cash as soon as the same day.
Payday Loan: These loans do not require credit checks. You must have a reliable income from employment or government benefits. These loans are small, short-term, and expensive. You can get one at a payday loan storefront, but arranging one online is more convenient and safer.
Pawnshop Loan: Pawnshop loans charge an interest rate of 20% or more per month, depending on the state in which you live. These are collateralized loans backed by the property you hock — guns, jewelry, electronics, collectibles, etc. The pawnbroker will sell your items if you don't repay the loan to redeem your pawn ticket before it expires.
Auto Title Loan: You can consider this type of secured loan if you need cash immediately. No credit check is necessary, but you must own your car outright and clear, with no money owed. Most vehicle owners who've paid off their automobile loans qualify for a car title cash loan, and many lenders don't require credit checks for secured loan approvals. The lender places a lien on your vehicle's title, allowing it to repossess the car without going to court should you default on the loan. That's a genuine concern since 1 in 5 borrowers lose their vehicles through repossession after an auto title loan. 
Credit Card Cash Advances: Obviously, you must already own a credit card before you can use it for a fast cash advance. If you have one, you can saunter up to your nearest ATM or bank branch to get an immediate advance. The maximum APR is 36% plus a 3% to 5% transaction fee. You'll accrue interest daily until you repay the advance.
Cash Advance Apps: These mobile apps cost little or nothing and allow workers to take immediate advances on their next paycheck. They can provide up to $500 against the work you've already performed. The apps automatically withdraw the money you owe from your bank account on your next pay date.
Loans From Friends and Family: It may be easy to get a fast loan from a family member or friend, often on excellent terms. But remember to repay the loan as agreed lest you ruin your personal relationship with the lender.
The variety of these loan sources proves that you have several options when you must borrow money quickly.
Where Is the Easiest Place to Get a Payday Loan?
Online payday loans are much easier to get than loans from storefronts. You can fill out the forms from the comfort of your home and submit them without traveling. The lender deposits your money into your bank account as soon as the next business day. That means you don't have to visit a storefront and can also arrange a rollover online with minimal hassle. 
The online payday lending networks offer another advantage: They can find you competing offers, allowing you to choose the one best suited to your needs. 

That's much easier than canvasing the storefront payday lenders in your neighborhood. 
What Are the Pros and Cons of Revolving, Installment, and Lump-Sum Repayment Loans? 
Revolving loans are quick and efficient but may be limited in size. Installment loans are more flexible but long term, and lump-sum repayment loans (such as payday loans) require you to repay the entire borrowed amount by the due date.
Revolving Loans
Revolving loans are credit cards and credit card cash advances. The debt is "revolving" because you can repeatedly borrow and repay the money available in your credit line.
Pros
Cash advances are available immediately without paperwork
You only pay interest on borrowings
Interest rates no higher than 36% APR
You can use them to build credit with on-time payments
Cons
You need to own the credit card in advance
Your maximum advance may be small if you have bad credit
Interest accrues daily on unpaid balances
Lump-Sum Repayment Loans
Payday loans are a prominent example of lump-sum repayment loans. You must repay these loans in full by the due date or face high additional costs.
Pros:
Payday loans do not require a credit check
You can potentially get the money on the same day
Cons:
Astronomical APRs ranging from 200% to 700% or more
You must have a job or government benefits
Short term only one to four weeks
Typically limited to $1,000 or less
They can send you into a debt spiral if you can't repay on time
You cannot use them to build credit
Not available in all states

Installment Loans
Personal loans exemplify this type of borrowing. You repay the loan in monthly installments over periods of three months to five or more years.
Pros:
You may qualify for a large personal loan from a lending network
You can set up affordable monthly payments by specifying the number of installments
Interest rates are no higher than 36%
You can use them to build credit with on-time payments
Cons:
Require credit checks
Late fees if you miss a payment
May charge an origination fee
Interest rate tied to your credit score
All three examples — credit card cash advances, payday loans, and personal loans — are unsecured (assuming your credit card is also unsecured). Though harder to get, personal loans are preferable because they combine flexibility with relatively affordable interest rates and potentially larger loan amounts.
You May Be Eligible For Same-Day Fast Cash
You can get a fast cash loan through an online lending network despite having bad credit. The companies in this review serve consumers with every type of credit and charge customers nothing for their services. Moreover, they may be able to put money in your bank account as soon as the same day. 
We suggest you first apply for a personal loan, which is much less expensive than a payday loan. You should reserve payday loans for those times you have no other alternative.
Advertiser Disclosure
BadCredit.org is a free online resource that offers valuable content and comparison services to users. To keep this resource 100% free for users, we receive advertising compensation from the financial products listed on this page. Along with key review factors, this compensation may impact how and where products appear on the page (including, for example, the order in which they appear). BadCredit.org does not include listings for all financial products.
Our Editorial Review Policy
Our site is committed to publishing independent, accurate content guided by strict editorial guidelines. Before articles and reviews are published on our site, they undergo a thorough review process performed by a team of independent editors and subject-matter experts to ensure the content's accuracy, timeliness, and impartiality. Our editorial team is separate and independent of our site's advertisers, and the opinions they express on our site are their own. To read more about our team members and their editorial backgrounds, please visit our site's About page.