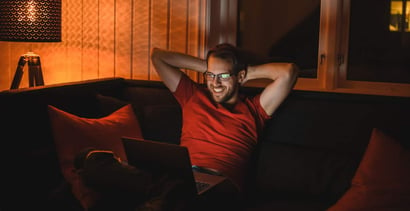 When Steve Huffman and Alexis Ohanian created Reddit in 2005, they probably had little inkling it would become a leading discussion website. Reddit users voice opinions and offer recommendations on every conceivable topic, including the subject of this review: loans for consumers with bad credit. 
What follows are unfiltered comments from Reddit users, plus additional recommendations for other sources of subprime loans. We think you'll come away with a better understanding of the options available when you need a bad credit loan.
Redditors Recommend These Bad Credit Loans
Reddit users are a varied bunch, but one thing is sure: They aren't afraid to offer their opinions. We've combed through several discussion threads to find out what Redditors have to say about bad credit loans. Here's what we found:
1. Dave
The Dave app has been downloaded millions of times by consumers who want a short-term cash advance (up to $500) ahead of their next paycheck. Users can also set up a Dave bank account and receive their direct deposited paychecks up to two days faster than they would paper checks sent by mail.
"Dave has worked great for me in desperate times. You cash out what you need, then have an automatic payment when your next paycheck hits. Also, they won't take money from your account until you have enough to pay it (they won't ever cause an overdraft)."

— deleted user
2. NowPersonalLoan.com
NowPersonLoan.com is a lender-matching service for loan amounts of up to $50,000. You can submit a loan request without cost or obligation and receive multiple offers within minutes. If a lender approves your loan application, you'll receive your funds as fast as one business day.
"Look into [NowPersonalLoan.com]. They have a $1k minimum and as far as I know they don't have any prepayment penalties and you can pay them back in full once you have your money back. I've never had an issue with them."

— ceaseless_serenity66
3. NetCredit
NetCredit and its lending partners offer two different funding options: lines of credit of up to $4,500 and personal loans of up to $10,000. The availability of each product varies by state. NetCredit can provide loan approval and funding by the next business day or sooner.
"Try NetCredit, they're pretty lenient @ approving loans even to people like us with horrible credit, just don't be too shocked by your APR % rate."

— SixteenthNiGHTs
4. CashNetUSA.com
CashNetUSA.com offers installment loans, cash advances, and lines of credit in several states. Its loan limits vary by state and loan type. The lender looks beyond your traditional FICO score and uses alternative sources of information to evaluate your application. CashNetUSA.com states that less-than-perfect credit will not necessarily prevent you from qualifying for an online loan.
"CashNetUSA.com loaned me $800 with a credit score that even I'm embarrassed to admit to. Low to mid 400's- reasonable terms. Paid them off and later took out another. Helped build credit worthiness In many small ways and was an easy process all done online."

— Infamous_Song_9500
5. CashCentral
CashCentral is a direct provider of installment and payday loans. Loan availability and terms vary by state. CashCentral often lends to consumers who have credit problems. If it approves your loan application by 7:45 PM EST, CashCentral will deposit your loan proceeds into your bank account the next business day.
"Cash Central is the best one imo, I was approved and it's the only one that ever has. Only $350 but it's a good service."

— TannerBurns1twice
BadCredit.org Recommends These Loans
The following websites can find you a payday loan or personal loan within minutes. Each works with a network of direct lenders that welcome borrowers of every credit type.
Short-term loans up to $5,000
Online marketplace of lenders
Funds available in as few as 24 hours
Simple online form takes less than 5 minutes
Trusted by more than 2 million customers
| Loan Amount | Interest Rate | Loan Term | Loan Example |
| --- | --- | --- | --- |
| Up to $5,000 | Varies | Varies | See representative example |
Personal loans from $500 to $35,000
All credit types are considered and welcome
Simple, no credit impact form
Helping consumers since 2001
4.7 out of 5 Trustpilot rating with 2,000+ reviews!
| Loan Amount | Interest Rate | Loan Term | Loan Example |
| --- | --- | --- | --- |
| $500 to $35,000 | 5.99% – 35.99% | 60 Days to 72 Months | See representative example |
Loans from $500 to $10,000
Receive a loan decision in minutes
Get funds directly to your bank account
Use the loan for any purpose
| Loan Amount | Interest Rate | Loan Term | Loan Example |
| --- | --- | --- | --- |
| $500 to $10,000 | 5.99% – 35.99% | 3 to 72 Months | See representative example |
We recommend these lender-matching services because they can quickly prequalify your loan request and get you multiple loan offers without cost or obligation. You can use them to get the best personal loans with minimal effort.
Online Network Eligibility Requirements
To be eligible for a bad credit loan offer from one of the online networks, you must:
Be a US citizen or permanent resident
Be age 18 or older
Have an active bank account in your name 
Have a valid email address
Have a working phone number
Collect a steady income
The required monthly income varies by network, but the minimum is usually $500 to $1,000. Acceptable income sources include job earnings and government benefits. Some networks may also allow you to include income from alimony and child support.
How Can I Get a Loan With Bad Credit?
Bad credit need not prevent you from obtaining a loan, but you must know with whom to apply. We discuss several loan sources that specialize in lending to consumers with subprime credit.
Online Lender-Matching Networks
Online lender-matching networks connect consumers with multiple direct lenders that can provide payday or personal loans to borrowers with poor credit. These platforms don't offer loans themselves but rather facilitate the lending process.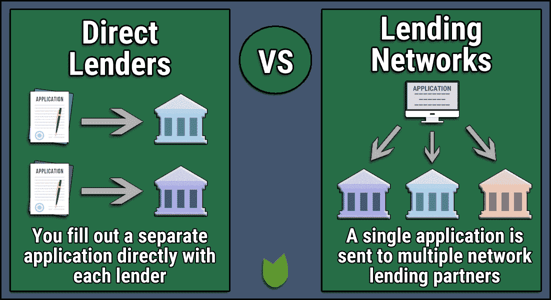 Here are the steps you can follow to arrange a loan from an online network:
Request a loan: The process starts with you filling out a loan request form. You'll give details about your finances and the loan you want. You will not be subject to a hard credit check at this stage, so prequalifying won't affect your credit score.
Find a lender: The network lenders offer many types of loans, including payday advances and personal loans. Each lender sets its own loan requirements. This search process usually takes only a few minutes but may require more time if your information is difficult to verify.
You decide: You should take the time you need to thoroughly review your loan offers before you choose one (or pass on all of them). Remember, you're not obligated to accept any of these proposals. You will probably have to provide additional financial information to the prospective lender at this stage.

Sign and collect: You can e-sign the loan agreement if everything looks good. Expect your money to arrive in your bank account as soon as the next business day.

Lender matching is the most efficient way to find an online loan because you don't have to submit separate applications to multiple lenders.
Peer-to-Peer (P2P) Loan Marketplaces
Lenders and borrowers come together on P2P online platforms to arrange loans. These marketplaces cut out the intermediaries and let the principals transact directly. Here's how to borrow money on a P2P platform:
Register: You must create an account on the P2P website. The platform accepts your registration after it verifies your identity.

Request a loan: Fill out a loan application with information about your finances and credit. Many platforms place you in a risk category based on your application.

Go online: The website is now ready to post your loan request. The entry specifies the information a P2P lender needs when deciding whether to make an offer.

Strike an agreement: If a lender likes your request, it will make a loan offer you can review. You may be able to negotiate the loan terms before reaching an agreement. Sometimes, multiple lenders may each offer a portion of the loan amount. Once lenders have funded your loan, you can sign the agreement online.

Get your money: The platform will send your money to your designated bank account. The platform collects your payments and distributes the cash to your lenders. 
P2P lending can be a good idea if you can't find a willing lender on a lender-matching network.
Cash Advance Apps
Cash advance apps are mobile device applications that let you borrow between $50 and $500 or more. You repay the payday loan on your next payday.
These are the steps for a borrower to get a cash advance via a mobile app:
Download the app: Choose an app from your device's app store and download it.

Create an account: Follow the app prompts to create an account. You must provide your email address and other required information.

Connect your bank account: Enter your bank account information. The app accesses your account to see when you get paid and how often.
Add employment details: Some apps verify your job details by connecting to your company's online timesheet system. Other apps track your location to see whether you visit your workplace regularly.

Request a cash advance: The maximum amount you can borrow per pay period varies by your income schedule and which app you're using.

Repayment: The app withdraws an automatic payment from your bank account on your next payday. There are usually no interest charges or user fees, but the app may accept tips.
Cash advances from mobile apps are virtually free. They are probably the cheapest loans available, but you can borrow only small amounts.
Pawn Loans
You can visit a pawnshop and arrange a collateralized loan by:
Visiting a pawnshop: Bring with you the item you wish to hock. Typical items include cameras, guns, electronics, jewelry, and collectibles.

Receiving an appraisal and offer: The pawnbroker will opine about your item's value and offer you 20% to 60% of the item's worth.

Agreeing to the terms: You may have (very) little wiggle room regarding the loan amount, interest rate (typically a 240% APR), and repayment date (usually 30 to 90 days from the loan date). If you agree to the terms, exchange your property for money and a pawn ticket. The ticket is your receipt and lists the repayment due date.

Repaying the loan: You can reclaim your property if you repay the loan, with interest, before the pawn ticket expires. If you don't repay the loan, the pawnbroker will take possession of your property and put it up for sale.
Pawn loans are fast and don't require a credit check. But they are expensive, don't build credit, and you may lose your property.
Auto Title Loans
You can get an auto title loan if you don't owe any money on your vehicle. Title loans are expensive, and failure to repay will entitle the lender to repossess your car.
Here's how they work:
Verify you have a clear title: You can't get a title loan if your vehicle has any liens. You can verify the title is clear using an online database or by contacting your Department of Motor Vehicles (DMV).
Fill out an application: You must include on the application information about yourself and your vehicle. Lenders may reject loan applications when the car is too old, has too many miles, or is in poor condition. 
Have the vehicle inspected: The lender will assess the condition of your car before offering you a loan. If your vehicle passes inspection, the lender may offer to lend you about half the car's resale value.

Sign the agreement: You can sign the loan contract if you agree to the terms. The agreement lets the lender seize your vehicle should you fail to repay the loan.
Title loans typically charge APRs of 200% and have a 30-day loan term. You can get an auto title loan without a credit check.
Loans From Friends and Family
Family members or friends may be willing to lend you money, often on easy terms. Follow these steps to safeguard your relationship with the lender:
Choose who to ask: You may have limited choices, but if possible, choose someone you feel comfortable with and who would be likely to lend you the money.

Make your pitch: Describe how much you need and why you need it. Explain how you plan to repay the loan.

Negotiate terms: You may get excellent terms on this kind of loan, such as little or no interest and an extended loan term.

Draw up an agreement: Create a promissory note that documents the loan terms. Both parties should sign the note and keep a copy. A written agreement can avoid misunderstandings down the road.

Repay the loan: Honor your agreement and repay the loan on time (or sooner). If you received a sweetheart loan, show your gratitude in a meaningful way. A simple thank you may be enough to maintain a good relationship.
Be cautious when considering a loan from a friend or family member. Your goal should be to repay the loan on time and avoid damage to your relationship with the lender.
What Happens If I Can't Repay My Loan?
The consequences of failing to repay a loan depend on the circumstances, including:
The lender
How much you owe
How late is your payment
The collateral you post, if any
The lender can refer your account to a collection agency and sue you in court if you don't repay an unsecured loan. If you can't repay a secured loan, expect the lender to seize your collateral. The lender may sue you for the balance if the collateral doesn't cover the entire debt. 
Payments overdue by more than 30 days may appear on your credit reports and depress your credit score. Collections, write-offs, and repossessions also harm your credit history. All of these actions remain on your credit reports for seven years. If you seek bankruptcy protection, expect a record of it to burden your credit report for up to 10 years.
Are Bad Credit Loans Legit?
Bad credit loans can be legitimate, and we think most of them are. But as with all financial products, this sector of the credit industry has its share of charlatans and predators. Consider these factors when you need a subprime loan:
Transparency: The lender should disclose all the material information about a loan offer, including loan amounts, interest rates, fees, and the repayment schedule. The loan costs should not differ widely from those of competitors. Watch out for origination, late, and prepayment fees. Find another lender if you encounter one that doesn't give you a written agreement that specifies all these details.
Licensing: The lender must obtain a license to offer loans in your state. You can check with your state government to verify a prospective lender has the proper licensing.
Blue sky promises: If a lender offers you an unbelievably great deal, don't believe it. Watch for phrases such as "no repayments for six months" or "guaranteed approval." It's doubly suspicious when the lender couples the promises with pressure, such as "This offer is only good today."
BadCredit.org is committed to reviewing only trustworthy organizations. By borrowing from these companies, you'll significantly reduce your exposure to dishonest behavior.
Perform Follow-Up Research on Reddit Recommendations
Reddit is an excellent resource when you want a wide variety of opinions on just about any subject. But do not rely solely on the recommendations you glean from Reddit because you don't necessarily know how factual the statements are. 
Resources such as this one can provide unbiased information you can use to validate the opinions you get from Reddit. Researching lenders before signing a loan contract is wise.
MoneyMutual & Other Resources
We hope you've found our guide "5 Bad Credit Loans Reddit Users Recommend (Sep. 2023)" to be helpful in meeting your financial needs. To learn more about MoneyMutual, our top recommendation in this guide, be sure to visit the MoneyMutual website for full details about the offer.
Our experts rate MoneyMutual as one of the best options in personal loans for those with bad credit, giving it a 4.8/5.0 rating overall. Among its features:
Short-term loans up to $5,000
Online marketplace of lenders
Funds available in as few as 24 hours
Simple online form takes less than 5 minutes
Trusted by more than 2 million customers
For more resources similar to this "5 Bad Credit Loans Reddit Users Recommend (Sep. 2023)" guide, see our other popular picks for those with bad credit:
Whether you choose MoneyMutual or any other option in our personal loans category, be sure to read and understand the terms before signing up. You'll find that taking the time to fully understand personal loans is one of the smartest financial decisions you can make.
Advertiser Disclosure
BadCredit.org is a free online resource that offers valuable content and comparison services to users. To keep this resource 100% free for users, we receive advertising compensation from the financial products listed on this page. Along with key review factors, this compensation may impact how and where products appear on the page (including, for example, the order in which they appear). BadCredit.org does not include listings for all financial products.
Our Editorial Review Policy
Our site is committed to publishing independent, accurate content guided by strict editorial guidelines. Before articles and reviews are published on our site, they undergo a thorough review process performed by a team of independent editors and subject-matter experts to ensure the content's accuracy, timeliness, and impartiality. Our editorial team is separate and independent of our site's advertisers, and the opinions they express on our site are their own. To read more about our team members and their editorial backgrounds, please visit our site's About page.