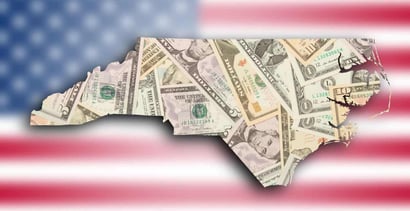 North Carolina is one of the most rapidly growing states in the US. Many consumers call it home, including plenty of people who don't have good credit. Fortunately, Tar Heel State residents can arrange online loans from nationwide subprime lenders.
Competition among lenders can help subprime borrowers in North Carolina obtain loans with reasonable interest rates and fees. Many North Carolinians may qualify for a bad credit loan with same-day approval and funding by the next business day.
This article covers the best borrowing options for North Carolina residents with challenged credit, including cash, installment, and secured loans.
Bad Credit Cash Loans in North Carolina
Cash loans provide short loan repayment terms and modest loan amounts. These options can help if you need quick cash to last until you get your next paycheck. Payday loans, a type of cash loan, are illegal in North Carolina.
The following services can prequalify your cash loan request and submit it to a network of direct lenders. If you prequalify, you can choose from one or more cash loan offers. Direct lenders can quickly process your loan application and fund approved loans as soon as the next business day.
Online cash advance loans are convenient and fast, but the costs can be significant, and failure to repay on time can lead you into a debt trap.
Bad Credit Installment Loans in North Carolina
According to its website, the North Carolina Office of the Commissioner of Banks "licenses and regulates loan companies that make certain consumer loans of $15,000 or less. These loans are not secured by real estate and are often called small personal loans."
The following online lenders provide personal installment loans in North Carolina. With this type, you repay an installment loan in monthly payments. Applicants may receive multiple offers, same-day approval, and funding the next business day.
An installment loan allows you to stretch out your payments for up to 72 months, so it won't bust your budget. These lender-finding services are free, and you are not obligated to accept any installment loan offers.
Bad Credit Auto Loans in North Carolina
North Carolina is a bustling state, with several metropolitan areas and sprawling suburbs that require driving. Owning a car in the state is exceedingly important, and most drivers can obtain auto loans regardless of credit standing.
These companies are eager to satisfy your loan request even if you have bad, limited, or no credit. The terms of each loan differ based on the lender. You must pay your monthly bill on time to prevent the lender from repossessing your newly purchased vehicle. 
Bad Credit Home Loans in North Carolina
New housing is in high demand in North Carolina. When you want to buy a new or previously occupied home, these lenders and services offer several home loan options regardless of your credit score.
These loan companies can help you secure a conventional or government-guaranteed home loan quickly and conveniently. You may find a loan program that requires little or no down payments, but you will have to purchase mortgage insurance if you put down less than 20%.
What is a Bad Credit Loan?
Bad credit loans welcome borrowers with troubled credit histories and low credit scores. Subprime borrowers can opt for online cash advances, personal loans, secured loans backed by collateral (i.e., cars and homes), and loans to finance small businesses.
You can obtain bad credit loans for emergencies, vehicles, homes, and college costs, among other uses. They allow you to borrow a set amount, large or small, and repay over an extended period.
An online lending service can help arrange bad credit financing and set your interest rate, monthly payment schedule, and loan term. Always read loan agreements carefully before deciding whether the loan is right for you.
You will likely face various loan-related charges, such as origination, processing, and application fees. These fees can quickly add up and increase the loan amount. The best loans do not impose fees for refinancing or early payoff.
What Credit Score Do I Need to Get a Loan?
Credit score requirements hinge on several factors, including the funding source, loan type, collateral, and recent credit history.
It's easier to get a loan when you collateralize it with property. That's why you'll invariably face a higher interest rate on a personal or payday loan than a home or car loan.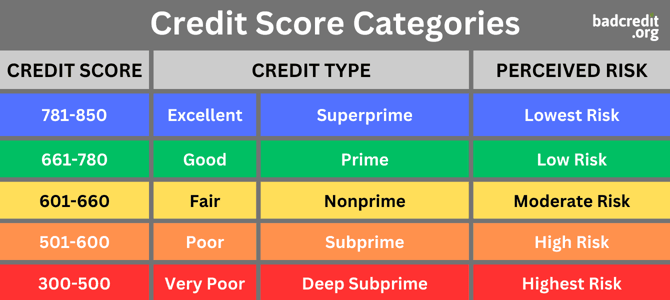 Subprime loans cost more than prime loans. Higher fees and interest rates help lenders offset the default risk associated with bad credit loans.
You can prequalify with a lender that performs a soft credit pull if you think a bad credit score may prevent you from getting a loan. Prequalification will not impact your credit score but will let you know whether approval is feasible. 
Check with the lender before you apply to see whether it offers prequalification — not all lenders do.
Does North Carolina Permit Payday Loans?
Payday loans have been illegal in North Carolina since 2001, and state law caps the interest rate for small loans at 36% (before fees). Cash loans in North Carolina cannot exceed $500 or charge an APR higher than 54%.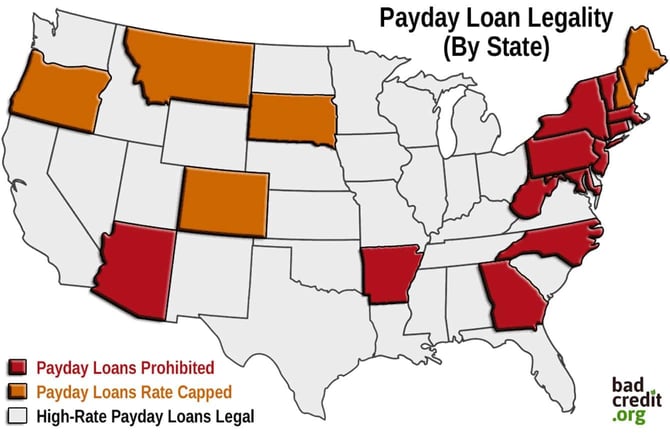 According to the Center for Responsible Lending, "Predatory lenders are making loans of 100% APR or more in states with limits of 36% or less by laundering loans through an out-of-state bank that is not subject to state interest rate limits. This is a rent-a-bank scheme."
In 2021, Congress passed a law that closed this loophole, and payday loans in North Carolina remain illegal.
What is the Easiest Type of Loan to Get With Poor Credit?
Secured loans are the easiest to get but require you to post collateral. The following sections describe secured loans you can get even with poor credit.
Pawnshop Loans
You can hock personal property, such as watches, guns, jewelry, cameras, musical instruments, etc., at a pawn shop when you need cash fast. These loans advance only a small percentage of your property's value. The pawnbroker will sell the item if you fail to repay the loan by the date due. The average APR for pawnshop loans is approximately 200%.
Auto Loans
Your vehicle serves as collateral for most auto loans, but you can increase your initial stake by trading in your old car and/or making a down payment.
You also can refinance your car for more than the current loan balance, pocketing the difference in cash. Cash-out refinancing increases your debt but, under certain circumstances, may reduce your interest rate and/or monthly payments. 
A bad credit auto loan imposes an APR no higher than 36%.
Title Loans
You can get a car title loan and collateralize it with a debt-free vehicle. Unlike regular car loans, title loans charge high APRs (i.e., 300% or more) but are easy to get without a credit check. If you fail to repay the loan, the title lender can repo your vehicle without court intervention.
Home Loans
Your home can secure a mortgage, home equity loan, or home equity line of credit. Though the details of each of these loan types vary, they typically charge a low interest rate and have longer repayment terms. Failure to repay a home loan could cause the lender to foreclose and take possession of your home.
Credit Card Cash Advances
You can use a credit card to get a cash advance without obtaining permission, filling out forms, or needing a credit check. You simply visit an ATM, use your credit card, press a few buttons, and receive your cash.


A subprime card typically charges an APR of 28% to 36% on cash advances. Interest accrues daily from the transaction date. The card charges a transaction fee (typically 5%) for each cash advance, and you may incur additional charges if you use out-of-network ATMs.
What's the Difference Between Secured and Unsecured Loans?
Lenders rely on your credit history to help predict your default risk. A standard method secured lenders use to reduce the default cost is to have you put up collateral.
Secured Loans
Something of value (i.e., collateral) backs a secured loan. Lenders may accept vehicles, real estate, cash, investments (bonds, stocks, etc.), collectibles, or something else the lender can turn into money as collateral.
A lender can seize your collateral if you can't repay the secured debt as agreed. Foreclosure or repossession occurs when lenders take ownership of the collateral you pledged.
Some typical examples of secured debt include:
Auto and title loans
Home equity loans and lines of credit
Loans for large equipment
Mortgages
Motorcycle and boat loans
Pawn loans
Secured credit card debt
Because secured loans saddle lenders with minimal risk, they may be willing to offer you a loan even if your credit is fair or poor.
A secured credit card can help you rebuild credit after a financial mistake. Posting collateral allows you to obtain a lower interest rate on specific financial products, such as mortgages, home equity loans, or lines of credit.
Secured products transfer risk from the lender because you agree to let the lender take possession of your property if you fail to repay. The lender can liquidate your collateral to recover the money you borrowed.
Unsecured Loans
You may qualify for an unsecured loan if your recent credit history is clean. An unsecured loan is sometimes known as a signature loan because that's all you need to secure the loan.
Lenders offer unsecured loans based on your promise to repay and the strength of your credit profile. The lender's security is simply the expectation that you will live up to your commitment to repay.
A few common examples of unsecured credit include:
Storefront and online payday loans
Personal loans
Student loans
Credit cards
Unsecured lenders shoulder the risk on loans that lack tangible assets backing the debt. In other words, the lender doesn't have the recourse to quickly seize property — such as your car or house — to compensate for its losses if you default on your debt.
But, even though an unsecured debt doesn't rely on physical assets, that doesn't mean you're off the hook if you don't repay it. A lender can sue you in court to collect what you owe. The judge may order the seizure and liquidation of your property to satisfy the lender's claims.
The court can also garnish your wages to repay your creditor. The high cost of unsecured defaults is why interest rates are typically higher for this type of debt than for secured debt. 
Compare Bad Credit Loans in North Carolina Online
North Carolina has stringent laws governing the loans and interest rates available to residents. Nonetheless, residents with subprime credit still have several options when they need a loan. 
The reviewed cash, personal, auto, and home loan providers are excellent sources for subprime loans. Many can approve your loan application instantly and send money to your bank or credit union in as little as one business day. We hope you use this article to find the lender that best suits your requirements.
This guide to bad credit loans in North Carolina serves the following cities and their surrounding areas:  Asheville, NC; Cary, NC; Chapel Hill, NC; Charlotte, NC; Concord, NC; Durham, NC; Fayetteville, NC; Greensboro, NC; Greenville, NC; High Point, NC; Raleigh, NC; Wilmington, NC; Winston-Salem, NC.
Advertiser Disclosure
BadCredit.org is a free online resource that offers valuable content and comparison services to users. To keep this resource 100% free for users, we receive advertising compensation from the financial products listed on this page. Along with key review factors, this compensation may impact how and where products appear on the page (including, for example, the order in which they appear). BadCredit.org does not include listings for all financial products.
Our Editorial Review Policy
Our site is committed to publishing independent, accurate content guided by strict editorial guidelines. Before articles and reviews are published on our site, they undergo a thorough review process performed by a team of independent editors and subject-matter experts to ensure the content's accuracy, timeliness, and impartiality. Our editorial team is separate and independent of our site's advertisers, and the opinions they express on our site are their own. To read more about our team members and their editorial backgrounds, please visit our site's About page.