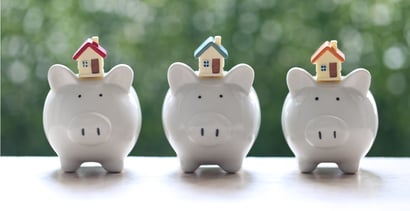 As a homeowner with enough equity built up in your home, you can borrow against the portion of the home you own. Home equity loans allow you to extract a fixed amount of money, using your home as collateral. Most lenders will allow you to tap into up to 85% of the equity you have. 
Although qualification is largely dependent on such factors as your job, income, and current liabilities, your credit scores are very important. The higher those numbers are, the more likely you are to qualify, and the lender will offer you the most attractive terms. 
But what happens if your credit isn't so great, but you still want to obtain a home equity loan? In many cases getting a loan is a hurdle you can clear.  
Yes — Start By Knowing Your Exact Credit Scores
Before you start to apply for a home equity loan, find out what your credit scores are today. When you first applied for your mortgage, the lender almost certainly checked at least one version of the FICO® Score, since it's the most commonly used by mortgage lenders. 
All FICO scores range from 300 to 850. If your scores were below 650 when you were approved for your mortgage, you probably received a home loan with a high interest rate. And if your scores were high, the interest rate would've been low.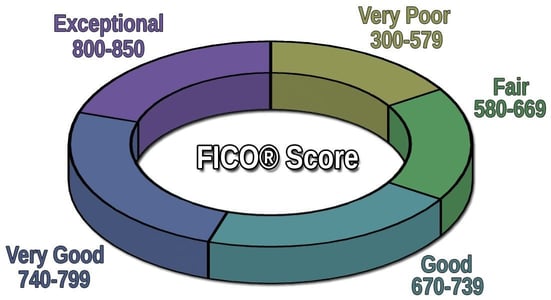 You'll want to check your scores again at least 60 days before pursuing a home equity loan. This time frame will enable you to dispute any inaccuracies on your credit reports that could be bringing your scores down, since the credit reporting agencies — TransUnion, Equifax, and Experian — will have 30 days to conduct an investigation into your dispute. 
Once your credit report is updated, FICO will recalculate your credit score the next time your reports are analyzed. 
If your credit scores are under 669, the lender will consider them to be poor to fair. Although it's much easier to get any kind of loan when your scores are at least in the good range, which begins at 670, home equity loans are still available to people with lower credit scores. 
Focus on Home Equity Loans Developed For Bad Credit
It doesn't make sense to apply for a home equity loan from a lender that only does business with people who have the best credit ratings. Not only will applying for the loan affect your credit score with an unnecessary hard credit inquiry — which can lower your score even more at the worst possible time — you are also ignoring the lenders that are willing to work with you. 
The good news is that quite a few mortgage lenders have flexible credit guidelines. You may start with a company that connects you to a variety of lenders that work with people who have imperfect credit, such as eMortgage and FHA Rate Guide.
Or you can go straight to the lenders that offer home equity loans to borrowers who have credit challenges, such as Quicken Loans and Wells Fargo Home Mortgage.
If your first mortgage was through a federal program, such as the United States Department of Agriculture and the Veterans Administration, additional home equity loans may be available through the USDA Rural Housing Loan Program and the VA-Guaranteed Home Loan Program. 
Understand the Other Qualification Factors
In addition to your credit scores, the lender will assess a number of factors to determine whether you are a suitable candidate for a home equity loan, including: 
Home equity: You will need to have a minimum of 15% to 20% accrued equity in your home. So, if your home is worth $300,000, you will need to have somewhere between $45,000 and $60,000 worth of equity built up, i.e. an outstanding loan balance of no more than $240,000 to $255,000.
Debt-to-income ratio: Of course, the lender will want to know that you can afford to make the monthly payments, which is why your debt-to-income ratio (DTI) will be analyzed. This ratio is the total of all your regular debt payments compared to your monthly income. Ideally, you will have a DTI ratio that is significantly under 43%. If the ratio exceeds that threshold, the loan payments will appear to be outside your financial capability. The lender will also review your employment history to make sure that your income is stable. 
Loan-to-value ratio. The loan-to-value (LTV) ratio is the difference between the loan amount and the market value of your home. It's an important part of the eligibility process. Lower LTVs, with 80% or lower being ideal, indicate less risk to the lender. 
Credit payment history: Finally, the lender will look at your payment pattern on other credit products, including credit cards and loans. It will find this information on your credit reports. If delinquencies appear on your reports and you have missed an entire billing cycle, the lender will have reason to question your ability to make the home equity loan payments on time.
And especially important will be whether your current mortgage is in good standing with a long history of on-time payments. 
If You Have Time, Make Improvements
It is entirely possible that you need to take out cash from your home right now, without any time to transform yourself into a more attractive borrower. In that case, you'll have to work with what you have, and that's OK. 
However, if you have at least six months before you need to access the money, you may be able to increase your odds of getting a home equity loan with a preferable interest rate. 
On average, home equity loans come with APRs starting at 2.99% and go up to 9.99%. The difference in payments and interest can be huge, depending on the APR you get. 
For example, let's say you want a $100,000 loan with a 10-year term. If the APR is 2.99%, the monthly payments would be $965.15 and the total interest paid would be $15,817.51. But if the APR were 9.99%, the payments would be $1,320.95 ($355.75 more) and the total interest paid would be $58,514.44 ($42,696.93 more). 
That's why it behooves you to try to get the loan with the lowest APR possible. You can improve those odds by: 
Making all future payments on time: Credit scoring systems rank payment history as the most important factor. Make sure your mortgage payments are sent on time. While you can't undo the past, you can create a positive future. Six months to a year of perfect payments on multiple accounts can dramatically increase your credit scores. 
Increase your credit utilization ratio: Another critical factor in credit scoring is your credit utilization ratio, which compares the amount of money you owe on credit cards to the sum of the credit limits on all of your accounts. It's best to have 70% or more credit available, both per credit card and on all accounts combined. If you can't reduce the balance by making large payments, you may be able to raise the credit line by asking the credit issuer for a credit limit increase. 
Add positive information to your credit reports: One of the credit reporting agencies, Experian, has developed the Boost program, which can add recurring bills, including cellphone and utility accounts, to your Experian credit report. When those payments are listed on your credit report, they will be factored into your credit scores and can give low scores a small boost.
Delete some debts: Because your credit card and loan payments will be included in your DTI, you can lower that ratio by eliminating those balances before you apply for the home equity loan. 
Remember that improving credit takes time, but it pays off big in the end.
Consider Enrolling In Automatic Payments
Getting a home equity loan with poor to fair credit is more than possible. Whichever loan you get, you can use it to improve your credit by paying your loan on time each month. That account and all of the associated payments will appear on your three credit reports. 
Consider enrolling in automatic bill pay so the payments are deducted from your checking account before the payment is due. Not only will it guarantee that the payment is posted to the account on time, you will avoid expensive late fees and, if you skip an entire billing cycle, more credit damage. 
Advertiser Disclosure
BadCredit.org is a free online resource that offers valuable content and comparison services to users. To keep this resource 100% free for users, we receive advertising compensation from the financial products listed on this page. Along with key review factors, this compensation may impact how and where products appear on the page (including, for example, the order in which they appear). BadCredit.org does not include listings for all financial products.
Our Editorial Review Policy
Our site is committed to publishing independent, accurate content guided by strict editorial guidelines. Before articles and reviews are published on our site, they undergo a thorough review process performed by a team of independent editors and subject-matter experts to ensure the content's accuracy, timeliness, and impartiality. Our editorial team is separate and independent of our site's advertisers, and the opinions they express on our site are their own. To read more about our team members and their editorial backgrounds, please visit our site's About page.