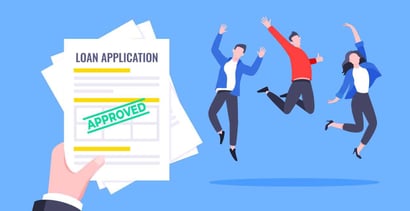 Benjamin Franklin famously said, "Distrust and caution are the parents of security." If that's the case, then kudos to lenders that have overcome their wariness and loan money without the security of collateral. 
Whether you need a short-term loan with a single repayment or a longer-term one you repay monthly, easy approval unsecured loans are available to consumers with no credit, limited credit, or poor credit. You can borrow from these lenders without jumping through hoops or waiting for lengthy underwriting. And, in most cases, you'll have your money as soon as the next business day.
This is not to say that one should underestimate the cost of these loans, some of which charge APRs of 400% or more. Overreliance on expensive borrowing won't resolve chronic cash shortages because interest charges drain funds you could use elsewhere. It's safer to reserve these loans when you need help making it through to your next payday. Their easy access can be a source of security in this sometimes insecure world.
Best Unsecured Short-Term Loans With Easy Approval
The following networks arrange short-term loans (seven to 60 days) that do not require collateral for approval. Their interest rates can be harsh, but their short terms limit their cost. You can apply for these loans online, get a guaranteed approval decision, and receive the proceeds in your bank account the next business day.
As with all these companies, MoneyMutual is not a direct lender but a loan-matching service that prequalifies your borrowing request and connects you to an appropriate small loan provider. Its lenders offer you a variety of personal and payday loans, allowing you to select the type of bad credit loan that better fits your needs. 
MoneyMutual is our highest-rated online lending marketplace for fast cash, often available by the next business day. To prequalify, you must collect a reliable income of at least $800 a month.
BillsHappen® can find you an easy-approval payday loan and facilitates less expensive personal loans. Prequalification is fast and can lead to multiple loan offers in minutes. BillsHappen® believes your bad credit score should not prevent you from obtaining a quick loan.
Direct lenders instantly review your information to determine whether they want to work with you. BillsHappen may redirect you to a lender's website to complete the application, review the loan terms, accept the loan, and collect your funds as soon as the next business day.
CreditLoan.com, with headquarters in Tampa, Florida, is a loan network that promises an immediate prequalification decision for a personal loan. The loans it arranges have terms that are much better than those for payday loans. 
The helpful website offers many tools and resources, including a loan calculator, that have attracted more than 33 million visitors since its inception. CreditLoan displays the TRUSTe® seal, representing its commitment to safeguarding your security and privacy.
The BadCreditLoans.com website provides an excellent explanation of how bad credit loans work, including payday lending. The company doesn't provide payday loans directly but instead refers consumers to reputable lenders that can offer a fast payday loan with easy approval.
Bad Credit Loans works only with responsible lending partners and educates customers about the process. Its site keeps your information safe through advanced encryption technology.
Best Unsecured Installment Loans With Easy Approval
An installment loan makes sense when you want to stretch your repayments over several months, not weeks. These lending services can find you a personal installment loan in minutes and funding in as few as 24 hours. 
The top interest rate on installment loans is 36%, but the best personal loan providers charge less. Your credit history may influence your approval, unlike how payday loans work.
24/7 Lending Group is a lender network that can find you a loan offer of up to $35,000, but only those with good credit scores will be eligible for the highest loan amounts. The company is an excellent choice for consumers seeking a longer-term installment loan they can repay over several months or years. 
Applicants must have a job or receive government benefits to qualify for a bad credit loan from this network. Prequalification requires no credit check, and a deposit to your bank account may be made on the same day.
CashUSA.com is a personal loan matching service that arranges installment loans through its online network of direct lenders. You must be 18 or older to prequalify and receive an after-tax income of at least $1,000/month. 
To get a quick loan, you also must have an active checking account in your name, a valid email address, and a working phone number. CashUSA may be a good choice if you need a loan of up to $10,000.
PersonalLoans.com can arrange medium to large personal loans to suit the needs of borrowers with poor credit. Its minimum loan amount is $1,000, which is higher than others on this list.
PersonalLoans.com does not pull your credit to prequalify your loan request. Besides finding you a loan, the company can also hook you up with additional financial services, including credit monitoring, credit repair, and debt settlement.
SmartAdvances.com is an intelligent choice when you want loan offers from one or more direct lenders. You must collect a monthly income of at least $1,000 to prequalify for a personal loan.
SmartAdvances.com is a member of the Online Lenders Alliance (OLA), which enforces a fair credit policy complying with federal law. The website's personal loan calculator lets you determine which repayment term best fits your budget.
Alternative Easy-to-Get Unsecured Loans
You have many options when you want an unsecured loan. All the following are available with minimal fuss, even if you don't have good credit.
Cash Advance Apps
Cash advance apps charge little or nothing to provide workers with quickly approved paycheck advances. These mobile apps can advance up to $500 for work you've already performed. 
Cash advance apps resemble payday loans in size and timing but not cost. Unfortunately, cash advance apps don't report your activity to the credit bureaus unless you are 30 or more days behind on your payments.
Three of the best are:
Dave provides no-cost payday advances of up to $250. It takes only minutes to receive a no credit check loan. Dave provides an optional service that reports bill payments (including rent) to the three major credit bureaus.
Earnin links to your checking account and electronic timesheet. Fees are voluntary – you choose how much to pay for the service. You can initially borrow up to $100, but the credit limit may eventually increase to as much as $500.
Possible Finance is a mobile app that can lend you up to $500 until you receive your next paycheck. Possible doesn't pull your credit, instead using your pay schedule and work history to approve your loan.
Cash advance apps link to the bank account that receives your direct deposits. The apps review your credit history to determine the maximum advance amount they'll allow. 
You can enroll in one of these apps by providing your name, address, Social Security Number, email address, phone number, and bank account information. Cash advance apps use your bank routing and account numbers to deposit your borrowed money and collect your payments.
It takes only a minute to receive loan approval, depending on which app you use. Some apps may charge you for instant delivery, but others provide online banking accounts that receive your funds quickly. 
Loans From Credit Unions
Payday Alternative Loans (PALs) let you borrow up to $2,000 at a fixed APR no higher than 28%. To qualify for a PAL, you must belong to a National Credit Union Administration (NCUA) credit union. PALs are among the best loan options when you need fast cash. 


You can take up to 12 months to repay a PAL. Some credit unions are open to everyone, but many limit membership based on one or more arbitrary criteria. 
Credit Card Cash Advances
Most credit cards let you withdraw fast cash from your credit limit. By providing a secret PIN, you can withdraw cash from an ATM or bank teller. 
Credit cards charge up to a 36% variable or fixed APR for cash advances, often a higher interest rate than that for purchases. The interest accrues from the transaction date (without a grace period) and compounds daily until you repay the loan. 
Credit cards typically charge a 3% to 5% fee each time you take a cash advance. Credit card cash advances are relatively expensive and best suited for emergencies. But their costs pale compared to those for payday loans. A credit card's Schumer Box discloses interest rates and fees, including those for cash advances.
Credit card advances are undeniably convenient. They don't require a credit check since you already underwent one when you applied for the card. The monthly payment minimums are affordable, usually between 1% to 5% of the balance, but the longer you take to repay, the more interest you'll incur.
Bad credit may impose some challenges in getting a credit card cash advance, including:
You must first own a credit card before it can provide a cash advance. Cards for consumers with bad credit may require a security deposit or a high setup fee.
These credit cards usually have high APRs and fees, low credit limits, and few perks.
Some subprime cards do not offer cash advances or impose a waiting period of several months before allowing them.
Your credit line may be as low as $200, which limits how much you can borrow. 
Some credit cards set a cash advance limit much lower than the purchase spending limit.
Credit cards never pay rewards for cash advances.
A cash advance increases your debt and credit utilization ratio (credit used divided by total credit available), which may impact your credit score.
It's good to know you can access cash advances when needed, despite their potential drawbacks. 
Tax Refund Anticipation Loans
Several tax-preparation services let you take an advance on your anticipated tax refund. These checks are a handy source of cash when you don't want to wait for your tax refund, which may take weeks or months. Typically, this is a no credit check loan and interest-free. The preparation services don't report the loans to the credit bureaus, which means they can't help you build credit. 
Bear in mind that various fees may apply (typically between $30 and $50), so these loans aren't always cost-free. Also, you'll be on the hook for the shortfall if the IRS refunds less than the loan amount.
401K Loans
You can borrow money from your 401k if your plan allows it. The maximum you can borrow is $50,000, or half the account balance, whichever is less. But you can borrow up to $10,000 even if that exceeds 50% of your balance. 
You must repay a 401k loan, with interest, within five years, but you can repay over a 15-year loan term if you use the money to build or buy your first home. The interest, minus fees, goes back into your account.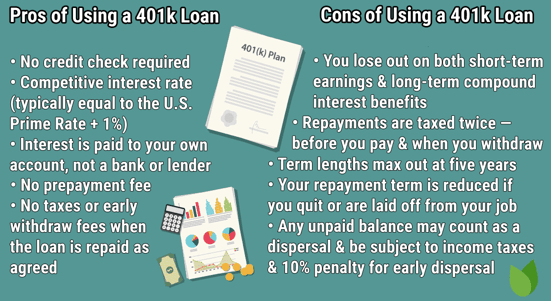 While its straightforward to borrow from your 401k, certain snags may crop up, including:
It may take a week or two to arrange a 401k loan and collect the proceeds
Most plans charge fees for 401k loans
The IRS will treat the loan as a taxable withdrawal if you don't repay by the deadline
The money you borrow doesn't receive interest-free growth until you repay it
Your 401k plan may not permit loans
A 401k loan may be a convenient source of money if you can overcome the obstacles.
Loans From Friends and Family
Many folks turn to family and friends when they need to borrow money. These loans are often easy to obtain, at least the first time around, but may become more challenging if you repeatedly ask for additional loans. The repayment terms and interest rate are usually quite lenient, and credit reporting is a non-issue. 
While these loans may seem like a perfect way to borrow, they can cause personal problems if you don't honor your agreement to repay. It's a good idea to consider the emotional risk these loans carry before approaching a loved one for money.
Can I Get an Unsecured Loan With Bad Credit?
Several online loan networks offer unsecured personal loans to folks with bad credit. Other types of subprime unsecured loans include payday loans, credit union Payday Alternative Loans, 401k loans, credit card cash advances, tax refund anticipation loans, cash advance apps, and loans from friends and family.
All share the same characteristic: You can get them without posting collateral. That means your lender does not have a lien on your property and must resort to a collection agency or a court judge if you default. 
While many unsecured loans offer easy approval, secured loans (including secured personal loans) are much more accessible since collateral backs them. If a borrower misses a payment, the lender can seize and liquidate the collateral to recoup the loan. 
That's good for lenders but risky for borrowers who may lose their car, home, or other property. Nonetheless, borrowers can enjoy faster approval and lower costs when using collateral.
How Do Short-Term Loans Compare to Installment Loans?
Short-term payday loans are expensive and require repayment all at once, but do not check the borrower's credit. Installment loans, such as personal loans, are relatively inexpensive, require hard credit pulls, and let you stretch your payments across multiple months.
The due date for a short-term payday loan coincides with your next pay date. If you miss the deadline, the lender will add the previous finance charge to the loan principal, assign a new finance charge based on the new principal, and reset the payment date to your next pay date. Your debt will mushroom if you miss several due dates, often a one-way ticket to bankruptcy court.

Personal loans collect a fixed monthly payment at interest rates that usually top out at 36% but may be considerably lower. This means you have time to budget your monthly payments, and by extending the loan term, reduce the size of each payment. 
You can borrow much larger amounts through a personal loan, and since lenders require credit checks, your timely repayment will help rebuild credit. The following chart summarizes the differences between the two loan types.
How Do I Apply For an Unsecured Loan?
You can apply for a loan online or at a local bank or credit union. You will need to provide personal information and proof of income. 
Applying to a lender network for a bad credit unsecured loan generally requires these steps:
Select a type of loan. Typically, you can choose between short-term payday loans and personal installment loans, although several networks offer additional types.
Submit a loan request form to one or more networks, providing information about yourself and your income, debts, and housing costs. 
Prequalify for a loan. You must satisfy specific requirements, beginning with an age of 18+. You also must be a US citizen or permanent resident and have a reliable income, bank account, Social Security number, email address, and phone number. 
Upon prequalification, the network will connect you to one or more direct lenders. You then provide additional information as required. Unsecured personal loan lenders will check your credit, although that's not true for payday lenders. A hard credit check may slightly impact your already bad credit score and remains on your credit report for two years.
If you receive a loan offer, the proposed lender agreement will specify all the details, including the loan term, interest rate, and repayment requirements. 
Review the agreement carefully before e-signing it. The money should appear in your bank account as soon as the next business day.
Please make note of the loan repayment date(s) to ensure you don't miss them.
Can I Get a No-Credit-Check Unsecured Loan?
Payday loans do not require a credit check. Neither do cash advances from credit cards and apps, loans from friends and family, 401k loans, and tax refund anticipation loans. On the other hand, you can expect a credit check when you apply for a personal loan or PAL. 
The online networks do not check credit when you attempt to prequalify for a personal loan. That chore falls to the networked direct lenders when you formally apply for a personal loan.
Do Unsecured Loans Build Credit?
The only unsecured loans that build credit are those that perform credit checks, namely personal loans and PALs. These loans report your payments to one or more major credit bureaus — Experian, Equifax, and TransUnion. A steady record of timely payments will help lift your score higher. 
But loans more than 30 days overdue will harm your score and undo your progress. That's why making on-time payments to reporting lenders is essential. Consider working with a nonprofit credit counselor if you have repeated difficulties paying your bills.
What Should I Do If I Can't Repay My Loan?
Contact your lender immediately if you can't repay your loan. Explain the situation and ask for help, such as a lower interest rate, a longer repayment period, or a payment holiday. Lenders rarely agree to forgive part of a loan but may approve less drastic modifications rather than resorting to bill collection or a lawsuit.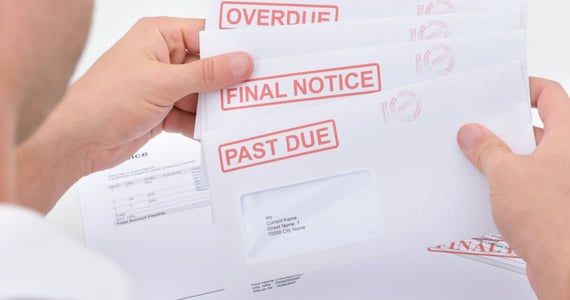 As previously mentioned, nonprofit credit counselors can help you reorganize your finances. They may be able to arrange a debt consolidation plan that will reduce your monthly payments.
A more aggressive approach would be to seek the help of a reputable debt settlement company. Be sure to thoroughly review a settlement organization before hiring it — the process is expensive, risky, and could make matters worse.
Are Secured Loans a Better Deal?
Secured loans only work if you own something you can post as collateral. On the one hand, secured loans are easier to get and cost less. But they are riskier because the lender can seize your property without going to court if you default on the loan.
Many types of property can serve as collateral: your home, car, other real estate, collectibles, equipment, securities, and more. We won't include cash because you probably wouldn't apply for a loan if you already had enough money to secure it. 
Easy Approval Unsecured Loans Are Available
We've reviewed loan networks that can arrange easy approval for unsecured loans even if you have poor credit. In addition, we discussed several alternative loan sources that may be better suited to your needs. 
Easy approval can be a boon when you have a legitimate need for quick cash. But it may also be an invitation to overspend, so carefully consider whether circumstances justify taking on new debt.
Advertiser Disclosure
BadCredit.org is a free online resource that offers valuable content and comparison services to users. To keep this resource 100% free for users, we receive advertising compensation from the financial products listed on this page. Along with key review factors, this compensation may impact how and where products appear on the page (including, for example, the order in which they appear). BadCredit.org does not include listings for all financial products.
Our Editorial Review Policy
Our site is committed to publishing independent, accurate content guided by strict editorial guidelines. Before articles and reviews are published on our site, they undergo a thorough review process performed by a team of independent editors and subject-matter experts to ensure the content's accuracy, timeliness, and impartiality. Our editorial team is separate and independent of our site's advertisers, and the opinions they express on our site are their own. To read more about our team members and their editorial backgrounds, please visit our site's About page.