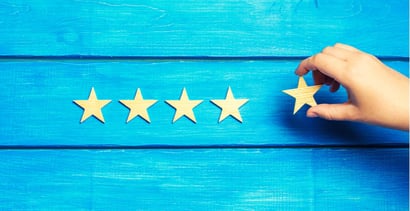 The best credit repair companies offer you a convenient way to fix your bad credit and possibly raise your credit scores. We've researched the credit restoration marketplace and identified 15 companies that receive high marks from third-party reviewers and our own staff at BadCredit.org.
All of these companies will work on your behalf to find, challenge, and remove incorrect, dated, or unverifiable information from your credit reports, thereby enabling your credit score to rise.
Top-Rated | Alternatives | FAQs
Our Top-Rated Credit Repair Companies
The following credit repair companies receive our top ratings. They make it relatively easy to fix your credit reports and deal with any outstanding issues.
The summaries that follow are a good introduction to each company. Just click on a company link to arrange a free, no-obligation consultation.
Most results of any credit repair law firm
Lexington Law Firm clients have seen more than 81 million removals from their credit reports since 2004
Get started today with a free online credit report consultation
Cancel anytime
| Better Business Bureau | In Business Since | Monthly Cost | Reputation Score |
| --- | --- | --- | --- |
| See BBB Listing | 2004 | $99.95+ | 8/10 |
Lexington Law has long been our top pick among credit repair companies. It offers a wide array of services from an experienced staff of legal experts, including accredited lawyers. The company was founded in 2004, so it has the institutional knowledge to clean up your credit reports across the complete spectrum of mistakes and omissions.
The company has an enviable record, having removed more than 10 million erroneous items from client credit reports. It's not unusual for a client to receive a credit score boost of dozens of points.
You can choose from among several service levels that make it easier to purchase just the services you need. All service levels include direct, active engagement with the three major credit bureaus to challenge questionable items on your credit reports.
The intermediate service level adds features such as credit report monitoring, hard inquiry clean-up, alerts for new negative items, and a full credit score analysis. If you step up to the premium service, you'll also get support for cease and desist letters, identity theft protection, FICO score tracking, and access to several valuable financial tools.
Typically, clients engage Lexington Law for six months to extract the most value from its services. However, the length of your subscription is up to you — you can cancel or extend it as you desire.
Best-in-class support
In business since 1989
Rapid 35-day dispute cycle, tailored to your situation
90-day 100% money-back guarantee
Low $79 cost to get started, cancel or pause membership anytime
| Better Business Bureau | In Business Since | Monthly Cost | Reputation Score |
| --- | --- | --- | --- |
| A+ | 1989 | $79 | 9.5/10 |
Sky Blue Credit Repair is the granddaddy of credit repair companies in this field, with roots going back to 1989. One of the reasons for its longevity is its industry-leading 90-day unconditional guarantee that promises a full refund if you are not satisfied with the services you receive.
Unlike some of its competitors, Sky Blue offers a single, comprehensive service level at a very competitive price (including a couple's discount). The credit repair service promises a set number of challenges every 35 days, as well as score analysis, debt validation, debt settlement consultations, and the writing of cease and desist letters.
It's likely you'll start seeing improvement in your credit score in as little as one month. You can cancel or pause your subscription whenever you want.
Free online consultation
CreditRepair.com members saw more than 8.6 million removals from their credit reports since 2012
Free access to your credit report summary
Three-step plan for checking, challenging and changing your credit report
Online tools to help clients track results
| Better Business Bureau | In Business Since | Monthly Cost | Reputation Score |
| --- | --- | --- | --- |
| See BBB Listing | 2012 | $69.95+ | 8/10 |
CreditRepair.com has one of the longest pedigrees in the credit repair business, having started business in 1997. That's given it the time to lodge more than 19 million challenges, including over 1 million in 2019.
The company stands out for its recent online transformation, with an entirely new online-only, more affordable service. It also has an intuitive yet sophisticated app that makes monitoring your credit restoration progress a snap.
When you subscribe to the basic service level, you'll receive active engagement with the credit bureaus plus access to your online dashboard, activity alerts, credit monitoring, and score analysis. The initial program of checking, challenging, and changing your credit reports yields an average score boost of 40 points within four months.
The company provides an ambitious monthly quota of targeted challenges and disputes. You can select the premium level to increase your engagement quota as well as add finance tools, identity protection, and insurance to your suite of services. You can contact CreditRepair.com online to arrange a free consultation.
Free online evaluation
One-on-one action plan with a certified FICO professional
24/7 Access to your online client portal
90-Day Money-Back Guarantee
| Better Business Bureau | In Business Since | Monthly Cost | Reputation Score |
| --- | --- | --- | --- |
| A+ | 2009 | $69+ | 7.5/10 |
The Credit Pros bills itself as a technology firm dedicated to educating its clients on how to avoid future credit mistakes. Its credit repair services range from $69 to $149 per month.
The company guarantees that no one will ever over-promise or guarantee a specific outcome, your private information will be protected and secure, and you'll always be treated professionally and courteously.
Consultations are free, and one of its credit experts will help you identify damaging items that can be disputed. The Credit Pros has an A+ BBB rating.
Credit Firm has helped consumers improve their credit scores for more than 20 years
No hidden fees -- just $49.99/month
Credit Firm uses every legal tool and procedure allowable by law to remove as much derogatory information as possible from your credit reports to increase your credit scores
97% of our clients refer us to friends and family
| Better Business Bureau | In Business Since | Monthly Cost | Reputation Score |
| --- | --- | --- | --- |
| A | 1997 | $49.99 | 8.5/10 |
Founded in 1997, CreditFirm.net offers affordable credit repair that includes oversight by licensed attorneys. The company has helped more than 60,000 customers in all 50 states. At less than $50 per month, the service is less expensive than the competition.
Their process is straightforward. After a free consultation, you forward your credit reports to Credit Firm. Then, you and your credit counseling rep will review your reports, identify items that merit challenge, and create a custom action plan that can include debt validation, goodwill interventions, and generation of cease and desist requests. There is no limit to the number of challenges you can lodge.
The company will compose and send dispute letters that have been audited by a licensed attorney. It promises to use every legal instrument at its disposal to fix your credit report and improve your credit profile.
More Credit Repair Companies Worth Considering
The remainder of our reviewed credit repair agencies provide good value for service and earn positive reviews from third-party sites. While we strongly recommend our top companies listed above, the following agencies will also do a credible job of fixing your credit and helping you earn a better credit profile.
6. Credit Versio

Credit Versio is a DIY credit repair solution. It sells a software package that supports consumers with a tight budget. The basic version of the system costs less than $20 per month and helps customers dispute errors on their credit reports.
The package imports your credit reports and helps you find potential problems. You can then generate dispute letters for dispatch to the three credit bureaus. The number of disputes you can lodge may be restricted or unlimited, depending on the package you choose. Other features include credit monitoring alerts and identity theft insurance.
You also get $1 million in identity theft insurance and credit monitoring alerts. The software imports your credit reports, applies AI techniques to identify problem areas, and helps you generate professional dispute letters to remove problematic items.
The premium package, at only $29.95 per month, provides identity theft protection. Credit Versio is a good choice if you have the time and inclination to fix your credit yourself, and the price is unbeatable.
7. Pyramid Credit Repair

Pyramid Credit Repair relies on more than 10 years of experience to help customers fix their credit. The company puts much emphasis on consumer education in addition to its rigorous credit challenge process. You can choose a singles plan for $99 a month or one for couples at twice the price.
The plans feature a personal game plan, around-the-clock phone support, and no additional costs.
Your credit counseling rep works with you to identify credit report items that should be challenged. There is no limit on the number of items you can dispute. The company states that the average client sees results within 45 days. You can cancel at any time
8. Credit Glory

Credit Glory distinguishes itself with a 90-day money-back guarantee, an A+ rating from the BBB, and customer service that's available seven days a week. When you call, you get a free 15-minute consultation with no obligation.
You can then sign up for its credit repair service ($99 per month plus a one-time $100 review and setup fee) that allows you to dispute all inaccurate items. The company disputes all types of derogatory items, including fraudulent hard inquiries. Customers must agree to identify all negative items that are completely accurate so Credit Glory doesn't waste time on them.
The company also offers services for victims of identity theft, disputing each fraudulent inquiry for $79 each or unlimited inquiries for $799.
9. Pinnacle Credit Repair

Pinnacle Credit Repair describes itself as the most aggressive program in the credit repair industry. It offers two service levels, each charging an initial fee of $199. Both services dispute errors and omissions on your three credit reports, plus free credit coaching, credit education, and support for lender approval.
Although Pinnacle is happy to do the work for you, it also supports customers who prefer a DIY approach. The standard service charges $99 a month beginning in the second month. You can renew the service each month until your credit report is completely clean.
If you prefer, you can order the premium service for a one-time fee of $1,500 to $2,500. This service, which comes with a personal credit mentor, uses artificial intelligence to rapidly dispute inaccuracies, with results in as quick as 15-30 days. You also get a 120-day satisfaction guarantee.
10. AMB Credit Consultants

AMB Credit Consultants is equally interested in repairing your credit and teaching you how to make good credit decisions. The cost of its program is an initial signup fee of $149 and a monthly subscription fee of $99.
This buys you unlimited access to the company's dispute resolution team for any inaccuracies you identify on your credit reports.
The company, founded in 2008, earns an A rating from the BBB and offers discounts for couples. On the minus side, there is no free credit consultation, and you'll have to pay extra ($25 per month) for third-party credit monitoring. Despite charging higher-than-average fees, the company earns excellent customer feedback.
11. The Credit People

The Credit People claims to have removed almost 1.5 million credit issues for its customers over its 15+ years in business and to have boosted credit scores by an estimated 53 to 187 points per person.
The company disputes all types of inaccurate derogatory items and lets you monitor progress online. You should expect to see credit improvements within 60 days.
To start, you pay a $19 fee for your three credit reports and then a monthly subscription fee of $79. Alternatively, you can buy a six-month flat-rate membership for $419. The service provides unlimited disputes, debt and inquiry validation, creditor communication, free credit reports and scores, and a money-back satisfaction guarantee.
12. MSI Credit Solutions

MSI Credit Solutions says that it is determined to make a positive difference in the lives of its clients by helping them improve their credit scores and providing them with the knowledge to make better financial decisions.
Consultations are free, after which you'll pay $98 per month — or $69 per person for dual enrollment, such as for you and a spouse — for services that are customized to your needs if you choose to employ its services.
The company has an A rating on Angie's List and is rated 4.7 out of 5 on Trustpilot.
What Is Credit Repair?
Credit repair is generally understood to mean removing incorrect or incomplete derogatory information from your credit reports, resulting in an accurate and updated credit history. By doing so, you should expect to see your credit scores rise.
Derogatory items include late payments, hard credit inquiries, defaults, debt collectors, foreclosures, and bankruptcies, among other items.
Lest you think that credit report mistakes are rare, the Federal Trade Commission found that 1 in 5 consumers have erroneous data on at least one of their credit reports. Mistakes on your credit report could reduce your access to credit and make loans more expensive. That can have a significant negative impact when you go shopping for a home or car, or apply for a rental apartment or a job.
Good financial habits can help raise your credit scores, but the process can take years to reach the full effect. That's not very useful when you need a mortgage right now. Conversely, fast credit repair is one of the easiest ways to boost your credit score, with improvements possible within one to two months.
Credit Scoring
Credit scoring is a powerful tool available to people and institutions with the ability to impact your life — for better or worse. Your credit score and accompanying history can be decisive when you apply for a loan, credit card, apartment, or job. That's why it's imperative that consumers understand how credit scoring works and why credit repair is important.
The credit scoring system begins with your credit reports maintained by the three credit reporting agencies (CRAs) — Experian, TransUnion, and Equifax.
Credit card issuers and lenders report your transaction activity to a credit reporting bureau that uses the information to assign a FICO credit score. The scores range from 300 (worst) to 850 (best), and they are important because they largely determine your access to credit.
FICO is not the only credit score in use today, but it is the 900-pound gorilla of the credit repair industry. FICO scores break down as: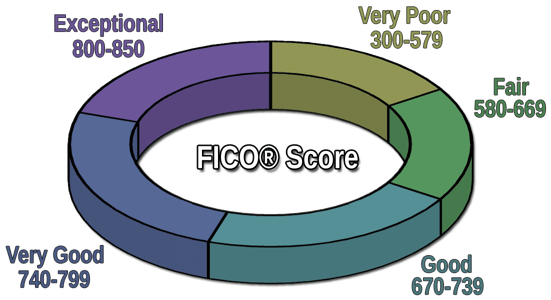 When you pay your bills on time, you should expect to earn a fair to good credit score. Other positive factors can elevate you into the top two tiers. However, derogatory items can cause your score to drop, possibly into poor credit territory.
Your FICO score depends on five broad factors:
Payment history (35% of total score): Paying your bills on time is the single biggest element determining your credit score. Payments over 30 days late are reported to the credit reporting agencies and can appear on your credit reports for up to seven years. Even one missed payment can cause your credit score to drop by as much as 110 points or more. Other derogatory items, such as debt collectors and write-offs, can also persist for seven years on your credit reports. Chapter 7 bankruptcy remains for 10 years. Thankfully, your scores can begin to recover after a couple of years. Credit repair helps ensure that derogatory items are removed after the required time period. You also may be able to have a late payment removed from your report by paying the amount you owe and asking the creditor to eliminate the item (e.g., via a goodwill letter). Your chances are good if it was your first late payment, but don't expect cooperation if you frequently miss payments.
Amounts owed (30%): Creditors worry when you appear to be shouldering more debt than you can comfortably afford. They use different metrics to gauge your indebtedness, depending on the type. For credit card debt, the metric used is the credit utilization ratio (CUR), which is the amount of credit you are using divided by the amount available. CURs above 30% can hurt your credit score. The solution is to pay down your credit balances, aiming to get your CUR under 20%. Note that revolving home equity lines of credit do not figure into CUR because they are collateralized by your home. If your CUR is too high, the remedial steps available to you include paying down existing debt, not taking on new credit, reducing the number of credit accounts with balances, and paying your installment debt early. Lenders look at several metrics, including debt-to-income (DTI) ratio. This ratio indicates how easily you can afford to pay your debt. Some lenders will accept DTIs as high as 50%, but mortgage lenders typically have tighter standards (i.e., typically a 36% maximum). Credit repair is required to fix fraudulent debt arising from identity theft. Scammers who take out loans or get credit cards under your name can cause your current debt to skyrocket and send your credit scores plunging. Credit repair removes fraudulent debt from your credit reports to restore your credit score.
New credit (10%): This factor deals with the hard inquiries placed by creditors when you apply for loans or new credit accounts. Hard inquiries drop your score by several points and remain on your reports for two years (although their impact ends after one year). You must authorize creditors to make hard inquiries as part of an application process. Much of credit repair involves removing questionable hard inquiries from your credit reports. These can arise when inquiries are unauthorized or when they are actually mischaracterized soft inquiries. If a creditor cannot document your authorization, the inquiry must be removed. Another problem with hard inquiries can occur when you are rate shopping for a loan. Multiple hard inquiries made within a 30-to-45-day period to find the best rate for a loan should be counted as only one inquiry. Credit repair activity should detect and remove extra inquiries that were not recognized as arising from rate shopping.
Two other factors — length of credit history (15%) and credit mix (10%) — do not usually figure prominently in credit repair. However, they may help you detect an account that was opened or closed without your authorization.
We recommend that you check your three credit reports at least once a year. You can get a free credit report from each major credit bureau once per year on AnnualCreditReport.com, the sole source of free credit reports authorized by the federal government.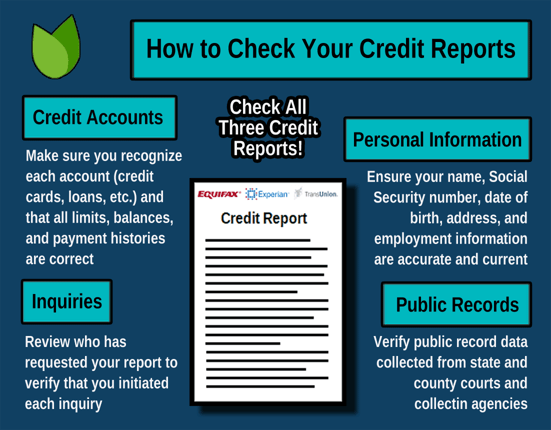 Reviewing your reports can alert you to the need for credit repair, at which point you can proceed on your own or hire a credit repair firm.
How Do Credit Repair Companies Work?
If you don't want to fix your credit reports yourself, a legitimate credit repair company can do the job at reasonably affordable prices. Most of these companies provide a free consultation with a credit expert to explain what the company will do and how it can help you.
If you want to proceed, you can sign up for a monthly subscription (usually six months long) that you can extend or cancel at any time. Many credit repair companies offer different service levels, so your credit expert will review which one makes the most sense for you.
You should understand the cost of each alternative, including any one-time signup fee. Make sure you understand what services are included in the subscription fee and which are extra-cost items. Standard services include:
Examining and summarizing your credit reports
Sending formal dispute letters to the credit bureaus and creditors on your behalf
Following through on each challenged item until it is resolved
Providing customers with educational materials and personal finance tools to help them manage their credit
Naturally, each company will have its own set of services and prices. In some cases, you will have to order and forward your three credit reports to the credit repair company. However, most of these companies will order them on your behalf, although you may have to pay a fee.
The company, usually with your help, will examine issues with your credit history. Items of interest may include:
Items with errors: These are the easiest items to spot and dispute. Some errors are easy to fix, such as misreported amounts or spelling mistakes. A credit reporting bureau can usually investigate and correct these quickly.
Items out of date: Derogatory items can stay on your credit reports for a specified period, after which they must be deleted. For example, hard inquiries remain for two years, whereas some bankruptcies persist for a full 10 years. Many items have a seven-year lifetime before they are ready to be expunged.
Items that can't be substantiated: You may find many items on your reports that cannot be substantiated by a creditor or lender. If a derogatory item cannot be validated, it must be removed from your report.
Items stemming from fraud: These are items that are usually linked to identity fraud, including new accounts you did not open. Undoing identity fraud is a large undertaking, and several credit repair companies offer special services for this purpose. You should always report fraudulent items to the Federal Trade Commission.
Much of the collected information on your credit reports comes directly from creditors or from public records. You must review all three of your reports for questionable items, since each credit reporting company may have unique items not shared with the others.
The next step is for the credit repair agency to develop an action plan and schedule. With your sign-off, the company will begin challenging questionable items via formal dispute letters that request items to be validated or removed. The company may also send specialized correspondence, including:
Cease and desist letters: Requests for debt collection agencies to stop contacting you because the creditor has confused you with another consumer, the statute of limitations has expired, the debt has not been verified, or you'd rather deal with the matter in court.
Goodwill letters: Asks a creditor to remove an inadvertent missed payment from your credit history
The service level you purchase will set the company's quota for the number of monthly disputes and challenges. Higher service levels may add features like score analysis and tracking, access to money management tools, mobile apps, identity theft repair, and many more.
What Is the Best Credit Repair Company?
Lexington Law is our top-rated reputable credit repair company for several reasons. It's been in business for a long time, and it uses legal professionals throughout the process. Its success is demonstrated by the millions of inaccurate items removed from its customers' credit reports.
Most results of any credit repair law firm
Lexington Law Firm clients have seen more than 81 million removals from their credit reports since 2004
Get started today with a free online credit report consultation
Cancel anytime
| Better Business Bureau | In Business Since | Monthly Cost | Reputation Score |
| --- | --- | --- | --- |
| See BBB Listing | 2004 | $99.95+ | 8/10 |
The company offers three service levels, all priced competitively. You can purchase premium service if you need cease and desist letters, FICO score tracking, and/or identity theft protection.
Our runner-up is CreditRepair.com. The company was founded in 1997 and has mounted more than 19 million challenges on behalf of its clients. It offers a personal online dashboard, score tracker, and TransUnion credit monitoring, as well as support for identity protection.
In third place is Sky Blue Credit Repair, which offers a 90-day unconditional guarantee that we think should be adopted throughout the industry. We also like its simple offering of a single comprehensive service level at a competitive price.
How Do I Sign Up For Credit Repair?
In virtually all cases, signing up for credit repair is a snap. You simply fill out a short form with your name and address and then choose a service level (if appropriate).
You'll then enter your credit card information to start your subscription. The initial charge may include a "first work" upfront fee and/or a fee for retrieving one or more of your credit reports.
Make sure the company clearly states that you can cancel at any time. Also, some companies may be willing to postpone your upfront fee until after your initial consultation. In many cases, you may first receive a free consultation before signing up for the service.
The next step will be for a credit expert to contact you once the company has received your credit reports. In many cases, the company will run your reports through software to identify potential items to challenge. Based on your credit situation, you and your credit counselor will map out an action plan for the first month, and you'll pay any fees due.
Do Credit Repair Companies Really Work?
As with many questions in life, the answer depends on your individual circumstances. Know from the start that no credit repair firm can guarantee results. They understand that your credit reports may be relatively clean to begin with, and, therefore, limit the amount of improvement possible.
If you are a methodical sort of person, you may have already researched the different credit repair companies using resources like BadCredit.org, other reviews, and forum sites. Chances are you came across stories of mixed results, which has left you a little reticent to contact one of the top-rated credit repair companies.
It's important to approach a legitimate credit repair company with realistic expectations. What you should expect is for the company to effectively remove questionable items — they are very good at that. As to whether you'll see a meaningful score improvement, these companies may work.
Just because an item is removed from your credit report doesn't mean your score will increase. The item must be depressing your score for its removal to bring benefits. With so many variables in the mix, it's apparent why credit repair companies are not allowed to guarantee a higher score.
In addition, even when a negative item is removed, it could take some time to see the boost to your credit score.
Disputing errors on credit reports can be valuable even if your score doesn't change much because:
A clean report may help you get a lower interest rate on your next loan.
You want your information to be accurate when a prospective landlord or employer pulls your credit report.
The credit repair process will quickly discover identity theft and subsequent fraudulent activity. The thieves may use your information to open new credit cards, obtain loans, or even masquerade as you to use your health benefits.
You should always have inaccuracies and outdated information removed from your credit reports, as you never know when bad information will have negative consequences. By cleaning up your reports, they won't surprise you the next time you apply for a loan. If you are turned down, at least you'll know it wasn't due to mistakes on your credit reports.
Can Credit Repair Hurt Your Credit?
It's easy to conflate credit repair with credit settlement. The former won't hurt your credit, but the latter may.
Credit repair companies simply remove erroneous or unsubstantiated items from your credit reports. This is a benign activity that can only help your score, not hurt it. At worst, credit repair may not be able to boost your score if your credit reports are already relatively clean.
Credit settlement — or debt settlement — is a whole other kettle of fish. Settlement companies aim to negotiate reductions in your indebtedness with your creditors. Settled accounts remain on your credit reports for seven years from the original delinquency date.
Debt settlement in itself may be a good thing and eventually raise your credit score, but it can have several negative ramifications, including:
Lower credit score: Debt settlement can reduce your credit score in the short run by up to 100 points. That's on top of the damage done by the events leading up to settlement, such as a high CUR, late payments, and collections. Settlements remain on your reports for seven years, although the major damage begins to dissipate after a couple of years.
Creditor perceptions: When you apply for a new loan or credit card, your previous settlements may be held against you. This may interfere with your access to new credit and/or result in higher interest rates. Those higher rates will offset at least some of the money you saved through debt settlement.
No guarantees: Debt settlement companies cannot guarantee that they will be able to lower your debt nor how much debt they can remove. You may be charged fees and have nothing to show for it.
Sketchy reputations: Some settlement companies overpromise and underdeliver. Several states have outlawed for-profit debt reduction companies because of their unsavory reputations stemming from credit repair scam complaints.
You can do it yourself: You may be able to accomplish the same outcomes by negotiating directly with your creditors. That would save you the fees charged by the settlement companies and let you use the money to help pay off your debts. By the way, the advertised fees are often just the tip of the iceberg, so always get the terms and conditions in writing before proceeding.
Overkill: Debt settlement is appropriate when it's your only alternative to bankruptcy. Otherwise, you should just pay off your debts, perhaps by negotiating longer repayment terms and smaller monthly payments.
Reactions: Creditor B may preemptively sue you if it finds out you are using a credit settlement company to negotiate with Creditor A. Your other creditors may prefer to force you into bankruptcy rather than reduce your debt.
Income tax considerations: Forgiven debt is taxable. When a creditor reduces your debt, you'll have to recognize the forgiven amount as taxable income. That means you may generate a big tax bill when your settlement company succeeds in cutting your debt.
Not a long-term solution: Debt reduction may give you some breathing room in the short run but do nothing to solve your long-term financial problems. Only by living within your means and paying your bills on time will you be able to solve perennial debt problems. Whether or not you pursue debt settlement, you need to establish a realistic budget that allows you to eventually emerge from debt.
For many consumers, debt consolidation and refinancing may be preferable to debt settlement. If your indebtedness is tied to multiple credit card balances, you may be able to procure a new credit card with an introductory 0% APR for balance transfers. You then arrange to transfer your existing credit card balances to your new card, aware that each transfer will require a fee (usually in the 3% to 5% range).
If you want to consolidate a mix of loans and credit card debts, consider a personal loan. You use the loan proceeds to pay off your old debts. However you accomplish it, debt consolidation will not hurt your credit score and probably help it, assuming that no settlements are involved in the process.
A few caveats apply to debt consolidation. First, you must be able to get a credit limit or loan amount sufficient to pay down your existing debt. Otherwise, you'll be stuck making multiple payments per month.
If you already have poor credit, don't assume you'll be able to get a card with a 0% intro APR for balance transfers. Typically, you must have a good credit score to qualify for a balance transfer card.

In addition, be careful when using a credit card's 0% intro APR offer for balance transfers. The offer can expire in as little as six months, which may be well before you can pay off your consolidated balance.
If that's the case, the new card's regular APR will kick in, and if any current cards had a lower rate, it will end up costing you more in interest to transfer them (not to mention the transfer fee).
How Long Does Credit Repair Take?
Overall, expect it to take from three to six months for credit repair to translate into a higher credit score. This is true whether you do it yourself or use a credit repair company. The initial 30 to 45 days will be consumed by the credit reporting agency as it investigates your initial challenges and disputes.
Assuming that some negative information is removed from your credit reports during the first two months, you will require additional patience to see the results in your credit score. A credit repair company that works online may be able to get results a little faster than will a DIY approach.
The speed of repair will depend somewhat on the nature of the disputed items. If you have only one item representing most of the damage to your credit, eliminating it first will result in a quicker score improvement. At the other extreme, it will take several months longer if you have many problematic items such as hard inquiries.
Is it Worth Paying Someone to Fix Your Credit?
Typically, credit repair companies offer you cancellable monthly subscriptions at a fixed rate. Some charge a one-time "work products" fee, usually around $100, more or less. Many companies promote a six-month subscription that can end up costing upwards of $700.
What you get for the money is the expertise and aggressive efforts of a credit repair company. The good ones have been around for a decade or more and know all the little tricks to increase their effectiveness. These companies also offer other benefits, including credit education and financial management tools.
If you'd rather not spend money on credit repair, here are three alternatives:
DIY credit disputes: You'll first need to get free copies of your credit reports from the three credit reporting agencies. It's then up to you to identify errors on each report, including incorrect Social Security numbers, closed accounts that are marked as open, or accounts with incorrect balances. Obviously, you should dispute accounts you don't recognize and hard credit inquiries you didn't authorize. The three credit agencies publish dispute procedures that you can execute either online or via letters. Each credit reporting company explains what to look for, how to proceed, and what to expect from the process. All three credit bureaus promise to investigate your disputed items and get back to you within 30 days. If your request is denied, you can contact the creditors responsible for the challenged items and ask them to investigate it. If you still disagree with the outcomes, try contacting the Consumer Financial Protection Bureau, the Federal Trade Commission, or your state's attorney general. You have the right to append a statement of up to 100 words per item explaining your side of the story. While this won't affect your credit score, it may make it easier for creditors to approve your applications. Also, you can resubmit disputes if you can provide additional supporting documentation.
Free credit repair software: We reviewed Credit Versio above, a seller of credit repair software. But did you know that you can get credit repair software for free? Typically, these products offer spreadsheets and dispute templates you can use to lodge DIY disputes. While not as powerful as software for purchase, the free software can speed up your DIY efforts and make it easier to track your disputes. Be aware that some free software is only free for 30 days, after which you'll have to cough up either upfront or recurring fees.
Free consultations: Just about all the credit repair companies reviewed here offer free, no-obligation consultations. The value to you is that you can get some idea of whether credit repair will boost your credit scores. Don't expect too much free legwork, but what you do get can save you from paid subscriptions that you don't need.
How Do I Choose a Credit Repair Company?
This review is a great starting point for choosing a credit repair company. Any of the first four reviewed companies would be a good choice, and we can vouch for them because we've partnered with them.
Our top pick, Lexington Law, has long been our favorite credit repair agency, and we think most consumers will be quite satisfied with it.
Whichever company interests you, a little due diligence work on your part would be a good idea. You can check third-party rating sites such as the BBB and TrustPilot for any red flags. In addition, several review sites and forums can give you additional information you'll find useful, including credit repair scam complaints.
Is Credit Repair Legal in All 50 States?
Yes, indeed, federal law guarantees your right to repair your credit in all 50 states. Two laws in particular apply to credit repair: The Fair Credit Reporting Act (FCRA) and the Credit Repair Organizations Act (CROA).
The FCRA ensures that disputed information must be investigated unless it is trivial or you flood the credit reporting agency with nuisance complaints. The FCRA secures you several rights, including:
The right to inspect your credit files. Under many circumstances, you have the right to see the files for free, such as when the information was used against you, your identity was stolen, you've been victimized by fraud, you are receiving public assistance, or you are out of work but plan to seek employment in the next two months.
The right to know whether information on your credit reports was used against you to deny you credit, a loan, a job, an apartment, insurance, or something else of value. You also have the right to know where the information came from.
The CROA authorizes you to use a third party to dispute items on your credit reports. It prohibits credit repair companies from making misleading or untrue representations, bans payments in advance, requires written contracts, and ensures cancellation rights for consumers. The CROA is instrumental in preventing repair companies from making misleading claims or using abusive practices.
Specifically, the CROA prohibits credit repair companies from the following business practices:
Making false statements about how much your credit score will improve.
Altering your identity to hide negative information in your credit report.
Making misleading or false claims about their services.
Engaging in fraudulent activities.
Charging fees in advance or failing to perform all the services you paid for.
In addition, credit repair companies must disclose their services and their costs before you sign a contract. They can't penalize you for canceling the service and can't abridge your right to sue the company for up to five years after contracting for services.
Can Credit Repair Help With Identity Theft?
Identity theft and fraud are rampant in the United States. In 2019 alone, the FTC received 3.2 million complaints on the topic, and 23% of fraud complaints reported losing money. That translates into more than $1.9 billion lost through identity fraud.
Credit repair can help fight identity theft in a few ways:
The process requires a review of the credit reports maintained by the three major credit bureaus. These reviews can uncover unrecognized accounts and unauthorized transactions, sure tip-offs of identity theft.
Several credit repair companies offer support for identity theft recovery, either built into the regular menu of services or available as a separate service. For example, Credit Glory offers consumers unlimited identity theft dispute support for a flat fee of $799.
Many of the credit repair companies offer insurance policies covering identity theft. For example, Credit Versio offers $1 million in identity theft insurance.
If you become aware of identity theft, report it immediately to the Federal Trade Commission, state authorities, and your local police. The FTC will issue you an Identity Theft Victim's Complaint and Affidavit.
Also, place a fraud alert on your credit reports that prevent any creditor or lender from opening a new account without first contacting you.
The Best Credit Repair Companies Can Help You Decide Your Next Move
All the best credit repair companies we've reviewed above offer free consultations to help you decide if credit repair services are right for you. They'll evaluate your credit reports to determine whether you qualify for service.
Remember, no results are guaranteed, but credit repair can work for those who have inaccurate items weighing down their credit scores. Contact a credit repair company via phone or online to sign up for your free consultation — you have nothing to lose, and an improved credit score to gain!
Advertiser Disclosure
BadCredit.org is a free online resource that offers valuable content and comparison services to users. To keep this resource 100% free for users, we receive advertising compensation from the financial products listed on this page. Along with key review factors, this compensation may impact how and where products appear on the page (including, for example, the order in which they appear). BadCredit.org does not include listings for all financial products.
Our Editorial Review Policy
Our site is committed to publishing independent, accurate content guided by strict editorial guidelines. Before articles and reviews are published on our site, they undergo a thorough review process performed by a team of independent editors and subject-matter experts to ensure the content's accuracy, timeliness, and impartiality. Our editorial team is separate and independent of our site's advertisers, and the opinions they express on our site are their own. To read more about our team members and their editorial backgrounds, please visit our site's About page.