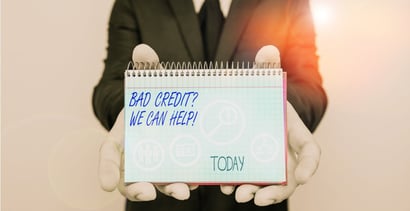 When there are mistakes on your credit reports, it's nice to have the most aggressive credit repair services fighting for you. Some mistakes can needlessly depress your credit score by hundreds of points, causing distress to your finances and your lifestyle.
These four credit repair companies have the know-how and the aggressiveness to fix inaccuracies that may be weighing down your credit rating.
Most Aggressive Credit Repair Service
Lexington Law remains our top-rated legitimate credit repair company of 2023. Its expert staff of legal experts and accredited lawyers support various credit counseling services that address credit-related problems for folks with a bad credit score.
Although Lexington Law cannot guarantee results, its clients see their credit scores rise by dozens of points. The company offers a few different service levels, allowing you to choose which services you want to purchase. Whichever level you choose, you will receive active, aggressive engagement on your behalf to challenge incorrect, incomplete, and unverifiable information on your credit reports.
Most results of any credit repair law firm
Lexington Law Firm clients have seen more than 81 million removals from their credit reports since 2004
Get started today with a free online credit report consultation
Cancel anytime
| Better Business Bureau | In Business Since | Monthly Cost | Reputation Score |
| --- | --- | --- | --- |
| See BBB Listing | 2004 | $99.95+ | 8/10 |
You do not file unlimited disputes. The basic Concord Standard service provides you with a set number of monthly challenges and interventions with the three major credit bureaus. If you purchase the intermediate Concord Premier service, you'll also get a full credit score analysis, hard inquiry clean-up, credit report monitoring, and alerts for new negative items.
Premier Plus is the most advanced offering, with identity theft protection, access to a valuable personal finance tool collection, support for cease and desist letters, and FICO score tracking.
You can subscribe to Lexington Law for any length of time, but the typical engagement runs for about six months. To get a free consultation, call Lexington Law at 1-855-200-2394 or simply click the START NOW link.
More Credit Repair Services to Consider
Though many credit repair companies are vying for your business, the following three are the ones our editors consider the remaining best of the lot. They each offer something special to consumers with bad credit, such as an unconditional guarantee of satisfaction, credit monitoring, a superior mobile app, or credit counseling services beyond just credit repair.
Best-in-class support
In business since 1989
Rapid 35-day dispute cycle, tailored to your situation
90-day 100% money-back guarantee
Low $79 cost to get started, cancel or pause membership anytime
| Better Business Bureau | In Business Since | Monthly Cost | Reputation Score |
| --- | --- | --- | --- |
| A+ | 1989 | $79 | 9.5/10 |
Sky Blue Credit Repair was one of the pioneers in the credit repair industry and remains a leader today, in part due to its unconditional guarantee that pledges a full refund if you aren't satisfied with the services you receive.
This credit repair organization offers a single service level at a competitive price, although it also charges a hefty one-time review and setup fee of $79. The service posts five challenges every 35 days to each of the three major credit bureaus.
The service includes debt validation, score analysis, debt settlement consultations, and the writing of cease and desist letters to your debt collector. You should see credit improvement in only a month or two, thanks to the company's aggressive program, and perhaps see you attain a good credit score.
Free online consultation
CreditRepair.com members saw more than 8.6 million removals from their credit reports since 2012
Free access to your credit report summary
Three-step plan for checking, challenging and changing your credit report
Online tools to help clients track results
| Better Business Bureau | In Business Since | Monthly Cost | Reputation Score |
| --- | --- | --- | --- |
| See BBB Listing | 2012 | $69.95+ | 8/10 |
CreditRepair.com has an enviable track record in the credit repair package business, having mounted more than 19 million challenges, including over 1 million in 2019. Its mobile app is acknowledged as one of the best in the industry, providing an easy-to-use design that simplifies progress monitoring.
The Basic service level is recommended if you have only a handful of negative items on your credit reports. If your reports are more heavily studded with derogatory items, you can choose the Moderate or Aggressive service levels.
All service levels provide active engagement with the three major credit bureaus and access to an online dashboard, credit monitoring, activity alerts, and score analysis. The result is that the average bad credit score rises by 40 points over the first four months.
Free online evaluation
One-on-one action plan with a certified FICO professional
24/7 Access to your online client portal
90-Day Money-Back Guarantee
| Better Business Bureau | In Business Since | Monthly Cost | Reputation Score |
| --- | --- | --- | --- |
| A+ | 2009 | $69+ | 7.5/10 |
When you contact The Credit Pros, you'll first be offered a credit repair package starting with a free credit analysis. It offers three separate plans, starting at $69/month up to $149/month.
The service claims it will help you identify damaging items on your reports, provide practical and honest advice, reinforce your rights as a consumer, and educate you so you better understand how your credit scores work.
How Does Credit Repair Work?
The purpose of credit repair is to remove derogatory items from your credit reports that don't belong there because they are incorrect, incomplete, unverifiable, or past their expiration date. Your credit score benefits to the extent that your credit repair efforts are successful.
Credit repair is no trivial matter. Some mistakes are inconsequential, but others can make it harder and more expensive to get credit. Negative information can also hurt your chances of landing a job or renting an apartment.
Do-It-Yourself Credit Repair
You can attempt to fix your credit reports yourself. To do so, you'll have to first obtain copies of your three credit reports (one each from Experian, TransUnion, and Equifax). You can order a free credit report, or all three, from AnnualCreditReport.com.
Getting a free credit report is actually the easy part — the hard work that follows includes combing through the information on each report, recognizing questionable items, and filing disputes with the credit bureaus. To know how to proceed, you'll have to understand how credit scoring works and which items impact your personal score.
The most important scoring system is FICO, from the Fair Isaac Company, which dominates the market for personal credit scores. FICO scores range from 300 (the worst) to 850 (the best).
The following chart shows how FICO scores are interpreted: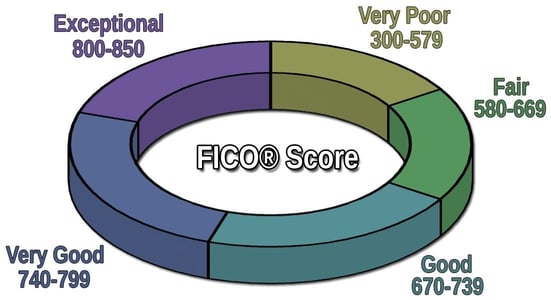 Your access to credit can hinge on your FICO score, which is why you want to remove any mistakes that lower it.
The three major credit bureaus are each responsible for calculating and assigning you a separate FICO credit score. The basis of their calculations is the information reported to them concerning your use of credit — the timeliness of your payments, the amount you owe, and other indicators of your creditworthiness.
Generally, you should expect a good FICO score if you pay your bills on time and don't have any major negatives weighing you down. The more negative items you accumulate, the lower your score can drop, and the more you need to fix mistakes on your credit reports.
The damage caused by negative items directly relates to the way your FICO score is computed. Five factors determine your score:
1. Payment History (35% of Your FICO Score)
This is the most important factor impacting your credit score. It is the record of your payments to creditors and lenders, including payments that are 30 or more days late. Late payments can cause your score to drop more than 100 points and remain on your credit reports for seven years.
If that weren't bad enough, late payments are often an early warning of more costly problems, including default on your debt, your account going into collection, repossession of collateral, foreclosure on your home, and bankruptcy. All of these items persist on your report for seven years. Moreover, a Chapter 7 bankruptcy remains for 10 years. Most of the damage to your credit score occurs in the first two years, after which your scores can begin to recover.
One of the functions of credit repair is to ensure that expired items are removed from your credit reports. You can also try to have late payments removed by paying the balance due and then politely asking the creditor (in a goodwill letter) to delete the item from your credit reports.
However, the focus of credit repair is to find inaccurate reports of late payments and other misdemeanors. These may appear on your credit reports because of simple mistakes or they may indicate more sinister forces at work, such as identity theft.
2. Amounts owed (30%)

The second most important factor in determining your FICO score is the amount of debt you carry. Understandably, lenders are hesitant to extend you additional loans if you already have a significant debt load.
FICO uses your credit utilization ratio (also called debt-to-credit ratio) to determine your degree of indebtedness. It is defined as the amount of unsecured revolving credit you are using divided by your total credit limit.
For example, if you accumulated a $4,000 balance on your credit cards and your total credit limit is $10,000, your CUR is 40%.
According to FICO, a CUR above 30% is a negative that can hurt your credit score because it may indicate financial distress. To build your credit, you want to reduce your CUR to 20% or less by paying down your credit card and refraining from taking on any additional debt.
Lenders also look at your debt-to-income (DTI) ratio to see whether you can afford to repay your loans. Lenders generally want your monthly debt payments to be no more than 36% of your monthly income, although there are exceptions.
You want to ensure that you recognize all the listed credit and debt accounts on your credit reports and that the balances match your own records. If you encounter debt that you did not authorize, you may be a victim of identity theft, and you'll have to take aggressive action to fix the problem.
3. New Credit (10%)
Applying for a new loan or credit card is not necessarily revealing unless you apply for multiple credit accounts within a short period. FICO interprets applying for or opening several new accounts as a negative because it may indicate financial difficulties.
Only hard inquiries count against your credit score. You must authorize a hard inquiry as part of an application for new credit. All other inquiries are "soft" and don't affect your score. A hard inquiry can reduce your credit score by five to 10 points for up to a year and remains on your credit report for two years.
To keep your score healthy, you want to avoid more than one application every six months or so. A common problem on many credit reports is hard inquiries you did not authorize. You can often have these removed if the inquirer can't prove you authorized them.
The problem often arises when soft inquiries are mischaracterized. Soft inquiries, while recorded on your credit report, do not impact your credit score.
Sometimes, you amass multiple hard inquiries within a 30- to 45-day period when you go rate shopping for a loan. FICO understands this and only deducts you for a single hard inquiry. You can dispute additional inquiries that were not recognized as rate shopping and have them removed from your credit reports.
4. Length of Credit History (15%)
FICO rewards you for maintaining credit accounts for a long period — seven years and longer. The idea is that it reflects positively on your ability to manage credit over the long term.
From a practical viewpoint, you can benefit from this factor by not closing credit cards that you no longer use. Instead, use them once a year to show that they are not dormant.
A problem you may find on your credit report is an account incorrectly reported as closed. If you encounter this mistake, you can correct your reports by providing proof, such as a current account statement, to the credit bureaus.
5. Credit Mix (10%)
This minor factor rewards you for having multiple types of loans and credit accounts. FICO figures this metric shows that you are able to juggle different forms of credit at the same time.
Your credit mix doesn't usually play a large role in credit repair. However, you may come across instances of unreported accounts for which you should receive credit (no pun intended).
In summary, red flags you may encounter when reviewing your credit reports include:
Accounts you do not recognize.
Inaccurate account information, including payments mistakenly reported as late or balances that don't match your records.
Credit inquiries you did not authorize.
Derogatory information that should have aged off your reports.
Now that you know what to look for, the next step is to challenge inaccuracies in your credit reports. You can do so using the online web pages that each credit reporting bureau maintains for this purpose. Alternatively, you can file disputes with the credit bureaus through registered mail or over the phone:
Experian
P.O. Box 4500
Allen, TX 75013
(866) 200-6020
Disputes: www.experian.com/disputes/main.html
Equifax Information Services, LLC
P.O. Box 740256
Atlanta, GA 30374
(866) 349-5191
Disputes: www.equifax.com/personal/credit-report-services/credit-dispute/
TransUnion Consumer Solutions
P.O. Box 2000
Chester, PA 19016
(800)-916-8800
Disputes: www.transunion.com/credit-disputes/dispute-your-credit
You should file a separate dispute for each item. When you do so, back up your story with appropriate documents such as account statements and receipts.
The Fair Credit Reporting Act (FCRA), as amended, directs the credit bureaus to investigate your disputes in good faith and arrive at a decision within 30 days. The bureaus, in turn, depend on the information providers — your lenders and creditors — to research the dispute and reach a decision.
The Consumer Financial Protection Bureau (CFPB) offers some useful resources for disputing items on your credit reports, including a set of instructions and a template letter you can adapt.
You can also file a dispute directly with the company that provided the information you are challenging.
If your dispute is approved, the information provider must send a correction to all recipients of the erroneous information, and the credit reporting bureau must expunge the bad item from your report. Conversely, if your dispute is disallowed, you can add a short statement to your credit report to explain your viewpoint.
Credit Repair Services
Many consumers would rather pay a specialist to clean up their credit reports than do it themselves. Credit repair services have specialized knowledge that increase your odds of success. After you sign up for the service, you can expect the provider to lodge a set number of disputes each month — monthly unlimited disputes are not available.
Creditors and public records supply the bulk of the information on your credit reports. Because the credit bureaus don't necessarily share information, each report must be separately reviewed to identify both the shared and unique items that will require further action. This applies whether you have bad or good credit.
Based on the company's review, it will develop and provide you with an action plan for your approval. A credit repair organization will then begin challenging the items on the plan, usually at a set pace. That is, most credit repair companies promise to lodge a minimum number of challenges each cycle.
The types of report items that will receive the most scrutiny may include:
Simple errors: These are easy errors to fix and include incorrect addresses, Social Security numbers, birthdates, and other identifying data. Typically, these are cleared up quickly, although you may have to provide backup documentation, such as a utility bill with your current address.
Items needing verification: For items to remain on your credit report, they must stand up to scrutiny. Credit repair services can challenge items that typically are hard to verify, such as hard pulls of your credit. If the creditor cannot provide proof to verify an item, the credit reporting agency is obligated to remove it from your credit report.
Expired items: Negative items must be removed from your credit reports after a specified period. For example, hard inquiries stay on your report for two years, whereas serious credit issues can remain for seven to 10 years. Usually, each credit reporting agency is good about removing expired items automatically, but the credit services check to make sure that no items remain past their expiration date.
Serious problems: These include accounts that you didn't open and transactions you didn't authorize. These types of problems may stem from identity fraud, which will require considerable effort to correct. Several credit repair companies offer services to help you recover from identity fraud. In any event, you need to report the problem to the Federal Trade Commission, your local police, and perhaps a state agency.
In many cases, you'll find that the bulk of the challenges mounted by credit repair services relate to hard credit pulls. The reason is pragmatic: Frequently, information providers can not verify that you authorized a hard pull of your credit. In some cases, the provider didn't retain the information, and sometimes the provider didn't have proper authorization.
And here is a little secret in the industry: It's cheaper to agree with your hard-inquiry challenges than to fight them. The credit repair services know this and use it to your advantage. Don't expect the same lackadaisical attitude toward serious infractions like late payments and collections.
When selecting a credit restoration service, consider whether it offers specialized correspondence, such as:
Goodwill letters: These are requests written to information providers (i.e., creditors) asking them to delete a late payment from your credit reports. Often, goodwill letters are the quo to your quid — you promise to get current on missed payments in exchange for having the negative item removed. This can be an effective negotiating tactic that may significantly boost your credit score.
Cease and desist letters: These are letters demanding debt collection agencies to stop contacting you. There can be various legitimate reasons to issue a cease and desist letter to your debt collector, including confusing you with another person, expiration of your obligation to repay under the statute of limitations, trying to collect a debt that has not been verified, or your intention to address the matter in court.
A legitimate credit repair company will list all of its services, some of which are included in your credit repair agreement and some that are sold separately.
How Do I Sign up For Credit Repair Services?
If you are interested in signing up for any of our reviewed credit repair services, click on the START NOW link to be transferred to the company's website. For this discussion, we'll highlight the credit repair process of Lexington Law, our top provider.
Most results of any credit repair law firm
Lexington Law Firm clients have seen more than 81 million removals from their credit reports since 2004
Get started today with a free online credit report consultation
Cancel anytime
| Better Business Bureau | In Business Since | Monthly Cost | Reputation Score |
| --- | --- | --- | --- |
| See BBB Listing | 2004 | $99.95+ | 8/10 |
You kick off the credit repair process by submitting your name and contact information. Doing so gives the credit repair firm permission to contact you and conduct a free consultation — Lexington Law provided more than 540,000 consultations in 2020 alone.
The consultation will provide you with some free information, including your credit score, credit report summary, and an expert recommendation of which questionable negative items are wrongfully hurting your score.
If you agree to subscribe to the credit repair process, the company will challenge each credit reporting agency and information provider (i.e., via creditor interventions) to verify that the derogatory items are fair and accurate. If, for any reason, they can't verify the information, they must remove the items from your credit reports.
After the initial flurry of activity, the credit repair firm will settle down to manage and monitor functions to address new credit issues as they appear.
What Does Credit Repair Cost?
Cost is a critical factor when deciding which credit repair service to use and whether to repair your credit yourself. Unfortunately, the reputation of the credit restoration industry has been damaged by some bad actors who charge high fees while underdelivering results.
We at BadCredit.org are aware of this tension within the industry, which is why we provide ratings based on performance, cost, and reputation. Whichever credit repair company you use, always conduct a little research of your own to learn the good, bad, and ugly facts first.
Credit repair services use two methods to charge customers. The more common method is the subscription model, which charges you for the services you were provided in the previous billing period, usually 30 to 35 days.
Monthly subscriptions typically run between $70 and $140 per month. Companies may offer different levels of service at different price points to accommodate the needs and budgets of their customers.
The other method is to charge for each item removed from your credit report. Both payment methods conform to regulations prohibiting the companies from billing you before rendering the services they promise to deliver. Most companies charge a setup fee in return for establishing your account and performing preliminary research.
A credit repair company may ask you to submit your three credit reports, or they may order the reports themselves, usually for a fee.
Of course, each company sets its own prices for the services it offers. Generally, you can expect the basic service level to include:
Reviewing your credit reports
Submitting credit interventions (disputes) to credit bureaus and creditors that challenge items on your credit reports.
Tracking each disputed item until it is resolved.
Advice on steps you can take for credit improvement and a good credit score.
Sky Blue Credit Repair is the rare exception that offers just one service level and at a very competitive price.
The pace of disputes issued by a credit repair service may vary according to service levels. In other words, you may have to pay more for the most aggressive action plan. Higher service levels may include various features such as identity theft repair, access to a personal finance tool suite, FICO score tracking, and more.
Under the piecemeal approach, the company charges you after the fact for every item removed from your credit report. Piecemeal pricing can be a bargain or a nightmare, depending upon how much fixing your credit reports need. The company charges you every time it has an item removed from a credit bureau — even if it's the same item being removed.
How Soon Will I See Results?
It is important to remember that credit repair services can't guarantee results. You may have few items on your credit reports that can be challenged, especially if you are fairly new to credit.
Credit repair companies frequently pitch a four-to-six-month subscription, but you can cancel at any time. For example, you may find that the list of actionable items has been exhausted after two months and decide to end your subscription at that time.
It isn't in your interest to have a credit repair agency bombard the credit bureaus with frivolous challenges because, at some point, the bureaus may start ignoring you. The bureaus have that right under the Fair Credit Reporting Act.
Naturally, the credit repair services know these ground rules. You should expect the service to honestly alert you when it has fixed everything it can, at which point you can decide whether to have them continue monitoring your credit reports.
You should certainly exercise your right to cancel your subscription if you aren't happy with a credit repair company's performance. Third-party rating services, such as Trustpilot, are happy to hear from consumers regarding their experiences with a company.
The FTC issues this advice if you are seriously unhappy with a credit repair company:
"Although the FTC can't resolve individual credit disputes, it can take action against a company if there's a pattern of possible law violations. File your complaint online with the FTC or call 1-877-FTC-HELP."
How Do I Choose the Best Credit Repair Company?
A great place to start is with online reviews from independent information providers, such as BadCredit.org. We give you an overall summary of what you can expect when doing business with a particular credit repair company. However, no one can guarantee you will have a satisfactory experience.
Our top pick in this review is Lexington Law. We like the fact that they back up their service with accredited lawyers. Their services appear to be reasonably priced, and their top Premium Plus package offers many valuable features.
Most results of any credit repair law firm
Lexington Law Firm clients have seen more than 81 million removals from their credit reports since 2004
Get started today with a free online credit report consultation
Cancel anytime
| Better Business Bureau | In Business Since | Monthly Cost | Reputation Score |
| --- | --- | --- | --- |
| See BBB Listing | 2004 | $99.95+ | 8/10 |
Our second recommendation is Sky Blue Credit Repair, thanks to its 90-day unconditional guarantee that sets the standard for the industry. We also like its single all-inclusive service level that is well-priced.
Best-in-class support
In business since 1989
Rapid 35-day dispute cycle, tailored to your situation
90-day 100% money-back guarantee
Low $79 cost to get started, cancel or pause membership anytime
| Better Business Bureau | In Business Since | Monthly Cost | Reputation Score |
| --- | --- | --- | --- |
| A+ | 1989 | $79 | 9.5/10 |
Our third choice is CreditRepair.com, which has been in business since 2012 and has submitted more than 19 million challenges on behalf of its clients. Positive features include its TransUnion credit monitoring, score tracker, a personal online dashboard, and support for victims of identity fraud.
Free online consultation
CreditRepair.com members saw more than 8.6 million removals from their credit reports since 2012
Free access to your credit report summary
Three-step plan for checking, challenging and changing your credit report
Online tools to help clients track results
| Better Business Bureau | In Business Since | Monthly Cost | Reputation Score |
| --- | --- | --- | --- |
| See BBB Listing | 2012 | $69.95+ | 8/10 |
Whichever credit repair agency you choose, make sure you understand what it is promising and what it isn't. Remember, the agreement or contract you sign is a binding legal document, regardless of any verbal representations the company's agents may make.
Does Lexington Law Hurt Your Credit?
It's easy to confuse a credit repair agency like Lexington Law with companies that offer credit settlement. Credit repair won't hurt your credit, but credit settlement may.
Credit repair companies are in the business of removing inaccurate or unverifiable items from your credit reports. This can only boost your score, not hurt it. Credit repair may be ineffective in the worst case, especially if your credit reports don't contain many problems.
Credit settlement is quite different. The goal of settlement companies is to reduce your debt at the expense of your creditors. Needless to say, creditors hate settlement agreements, but they really hate writing down your account to zero.
In other words, creditors would rather collect something instead of nothing. While you will save money through a successful settlement, your credit score will take a big hit that will remain on your credit reports for seven years.
Here's a rundown of why you need to be wary of debt settlement:
It will lower your credit score: Debt settlement can clip your credit score by 100 points for each instance of debt forgiveness. Chances are that your score is already reeling from delinquencies, collections, and high indebtedness. Although settlements linger on your credit reports for seven years, their impact on your score begins to dissolve after two or three years.
It reduces your access to credit: Creditors are not likely to view you kindly after a settlement. They must confront the very real possibility that you won't repay your new debts in full since that's exactly what you did in the past. If they offer you new credit at all, expect to pay a high interest rate and fees. Being stuck with high-APR loans going forward may be the price you pay for the money you saved via a settlement.
Settlement companies offer no guarantees: You'll have to expect backlash from creditors when you stop paying your bills as part of your debt settlement strategy. In fact, you risk late fees, harassment, and lawsuits when you default on a loan. At the very least, you'd like to think the effort was worthwhile, but ultimately you may gain nothing.
You may be dealing with dodgy companies: Some settlement companies have been known to overemphasize the value of their offerings. Several states have decided to ban for-profit debt reduction companies due to their sketchy reputations resulting from reports of scams.
You can negotiate directly with your creditors: You may be able to negotiate directly with your creditors and avoid the fees that settlement companies charge. Those fees may cost you 30%, 40%, or more of the forgiven debt.
It's the last alternative before bankruptcy: Debt settlement is appropriate when the alternative is filing for bankruptcy. If possible, you can avoid damaging your credit score by negotiating smaller monthly payments and longer repayment terms.
Creditor games: A creditor may sue you if it finds out you are using a credit settlement company. There are always some creditors who would rather sue for the full amount due than forgive even some of your debt. In other words, some creditors may prefer to force you into bankruptcy rather than reduce your debt.
Forgiven debt is taxable: When a creditor forgives some or all of your debt, you must report the amount forgiven as taxable income. Succeeding at credit settlement can leave you with a big tax bill.
Not necessarily a long-term solution: Debt reduction does nothing to solve your long-term financial problems unless you change your behavior. By paying your bills on time and living within your means, you will be able to make long-term financial progress.
For some consumers, debt consolidation and refinancing may be a better strategy than debt settlement. For example, you may be able to pay off your old credit card debts with a personal loan or with a new credit card featuring an introductory 0% APR for balance transfers.
If you choose the latter, be aware that each transfer will require a fee (usually 3% to 5% of the transferred amount).
What Can't Credit Repair Remove From My Credit Reports?
Generally, you can't remove valid negative items from your credit reports. However, you may be able to have hard inquiries removed, even if valid, if the creditor can't provide evidence that you verified authorization for the inquiry.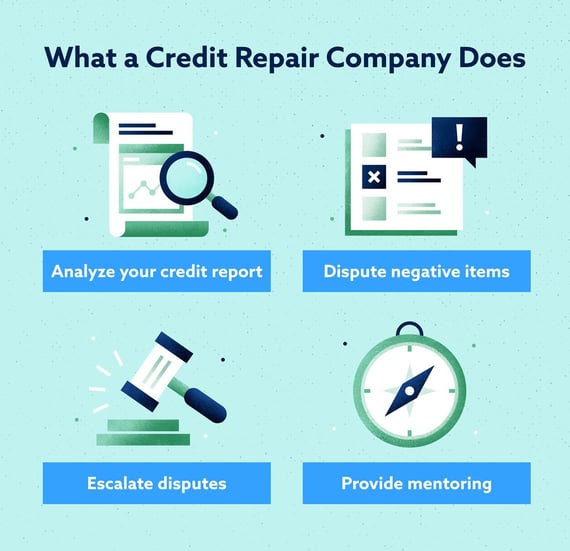 Don't expect credit repair companies to remove bankruptcies, collections, defaults, and records of other events that actually took place. Delinquencies may be removable if you reach a goodwill agreement with a creditor in which you repay your balance in full or a lesser negotiated amount.
What Are the Signs of a Credit Repair Scam?
Surely one of the lowest circles of hell is reserved for credit repair companies that take money from desperate consumers and deliver no help. Sadly, the warning signs of credit repair scams are often ignored.
Here are the things to look for when dealing with a credit consultant:
Promises to remove valid items from your credit reports: Companies can promise this but can't deliver because no one can remove negative information that is current and accurate.
Charges upfront fees: A company may ask you to pay a fee before it performs any services. According to the Credit Repair Organizations Act, a credit repair company must first complete the services promised before charging you a fee. Monthly subscriptions are structured to get around this requirement, but all forms of upfront payment before completing a promised service are illegal.
Doesn't explain your rights: Beware of a credit consultant who doesn't tell you that you can dispute errors on your own as laid out in the Fair Credit Reporting Act. Also, if you just signed a contract with a credit repair agency, it should tell you that you have three days to cancel without charge.
Advises you to dispute accurate information: An untrustworthy company may advise you to dispute everything on your credit reports, whether they are accurate or not. This will likely backfire when the credit bureaus stop responding to your frivolous complaints.
Instructs you to avoid contacting the credit bureaus: There is nothing wrong with you contacting the credit bureaus. A company that warns against it may fear you'll find out that you've been lied to by the credit repair service.
Tells you to lie on your credit applications: If this happens, not only should you immediately cease contact with the credit repair agency, but you should also report it to the authorities.
One particularly dangerous scam occurs when credit repair services promise to provide you with a new credit identity. Supposedly, this will give you a new beginning to your credit history.
The idea behind the scam is to illegally sell you a stolen Social Security number, calling it a "credit profile number." Alternatively, they may have you apply to the IRS for an Employer Identification Number, which is not a substitute for your Social Security number. Using a fake identity when you apply for credit can land you behind bars.
Compare the Most Aggressive Credit Repair Services
Our review of the most aggressive credit repair services reveals some commonalities and differences among several service providers. Before hiring any credit repair service, spend some time learning about the company and comparing its offerings with those of the competition.
We urge you to stick to well-known credit repair companies with a good reputation for honest dealings. Don't fall for promises that seem too good to be true — they usually are.
Advertiser Disclosure
BadCredit.org is a free online resource that offers valuable content and comparison services to users. To keep this resource 100% free for users, we receive advertising compensation from the financial products listed on this page. Along with key review factors, this compensation may impact how and where products appear on the page (including, for example, the order in which they appear). BadCredit.org does not include listings for all financial products.
Our Editorial Review Policy
Our site is committed to publishing independent, accurate content guided by strict editorial guidelines. Before articles and reviews are published on our site, they undergo a thorough review process performed by a team of independent editors and subject-matter experts to ensure the content's accuracy, timeliness, and impartiality. Our editorial team is separate and independent of our site's advertisers, and the opinions they express on our site are their own. To read more about our team members and their editorial backgrounds, please visit our site's About page.