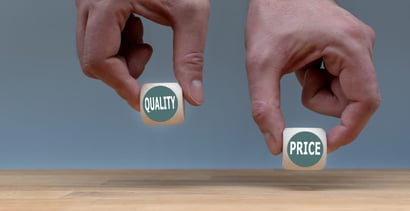 Several cheap credit repair services are in the marketplace, but the cost may be just one factor to consider when determining which service is best for you.
That said, you should not gauge a credit repair service solely on its price. After all, you tend to get what you pay for.
Below is a look at 12 different credit repair services you can find online. While you will see that each service offers a different pricing structure, you may also notice that some services offer more bang for your buck.
The Cheapest Credit Repair Service
CreditFirm.net offers one of the lowest monthly service fees and no initial signup fee. After your free consultation, you pay $49.99 per month to access a team of credit repair specialists who are supervised by licensed attorneys.
This team will file disputes on your behalf to remove any inaccurate or disputable information on your credit report. Credit Firm accepts clients from all 50 states and will not limit the number of disputes it will file for you.
You can also sign up for the couples plan and pay just $89.99 per month. This is a great option for couples in the homebuying process who need to clean up their credit.
More Affordable Credit Repair Services
You should only trust your sensitive financial information with a trustworthy credit repair service. Some services may require your payment upfront or promise they can remove all the negative items on your credit report. Both of these are red flags.
Most reputable credit repair services charge a monthly fee for their service. If you are not satisfied at any point with the service you receive, you can cancel your account and pay nothing further.
And no matter how great the advertisements sound, a credit repair company can only remove inaccuracies from your credit report. If you receive a promise to remove legitimate negative entries on your credit report, you should avoid that credit repair agency.
Most results of any credit repair law firm
Lexington Law Firm clients have seen more than 81 million removals from their credit reports since 2004
Get started today with a free online credit report consultation
Cancel anytime
| Better Business Bureau | In Business Since | Monthly Cost | Reputation Score |
| --- | --- | --- | --- |
| See BBB Listing | 2004 | $99.95+ | 8/10 |
Lexington Law has ranked as our top-rated credit repair service for a long time — and there's a good reason for that. When you sign up for one of the agency's tiered services, you immediately get a team of paralegals and lawyers on your side. And these credit repair specialists know how to get things done.
You can decide which service best fits your needs based on the condition of your credit report. Each tier requires a monthly fee you can cancel at any time. Lexington Law is the Credit Advisory Council's top-rated credit repair service.
Sky Blue Credit Repair has a history that goes back to the '80s and the company continues to innovate today. This service was one of the first to offer customers the option to pause their accounts instead of canceling them. Doing so will allow you to skip your monthly payment until you are ready to restart your account.
If cost is a concern, Sky Blue offers one single package for a flat monthly fee. If your spouse or significant other needs to work on his or her credit, you can take advantage of a couple's discount when you sign up.
Since 1997, CreditRepair.com has submitted more than 19 million challenges with the major credit reporting bureaus, which have resulted in some serious credit score improvements.
The company only operates online, so you can access your CreditRepair.com account through your desktop or its mobile application for iOS and Android devices. The agency has a one-tier-fits-all package at a good price that gives every member access to the full range of services the company provides. Every prospective client gets a free consultation before signing up.
The Credit Pros takes a slightly different approach to credit repair, which could be a good or bad thing, depending on your perspective. You start by giving the agency access to your credit report and the team will begin disputing items on your behalf.
You may not hear back from the company during that time. Instead, you will receive an updated version of your credit report after 60 days. The service instructs clients to send that copy to them. It will use that new information to continue to work on your case.
This service starts at $69 per month after a $119 initial setup fee and can increase to as much as $149 per month based on your service tier — which interestingly enough may also include savings on prescription medications.
6. Credit Versio

Credit Versio adds a new wrinkle to the credit repair industry with its do-it-yourself mobile interface that walks you through the credit repair process for a monthly fee of either $20 or $29.95.
This service works best if you have at least some financial knowledge. While the interface provides how-to videos for each step of the way, you will not have access to a live representative who can answer any questions you may have.
7. Pyramid Credit Repair

For $99 per month, Pyramid Credit Repair submits unlimited disputes and provides access to a dedicated credit counselor who can help you create a game plan to fix your credit score.
You will be hard-pressed to find a credit repair agency that allows unlimited disputes each month. As a result, Pyramid tends to help clients see results faster. On average, the agency claims that customers start to see a credit score change in approximately 45 days.
8. Credit Glory

Credit Glory offers a 90-day money-back guarantee if the credit repair company cannot create a change in your credit score during that time frame.
But Credit Glory also charges some of the highest fees in the industry. The company's $99 monthly fee comes after a $199 initial fee. If you are the victim of identity theft, the company can also dispute fraudulent inquiries on your credit report for $79 each or $799 for an unlimited number of inquiries.
9. Pinnacle Credit Repair

Pinnacle Credit Repair offers aggressive disputes and works on your behalf to initiate change in your credit score as quickly as possible. The credit repair agency claims that most clients see results in as few as 15 to 30 days.
That is a good thing because, at $99 per month and a $199 set-up fee, the charges will rack up quickly. You could opt for the company's premium service that ditches the monthly fee in favor of a one-time cost, but that will cost you between $1,500 and $2,500.
10. AMB Credit Consultants

AMB Credit Consultants charges a $149 initial service charge followed by a $99 monthly subscription fee for unlimited access to the company's team of credit resolution experts who will file and follow up on credit disputes on your behalf.
To save a little money, AMB Credit Consultants offers couples discounts if your spouse or significant other also needs to work on his or her credit history.
11. The Credit People

Over the last 15 years, The Credit People claims that it has helped to remove more than 1.5 million negative items from customers' credit reports. On average, each client sees an increase of between 53 and 187 points in their credit score.
This service offers you a choice in how you pay. You start with a $19 fee to pull your three-bureau credit report. After that, you can choose to pay $79 per month for the ongoing service, or you can save $55 by prepaying $419 for six months of service.
12. National Credit Care

National Credit Care claims that it does not automate any part of your credit repair process and employs a team of experts, all of whom are in the United States.
To start, you will pay a $189 credit report consultation fee, followed by a monthly $99 fee. The consultation fee is charged after your five-day money-back guarantee expires and you will receive your bill for the first month of work 30 days after that.
What is Credit Repair?
Credit repair is a very misunderstood process. While a reputable credit repair service can certainly help improve your credit score, you can't compare it to other repair services.
For example, let's consider an auto repair. When you bring your vehicle to a mechanic, he or she will diagnose what is wrong and, for a fee, fix it for you.
With credit repair, you may not be able to fix everything that is wrong. If you made a financial mistake that is holding your credit score down, there may not be much you — or a credit repair expert — can do to fix the situation.
Credit repair instead focuses on removing inaccurate, misleading, unverifiable, or incomplete data from your credit file.
This could include a late payment that you, in fact, paid on time. You may also have items that, because of their age, should not be on your credit file. As scary as it may seem, many consumers find that their credit report shows items from someone else's credit history.
Even a seemingly small item, such as a misspelled name or inaccurate home address, can impact your search for credit. While these items will not impact your credit score, a conflict between your application and credit profile can trigger an automatic denial from some automated underwriting systems.
Anyone can dispute inaccurate credit profile information on their own. Each major credit reporting bureau — Equifax, Experian, and TransUnion — offer online portals for consumers to dispute an item that is found on their credit report.
This process can take time and involves follow-ups and possible refiling if your dispute is denied or incomplete. A credit repair company can take this process over for you and see it through for a monthly fee.
But no credit repair service can dispute an accurate item on your credit file. Your only possible recourse for removing a negative item that should be on your credit history is to send a goodwill letter that asks the creditor to remove it. Some credit repair services can do this for you — though the outcome is not guaranteed.
No matter who files a dispute on your behalf, it could take some time to see results. When any credit bureau receives a dispute, it has up to 30 days to investigate the matter. This includes contacting the creditor who reported the data and possibly requesting supporting documentation from the consumer who files the dispute.
After the credit bureau finishes its investigation, it will rule either in your favor or against you on the matter. If you win the challenge, the item(s) will be removed from your credit profile and result in a credit score increase.
Since it can take as long as one month to see results, most credit repair services recommend budgeting for at least four to six months of service fees to complete your credit repair mission. The length of time you need will depend on the number of items you plan to dispute.
How Much Does Credit Repair Cost?
How much you pay for a credit repair service will depend on the company you choose to work with and the services you have completed. Every credit repair organization on our list above charges a monthly fee for its services. Some may also charge a setup or initial fee.
Some allow you to pay a lump sum for services rendered. The Credit People, for example, offers a six-month plan for a flat $419.
In all, you should expect to pay between $50 and $150 every month for the service and between $0 and $119 for a setup fee.

The reason the monthly fee varies so widely is due to the different service tiers that each credit repair organization offers.
For example, a basic tier may provide as few as 15 credit bureau disputes per month and little else. A top tier may offer all of that as well as goodwill letters, credit monitoring, credit dispute resubmissions, credit counseling, and other work on your behalf.
As with most things in life, you should expect to get what you pay for with credit repair. While two companies offer seemingly similar services at a very different price point, you need to consider who performs the work at each company.
One credit restoration company may hire anyone off the street to fill out forms or have a computer automate the process. On the other hand, a reputable credit repair company such as Lexington Law may partner with certified attorneys and paralegals who specialize in credit repair.
While cost is certainly a factor in just about everything we do in life, it should not be the only consideration when choosing the best credit restoration service for you. Also factor in the work the company does, the time the work will take (more on that in the next question), and who is completing the work.
Hiring the right people may cost a little extra, but it will also mean that you likely will not have to drag the process on — or even hire new people to finish the job the others could not complete.
How Long Does Credit Repair Take?
The time it takes to complete your credit repair process will depend greatly on the amount of work you need done.
For example, you could dispute and remove three or four inaccurately reported late payments in approximately 30 to 45 days. If you are the victim of identity theft and have several dozen items to dispute, you could face a process that takes six months or longer.
Every item you need to dispute will require a separate dispute form sent to the three major credit bureaus. If the disputed item appears on your credit report with each credit reporting bureau, you will need to file three separate disputes.
This is important to remember because some credit repair services limit how many disputes you can file each month. A basic service that only allows 15 disputes each month means you may only be able to dispute five items — with three possible dispute filings needed for each item. If you have many items to dispute, this could drag on for a while.
According to Lexington Law, its average client needs at least four months to see a discernible difference in their credit score.
"Statistically, our clients have seen impressive credit report results, with an average of 10.2 items, or 24% of their representing negatives, removed within 4 months."
This is, of course, an average. Each client will see different results. Although we would all love to move our disputes to the front of the line, the truth is that these things take time.
When you — or a credit repair service that represents you — file a credit report dispute, the credit bureau receiving the dispute has up to 30 days to respond to the filing. During that time, the credit bureau will investigate the claim.
This includes contacting the creditor who filed the disputed information and maybe reaching out to you for documentation to support your claim. Once the credit reporting agency reaches its decision, the item will either remain on your credit report or will be instantly removed. The entire process could take up to 45 days to complete.
And that is just for one dispute. If you have several items to dispute, you could have to wait for multiple investigations and resolutions.
This is the biggest misconception about credit repair. Many people think that they can simply pay a fee that instantly has several negative items removed from their credit history. The truth is that you sign up for a service and may not hear anything or see any results for nearly two months afterward.
Thankfully, many credit repair services, including National Credit Care, offer a money-back guarantee after 90 days. These guarantees will cover all of your expenses if the agency is unable to have anything removed from your credit report during that time frame. If there is any change to your credit report — even if it does not bring about a change to your credit score — you will lose your eligibility for the guarantee.
What is the Best Credit Repair Service?
When something is labeled as the best, it should yield results and get the job done in the most efficient way.
If you use those criteria, then Lexington Law remains the best credit repair service. This is because Lexington Law partners with paralegals and lawyers who prioritize clients' needs.
And since you aren't paying these lawyers by the hour, there is no need to drag your case out. Lexington Law will use its combined credit repair experience to get to work on your behalf and dispute anything that should not be on your credit report. And, since the firm also handles goodwill letters, it could potentially have accurate information removed with the consent of the creditor.
Most results of any credit repair law firm
Lexington Law Firm clients have seen more than 81 million removals from their credit reports since 2004
Get started today with a free online credit report consultation
Cancel anytime
| Better Business Bureau | In Business Since | Monthly Cost | Reputation Score |
| --- | --- | --- | --- |
| See BBB Listing | 2004 | $99.95+ | 8/10 |
When you hire Lexington Law, you can rest assured that your case is being handled quickly and responsibly. This means that you will not have to pay several months' worth of fees for a case that could find resolution in half that time.
Plus, all prospective clients get a free consultation with a Lexington Law representative before signing up for an account. This consultation will cover your credit report and any questions you may have about the credit repair process.
After deciding which information you may be able to dispute, the firm's representative will let you know if you are a good candidate for credit repair. If you are, you can discuss the different service tiers — Concord Standard, Concord Premier, and PremierPlus — offered by the firm and decide which is the best for your case.
As soon as you finish your signup process, the firm will go to work on your case.
Is Hiring a Credit Repair Company Worth It?
If you do not have the time, patience, or know-how to dispute credit report inaccuracies on your own, you should consider hiring someone who does.
While anyone can dispute items on their own credit report, this process could take some time and effort. You may want to attempt this on your own to see if you can find success without paying a monthly fee. You may even want the experience to see if you can learn something.
Both of these are good reasons to attempt to perform your own credit repair. You could always hire someone to try again if you are not successful.
But in today's crazy world, we do not always have time to learn a new process and skill. And patience is certainly something that is in short supply.
If you can afford to pay for an expert to complete your credit repair process without going into debt, you may want to consider that option. After all, hiring someone to work on your behalf will open your time up to do the things that you really want to do.
Plus, when you hire an expert who knows how to get things done, you increase your odds of success and decrease the chances that you will have to prolong the process by refiling after a rejected dispute.
All of these things can cost time and potentially money — something that none of us have enough of.
What is a Good Credit Score?
Many lenders today use your FICO score to determine loan eligibility. Your score can range between 300 and 850. Any score that falls between 670 and 739 is considered good.
A score of 580 or below is considered poor. Between 580 and 669 is fair. Falling in the 670 to 739 range is good and between 740 and 799 is very good. Any score at or above 800 is considered excellent.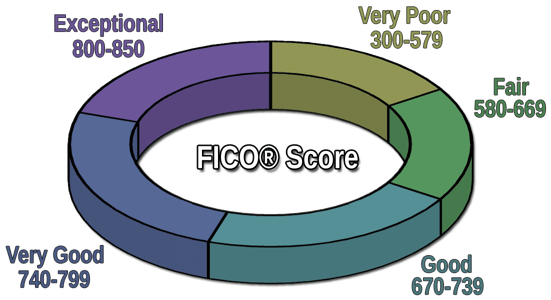 But that does not mean that you have to fall in the good range to get a personal loan or credit card.
Many lenders work with consumers who have credit ratings that are in the fair or even poor range to find credit options that work for them. These products could also help you rebuild your credit score if you use them responsibly, keep your balances low, and pay your bills on time.
Most lenders will report your payment history to at least one credit bureau. When that happens — as long as it is a positive history — you will push previous negative items further down your credit profile and further strengthen your current history.
In just about every case, a lender will look more at your most recent six to 12 months of history and weigh that more heavily than older credit mistakes. The more positive items you can add to your recent history, the better off you will be.
How Can I Fix My Credit For Free?
Every credit bureau provides a free online form in which you can submit a dispute for an item — or items — that appear on your credit file. The three major credit reporting bureaus are Equifax, Experian, and TransUnion.
You can file a dispute online or contact each bureau over the phone or through traditional mail. There is no charge for disputing an item on your credit report.
The best way to start the process is to pull your free annual credit report. This will not show you your credit score, but it will reveal all of the items that determine your credit score.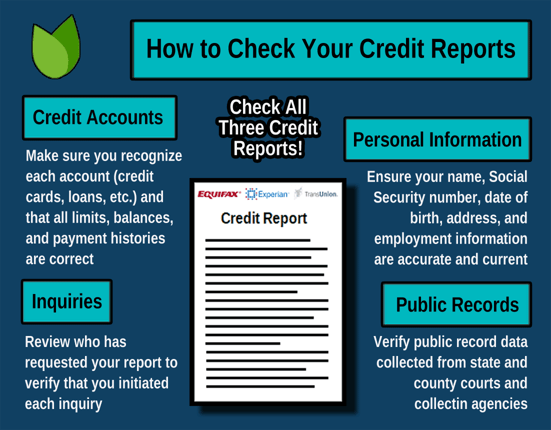 Study each one carefully. Remember — you cannot dispute a legitimate item on your credit file. If you really didn't make your credit card payment three months ago, it will have to stay there until it ages off. That can take up to seven years.
But do not worry. As these items get older, they lose their impact on your credit score.
If you find any inaccurate, misleading, or old items that should not be on your credit report, you can dispute them with each credit bureau online. If the items appear on all three credit reports, you will have to dispute each item individually with each bureau. That means three separate disputes.
Once you submit the dispute, the credit bureau will initiate a debt validation investigation. This may mean contacting a creditor to see if they submitted the wrong information or to confirm that your newly submitted data is correct.
You may have to submit supporting documents to back up your claim. If any bureau needs more information, it will contact you via email to let you know. Each bureau also allows you to create an account with which you will gain free access to a dashboard that gives you updates on each dispute you file.
Investigating a dispute can take up to 30 days. It could take as long as 45 days after you file the dispute to get a final decision.
If the bureau rules in your favor, it will delete the negative item right away. If it rules against you, there is still an opportunity to re-file the dispute with any documentation or evidence that you may have left out during your first filing.
Check your credit report regularly, even after an item is removed. Occasionally, the automated reporting software from a creditor may resubmit the same inaccurate information the very next month. That could put that negative data back on your credit report and force you to have to resubmit your dispute.
The process of clearing all of the inaccurate data on your credit report could take months. Stay patient and diligent. If you are in the right, you will eventually prevail.
Should I Pay a Charged Off Debt?
While the debt will still show as a collections account, the debt will appear as paid in full. You will still experience a negative hit to your credit scores from the collections account, but future lenders will appreciate that you made good on your debt.
On some occasions, you could negotiate with the collections agency to get a pay-for-removal or pay-for-deletion. This happens if the debt collectors agree to remove any negative credit reporting in exchange for your paying off the debt.
This is a big deal for collections agencies since they purchase the debt from the original lender for pennies on the dollar. Any payments they receive can bring about a big profit. Some are willing to work with you if it means collecting their money.
If your debt collectors agree to this deal, get the agreement in writing. That way you can have some proof to fall back on if the collections agency does not fulfill its end of the deal.
How Can I Wipe My Credit Clean?
There is no way to completely wipe your credit report of all of the negative information — unless you remain financially stagnant for seven to 10 years and wait for all of the data on your credit report to age off.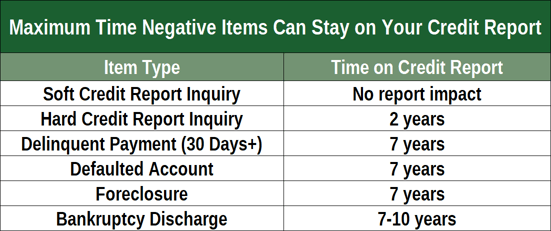 You could attempt to contact lenders to see if they will agree to a pay-to-delete offer. This means that the lender will agree to remove any negative credit reporting in exchange for payment in full.
This does not always work, but it could give you a positive boost to your credit score if it does.
You could also dispute any negative items on your credit report. It may be more efficient to hire a credit repair service — like those listed above — to do these. These agencies are typically run by experts who offer a free consultation to let you know what you can realistically expect from their services.
Another option is to try the free Experian Boost program. With Experian Boost, you can give Experian access to your checking account to find any bills that are not regularly reported to credit reporting bureaus — things such as your electric bill, rent, or Netflix payment.
Experian can then use those on-time payments to show a positive payment history. The average user will see a credit score boost of up to 13 points.
The only catch is that your credit score increase will only apply to your Experian score. The other credit bureaus will not receive this information or update your account.
Aside from that, the best way to clean up your credit history is to pay down debts and make all of your payments on time. While this strategy will not provide an instant credit polish, it will help to create the foundation for a new financial beginning.
How Long Does a Bankruptcy Stay on Your Credit Report?
There are two major types of bankruptcy cases — a Chapter 13 bankruptcy and a Chapter 7 bankruptcy. Chapter 13 will remain on your credit score for seven years, and Chapter 7 will remain for 10 years.
A Chapter 13 bankruptcy allows you to stretch your debts out without interest so you can create a long-term plan for paying off your debtors.
Chapter 7 relieves you of your debts and wipes away many of them from your monthly bills. This is a far more severe form of bankruptcy — which is why it lives on your credit report longer.
You will find it more difficult to recover quickly from a Chapter 7 bankruptcy, as lenders are often less willing to approve a loan or credit card for a consumer who recently left other lenders unpaid.
How Much Will Credit Repair Help My Credit Score?
How much of a credit score improvement you experience after a negative item removal will depend on the type of item removed. Improvements can vary from five points to 60 or more for a single correction.
According to Financeography, here's a breakdown of how many points you can expect to reclaim by removing specific items from your credit report.
Late Payment — 5 to 60 points: Older late payments don't impact your bad credit score as much as recent late payments. If the item you remove is a few years old, it won't impact your score as much as an item that is only a few months old.
Repossessions — 30 to 80 points: These can greatly weigh down your credit score, but they're harder to remove. If you stopped paying on an item for long enough that the lender had to repossess it, chances are the lender won't be willing to help you by removing the stain from your credit file.
Hard Inquiries — 5 to 20 points: While a hard inquiry may not beat your bad credit score up badly, you could see a cumulative effect if you have lots of inquiries. If you have several removed at once, you could see a larger jump in your credit score.
Charged-off Accounts — 15 to 75 points: If a lender charges off your account due to nonpayment, it may sell your debt to a collection agency. When that agency reports the debt, you'll receive a double-hit to your credit score — the collection and the charge-off. Having the charge-off removed could give your poor credit score a little more life.
Tax Liens — 20 to 90 points: If you pay your tax lien off, you can submit a form through the IRS to have the lien removed from your credit history.
Foreclosures — 30 to 75 points: A foreclosure can hurt you far beyond the hit to your credit score. A foreclosure typically only occurs on a mortgage or other sizable debt. Defaulting on such a large amount can scare away future lenders that may otherwise consider your application for a loan or credit.
Bankruptcy — 30 to 60 points: A bankruptcy lives on your credit report for as long as a judge says it will — typically between three and 10 years. There's no way to request the removal of a bankruptcy from your credit report, but you could attempt removal if you repay the debts you're charged with. Otherwise, patience is the only way to see it through.
Remember that these numbers are projections and not concrete figures. Someone with a very low credit score may earn back more points with a removal than someone who has a high credit score.
Can Credit Repair Companies Remove Hard Inquiries?
There are different ways to remove hard inquiries from your credit report. One is through a similar dispute process you could initiate with any other inaccurate information. This could remove inquiries that:
You didn't approve
You were not aware of
The number of inquiries made was greater than your expectations
You were pressured into approving
Hard inquiries typically live on your credit report for two years. If you want to attempt to remove them earlier, you can send an inquiry deletion request letter to each credit reporting agency.
You can also hire a professional credit repair company to attempt to remove them on your behalf.
None of these options are guaranteed. If a company guarantees that it can remove hard inquiries or any other accurate information from your credit file, you may be setting yourself up for a credit repair scam. Avoid these companies.
Is Lexington Law Worth the Money?
Lexington Law has a long track record of success and is considered one of the most reputable professional credit repair services in the industry. The company maintains many positive reviews and typically works to remove millions of negative items on clients' credit reports each year.
While the firm's fees are slightly above the industry average, they are far less than what you may pay to hire a lawyer or paralegal to dispute items for you — which is exactly what you get when you sign up for Lexington Law service.
And you should not minimize the impact of having a lawyer on your team. If a debt collector is not responding to your dispute, a letter from a lawyer will often get the ball rolling faster than a dispute letter from an average Joe at another credit repair firm.
Cheap Credit Repair Services Aren't Always What They Seem
You would not search out a tattoo outlet center to get some fresh ink on your arm — so why would you only consider the cheapest option for credit repair? Just like that tattoo, your credit score will live with you forever.
A cheap credit repair firm may promise you the moon and only deliver asphalt. By considering one of the credit repair options above, you can save money but retain the peace of mind that someone knowledgeable is handling your case and fighting to get you the results you need to get a fresh financial start.
Advertiser Disclosure
BadCredit.org is a free online resource that offers valuable content and comparison services to users. To keep this resource 100% free for users, we receive advertising compensation from the financial products listed on this page. Along with key review factors, this compensation may impact how and where products appear on the page (including, for example, the order in which they appear). BadCredit.org does not include listings for all financial products.
Our Editorial Review Policy
Our site is committed to publishing independent, accurate content guided by strict editorial guidelines. Before articles and reviews are published on our site, they undergo a thorough review process performed by a team of independent editors and subject-matter experts to ensure the content's accuracy, timeliness, and impartiality. Our editorial team is separate and independent of our site's advertisers, and the opinions they express on our site are their own. To read more about our team members and their editorial backgrounds, please visit our site's About page.