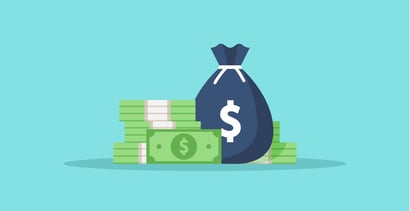 You may worry about the price tag when signing up for credit repair services, but your total credit repair cost is often far less than what you pay for having bad credit.
Maybe you're dealing with sky-high interest rates, oppressive fees, or you simply can't find the loan you need because of your bad credit. But with a legitimate credit repair company, like those listed below, you can fix any inaccuracies reported to a credit bureau and get your credit score in better shape.
Each credit repair service below will charge a monthly fee for its services. The services you receive will vary by the credit repair company and the service tier you choose.
While all of these companies will file disputes with each credit bureau on your behalf, some also offer credit monitoring, credit counseling, identity theft detection services, debt validation letters, goodwill letter submissions, and dispute letter drafting, among other services.
1. Lexington Law: $99.95 – $139.95/Month
Lexington Law is our top-rated credit repair firm. It offers multiple service tiers to choose from, each at a different monthly price point. The tier you choose will depend on the work you need done. But if you're only looking to remove a few inaccuracies from your credit report, the lowest-priced tier should suit you fine.
Free consultation: 1-855-200-2394
Most results of any credit repair law firm
Clients saw more than 7 million negative items removed from their credit reports in 2020
More than 221 million challenges and disputes sent for clients since 2004
Cancel anytime
| Better Business Bureau | In Business Since | Monthly Cost | Reputation Score |
| --- | --- | --- | --- |
| See BBB Listing | 2004 | $99.95 | 10/10 |
The highest-priced tier, Premier Plus, offers cease-and-desist letters, a FICO Score tracker, identity theft protection resources, and personal finance tools to teach you how to keep your credit score in tip-top shape.
2. CreditRepair.Com: $49.95 – $119.95/Month
CreditRepair.com offers three service tiers with varying tools available to clients. Before your credit counselor starts your credit repair process, you'll have to pay a first-work fee that is equal to your monthly fee.
Free online consultation
Helped with over 8.2 million removals on members' behalf since 2012
Free access to your credit report summary
Three-step plan for checking, challenging and changing your credit report
Online tools to help clients track results
| Better Business Bureau | In Business Since | Monthly Cost | Reputation Score |
| --- | --- | --- | --- |
| See BBB Listing | 2012 | $49.95 | 9.5/10 |
This initial fee acts as a setup charge for your account and allows the credit repair business to begin work on your case — which can include unlimited disputes on its highest tiers.
3. Sky Blue Credit Repair: $79/Month
Sky Blue Credit Repair doesn't require an upfront fee to get started on your case, but you are responsible for a review/setup fee that's equal to your monthly service fee and is charged to your account approximately six days after signing up.
Free consultation: 1-888-805-4944
In business since 1989
Quick pace: Sky Blue disputes 15 items monthly, track your progress 24/7
90-day 100% money-back guarantee
Low $79 cost to get started, cancel or pause membership anytime
| Better Business Bureau | In Business Since | Monthly Cost | Reputation Score |
| --- | --- | --- | --- |
| A+ | 1989 | $79 | 9.5/10 |
Sky Blue only offers one basic service package that includes all of its tools and creditor interventions for a flat monthly fee. It also offers a 90-day money-back guarantee.
4. Credit Assistance Network: $139/Month
Credit Assistance Network wastes no time in getting down to business. Within three days after setting up your account, this credit repair agency can file up to 45 dispute letters to the credit bureaus on your behalf.
Free online evaluation
One-on-one action plan with a certified FICO professional
24/7 Access to your online client portal
90-Day Money-Back Guarantee
| Better Business Bureau | In Business Since | Monthly Cost | Reputation Score |
| --- | --- | --- | --- |
| A+ | 2009 | $69+ | 7.5/10 |
Your flat-rate monthly fee will also include several other handy services and 24/7 access to your personalized online client portal. There, you can track real-time progress on your account and get updates to your credit report and credit rating.
5. Ovation Credit Repair: $79 – $109/Month

Ovation Credit Repair charges an $89 setup fee to create your account. You can choose between two service tiers based on the work you need done.
While both tiers provide you with a professional credit analyst, the basic tier only accounts for dispute letters and tracking. The premium tier will give you credit score monitoring, goodwill letter submissions, unlimited challenge validation letters, and a final letter of recommendation.
6. Credit Versio: $20 – $29.95/Month

Credit Versio may seem like a far more affordable option if you only look at the numbers. But the lower cost makes sense when you realize that this service enables you to perform your own credit repair tasks.
Credit Versio's platform gives you the tools you need to file your own disputes if you're the do-it-yourself type. It helps you evaluate your credit history and walks you through the process of filing and following up on credit dispute letters.
7. Pinnacle Credit Repair: $99/Month

Pinnacle Credit Repair charges a one-time fee of $199 when setting up your account. While this is a larger-than-average charge, you're paying for an aggressive service that gets results quickly.
This agency claims that many clients see results within 15 to 30 days because the firm immediately begins submitting dispute and debt validation letters on your behalf.
8. Credit Saint: $79.99 – $119.99/Month

Credit Saint offers three distinct service tiers that will each require a first-work fee of between $99 and $195 to set up your account. This company rates each tier on its aggressiveness level, with the premium Clean Slate package providing the most aggressive service.
This includes unlimited challenge letters as well as Experian credit score monitoring.
9. Credit Firm: $49.95/Month

Credit Firm offers a reasonably comprehensive service for one of the lowest monthly costs on this list. Clients are assigned a dedicated credit repair specialist who is supervised by a licensed attorney.
This firm assures your repair process is handled quickly and professionally, and there's no limit on the number of disputes it will file on your behalf. You don't have to pay a setup fee to get your account up and running.
10. Credit Glory: $99/Month

Credit Glory charges a one-time $199 fee before beginning work on your behalf. As a bonus, you can receive a refund of your monthly fees if the agency cannot enact a change in your credit score within 90 days.
That guarantee is great peace of mind if you're new to credit repair and aren't sure whether a service can help you. Your refund does not include the initial setup fee.
11. Pyramid Credit Repair: $99/Month

Pyramid Credit Repair is a rare agency that will file unlimited disputes on a client's behalf each month. Since you won't deal with dispute limitations, you could see results faster with this service than you would with another.
Pyramid claims that most of its clients see credit score changes within 45 days after opening an account.
12. The Credit People: $79/Month

The Credit People requires a $19 fee to pull your credit report from each of the three bureaus. This is how the agency creates a game plan to fix any inaccuracies reported under your name.
If you'd prefer to save some money, The Credit People offers a six-month plan for $419 and provides the company's full services for six months. This saves you $55 when compared with what you would pay for the monthly payment plan.
13. AMB Credit Consultants: $99/Month

AMB Credit Consultants requires a $149 setup fee before it will begin work on your case. You'll retain unlimited access to the agency's team of credit resolution experts who will answer any questions you may have.
This consultancy offers couples discounts if you're ready to tackle the credit repair process with your significant other.
14. National Credit Care: $99/Month

While many of the services listed above offer free consultations for prospective clients, National Credit Care charges $189 for your initial meeting. This isn't very different from the setup fee most services charge, but it's notable how the price is labeled.
New clients have a five-day money-back guarantee to try the service out. If they aren't satisfied, they can receive a complete refund of the initial fee.
15. The Credit Pros: $69/Month

The Credit Pros offers a hands-off approach to credit repair. It charges a $119 setup fee, which gives the agency access to your credit reports. But don't expect to hear from the company with updates. Instead, you'll receive an updated credit report every 60 days to show you any progress made.
This may not be the service for you if you want more personalized assistance.
What Is Credit Repair?
Credit repair is a meticulous process that removes inaccurately reported information from your credit report. Often confused with credit restoration, this service cannot remove legitimate items reported to the credit bureaus.
In some cases, a credit repair organization may be able to file creditor interventions with a debt collector or with the original creditor to remove the negative item from your credit history in exchange for repayment of the debt. This is called a pay-for-delete deal.
A legitimate credit repair company won't promise to wipe your credit report clean. These services can submit a dispute letter to each of the credit reporting agencies to request the removal of any items that shouldn't be on your credit report. Examples of items that can be removed include:
Incorrect spelling of your name or address
Mistaken credit card or loan balances
Inaccurate late payments
Unrecognized charge-offs or collection accounts
Accounts that should have aged off of your credit report
These things can decrease your credit score and take you out of the running for a loan or credit card. Fixing your credit reports, either by doing it yourself or with the help of a credit repair service, can quickly increase your credit score.
How Much Does Credit Repair Cost?
Every credit repair organization charges a different price for its services. Just about every service charges a monthly fee that pays for the ongoing work of the agency.
Each month, the credit repair service you hire will file a set number of dispute letters on your behalf. The credit reporting agencies have 30 days to investigate and rule on every dispute. This means that your credit repair process may take several months to complete, depending on the number of disputes you need.
And since there's no way to tell how long your disputes will take, most agencies charge by the month. In most cases, you can cancel your service and stop making payments by providing a 30-day notice.
While every credit repair business will offer to send a dispute letter for each invalid credit report entry, the best agencies separate themselves with their additional offerings.
These may include credit monitoring to track your credit score changes, credit counseling to learn ways to maintain a good credit score, identity theft services to detect potential fraud, or goodwill letter submissions to attempt to remove legitimate charged-off accounts.
In addition to these services, it's important to note who is in charge of your account. Our top-rated firm, Lexington Law, appoints a paralegal or credit lawyer to your case. Other services may hire anyone off the street to submit your disputes.
This is an important factor and can make a big difference in how quickly your case is finished, which may mean fewer monthly payments for you.
Can Credit Repair Wipe My Credit Clean?
No company in the credit repair industry — or any credit repair software currently available on the market — can completely wipe your credit profile clean.
If you have legitimate negative items on your credit reports — such as a late payment, default, or bankruptcy — you'll have to wait until those items age off your reports. This can take between two and 10 years, depending on the type of negative item.

A credit repair company can only dispute inaccurate items on your credit report and challenge your creditors to verify legitimate items. It is illegal to claim a legitimate item is inaccurate when filing dispute letters.
In some cases, a repair service can file a goodwill letter on your behalf to petition a debt collector to remove an accurately reported negative item. This isn't a guaranteed process and is completely up to the debt holder to agree to or deny the request.
There's no way to erase your credit history and start fresh completely. Instead, you can focus on improving your poor credit score by:
Making on-time payments
Paying down high balances
Using a tool such as Experian Boost to add positive data to your credit reports
Taking out a credit builder loan at your local credit union
Monitoring your credit report for inaccuracies
You can receive a free credit report from each credit bureau every calendar year. You won't see your credit score on your credit report, but you will see all of the items — both positive and negative — that make up your credit profile. This is a great starting point for your credit restoration journey.
How Long Does Credit Repair Take?
The time you'll need to repair your credit will depend on the amount of work it needs completed. For example, you may find that it takes a month or less to remove a few inaccuracies from your credit report. More in-depth disputes may take longer.
According to our top-rated firm, "70% of Lexington Law clients who saw a credit score increase had an average increase of 40 points in six months."
Since most credit repair services charge by the month, it's wise to budget for at least six months of service fees.
When you file a dispute through a credit bureau, that agency generally has 30 days to investigate the claim and make a ruling. Most credit repair services limit how many disputes they will file on your behalf each month. That means that you may have to wait several months to file all of your necessary disputes.
What Can Credit Repair Remove From My Credit History?
A credit repair service can legally petition for the removal of any inaccurate information on your credit report. This can be as simple as a misspelling of your name, address, or Social Security number or something far more complex, such as accounts added to your name due to identity theft.
The key to this is to understand that you can only dispute inaccurate information. If you missed a credit card payment and it was reported to the bureaus, there may be nothing you can do to have that negative item removed. Legally, a credit repair service can't have that item wiped away from your history.
You should second-guess any credit repair service that claims it can remove legitimate items, wipe away your valid debts, or completely clean your credit history. This is typically a sign of a credit repair scam and rarely leaves you with a clean credit score. Instead, these fraudulent companies will often clean out your bank account and run.
Just remember: If something sounds too good to be true, it likely is. The credit repair agencies listed above have a long history of helping consumers improve their credit rating by removing legitimate inaccuracies.
If you have negative items on your credit report, you may be well-served by hiring an experienced credit repair company to tackle this complex job for you.
Research Credit Repair Costs Online
The credit repair industry is generally filled with reputable companies that can help you repair your credit. However, some bad apples claim they can wipe your credit history clean or promise you'll leave with an excellent credit score. In the end, these services always turn out to be a credit repair scam.
The credit repair cost of services is a small price to pay to hire a legitimate credit repair company with your best interests at heart. These companies want to see your credit rating improve through legal means.
While the monthly fee may seem steep, it's a minimal cost compared with the amount you'll pay in interest charges and fees if you go through life with poor credit. Consider credit repair as an investment in your future.
Advertiser Disclosure
BadCredit.org is a free online resource that offers valuable content and comparison services to users. To keep this resource 100% free for users, we receive advertising compensation from the financial products listed on this page. Along with key review factors, this compensation may impact how and where products appear on the page (including, for example, the order in which they appear). BadCredit.org does not include listings for all financial products.
Our Editorial Review Policy
Our site is committed to publishing independent, accurate content guided by strict editorial guidelines. Before articles and reviews are published on our site, they undergo a thorough review process performed by a team of independent editors and subject-matter experts to ensure the content's accuracy, timeliness, and impartiality. Our editorial team is separate and independent of our site's advertisers, and the opinions they express on our site are their own. To read more about our team members and their editorial backgrounds, please visit our site's About page.