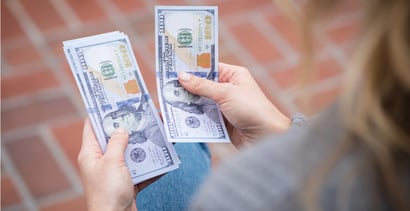 High-risk personal loans aren't necessarily a high risk to the borrower. Instead, the lender takes on the risk by lending to people who have bad credit.
A bad credit borrower can get a loan amount and repayment term to fit their needs quickly without having to come up with collateral for the loan. The loan will likely have a higher interest rate than it would for someone with excellent credit, but most consumers should still be able to qualify for a loan they can budget for.
High Risk Personal Loans For Bad Credit
Lending networks are a good place to start looking for a high risk loan. These networks are free to use and connect applicants with multiple lenders for an unsecured loan by prequalifying them through an online application.
The lenders these networks partner with expect applicants to have a bad credit score and tailor their loan offerings to them.
Short-term loans up to $5,000
Online marketplace of lenders
Funds available in as few as 24 hours
Simple online form takes less than 5 minutes
Trusted by more than 2 million customers
| Loan Amount | Interest Rate | Loan Term | Loan Example |
| --- | --- | --- | --- |
| Up to $5,000 | Varies | Varies | See representative example |
The lenders that work with MoneyMutual can deposit cash in your bank account in as little as 24 hours. The quick and simple online form takes only about five minutes to fill out.
A decision from a direct lender can come within minutes of submitting the information requested by MoneyMutual. There is no minimum credit score required to apply for a loan through MoneyMutual.
The loan term from a direct lender through CashUSA starts at three months. That's a short period to repay a bad credit loan, but it's best to pay off a personal loan as quickly as you can to avoid paying more in interest charges.
This personal loan lender network also offers loans for up to 72 months, or six years, which can make a larger loan more affordable. An obvious downside is that you'll likely pay more interest with a longer loan term, but the extra time can make the payments low enough to afford.
BillsHappen requires applicants to be employed, either as an employee or self-employed, but it also allows benefits to be used as income to ensure you can afford the loan payments.
As part of its services, it also helps people with bad credit find loans if they have a fixed income. Someone with a job who also receives benefits should specify the form of income that represents a higher percentage of their monthly income.
CreditLoan.com reports that 30% of Americans have low credit scores. Such people may need a bad credit loan from time to time. After submitting your information, CreditLoan.com will try to match you with a lender in its network. If it does and you agree to the loan, you'll be taken to an electronic signature page to complete the loan process.
The site does a good job of educating consumers about what a bad credit loan is. Using a credit card, for example, to make a large purchase or pay for an emergency, could max out your credit cards. That would drive up your credit utilization rate, which could hurt your credit score. A loan diversifies your credit mix, which can raise a credit score, as can paying the loan back on time.
BadCreditLoans.com has some basic requirements that aren't difficult to meet to get a bad credit loan. However, the site indicates that meeting its requirements doesn't mean you'll be connected with a lender.
Having a regular income through a job or benefits, such as Social Security, is a requirement to prove you can afford the loan. Bad Credit Loans also asks applicants to be at least 18, provide proof of citizenship or legal residency, have a checking account in their name, and provide contact information, including telephone numbers and an email address.
A high risk business loan can be available through PersonalLoans.com, which works with lenders that provide some of the highest loan amounts available from the lending networks we've reviewed. This doesn't mean it's a high-risk business loan because of your business savvy, but because having bad credit can make the loan a higher risk for the lender.
This personal loan can be used for whatever you need — whether that's money for your business, home improvement projects, an unexpected bill, or just a family vacation.
CashAdvance.com can help people with a poor credit history find a payday lender for a cash advance loan, also called a payday loan. These small loans must be repaid quickly, often within two weeks. If not, then the loan balance rolls over, and the interest charges compound.
Interest rates on a payday loan are usually much higher rates than for any other type of personal loan, so be sure you can afford the payments before agreeing to a payday loan.
What is a High-Risk Personal Loan?
A high risk personal loan is a loan for someone with bad credit. Having a poor credit history makes a loan riskier for a lender. The main risk is that the lender won't get paid back for making the loan.
If you've made late payments on bills or haven't paid some back at all, then your credit score may drop low enough for many lenders not to want to approve you for a loan.
This can be difficult if you're living paycheck to paycheck or don't have the savings to cover an emergency expense. Even a weekly expense can sometimes be difficult to pay, and you may need an unsecured personal loan to tide you over until your next paycheck arrives.
One aspect of having bad credit is that, when you need a personal loan, you may only be able to get one through a lending network. These lenders specialize in helping people with bad credit. An alternative lender may charge higher interest rates than it or a traditional financial institution would to a borrower with good or excellent credit.
The good news is that it's relatively easy to be approved for a bad credit loan. The main requirement is that you have at least $800 in monthly income or benefits. Some lenders require $1,000 or so in monthly income. You want to show them that you can afford the loan.
A repayment term can last from a few weeks to six years. A larger and longer personal loan can have lower monthly payments, though it means paying more interest.
How Do I Get a High-Risk Personal Loan?
Applying for a personal loan if you have bad credit is easy if you can prove you earn $1,000 or so in monthly income through employment or benefits.
The process starts when you fill out a quick online application with the lending networks we've recommended. The application process is free, though some networks may make money by sharing your information with their lending partners and other third-party lender networks outside of their network. In other words, you may be bombarded by emails, calls, or texts offering to help you with your credit problems.
After providing some basic information about yourself, the lending network will give your application to its group of lenders. This eliminates the need to apply with several direct lenders and puts your application in front of lenders willing to work with you. A personal loan lender — or several — may follow up with a loan offer in minutes.

The offer may be different from the amount you requested to borrow. It will also include what the interest rate will be for the bad credit personal loan. You may get offers from multiple lenders. You can choose which online loan, if any, you want to accept.
Once you choose the loan offer that suites you, you'll then be sent to the lender's website to provide more information, such as details of your employment and debts before the final loan terms are given to you to approve. Even at this stage, you can still back out and decide not to go ahead with the loan.
If you agree to the loan with your electronic signature, your loan proceeds can often be sent to your bank account within one business day. Automatic payments may be required so the loan is paid on time every month, which can be set up electronically through your checking account.
Can I Have Bad Credit and Still Be Approved?
Yes, many loan services work with bad credit borrowers. Applying to lenders that work with subprime borrowers is one way to help increase your odds of getting approved for a loan.
The lending networks above can't guarantee that you'll be approved for a loan, but chances are you will be approved if you meet the minimum requirements. If you aren't approved, they may refer you to other companies that can help you.
An approval decision should come quickly, with many lending networks letting applicants know within minutes if they've prequalified for a loan. The networks won't do a hard credit check.
From there, customers will be sent to the lender's website to provide more information. A lender may deny an application. One reason for receiving a denial is when someone can't confirm who their employer is.
The actual lender will likely do a hard credit check. Seeing an applicant's bad credit history may be enough to stop some lenders from offering a loan. But an online lender that specializes in bad credit loans will often still approve a loan to someone with a poor credit score.
Approval can still happen quickly, sometimes within minutes or a day, and the money for the loan can be sent to your bank account within one business day of approval.
What Credit Score Is Allowed?
The lending networks and lenders they work with don't specifically state the minimum credit score they allow for loan approval, but they make it clear that most loan requests can be approved even with a bad credit score.
The FICO credit score range is 300 (worst) to 850 (best). A FICO credit score below 580 is considered bad credit.

Here are the main factors that affect a credit score, with the percentage that each factor accounts for:
Payment history: 35%
Amounts owed: 30%
Length of credit history: 15%
New credit: 10%
Credit mix: 10%
Not paying your bills on time can cause a credit score to drop significantly, as can owing a large amount of money, such as having a credit card balance of more than 30% of your available credit limit.
Few people have FICO credit scores near the bottom range, which is from 300 to 579. But a bankruptcy may cause a credit score to drop to 400 or lower, depending on where your credit stood before your declared bankruptcy.
You may still qualify for an unsecured personal loan, meaning you won't have to put up collateral to guarantee the loan, if your credit score is below 579.
For example, an auto loan usually uses the car as collateral for a secured loan. The lender can take the car if the borrower doesn't make payments. An unsecured loan only requires your signature as a promise to pay.
An alternative lender may be more interested in customers who demonstrate a pattern of financial responsibility rather than a good credit score. This may include not having accounts more than 60 days late, no active or recent bankruptcies, no pattern of late payments, no debt that can't be covered by current income, and not having any recently charged-off accounts.
What Approval Requirements Do Lenders Have?
You may think that a high risk lender would have stricter lending requirements than a traditional financial institution like your neighborhood bank or credit union that offers loans and other banking services. But many small loans from an alternative lender come with simple, basic requirements that many people can meet — especially applicants with a bad credit score.
One of the main requirements is to have a reliable income or benefits of $800 to $1,000 per month, depending on the lender. For example, lenders that work with PersonalLoans.com require a minimum income of $2,000 per month.
You may have to prove you're employed by presenting a recent pay stub or a bank statement. Benefits, such as Social Security, disability, or retirement account payments, can also count as income. Other common requirements include:
Age: At least 18.
Citizenship: U.S. citizen or resident.
ID: Social Security number, valid email address, work and home phone numbers, and bank account.
Bank account: Active bank or credit union account in your name.
Satisfying these requirements is usually enough to be approved for a loan.
Can I Get a Personal Loan With No Proof of Income?
Yes, if you only consider regular employment as proof of income. But many online lenders consider other forms of income, including:
Government benefits
Retirement funds
Investment returns
Alimony or child support payments
Annuities
Student loan money
If you have multiple income streams, you can increase your chance of loan approval, even if you have bad credit. Some lenders don't allow unemployment benefits because those payments are for a limited time.
What Interest Rate Will I Pay?
Interest rates can vary widely by the lender, from just under 6% annual percentage rate, or APR, to 1,000% and higher. A payday loan can cost up to 2,290% in interest.

Among the lending networks we reviewed earlier, the types of bad credit loans come down to three categories: payday loans, short-term cash loans, and personal loans with longer repayment terms of up to six years. Each loan option is available to consumers with bad credit.
The short-term loans that CashAdvance.com offers are basically payday loans. They're meant to be repaid when your next paycheck arrives. Its interest rates range from 200% to 2,290%.
We reviewed three other companies — MoneyMutual, BillsHappen, and CreditLoan.com — that have their own networks of direct lenders that also offer short-term cash loans for people with bad credit. The loans must be repaid all at once and are usually synchronized with your pay dates.
They charge interest rates for bad credit loans from 200% to 1,300%, though the estimated APR at CreditLoan.com tops out at 958%.
A payday loan will have the highest interest among the ranges listed above, while an installment loan can be repaid monthly and should be at the lower end of the APR range.

To get the lowest interest rate if you have a low credit score and need a loan, try any of the three lending networks we reviewed that connect customers with a direct lender of personal loans.
Personal loans are also called signature loans, meaning they only need your signature as a promise to pay. These are a type of unsecured installment loan that can have low interest rates if you have good credit. But even if you have bad credit, personal loan interest rates are reasonable to help you afford the monthly payment.
Lender networks don't lend money themselves and don't control the interest rates charged by the direct lenders in their networks. Loan amounts are usually higher for personal loans than for short-term loans, and they also often have longer repayment terms.
How Much Can I Borrow?
Just as a credit card has a credit limit, a bad credit loan will have a maximum amount you can borrow. You should choose a loan with a monthly payment you can afford so you can eliminate the debt easily, so borrowing more money than you can afford is an invitation to continuing debt.
The lending networks we reviewed work with lenders that offer loans as low as $100. Most lenders also offer loans of up to $5,000 or $10,000.
PersonalLoans.com has the largest loan amounts in its network, up to $35,000 for a long-term installment loan with up to six years to repay. Consumers with bad credit, however, may find it difficult to get such a high unsecured loan. Bad-credit borrowers can improve their chances by having a cosigner with excellent credit.
It may be easier to get approved for a secured personal loan that uses your home or car as collateral if you need a larger loan amount. If you have high credit card debt and are considering debt consolidation, then you should look for a loan with a lower interest rate than what your credit cards charge.
A small business owner may want to use invoice financing to improve cash flow. Invoice financing lets businesses borrow against the amounts due from customers.
Will My Credit History Be Checked?
The lending networks won't run a hard credit check with a credit bureau to access your credit report, but the lenders they work with may. The networks may instead run a soft pull of your credit file, which doesn't affect your credit score.

Your credit report shouldn't prevent you from getting a loan even if you have bad credit. A poor credit history will likely lead to a higher interest rate on the loan, but you should be able to find a loan you can afford with the same amount due each month.
The online applications at the lending networks don't require a credit check, but they will ask how much income you earn each month. Making at least $800 per month should help you prequalify through these networks.
From there, the individual lenders will usually run a credit check. Read any loan offers carefully to make sure you can afford the payments, and look out for an origination fee or any other added fees.
Your Best Options For High-Risk Personal Loans
High-risk personal loans are risky for lenders because they're usually meant for borrowers with bad credit. People with poor credit histories are more likely not to pay their bills on time, and sometimes not pay them at all.
This makes getting a loan difficult if you have bad credit. Some lenders, however, specialize in offering loans to people with less-than-perfect credit. The interest rates will likely be much higher than they can find elsewhere, but they should be able to borrow the money they need and can often repay it in equal installments they can afford.
Prequalifying for a loan through a lending network is free, and you're under no obligation to accept a loan if one is offered to you. Checking to see whether you prequalify for a loan won't hurt your credit score, and you should be able to find out in a few minutes whether you can get a quick loan.
Advertiser Disclosure
BadCredit.org is a free online resource that offers valuable content and comparison services to users. To keep this resource 100% free for users, we receive advertising compensation from the financial products listed on this page. Along with key review factors, this compensation may impact how and where products appear on the page (including, for example, the order in which they appear). BadCredit.org does not include listings for all financial products.
Our Editorial Review Policy
Our site is committed to publishing independent, accurate content guided by strict editorial guidelines. Before articles and reviews are published on our site, they undergo a thorough review process performed by a team of independent editors and subject-matter experts to ensure the content's accuracy, timeliness, and impartiality. Our editorial team is separate and independent of our site's advertisers, and the opinions they express on our site are their own. To read more about our team members and their editorial backgrounds, please visit our site's About page.