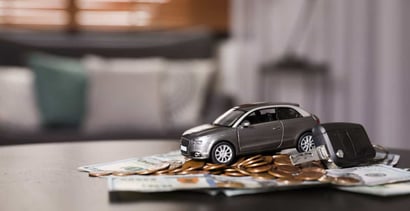 A guaranteed auto loan with no credit check is a popular option for purchasing a new or used vehicle among borrowers with credit scores in the 300 to 579 range who have trouble qualifying for traditional, lower-interest-rate loans from banks and credit unions.
But these loans come with higher than average interest rates or fees and shorter repayment terms to offset the risk of lending to bad credit borrowers.
One important thing about guaranteed auto loans is that the term "guaranteed" can be misleading. The term is used to denote that approval or denial is guaranteed within a certain period. Continue reading to learn more about our recommended lending networks and how you can get pre-approved for an auto loan without a credit check.
Auto Loans With No-Credit-Check Preapprovals
Plenty of reputable lending networks, private lenders, and local car dealers are ready to offer you auto loans with no credit check. Some may even offer their own credit card.
The terms of bad credit auto financing from lending networks, private lenders, or local car dealers vary based on the individual. But many lending networks and direct lenders stand ready to offer you competitive rates and terms on guaranteed auto loans. Auto dealers from online dealer networks may also have a vested interest in approving a loan application.
Whichever route you choose, feel free to fill out a loan request form with one of our top-rated picks below:
Auto Credit Express has issued more than $1 billion in bad credit auto loans, and is one of the most popular auto dealer loan networks. Its user-friendly website allows you to tap into a vast network of dealer partners specializing in bad credit car loans and used car loans, many with no minimum required credit score. 
To secure guaranteed credit approval from Auto Credit Express, you start with a free 30-second application that asks for your credit profile, monthly income, and amount of monthly recurring debt. An Auto Credit Express Auto Loan Specialist is on hand to help you explore all your options on guaranteed auto loans. 
Unlike Auto Credit Express, PenFed Credit Union is a direct lender. It offers auto loans on new and pre-owned vehicles up to $150,000 with pre-qualification in less than five minutes. It also offers add-ons such as gap insurance, vehicle protection plans, and debt protection, which may allow you to forgo payments temporarily if you become unemployed or incapacitated.
With PenFed Credit Union, you only need to know which vehicle you plan to purchase after completing an application. Apply for pre-qualification on a car loan, learn the rates and terms you're eligible for, and sign on the dotted line. You may purchase a vehicle at any dealership or through PenFed's Car Buying Service, which also provides vehicle discounts to members.
RefiJet has helped car owners lower their monthly payment by an average of $150 through refinancing. It's an opportunity for those locked into existing loans to lower their interest rates, change repayment terms, add cosigners, and more.
These auto refinancing opportunities are made possible through RefiJet's network of hundreds of participating lenders ready to provide quotes immediately. You only need to complete a one-minute pre-qualification form through its website, which will not impact your credit score.
Once you submit a car loan pre-qualification form, RefiJet matches you with at least three lenders offering competitive refinancing rates and terms with no obligation to sign.
Car.Loan.com Auto Loan's extensive network of dealer partners specializes in bad credit auto loans and guaranteed auto loans with no credit check. Like Auto Credit Express, it allows car buyers to submit an application and match with lenders or dealer partners in minutes. 
All participating lenders through Car.Loan.Com offer bad credit car loan APRs from 0% to 25%. The rate you qualify for depends on several factors, including your state of residence and vehicle type.
LendingTree offers an impressive network of participating online lenders specializing in auto loans and auto refinancing. It also has an easy online application and handy tools for consumers.
One of our favorite things about LendingTree is that it publishes monthly stats across many of its top lenders, including starting APRs, loan terms, loan amounts, and each lender's strong suit. Even though LendingTree doesn't offer pre-qualification, it is an excellent way to compare lenders without having to submit an application first. 
myAutoloan.com promises users up to four offers in minutes. It also allows you to take out guaranteed auto loans with no credit check for new and used vehicles, refinancing, private party sales, and lease buyouts. First-time buyers, subprime borrowers, and folks on the brink of bankruptcy may apply, with rates starting in the single digit percentages. 
To apply, you complete a one-page online application, provide your name, address, gross annual income, desired loan amount, and information about the vehicle you want to finance. No minimum credit score is required, and you can receive up to four competitive loan offers in less than two minutes.
7. Carvana
Carvana is arguably the most popular guaranteed bad credit auto loan provider on this list. The platform sells used and new inventory with its own in-house financing option program for low credit score borrowers. Its loans typically have reasonable interest rates and car loan terms ranging from 36 to 72 months.

Carvana's car buying service offers no dealer fees, a 100-day limited warranty, a seven-day money-back guarantee, and saves buyers $1,400 on average. Plus, its intuitive website allows you to browse used vehicles in your region, complete with vehicle history reports and virtual tours. 
To qualify for a Carvana auto loan, you must complete a two-minute form and make at least $4,000 yearly with no derogatory marks on your record. Upon submitting the loan request form, all terms are valid 30 days from the date of approval, buying you extra time to make a lending decision. No minimum credit score is required. 
Can I Get a Car Loan Without a Credit Check?
Yes, getting a car loan without a credit check is possible. To bypass traditional credit checks, car buyers can consider subprime lenders, secured auto loans, cosigners, and credit unions with more flexible lending policies.
Rather than a minimum required credit score, these lenders base eligibility on your income, debt-to-income ratio, and employment record. 
Does Preapproval Affect Your Credit Score?
Expect a soft inquiry on your credit report during the preapproval process for an auto loan. It will not affect your credit score, and is also referred to as a soft pull or soft credit check. Soft inquiries do not include a comprehensive view of your credit history, but a simple pre-screening for promotional offers and a light risk-profile assessment.

Hard inquiries are more formal credit pulls during the application process and take a deeper dive into your credit history. Your score may drop by a few points if you submit multiple bad credit auto financing applications within a short time frame without checking if the services do a soft or hard credit pull.
Can I Get a Car Loan With a 500 Credit Score and No Money Down?
Yes, getting auto financing with a 500 credit score and no money down is possible. Seek subprime lenders from our recommended lending networks who have eligibility requirements that fit your current financial situation. And know that the offers you receive will come with a higher interest rate and shorter repayment terms.
One of our top recommendations is to improve your credit before applying for a bad credit loan or guaranteed car loan. Even a 50-point increase to your credit score could lower the interest rates you qualify for by 5% or more.
If you can't boost your score in time, you may also decide to put more money down, consult a credit repair service, enlist the help of a cosigner, or consider a lower-priced vehicle. And always remember to shop around for the best price. 
Do Car Dealers Finance Applicants With Bad Credit?
Yes, it is common for car dealers to finance applicants with bad credit through subprime or private lenders with in-house financing options. Applicants with bad credit generally see higher-than-average interest rates with shorter repayment periods, which include higher monthly payments.

But depending on the lending terms, your vehicle selection may be limited. For example, dealers selling vehicles and offering in-house financing may limit your vehicle options to more affordable models. 
What Are the Disadvantages of a Car Loan with No Credit Check?
The main knock against guaranteed auto loans with no credit check is that they have much higher APRs. They may also offer shorter repayment terms. Remember, the longer the loan term, the more interest you pay over time. 
The types of lenders that finance no-credit-check auto loans are generally more strict with missed payments, as well. Meaning if you fail to make a car payment, your car may be repossessed much sooner than if you financed through a traditional lender.
Are There Alternatives to Guaranteed Auto Loans with No Credit Check?
Yes, many alternatives exist to guaranteed auto loans with no credit check, such as enlisting the help of a cosigner. The cosigner must have good credit to help you secure lower interest rates and more favorable borrowing terms.
If you own a home, you could also consider using a home equity loan to get the money you need to buy a car. If the car's purchase price is low enough, you could use a credit card or a small personal loan to purchase the vehicle.
Alternatively, you can wait to boost your credit score before financing a new vehicle. This will help you save money in the long run.
Is a Down Payment Required for a Guaranteed Auto Loan with No Credit Check?
Many guaranteed lenders do not require down payments. However, a down payment certainly improves your loan-to-value ratio and signals to lenders that you are assuming a greater risk. 

In return, you may see slightly lower interest rates and longer repayment terms. Be sure to discuss how a down payment may affect loan terms with your lender.
What Types of Vehicles Can Be Financed with a Guaranteed Auto Loan with No Credit Check?
Most vehicles can be financed with a guaranteed auto loan with no credit check, but terms depend on the lender and the make and model of the vehicle.
Some loans are restricted to newer vehicles while others may only allow certified pre-owned inventory or used cars. Remember that most vendors only care that you can repay the loan, so other eligibility criteria, including income and debt-to-income ratio, are considered more.
What Happens if I Default on an Auto Loan?
If a borrower defaults on an auto loan, several things may happen. First, expect your credit score to drop, even if you only miss a single payment by 30 days or more. And you may see larger drops the longer you go without paying. 
Additionally, lenders can repossess your vehicle and sell it off to recover a percentage of the loan proceeds after a certain period. And, if you incur a repossession on your credit history, it will be much more difficult to qualify for future auto loan financing.

We highly recommend assessing your financial situation before taking out a car loan.
Can I Pay Off an Auto Loan Early Without Prepayment Penalties?
Yes, paying off an auto loan with no credit check early is possible. Most of our recommended lending networks feature direct lenders that do not charge prepayment penalties. But it's up to you to read the loan agreement before signing it, and ask your lender if you're unsure.
We recommend paying off any guaranteed auto loan early, if you can, to help you save on interest charges and other fees.
You Don't Need Perfect Credit to Get a Car Loan
You can get auto financing with poor credit, bad credit, and fair credit. Dealerships with in-house financing, specialized private lenders, and reputable lending networks like Auto Credit Express and Car.Loan.Com all offer loan approval to individuals with limited to no credit history. 
And be sure to review your new or used vehicle loan rates and terms carefully before putting your signature on any paperwork.
Advertiser Disclosure
BadCredit.org is a free online resource that offers valuable content and comparison services to users. To keep this resource 100% free for users, we receive advertising compensation from the financial products listed on this page. Along with key review factors, this compensation may impact how and where products appear on the page (including, for example, the order in which they appear). BadCredit.org does not include listings for all financial products.
Our Editorial Review Policy
Our site is committed to publishing independent, accurate content guided by strict editorial guidelines. Before articles and reviews are published on our site, they undergo a thorough review process performed by a team of independent editors and subject-matter experts to ensure the content's accuracy, timeliness, and impartiality. Our editorial team is separate and independent of our site's advertisers, and the opinions they express on our site are their own. To read more about our team members and their editorial backgrounds, please visit our site's About page.