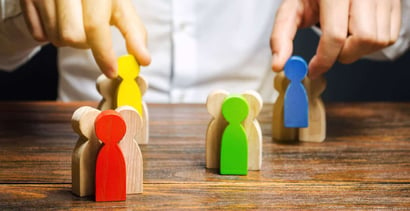 Lexington Law is our top-ranked credit repair company. It boasts an experienced staff of legal experts, including accredited lawyers. The company began in 2004, so it has the institutional experience to remove inaccurate, obsolete, and unverifiable items from your credit reports. 
As good as Lexington Law is, it must compete with many excellent credit repair organizations. We review the other top options in this article, along with other credit repair companies you may want to consider.
Best Credit Repair Companies Like Lexington Law
We recommend you compare the following credit repair companies with Lexington Law. Each has unique features and pricing that may fit your requirements.
Sky Blue Credit Repair® is the patriarch of credit repair companies, with roots going all the way back to 1989. Its longevity stems partly from its industry-leading 90-day unconditional guarantee that fully refunds your money if you are unsatisfied with the services you receive.
Sky Blue offers just one comprehensive service level, unlike some competitors. The credit repair agency promises a set number of credit report challenges every 35 days. Its other services include debt validation, debt settlement consultations, score analysis, and cease and desist letters.
The company predicts you'll start seeing improvement in your credit score in as little as one month. You can cancel your subscription at any time.
CreditRepair.com is another long-established company in the credit repair sector, having started business in 1997. That's allowed the company time to lodge more than 19 million challenges.
The company recently underwent a remodel of its credit offerings, including a more affordable online service and app. Subscribers benefit from CreditRepair.com's aggressive engagement with the credit bureaus, plus access to its online dashboard, activity alerts, credit monitoring, and score analysis.
The service claims it can boost the average customer's score by 40 points within four months. You can select a premium service level to increase your engagement quota and add financial tools, identity protection, and insurance to your suite of services.
The Credit Pros is a financial technology company dedicated to helping clients fix credit report errors. You can subscribe for a monthly fee.
The company pledges to treat customers professionally and courteously while not over-promising results or guaranteeing a good credit score. The company protects your confidential information through sophisticated security measures. 
It provides free consultations to identify damaging report items that are candidates for dispute and has an A+ rating from the Better Business Bureau.
Since 1997, CreditFirm.net has offered affordable credit repair services supervised by licensed attorneys. The company has helped more than 60,000 clients throughout the country. Its services cost less than its competitors, with packages starting below $50 monthly. 
After a free consultation, you can forward your credit reports to CreditFirm.net. You and your credit counselor will review your reports, identify questionable items, and create a custom action plan that may include disputes, goodwill interventions, debt validation, and cease and desist requests. The number of challenges you can lodge is unlimited.
Licensed attorneys audit your dispute letters before dispatching them to credit bureaus. CreditFirm.net promises to use every legal means to correct your credit reports and clean up your credit profile.
Other Credit Repair Services Worth Considering
The following credit repair companies provide valuable services and earn generally positive reviews from third-party sites. You can rely on them to dispute credit report inaccuracies and possibly help you improve your credit score.
Pyramid Credit Repair
Pyramid Credit Repair has more than 10 years of experience helping customers fix their credit. The company emphasizes consumer education and rigorously challenges questionable credit report items. You can choose a one-person plan for around $100 monthly or a couples program for twice the price.

You receive a personalized plan and around-the-clock phone support at no additional cost. Your credit counselor can help you identify dubious credit report items to challenge. You can dispute an unlimited number of report items.
The company states that the average customer realizes positive results within 45 days. You can cancel your subscription at any time.
Credit Glory
Credit Glory has a 90-day money-back guarantee, around-the-clock customer service, and an A+ rating from the BBB. Prospective clients receive a 15-minute consultation at no cost or obligation.

You can subscribe for a one-time setup fee and around $100 monthly. The company disputes all types of items, including unverifiable hard inquiries. Customers must identify which negative item disputes are accurate to avoid wasting time.
The company also provides services to assist identity theft victims, disputing each fraudulent item for an unlimited number.
Pinnacle Credit Repair
Pinnacle Credit Repair claims to provide the most aggressive program in the credit repair industry. It offers two service levels, each with a setup fee. The company disputes errors and omissions on your credit reports. It provides credit education, credit coaching, and support for lender approval.

Pinnacle also supports customers who prefer to do most of the work themselves. The standard service costs around $100 monthly, beginning in the second month. You can renew the service each month or cancel at will.
Victims of identity fraud may want to consider the company's premium service for a one-time fee. This service, which comes with a personal credit mentor, uses artificial intelligence to dispute questionable report items rapidly and claims to produce results within 15 to 30 days. All customers receive a 120-day satisfaction guarantee.
What Is a Credit Repair Company?
Credit repair companies specialize in disputing dubious information in their clients' credit reports. The goal is to help customers achieve an accurate and updated credit history. Sometimes, the process causes client credit scores to rise.
Inaccurate items may involve phony accounts, unauthorized transactions, misreported overdue payments, unverifiable hard credit inquiries, defaults, debt collector incidents, foreclosures, and bankruptcies.
Credit report mistakes are not rare. The Federal Trade Commission found that 20% of consumers have inaccurate data on at least one of their credit reports. Errors in your reports can reduce your access to credit and make borrowing more expensive. Flawed reports can negatively impact your ability to acquire a job, home, car, or rental apartment.
Good financial habits can help boost your credit scores, but the process can take years. That's not very useful when you need credit right now. Credit repair is one of the quickest ways to raise your credit score, sometimes within one or two months.
Can I Repair My Credit on My Own?
Independently repairing your credit report is entirely possible and often less expensive than hiring a credit repair service. Here are some steps to guide you through the process:
Review your credit reports: Obtain free copies of your credit reports from the three major credit reporting agencies (Equifax, Experian, and TransUnion). Scrutinize each report for inaccuracies or discrepancies such as unrecognized accounts, invalid transactions, incorrect account statuses, missing payments, or errors in personal information. Make a list of all inaccuracies you find.
Collect documentation: Gather any evidence that proves your contention incorrect information. Documents may include bank statements and payment records.
Dispute errors: You can file disputes online, by mail, or over the phone with each credit reporting agency that shows report errors. Include the evidence you've gathered with your challenge. Once you file the dispute, the credit bureau typically has 30 to 45 days to investigate.
Address legitimate debts: Repay genuine debts, prioritizing those with the highest interest rates. Some creditors may agree to settle for less than the amount you owe or change the account status to "Paid."
Build a positive credit history: Pay your bills on time. Consistent, timely payments should improve your credit score. Also, maintain low credit card debt and revolving credit. Try to keep your credit utilization ratio below 30%.
Don't open unnecessary accounts: New credit card accounts and loans can lower your average account age and create hard inquiries on your credit reports. Both outcomes may lower your credit score.
Monitor your progress: Check your credit reports to ensure the bureaus correct the items you have successfully disputed. Look for the appearance of new errors. You can use a credit monitoring service to track your progress.
Taking these steps puts you on the path to clean credit reports and healthier finances. It will take time, but the benefits are well worth the effort.
How Do Credit Repair Companies Compare to DIY?
The following chart offers a side-by-side comparison of how credit repair companies and DIY (Do-It-Yourself) methods stack up against each other.
| ASPECT | CREDIT REPAIR COMPANIES | DIY CREDIT REPAIR |
| --- | --- | --- |
| Cost | Companies usually charge a monthly amount or a one-time setup fee. | You're doing the work, so there is no monetary cost. However, you should estimate the opportunity cost of your time since your DIY efforts may interfere with more lucrative pursuits. |
| Time Investment | Your time investment is low since the company manages most tasks. | You manage all tasks, so expect to devote a lot of time. |
| Control | The company is in the driver's seat, but you have input. | You're in complete control. |
| Expertise | Professional experts oversee your case, but the quality can vary from one company to another. | You'll need to educate yourself about the process. But once you understand it, you can manage future disputes independently. |
| Error Identification | The company identifies errors but may consult with you during the process. | You must identify errors yourself, which may require time-consuming research. |
| Dispute Handling | The company manages disputes. | You manage disputes. |
| Negotiations | Professionals handle the negotiations. | You may have to negotiate directly with the credit bureaus and creditors. |
| Legal Knowledge | Legitimate companies understand the relevant laws. | You'll need to research laws or consult with an expert. |
| Success Rate | Your success rate varies but is generally higher than DIY when the case is complex. | Your success rate depends on your dedication and research. Avoid frivolous disputes, which will reduce your success rate and possibly cause the credit bureaus to disregard you. |
| Transparency | Favor companies that provide detailed updates — not all of them do. | You have 100% visibility into the process. |
| Accountability | You must rely on the company's actions, so use only highly rated ones with long histories and favorable ratings. | You are fully accountable for the outcome. |
| Speed | The best companies are very efficient. | Your progress may be slower due to a learning curve. |
Ultimately, your choice of method will hinge on your requirements. Take into account your available time, budget, and comfort level with complex financial tasks.
Is Lexington Law Good at Fixing Credit?
We consider Lexington Law to be the best credit repair company. However, the effectiveness of Lexington Law and any other credit repair service can vary depending on factors such as your specific financial situation, the complexity of your case, your budget, and the number of inaccuracies in your credit report.
So, to be fair, we'll lay out Lexington Law's pros and cons:
Pros:
Experience: The Lexington Law firm has been in the credit repair business for many years and has experience with various credit issues.
Legal expertise: Unlike some other credit repair companies, Lexington Law has lawyers on staff who understand credit law. This resource may be a critical advantage in some instances.
Range of services: It offers multiple packages to fit different requirements and budgets, from basic credit repair to more comprehensive services.
Educational resources: The company provides clients with educational materials to help them understand credit better, an excellent long-term benefit.
Cons
Cost: The service can be expensive, especially compared to DIY options. Monthly fees vary depending on your chosen package, but you get a free initial consultation. The least expensive service is Concord Standard.
No guarantees: As is true for all credit repair companies, it is illegal for Lexington Law to guarantee specific outcomes such as a good credit score. It can work hard to remove inaccuracies but not erase legitimate debts.
Mixed reviews: The typical Lexington Law review is positive. Many customers have reported significant improvements in their credit scores, while a minority have complained about slow progress.
Legal scrutiny: We note that Lexington Law and other credit repair companies have faced legal actions by the Consumer Financial Protection Bureau (CFPB) for alleged violations, such as charging for services not yet performed. Always do your research to avoid a credit repair scam.
Lexington Law credit repair has many strong points, but its services come at a price, and there are no guarantees of success. Other credit repair companies face the same challenges, but none have exceeded Lexington Law's top rating. Going with Lexington Law credit repair is one of your safest choices if you don't want to fix your credit reports alone. 
What is the Cheapest Credit Repair Company? 
CreditFirm.net charges no initial signup fee and has one of the lowest monthly service fees. After your free consultation, you pay around $50 per month to work with a team of credit repair specialists supervised by licensed attorneys.
The company files disputes on your behalf to remove any inaccurate, unverifiable, or disputable information from your credit report. It accepts clients nationwide and does not limit the number of disputes it will file on your behalf.
You can sign up for the couples plan and pay about $90 monthly. This option is excellent for couples who want to clean up their credit while shopping for a home.
Before selecting a credit repair company based on price, compare the services you will receive versus those from more expensive agencies. You may find that spending more is worth the extras.
Can Credit Repair Hurt My Credit?
Credit repair should help rather than hurt your credit since it corrects inaccuracies and removes erroneous negative marks from your credit reports. Legitimate credit repair agencies understand how to operate within legal regulations and seldom do anything that could harm your credit.
Moreover, credit repair agencies must conform to the Credit Repair Organizations Act and the Fair Credit Reporting Act. Nonetheless, you should always perform research to avoid a credit repair scam.
DIY credit repair is different. Your eagerness to improve your credit may lead you to take risky actions that backfire. For example, suppose you dispute negative item information the creditor verifies as accurate. In that case, the mark will stay on your report.
Is Credit Repair Better Than Debt Settlement?
Comparing credit repair and debt settlement can help you decide which is a better fit for your financial situation. You use credit repair to fix errors in your credit reports and possibly improve your credit scores. Debt settlement is a more substantial undertaking in which you ask creditors to forgive some of your debt.
Each has pros and cons, and the benefits can vary depending on individual circumstances. Here's a chart to simplify things:
| ASPECT | CREDIT REPAIR | DEBT SETTLEMENT | WHICH IS BETTER? |
| --- | --- | --- | --- |
| Primary Goal | Credit repair fixes errors and removes negative items from your credit reports. | The impact is positive when you correct derogatory errors in your reports. | It depends on your issue: credit score vs. debt. |
| Impact on Credit Score | The impact is positive when you correct derogatory errors on your reports. | The impact is negative initially but may improve once you settle your debts. | Credit repair (for score improvement) |
| Cost | The cost varies: DIY is free, but credit repair companies may charge a $50 to $150 monthly fee. | The cost is usually a percentage of the forgiven debt, which may be thousands of dollars. | Credit repair is cheaper, but debt settlement may save you money. |
| Time Requirement | Most subscriptions run for three to six months. DIY may take longer unless you are an expert and highly organized. | Debt settlement usually takes two to four years to complete. | Credit repair (generally faster) |
| Legal Risks | Has a low risk if you dispute only incorrect information. | High risks: You will significantly damage your credit score regardless of whether you succeed or fail. | Credit repair |
| Financial Outcome | Credit repair can fix your credit reports and increase your score. | Debt settlement may reduce your overall debt if successful.  | It depends on your primary need. |
| Expertise Needed | DIY repair requires moderate expertise, but you need none if you use a credit repair service. | You'll need some understanding of the negotiation strategy and the risks involved. | DIY depends on your comfort level, but you need the least expertise if you use a credit repair service or debt settlement company. |
| Effect on Future Loans | The effect is positive if your credit score improves; otherwise, it is neutral. | The impact is negative due to marks that remain on your credit report for seven years.  | Credit repair |
The better alternative depends on your primary goal. Credit repair is better if you need to correct errors on your credit report and improve your credit score. If you have overwhelming debt, settlement may be the better, albeit riskier, choice.
Consider speaking with a credit consultant or financial advisor if you're unsure which course of action makes sense for you.
Lexington Law Is the Leading Credit Repair Company
DIY credit repair can be time-consuming, distracting, and confusing. If you'd rather turn the task over to a professional organization, you can't beat Lexington Law for effectiveness and expertise. 
The other reviewed credit repair companies are viable alternatives, depending on your requirements and budget. But it's always good to periodically check your credit reports, as you may encounter errors or, more importantly, evidence of identity theft.
Advertiser Disclosure
BadCredit.org is a free online resource that offers valuable content and comparison services to users. To keep this resource 100% free for users, we receive advertising compensation from the financial products listed on this page. Along with key review factors, this compensation may impact how and where products appear on the page (including, for example, the order in which they appear). BadCredit.org does not include listings for all financial products.
Our Editorial Review Policy
Our site is committed to publishing independent, accurate content guided by strict editorial guidelines. Before articles and reviews are published on our site, they undergo a thorough review process performed by a team of independent editors and subject-matter experts to ensure the content's accuracy, timeliness, and impartiality. Our editorial team is separate and independent of our site's advertisers, and the opinions they express on our site are their own. To read more about our team members and their editorial backgrounds, please visit our site's About page.