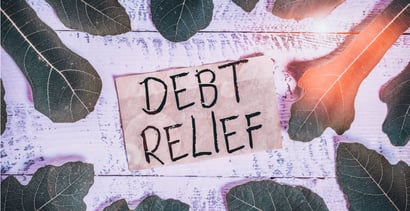 Americans have good reason to evaluate their best debt relief options for bad credit. Indeed, consumer debt in the United States has exceeded $4.17 trillion since 2019, a staggering sum. Inevitably, some folks end up petitioning for bankruptcy, but in this article, we'd like to suggest some alternative ways to rebuild your finances.
Best Overall | More Options | FAQs
Best Overall Debt Relief Option For Bad Credit
National Debt Relief, founded in 2009, ranks as one of the country's largest debt settlement organizations. Over the years, it has arranged settlements for more than 100,000 consumers, helping them pay off more than $1 billion in debt. This debt relief company is a member of the Better Business Bureau (with an A+ rating), the American Fair Credit Council, and the International Association of Professional Debt Arbitrators.
Requires $10,000 or more in credit card debt
Free, no-obligation debt analysis
Specializes in credit card and medical debt
Also handles debt from personal loans, private student loans, lines of credit, and collections
Does not handle IRS, utility, federal student loans or mortgage debt
Long-term program to relieve debt over 24-48 month period
| Better Business Bureau | In Business Since | Free Consultation? | Reputation Score |
| --- | --- | --- | --- |
| A+ | 2009 | Yes | 9.5/10 |
National Debt Relief offers debt settlement services as an alternative to credit counseling, debt consolidation, and bankruptcy. The company estimates that its program will save clients, after fees, between 30% and 50% on their debts. Clients should expect to pay a fee of 15% to 25% to settle the debts enrolled in the program, with payment due only after the settlement agreement is signed.
The company offers a 100% money-back guarantee and points to more than 21,000 five-star reviews. While you wait for a settlement deal to be approved by a creditor, your funds will be held in an FDIC-insured trust administered by Global Clients Solutions. The company's website contains almost a dozen calculators you can use to help budget and track your finances.
More Debt Relief Options to Consider
The following two companies also offer debt settlement services. You'll have to check to see whether they operate in your state.
100% confidential, no-obligation consultation
Specializes in unsecured debts over $10,000
In business since 2000
Options for debt settlement, consolidation, and tax debt
Get a 100% free, personalized savings estimate from a debt professional
| Better Business Bureau | In Business Since | Free Consultation? | Reputation Score |
| --- | --- | --- | --- |
| (No Grade) | 2000 | Yes | 9.0/10 |
CuraDebt has counseled more than 200,000 consumers since its inception in 2000 and offers several debt-relief options in most states. The company estimates that clients can cut their debt costs, after fees, by 30% over a two- to four-year period. CuraDebt belongs to the Online Business Bureau, Netcheck Commerce Bureau, and Honest Online, and has received top ratings from several independent review sites.
CuraDebt does not work in Connecticut, Hawaii, Idaho, Kansas, Louisiana, Maine, Montana, New Hampshire, Nevada, Oregon, South Carolina, Tennessee, Utah, Vermont, West Virginia, and Wyoming.
Toll-free assessment: 1-855-299-9573
Minimum $10,000 in debt required
Learn about your debt relief options
AFCC accredited member
Resolve debts in as little as 24 to 48 months
$5 Billion in debt resolved – #1 in America
| Better Business Bureau | In Business Since | Free Consultation? | Reputation Score |
| --- | --- | --- | --- |
| A+ | 2002 | Yes | 9.5/10 |
Freedom Debt Relief has enrolled more than 650,000 clients since inception, resolving more than $10 billion in debt. This credit card debt relief company is an expert in unsecured debt settlement and can settle debts for as little as 50% of the amount owed.
Fees range from 15% to 25%, depending on your state of residency, and you may qualify for assistance from the company's Legal Partner Network if you make your full program deposits on time.
What is Debt Relief and How Does It Work?
Debt relief is a term that describes a spectrum of activities that can help consumers get out of debt, including debt consolidation, debt settlement, and bankruptcy. The three companies featured in this review specialize in debt settlement, in which creditors agree to some forgiven debt in return for repayment of the remainder.
When you sign up for a debt settlement program, you enroll in a multistep program with several distinct phases:
Debt evaluation: The process starts by speaking with a credit consultant at a debt settlement company. The consultant will review your debts with you to see if you qualify for a debt settlement program. If you qualify, you'll work out a budget that will help you reach your goals.
Build an account: You divert the money you would have spent on your debts into an FDIC-insured dedicated account under your control. The account will fund settlements and program fees and will be used to distribute money to creditors who sign on to the programs. It's up to you to decide whether to withhold debt payments during this phase — most debt settlement companies are agnostic on this issue. If you do withhold payments, you expose yourself to penalties and lawsuits, but you also motivate your creditors to make a deal with you. Another strategy during this phase is to make only minimum payments to the credit card company, thereby avoiding serious repercussions.
Negotiate settlements: Once your dedicated account has reached a sufficient amount, the program will begin negotiating settlements with your creditors. The idea is to have creditors accept less than full debt repayment and waive late fees in return for a stream of payments mediated by the debt relief company. The amount of canceled debt may be treated as taxable income — consult your financial advisor for details.
Execute settlement: When a creditor agrees to settle a debt, the program may write a series of monthly checks to the creditor, drawn from the dedicated account. Alternatively, the settlement may call for one lump sum payment from the dedicated account. The debt relief company can now withdraw its own fees from the account as well. Payments continue until the debt is repaid, usually in an amount of 30% to 50% less than the original debt.
The process is followed for each creditor that agrees to settle. It can take two to four years or more to fully emerge from the program. Your credit reports will be updated to show the debt payoffs along with a notation that the debt was settled. At this point, your credit score can begin to recover.
We should note that you can attempt to settle your debts on your own by negotiating directly with your creditors. However, unless you have the time and expertise, you may find it difficult to achieve the same results as those from a debt settlement company. Negotiating with creditors can be a tough assignment with no guarantee of positive results.
Who Qualifies For Debt Relief?
Generally, creditors are not a forgiving lot. Their business is to lend money and then collect it with interest. Your request for loan or credit card debt relief is likely to fall on deaf ears unless you can demonstrate that you are experiencing a genuine financial hardship (i.e., job loss, medical treatments, divorce, disability, death of a spouse, etc.) that is likely to continue for some time.
Debt settlement companies will require you to owe a certain minimum amount of debt (typically $7,500 or $10,000) before they will consider you as a client. Only certain types of debt will pass muster — it must be unsecured and generally excludes tax liens, federal student debt, child support, gambling debts, bail bonds, and several more types of debt.
Moreover, you'll need the ability to make monthly deposits to a dedicated settlement account. This is the money you'll use to fund a settlement agreement with your creditors. You may also need to be several months behind on your debt payments when you apply for help from a debt settlement company, so your creditors have an incentive to negotiate with you.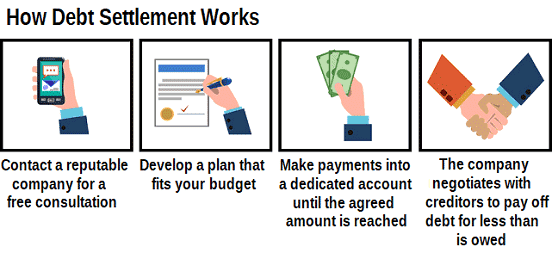 Creditors may not be willing to negotiate with you unless you halt payments on your debts. This is problematic because it exposes you to penalties and legal action. Nonetheless, you may find it impossible to receive debt relief if you don't stop paying your bills.
In addition, creditors are unlikely to take your request seriously if you have assets you could use to repay your debts. You may first have to liquidate certain assets, such as savings, investments, boats, vacation homes, and other assets that could be used to repay your debts.
Creditors generally consider forgiven debt to be the last resort before legal action, which may force debtors into bankruptcy. Depending on the size of the debt and other factors, creditors may view legal action as too expensive and slow, making a settlement agreement their best alternative. If you go down the road toward debt settlement, you probably should be prepared to file for bankruptcy if things go south.
Can I Get a Debt Consolidation Loan With Poor Credit?
You use a debt consolidation loan to repay existing debts. Ideally, the consolidation loan's interest rate is lower than those of your current debts. Consolidation loans are available from various sources, including banks, credit unions, and finance companies.
If you have poor credit, you have little chance of receiving approval for an unsecured consolidation loan. Lenders reason that your low score results from behavior that isn't creditworthy, making you too big a risk. Nonetheless, we can think of several ways to arrange a consolidation loan despite bad credit:
Post collateral: You may be able to qualify for a secured debt consolidation loan by putting up collateral of equal or greater value to the bad credit loan amount. For example, if you own your home, you may be able to take out a home equity loan or second mortgage. You may also consider a cash-out car refinancing loan in which the loan amount exceeds the balance due on your current car loan.
Recruit a cosigner: A cosigner with good credit may open the door to your consolidation loan. That's because the cosigner is on the hook if you fail to make a payment. But keep in mind that you put your relationship with the cosigner at risk if you miss a payment.
Get a bad credit personal loan: We frequently review companies that arrange personal loans for consumers with bad credit. These are installment loans that you can use for debt consolidation or any other purpose. If you have sufficient income, you may qualify for one of these loans despite a low credit score.
Take a 401(k) loan: If you are enrolled in a 401(k) plan, you can borrow a limited amount for up to five years without tax or penalty. You will have to pay fees and interest (and possibly an origination fee), but the interest is returned to your account. A 401(k) loan beats an early withdrawal with its accompanying taxes and penalties.
Debt consolidation won't reduce your debt, but you may pay less interest and avoid damage to your credit score. Debt settlement, which can include consolidation, involves partial debt cancellation that will hurt your credit score for up to seven years and may incur tax consequences.
Are There Any Legit Debt Relief Programs?
We have researched the three companies reviewed here and believe them to be serious, legitimate companies with high standards for integrity. However, we urge you to do some due diligence before enrolling in a debt relief program, including the following checks:
Contact your state attorney general and local consumer protection agency. Verify that the company is licensed in your state and search for any complaints on file. You can do this by entering the company name and "complaints" in the search box to find whether there has been any legal action taken against the company.
Read about the specific anti-scam provisions that the Federal Trade Commission added to the Telemarketing Sales Rule. These provisions protect you from abusive and deceptive phone calls trying to sell you debt settlement services.
Look for independent reviews and ratings at websites like the Better Business Bureau, AARP, Trustpilot, Swell, Podium, and others. If a company is shady, you'll often find complaints on multiple review sites that report similar problems.
Make sure the debt settlement company makes the required disclosures on its website, including fees, terms, anticipated results, projected savings, and the consequences of non-payment. You should be told that you are entitled to interest on any funds deposited with the company, that those funds are administered by an unaffiliated third party, and that you can withdraw your deposits at any time without penalty.
Keep alert to scams, which may include an origination fee, fees charged before debts are settled, guarantees that your debt will disappear, failure to mention the consequences of withholding payments to creditors, and reference to special government programs to remove debt. If a company tells you that it can settle your debt for a few pennies on the dollar, look elsewhere.
Whenever you do business with a legitimate debt settlement company, you'll be asked to sign a service agreement that lays out all the required information in writing. Don't do business with any company that skips this step.
Do Debt Relief Programs Hurt Your Credit?
Any action that results in a creditor not being fully repaid can potentially hurt your credit. Debt relief programs span several types of action, some of which will cause your credit score to drop. The debt consolidation option, credit counseling, and government assistance programs are harmless, but debt settlements resulting in charge-offs and loan forgiveness can significantly hurt your credit for up to seven years.
Seven years is, in fact, the length of time certain derogatory actions remain on your credit report. In addition to charge-offs, the items that will haunt your credit history for seven years include:
Missed payments (over 90 days late)
Collections
Repossessions
Foreclosures
Student loan default or delinquency
Chapter 13 bankruptcy.
The biggest impact is caused by Chapter 7 bankruptcy, in which a court discharges your debts outright. This information will remain on your credit report for 10 years. Chapter 13 inflicts less damage because it includes a plan for you to repay your debts.
How to Rebuild Damaged Credit
You may experience financial hardships that prompt you to seek credit relief. While settlements and charge-offs can send your credit score plummeting, you have several options open to you to begin rebuilding your score.
Though derogatory items remain on your credit reports for many years, their impact on your credit score begins to fade after a couple of years. Moreover, the sooner you adopt creditworthy behavior, the faster your score will recover. In some cases, you may be able to get a new personal loan in as little as a few weeks after a bankruptcy is discharged.
Get a Credit Builder Loan
One strategy that can immediately begin to rehabilitate your credit score is to take out a credit builder loan from a bank or, more likely, a credit union. In a credit builder loan, you borrow a modest amount of money that is deposited into a savings account or certificate of deposit maintained by the conventional or online lender. You then make each monthly payment until the loan is repaid and your deposit is refunded.
The idea behind credit builder loans is that the conventional or online lender will report your payments to the three credit bureaus (Equifax, Experian, and TransUnion). Your on-time payments will help your credit rating recover.
Secured Credit
You also may be able to obtain secured credit, in the form of a secured credit card or secured loan, soon after debt relief. Secured debt requires that you pledge collateral to the creditor. If you then miss a loan payment, the creditor can exercise a lien on the collateral and seize it without going to court.
The collateral you pledge must be worth at least as much as the debt it secures plus the cost of liquidating the collateral. Naturally, it's easier to liquidate cash collateral, whereas assets like homes and vehicles require more time and money. Nonetheless, the use of secured credit can kick-start your credit score recovery, as long as you make payments on time.
Become an Authorized User
Unsecured credit cards can also play a role in your credit rehabilitation. We mentioned earlier how a cosigner can make it easier to qualify for a credit card despite having bad credit. The same is true when you become an authorized user of another person's credit card account. As an authorized user, you get to use the credit card as if it were your own, but only the primary cardholder is accountable for making timely payments.
Fix Your Credit Reports
While there is nothing you can do about derogatory items accurately included in your credit reports, you can boost your score by removing inaccurate or misleading information from your reports. You can dispute items on your own, but many consumers rely on credit repair companies to do the heavy lifting on their behalf.

For DIY credit repair, you can get free copies of all three of your credit reports from AnnualCreditReport.com, the sole source of free credit reports authorized by the federal government. By combing through the data on each report, you can find mistakes and ask the credit bureaus to remove them. Each credit bureau has online facilities for credit disputes, and it will take about a month to resolve each dispute — longer if you appeal an unfavorable ruling.
As to disputable items, the most important include:
Outright errors: These are often due to garbled data and misspellings. Obvious errors can be corrected quickly.
Unsubstantiated items: Some items do not have the backup information needed to substantiate them, such as hard inquiries or late payments. These must be removed if the creditor cannot prove they are correct.
Expired items: Derogatory items have a statute of limitations controlling how long they can remain on your credit reports. These periods range from two to 10 years, after which the credit bureaus must remove them from your reports. If you notice a malingerer, contact the credit bureau to have it taken down.
Fraudulent items: These include accounts you didn't open and loans you didn't take. Identity theft is a big problem and cleaning up your credit reports is only part of the work required to set things right. You should report fraud to the police and the Federal Trade Commission.
If you decide to use a credit repair company, expect the cost to range between $50 and $150 per month, with cancellable subscriptions running six months on average. Each month, the company will submit a set number of challenges to the credit bureaus. Over time, your credit rating should rise as your reports are scrubbed.
Is Debt Relief and Debt Settlement the Same Thing?
Debt relief is an umbrella term for any solution that makes it easier to repay your debt. It includes several components, one of which is debt settlement, which means you repay only part of what you owe. Under a settlement agreement, a creditor agrees to cancel part of your debt, possibly with other concessions such as a lower interest rate and/or longer loan term.
A credit counseling agency usually serves as an intermediary. The counselor's job is to:
Set up an independently administered settlement fund where you send each monthly payment.
Negotiate settlement agreements with creditors.
Distribute your settlement fund to your creditors as agreed.
Collect fees for its services.
Debt settlement may be able to reduce your debt by 50% or more, after fees. You can expect fees to range from 15% to 25% of your debt, and the debt settlement program typically runs from two to four years.
In addition to debt settlement, debt relief can include credit card balance transfer transactions, debt consolidation loans, and debt management plan programs (in which several creditors participate in the same debt management plan).
Debt relief and Chapter 7 bankruptcy are the only options for reducing the amount of money you owe. Of the two, debt relief is faster and cheaper since it avoids many legal expenses. Moreover, debt relief remains on your credit report for seven years compared to a decade for Chapter 7.
Is Debt Relief a Good Idea?
The best that can be said about debt relief is that it's probably a better idea than bankruptcy. Both come about because of financial distress, which is never good. Debt relief can reduce the money you owe by 30% to 50% or more without the time and expense of contested bankruptcy proceedings.
Bankruptcy can damage your credit history for seven to 10 years versus seven years for debt relief. They do about the same damage to your credit score. If you truly cannot afford to repay your debts, relief is a viable solution, especially when mediated by a debt settlement company.
The advantages of using a specialist company to settle your debt are its expertise and experience in dealing with creditors. Getting a creditor to cancel debt is no trivial pursuit, and is best accomplished by professionals with the background to successfully negotiate a mutually acceptable arrangement.
A settlement agreement is only as good as your ability to fulfill your payment obligations according to its terms. The debt settlement company cannot compel your compliance with the agreement, and indeed you have the right to withdraw your money from the settlement fund.
However, it's hard to see how you would escape a civil lawsuit if you reneged on your agreement with a creditor. Your most likely response would be to file for bankruptcy, which means that your credit report will list two major derogatory items that will compound the damage to your score.
The bottom line is that a debt settlement program may be a good thing, as long as you cut a substantial amount of your debt and can fulfill your obligations to repay the remaining debt as per the settlement agreement.
Compare Debt Relief Options For Bad Credit
The best debt relief options for bad credit include debt settlement. The three companies in this review specialize in creating and managing debt settlement agreements on behalf of clients with at least $7,500 of debt. When executed as proposed, debt settlement agreements offer a reasonable way for consumers to recover from too much debt.
To learn more about each debt settlement company, click on the Start Now links and read about the pros and cons of each. Carefully weigh the debt relief option against other programs, including help from a credit counseling agency and the debt consolidation option. If you decide to proceed with debt settlement, the three companies reviewed here are all trustworthy candidates worthy of your consideration.
Advertiser Disclosure
BadCredit.org is a free online resource that offers valuable content and comparison services to users. To keep this resource 100% free for users, we receive advertising compensation from the financial products listed on this page. Along with key review factors, this compensation may impact how and where products appear on the page (including, for example, the order in which they appear). BadCredit.org does not include listings for all financial products.
Our Editorial Review Policy
Our site is committed to publishing independent, accurate content guided by strict editorial guidelines. Before articles and reviews are published on our site, they undergo a thorough review process performed by a team of independent editors and subject-matter experts to ensure the content's accuracy, timeliness, and impartiality. Our editorial team is separate and independent of our site's advertisers, and the opinions they express on our site are their own. To read more about our team members and their editorial backgrounds, please visit our site's About page.