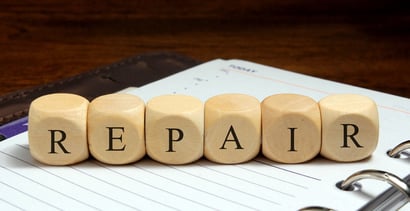 One of the few fundamental truths of life is that no system, no matter how outwardly perfect, is entirely infallible. This applies as much to major government or corporate projects as it does to that get-rich-quick scheme you devised in high school.
It also applies to credit reporting bureaus. Which is how you can end up with inaccurate or outdated information on your credit reports. Fortunately, you can easily resolve these errors with a simple dispute, which you can file for free yourself. Or you may prefer to hire a professional credit repair agency to dispute your errors on your behalf.
The problem with the latter solution, however, is that many credit repair companies make claims about credit repair that simply aren't true. Before signing up with any credit repair company, be sure to carefully review the company, including taking a look at its customer reviews and Better Business Bureau (BBB) ratings. In the following article, we'll do just that — explore credit repair reviews, BBB ratings, answer some common questions on the topic, and offer information on what we think are some of the best bets for credit repair.
Company Reviews | How It Works | FAQs
Credit Repair Company Reviews & Ratings
Although it hasn't always been the case, your credit reports and scores are an important part of your personal finances in the modern world. Everyone from your lenders to your landlords can use your credit history to help make decisions that can impact many facets of your life.
Given the importance of your credit, it's best not to trust its health to just anyone — or just any company. If a credit repair agency acts irresponsibly, it can cause more damage to your credit than you were facing to begin with — and you'll be out the fees you paid to the repair company, to boot.
You should always perform a thorough investigation of any financial company with whom you intend to do business. And, this goes doubly so for credit repair agencies, as the credit repair industry has long been subject to fraud and scams. Not only should you check out the company's website and industry credentials, but be sure to also check multiple review sources to get the big picture.
Lexington Law | CreditRepair.com | Sky Blue Credit Repair | Ovation
Lexington Law Review
A basic search for credit repair companies is bound to turn up Lexington Law, a company that has been in the credit repair business since 2004. As its name suggests, Lexington Law is an actual law firm with real attorneys on staff, adding an extra layer of expertise to the company's credit repair products.
Lexington Law has three credit repair products — Concord Standard, Concord Premier, and Premier Plus — at different price points, so users can select a plan that fits their needs, without paying for services they may not use. The company also offers a free, one-on-one consultation for new clients.
Most results of any credit repair law firm
Clients saw more than 7 million negative items removed from their credit reports in 2020
More than 221 million challenges and disputes sent for clients since 2004
Get started today with a free online credit report consultation
Cancel anytime
| Better Business Bureau | In Business Since | Monthly Cost | Reputation Score |
| --- | --- | --- | --- |
| See BBB Listing | 2004 | $59.95+ | 8/10 |
The standard plan comes in just under $100 a month and includes credit bureau challenges and creditor interventions. The mid-priced plan includes the features of the basic plan, plus credit score analysis and credit report coaching. The most expensive plan offers everything in the mid-tier plan, as well as credit score tracking, identity protection, cease and desists letters, and personal finance tools.
Lexington Law is one of the more expensive credit repair agencies, perhaps in part due to its status as a law firm. However, the company claims to have a fairly good success rate, with an average of 10.2 removals in four months across all three credit reports per client. It also advertises that it has helped remove more than 70 million negative items from client credit reports since its founding in 2004.
When browsing online reviews of Lexington Law, there seem to be a lot of mixed impressions. The company has a 4.3 rating with Consumer Affairs based on 178 consumer ratings submitted in the last year.

The news is decidedly less mixed on the Better Business Bureau's page for Lexington Law — and not in a good way. Lexington Law has a "C-" rating with the BBB, and 373 customer reviews give it an average rating of two stars. The company has closed 278 complaints within the last 12 months, at the time of review.
CreditRepair.com Review
CreditRepair.com is a popular company that shows up at — or very near — the top of the results of any credit repair web search. Which makes sense, considering the company has been in business since 1997, though it has only handled credit repair since 2012.
Where some companies offer tiered credit repair products, CreditRepair.com has a single product, and it charges the same flat monthly rate for all of its services. If you'd like to simply get a feel for the company, you can take advantage of a free 15-minute credit analysis.
Free online consultation
Helped with over 8.2 million removals on members' behalf since 2012
Free access to your credit report summary
Three-step plan for checking, challenging and changing your credit report
Online tools to help clients track results
| Better Business Bureau | In Business Since | Monthly Cost | Reputation Score |
| --- | --- | --- | --- |
| See BBB Listing | 2012 | $69.95+ | 8/10 |
While CreditRepair.com only offers one credit repair product, the company does seem to make that product inclusive, offering a range of digital tools that include mobile apps, an online dashboard, and text and email alerts. Users also receive credit score tracking and analysis and TransUnion credit monitoring.
CreditRepair.com doesn't promise that it can help your credit, but the company does advertise that its customers "have seen an average score increase of 40 points in four months." Additionally, the company's President, Scott Smith, has been quoted as saying, "Our members have seen terrific results, including an average of 7% of the presenting negatives removed month after month."
Although CreditRepair.com has a Consumer Affairs entry, it has a limited number of ratings and reviews. From the 48 consumer ratings, CrediRepair.com earned a total of 3.5 stars.

The story is less flattering at the Better Business Bureau's listing for CreditRepair.com, which has a "D" rating from the BBB. CreditRepair.com has 20 customer reviews on the BBB site, with an overall customer rating of 1.6 stars. The company has closed 36 consumer complaints in the last 12 months, and 83 complaints in the last three years.
Sky Blue Credit Repair Review
Sky Blue Credit Repair is a company that focuses solely on helping consumers repair their credit. The company has been in business since 1989, meaning it has around 30 years of experience dealing with creditors and reporting agencies.
Membership with Sky Blue Credit Repair comes with a monthly fee, and the company only offers one price point, though couples can get a reduced price. Prospective customers can sign up to receive a line-by-line review of their credit reports to assess how Sky Blue Credit Repair's customer service team can help.
Best-in-class support
In business since 1989
Rapid 35-day dispute cycle, tailored to your situation
90-day 100% money-back guarantee
Low $79 cost to get started, cancel or pause membership anytime
| Better Business Bureau | In Business Since | Monthly Cost | Reputation Score |
| --- | --- | --- | --- |
| A+ | 1989 | $79 | 9.5/10 |
Sky Blue Credit Repair is one of the more affordable credit repair companies, but it doesn't seem to skimp on features. Members receive a full evaluation, including an evaluation of all potential disputes as well as advice on what steps to take to boost their credit scores. Users can also receive debt validation, goodwill letters, cease and desist letters, and debt settlement consultations at no extra cost.
Where some credit repair companies may have low monthly limits on how many disputes they will file, Sky Blue Credit Repair advertises its quick work, disputing 15 items — up to five per bureau — every 35 days. Users can receive a refund within the first 90 days if they're not happy with the service.
As far as consumer reviews are concerned, Sky Blue Credit Repair seems to have a fairly good reputation. Consumer Affairs hosts 61 consumer ratings that give the company 4.8 stars out of five, with 92% of reviewers giving the company five stars and just 3% of reviews giving Sky Blue Credit Repair a single star.

The consumer feedback is similar to the Better Business Bureau, where 20 consumer reviews give Sky Blue Credit Repair 3.8 out of 5 stars and an "A+" rating. The credit repair service has only 12 closed complaints with the BBB, two of which occurred within the last 12 months at the time of writing.
Ovation Credit Repair Review
Ovation is a credit repair service that's been in the credit repair business since 2004. Ovation was acquired by LendingTree in 2018, a popular financial technology company and online lender, and operates as a subsidiary of the larger institution.
As with most credit repair companies, Ovation credit services require membership and a monthly fee. The company also charges a "first work fee" that varies based on the plan chosen. Ovation offers two packages, depending on consumer needs, and provides a free consultation for new customers.


Free consultation & evaluation
In business since 2004
A+ rating with the BBB
4.5 stars with Consumer Affairs
Ovation's two main credit repair products include the basic Essentials plan, at $79 a month, and the more robust Essentials Plus plan at $109 a month. The Essentials package includes unlimited bureau disputes, access to a professional credit analyst, and a collection of financial management tools.
The Essentials Plus plan includes everything the Essentials plan offers, plus unlimited debt validation and goodwill letters, a recommendation letter, and TransUnion credit monitoring. Both packages offer the optional add-on of its Identity Optimization service.
Ovation is somewhat in the middle of the pack on price, but it does seem to be one of the leaders so far as customer satisfaction is concerned. The credit repair company has a 4.3-star rating from 323 consumer ratings at Consumer Affairs, 67% of which give Ovation five stars. In fact, 83% of ratings were for four stars or higher and fewer than 6% of reviewers gave Ovation a one-star rating.

The picture is almost as nice at the Better Business Bureau, a rarity for credit repair companies. Ovation has earned an "A+" rating with the BBB, and 85 consumer reviews on the site give Ovation 3.67/5 stars. The BBB has logged 31 complaints against Ovation in the last 12 months at the time of writing.
What is Credit Repair and How Does It Work?
Although credit repair can be a general term that simply refers to strategies used to boost your credit scores, in most cases, credit repair specifically refers to the process of trying to improve your credit by disputing negative items on your credit reports.
Basically, the Fair Credit Reporting Act (FCRA) gives all U.S. consumers the right to fair and accurate credit reports. Part of this law means you have the right to one free copy of your credit reports — one each from Equifax, TransUnion, and Experian — every year through AnnualCreditReport.com, the official site.
The FCRA also gives you the right to dispute information on your credit reports that is unfair, inaccurate, or out of date. This can mean anything from spelling errors to fraudulent accounts to items that should have aged off your reports but have failed to do so.
If you identify information in your file that is incomplete or inaccurate, and report it to the consumer reporting agency, the agency must investigate unless your dispute is frivolous. — FTC
It's important to note that this does not mean that you have the right to dispute legitimate negative items. Moreover, you should avoid any credit repair company that encourages you to file blanket disputes on all of your negative items. The credit reporting agencies have the right to dismiss frivolous (read: silly, unsubstantiated, or excessive) disputes.
So, how does credit repair work? Whether you do it yourself or hire a pro, credit repair will involve filing a dispute with the credit bureau for each erroneous item on your reports. Since the three bureaus are distinct entities, you'll need to file a separate dispute for each bureau if an item shows up on multiple credit reports.
These days, filing a credit report dispute yourself is easier than ever, as each credit bureau offers a simple online dispute platform:
If you don't want to file online, you can do so by mail. Either way, be sure to include all relevant details and documentation in your dispute to give the credit bureau and information furnishers as much data as possible (always submit copies, not original documents).
Once you've filed, the credit bureau has 30 days to perform an investigation and respond to your dispute. This will generally involve the bureau forwarding your dispute to the creditor or collection agency that furnished the original information.
Many experts advise you to also send a copy of your dispute — and all relevant documents — directly to the creditor (via certified mail) so it cannot claim to lack important information. Additionally, be sure to keep a copy of all of your correspondence with the credit reporting agencies and your creditors.
How Long Does It Take to Repair Your Credit?
As noted above, the credit reporting bureau has 30 days to handle a credit report dispute once it is filed. So, assuming you have only one item to dispute and everything goes smoothly, credit repair could take as little as a few weeks to complete — but that's the best-case scenario.
If you fail to provide enough information or need to file multiple disputes, then credit repair can take much longer. Since most consumers seeking out credit repair companies likely have more than one small item to dispute, it's probably a good idea to plan on the process taking at least a few months when you have multiple disputes — and likely much longer if you hire a credit repair company.
Any credit repair company that guarantees results in 30 days or less should set off immediate red flags.
And the process can be especially long if you have a large number of credit report errors. That's because most credit repair companies have a limit on how many disputes they will file in any given 30-day period. Usually, this limit means a credit repair company will only dispute a handful of items per credit report per month.
According to Lexington Law, clients use Lexington's credit repair services for an average of three to six months. When you look at various reviews from credit repair customers from several companies, it seems that six months to a year is not an uncommon amount of time to spend with a credit repair company.
In a broader sense of the term credit repair, negative items can stay on your credit reports for up to seven years (or up to 10 years for some types of bankruptcy), though hard inquiries tend to only hang around for up to two years. After that time, the negative item should automatically come off your reports (and can be disputed if it doesn't).
Should You Hire a Company or Do It Yourself?
The decision of whether to hire a credit repair company or handle your disputes yourself will depend entirely on your goals and means. If you have the funds to hire a credit repair company and feel comfortable handing over the reins, then letting the credit pros handle the work can certainly save you from having to spend time personally filing disputes and managing paperwork.
However, credit repair companies aren't inexpensive, with monthly fees that range from $80 to $120 (and up). Over the course of a typical six-month relationship, you'll have likely forked over at least $420 or more — and there are no guarantees that the company will be any more successful than you would be on your own.
On the other hand, going through the credit repair process on your own is completely free (unless you decide to order extra copies of your credit reports or scores that you can get for free), as there are no filing fees associated with disputing credit report items.
You can also complete the process online these days, which makes everything faster and simpler than it used to be. All in all, if your disputes are fairly basic — i.e., obvious errors or outdated information — then there seems to be little benefit to hiring someone instead of doing it yourself.
That said, if you have a more complicated situation, have had self-filed disputes rejected, or can make use of the secondary services offered by most credit repair companies (e.g., credit score analysis, debt settlement consulting, credit monitoring), then going with a professional may make sense.
Is Credit Repair the Best Way to Fix Your Credit?
Perhaps the most important thing to understand about the credit repair process is that it is not a magic fix for bad credit. Credit repair is only designed to ensure your credit reports are fair and accurate, meaning it can only be used to remove incorrect, outdated, or fraudulent items from your credit reports.
Credit repair is not a way to remove legitimate, substantiated negative items from your credit reports. If you default on a loan, miss credit card payments, or otherwise misuse your credit products, those items can and will remain on your credit reports no matter how many disputes you file.
In other words, unless the source of your poor credit is an erroneous or fraudulent account on your credit reports, credit repair probably isn't the best — or only — solution to your credit problems. (That said, if you have errors on your credit reports, it's always a good idea to have them resolved sooner rather than later.)
In the end, the best way to boost your credit scores will depend entirely on your specific credit profile, though there are some generalizations we can make. That's because your credit scores are based on five main factors:
Payment history (35%): Your payment history is the single most important factor in your credit scores and overall creditworthiness. Creditors want to see that you can pay your debts on time and as agreed, which means delinquent debt payments and defaulted debts can cause significant and long-lasting damage to your credit scores.
Amounts owed (30%): Another big part of your credit score is how much money you already owe, especially on your revolving credit accounts (e.g., credit cards). Having credit or store cards that are maxed out — or close to — is considered to be a sign of financial trouble and it can cause your credit score to decrease.
Length of credit history (15%): The overall age of your credit history and the average age of all of your credit accounts both contribute to your credit score. The longer you have been (responsibly) using credit, the more comfortable lenders will feel giving you credit. (One of the most common reasons young people have low credit scores is due to having a limited credit history.)
Credit mix (10%): This factor looks at the different types of credit products you have and have used, as creditors like to see that you can handle various credit types responsibly. While you shouldn't apply for credit products you don't actually need, diversifying your credit types can potentially boost your scores.
New accounts (10%): Every time you apply for new credit, the lender performs a hard credit inquiry to check your credit report. This factor is where hard inquiries are incorporated into your credit score; one or two hard inquiries won't do much credit damage, but a series of inquiries in a short period of time is seen as an intent to take on debt, which can cause your credit score to decrease.
If your credit score troubles come from credit cards with high utilization (cards with balances at or near the credit limit), then you may see significant credit score improvement by paying down your balances to reduce your utilization. This is also a good way to reduce your overall debt costs, as credit cards tend to have very high interest rates.
If bad credit is the result of late or unpaid debts, the first step is to pay those accounts so they return to good standing. This will stop the damage from getting worse, though, unfortunately, this won't automatically fix your credit.
Most negative items can stay on your credit report for up to seven years, and waiting for them to age off of your reports is the only reliable way to remove them.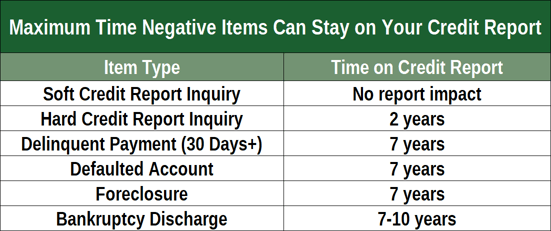 On the plus side, credit scoring algorithms are designed to weigh recent credit information more than older information. As a result, negative credit report items will have less impact on your credit scores as they age, particularly if you build a more recent history of paying on time.
So, overall, time is the best form of credit repair. Waiting out old negative items — while working to build a recent positive payment history — is the only sure way to repair poor credit and boost your credit scores.
One Part of a Bigger Plan to Rebuild Credit
Credit scores have become a vital part of our consumer finances, and your scores can impact everything from getting a credit card to activating your home utilities. Given the importance of your credit reports, it's vital that the information they contain is both accurate and up to date.
When it comes to cleaning up the errors on your credit reports, credit repair can be a good tool, whether you do it yourself or hire a professional. However, credit repair isn't a magic fix —  it only works on specific types of items. Any legitimate negative items are yours to keep until they age off your reports.
In general, credit repair should be just one part of a bigger, more comprehensive plan to build good credit — a plan that firmly addresses the root causes of your bad credit. After all, unless you fix the underlying problem, repairing your credit will only be a short-term help.
Advertiser Disclosure
BadCredit.org is a free online resource that offers valuable content and comparison services to users. To keep this resource 100% free for users, we receive advertising compensation from the financial products listed on this page. Along with key review factors, this compensation may impact how and where products appear on the page (including, for example, the order in which they appear). BadCredit.org does not include listings for all financial products.
Our Editorial Review Policy
Our site is committed to publishing independent, accurate content guided by strict editorial guidelines. Before articles and reviews are published on our site, they undergo a thorough review process performed by a team of independent editors and subject-matter experts to ensure the content's accuracy, timeliness, and impartiality. Our editorial team is separate and independent of our site's advertisers, and the opinions they express on our site are their own. To read more about our team members and their editorial backgrounds, please visit our site's About page.