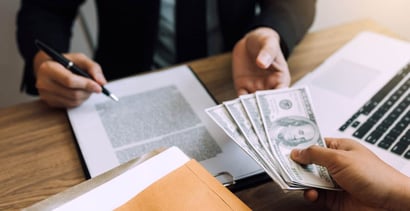 If you need to borrow thousands of dollars for an unexpected or urgent expense, a personal loan can be a great option to quickly get the money you need. Qualifying for a personal loan can be challenging when you have bad credit. But you can still get a loan for a moderate amount like $6,000, even if you don't have good credit. 
Some lenders offer bad credit loans, while others consider additional factors such as your income and debt-to-income ratio to help you qualify for a loan. When looking for some of the best $6,000 loans for bad credit, it's important to compare several lenders and get prequalified online, which only takes a few minutes. 
$6,000 Loan Options For Bad Credit Borrowers
Personal loan amounts typically range from $1,000 to $35,000. If you have a low credit score and a poor credit history, traditional lenders like a bank or credit union may not be the best option for a personal loan. 
Some online lenders that belong to lender networks offer various options for getting an unsecured personal loan that doesn't require collateral. Here are five of the best $6,000 loans for bad credit borrowers: 
24/7 Lending Group considers most credit types for a personal loan with a loan amount of up to $35,000. This company serves as the middleman between the borrower and lender by matching applicants with a lender that can meet their qualifications. The network partners with several lenders that work with subprime borrowers and tend to offer more flexible approval requirements than traditional lenders. You can apply with a cosigner to help improve your loan terms if you don't have good credit.
You can prequalify online to check your interest rate and receive loan offers from different lenders. There is no obligation to accept any loan offers you receive, but it will allow you to compare loans side-by-side to ensure you're getting the best deal. If you choose to move forward with a loan offer, 24/7 Lending Group will send your information to the lender, where you can finish applying and finalize the loan. 
Funding times vary by lender, but you could receive your loan funds as soon as 24 to 48 hours after signing your final loan agreement. 24/7 Lending Group doesn't require any fees, but it does take a commission from its partner lenders. Also, you'll want to see if the lender you select charges any additional fees associated with the loan.
CashUSA.com can help you get a personal installment loan of up to $10,000. This company also has a big lender network, and you can complete a loan request form quickly online to see which options you qualify for. 
Once you submit your basic information, you may be connected with different lenders providing a loan offer to consider. You may also receive offers for debt relief and credit repair services, but there is no obligation to sign up for anything.
Loan terms range from 90 days to 72 months. It's important to carefully review your loan offer since the lender will show you the exact fees and interest rate of the loan before you accept the offer.
To qualify for a loan with CashUSA.com, you must be at least 18 years old, a US citizen or permanent resident, and have a checking account in your name. You must also be employed for at least 90 days, meet your lender's income minimum requirements, and have a valid email address and home and work phone numbers. 
SmartAdvances.com offers personal loans for $6,000 or more if you need it. They also have a quick loan request process where you can get approved in as little as two minutes. Once you submit a loan request online, its network of lenders will review your information and provide relevant loan options. 
If you select a loan offer and get approved, you could receive your money via direct deposit in as little as one business day. Monthly repayment terms typically range between two months and 72 months. Depending on your lender, you may also have to pay an origination fee, which could vary.  
Some general requirements to obtain a personal loan include being 18 years or older, having a regular income, and being a US citizen with a valid Social Security number. You must also have an open bank account and meet any additional credit history and debt-to-income ratio requirements your lender may have.
BadCreditLoans.com offers personal loans of up to $10,000 and caters to borrowers with poor credit. BadCreditLoans.com is not a lender — it partners with online lenders to help connect people looking for a bad credit loan, and the service is free. 
To get started, you can complete a loan request form online to connect with a lender that can likely offer you a personal loan. From there, you can compare loan options and choose a lender to apply for a loan. BadCreditLoans.com also has an extended network of third-party lenders if it can't find a lender in its network, increasing your chances of finding a loan fast. 
Your loan term will vary depending on the lender, but you'll usually have anywhere from 90 days to 72 months to repay your personal loan. Once you approve the loan terms, funds can be available as soon as the next business day. 
To qualify for a loan, you must be at least 18 years old, provide proof of US citizenship, and have a regular income from full-time employment, self-employment, disability, or Social Security benefits. 
PersonalLoans.com is a free service with no upfront fees, whether you want a personal loan for an emergency, home improvement, business startup, debt consolidation, or a family vacation. You can request a loan online and connect with a network of lenders to compare loan offers and terms.
PersonalLoans.com is also one of the best options for business loans if you have bad credit. If you're approved, you can receive your funds as soon as the next business day. 
Depending on the lender you're matched with, you may be charged loan fees such as an origination fee. PersonalLoans.com can also help you find peer-to-peer and bank loans in addition to personal installment loans. The minimum credit score requirement for personal loans and bank loans is 580. You must have a minimum credit score of 600 for a peer-to-peer loan.
To qualify, you must be at least 18 years old, have a Social Security number, meet the income requirements, and have a bank account. PersonalLoans.com may also show you other financial products and services, such as credit repair and monitoring, but you are not obligated to sign up or apply for anything. 
How to Qualify For a Personal Loan With Bad Credit
To qualify for a personal loan with bad credit, you must have a steady income, a checking account, and a reasonable debt-to-income ratio. If the loan can wait, you should also consider improving your credit score, as this will increase your chances of getting approved for a loan and a lower interest rate. 
Let's dive into some of the specific steps:
Check Your Credit
It's important to know where your credit stands before applying for a personal loan. This means checking your credit score and reviewing your credit reports. Your credit score can range from 300-850. A higher score indicates you are more likely to repay loans on time.
You can request a free credit report from each of the three major credit reporting agencies — Experian, TransUnion, and Equifax — from annualcreditreport.com. You are entitled to one free report from each agency every week. It used to be only once per year, but it was changed to weekly during the pandemic, and the change was made permanent in 2023. 
It's important to review your reports for any errors or inaccuracies that could be negatively impacting your score. 

To improve your credit, focus on paying down existing debt, paying your bills on time, and using less of your available credit. A good rule of thumb is to not exceed 30% of your total credit limit. 
Another strategy is to get a secured credit card and make your monthly payments on time. Aim to pay your balance off in full each month to avoid interest fees. 
Earn a Steady Income
Another important factor in qualifying for a personal loan with a bad credit score is to have a steady income. Lenders want to see you have the means to repay the loan, so providing proof of employment and income is crucial. This can include pay stubs, tax returns, or bank statements.
Pay Down Your Debt
Your debt-to-income (DTI) ratio is a measure of how much debt you have compared to your income. To lower this ratio, you can pay off existing debts or increase your income. 
A lower DTI ratio will make you a more attractive candidate for a personal loan. Lenders typically like to see a DTI of 40% or less.
Consider Getting a Cosigner
If your credit score and income are still not strong enough to qualify for a personal loan, consider finding a cosigner. A cosigner is someone with good credit and income who agrees to be responsible for the loan if you are unable to repay it. 
This can increase your chances of getting approved for a personal loan and potentially result in a lower interest rate. Just make sure the cosigner fully understands the terms of the loan and agrees to them before you both sign anything. 

In addition to these steps, it's important to research different lenders and their requirements for bad credit personal loans. Some lenders specialize in working with individuals with bad credit, while others have stricter approval requirements. 
Can I Get a $6,000 Personal Loan With No Credit Check?
No, most (if not all) personal loans require a credit check to verify your credit history. You may be able to get a payday loan without a credit check, but not one for $6,000. 
When a lender is going to loan you money, it wants to see a picture of your past borrowing history to determine its risk level when granting a loan. You don't need excellent credit to qualify for some personal loans, but when you get to the application stage, the lender will run your credit, resulting in a hard inquiry on your credit report. 
If you're just looking to shop around for a personal loan and get preapproved, this won't negatively impact your credit score because it only results in a soft credit inquiry. This allows you to view loan rates and terms to see what you could qualify for before moving forward with an application. 

It's important to note that bad credit personal loans typically come with higher interest rates and fees, so it's important to shop around.
Is a Bad Credit Personal Loan Different From a Payday Loan?
Personal loans and payday loans are two common types of loans available to people who need cash fast. A payday loan, however, is a short-term loan with a smaller loan amount. Payday loans are high-cost loans that help borrowers cover necessary expenses until their next paycheck. 
These loans are typically offered by online lenders or storefronts and may not require a credit check. You just need to have proof of income and a checking account. 

According to the Consumer Financial Protection Bureau, payday loans can come with an APR as high as 400%, making it much more expensive to borrow money than with a personal loan. Additionally, these loans are meant to be repaid in one lump sum on the borrower's next payday. This can make it difficult for borrowers to repay the loan in full, leading to a cycle of debt.
Payday loans serve people with fair credit or bad credit who may not qualify for a traditional personal loan. If you need to borrow $6,000 or more, a personal loan would be a better option. A credit card would also have a lower interest rate than a payday loan.
Will Any Bank Give a Loan to Someone With Bad Credit?
Traditional lenders like banks and credit unions may not approve someone with bad for a loan. These financial institutions also may not give a loan to non-customers. 
If you're searching for a personal loan and want to start with the bank you use, ask them about their loan and credit score requirements before applying. Also, you can see if they'll let you get preapproved so you can view your interest rate before applying for the loan.

As an alternative option to a bank, consider using an online lender that allows you to get prequalified online. Or, you can use a loan marketplace to help you shop for lenders online to save time and effort. 
24/7 Lending Group and CashUSA.com are excellent options for borrowers with poor credit who need to get a personal loan quickly. It's impossible to know every lender option available to you, especially the ones that accept bad credit borrowers. Online lender networks partner with dozens or hundreds of lenders and have all their requirements on hand to quickly match you with the best option. 
What is the Monthly Payment on a $6,000 Loan?
The monthly payment on a $6,000 personal loan depends on the interest rate, loan term, and fees associated with the loan. If you have bad credit, you can expect to pay a much higher interest rate, such as 35.99%. 
For example, if you take out a $6,000 personal loan with a 35.99% interest rate and a 60-month term, your monthly payments would be around $216.76. At least $179 would go toward interest in the first year. 

At the end of your five-year term, you'll have paid a total of $7,005.54 in interest and $13,005.54 in total loan costs. To avoid the high interest fees, you can always pay extra on your loan to pay it off early. Most lenders don't have pre-payment penalties for paying off your loan early. 
If possible, budget in extra payments on your loan. That extra amount could go straight to paying down the principal, depending on when you make your payment each month. 
Now, let's say you had excellent credit and received a 7.99% interest rate on a $6,000 personal loan with a 60-month repayment term. Your monthly payment would now be $121.63, and you'll pay a total amount of $1,297.78 in interest and $7,297.78 in total loan costs by the end of your term.  
How Can I Get a Bad Credit Business Loan?
To get a bad credit business loan, you need to have a solid business plan, a detailed financial statement, and a good relationship with your lender. You can also consider using collateral, such as your inventory or equipment, to secure the loan. 
Alternative lenders, crowdfunding, or microloans may also be good options. The Small Business Administration allows you to borrow up to $50,000 through a microloan.  

It is also essential to have a solid business plan and a plan to improve your credit score. Business credit cards can help you build your business credit score. You can improve your credit over time by making timely payments and keeping your balance low. Business credit cards often come with rewards programs that allow you to earn points or cash back on your purchases that can save your company money in the long run.
If you need a business loan and have bad credit, you can consider online lenders like On Deck, Blue Vine, and Fora Financial. Some lenders will allow you to get a working capital loan if you already receive payments through your business. 
Overall, it can be challenging to find a small business loan if you have bad credit and an unestablished business credit history.
What is a Secured Personal Loan?
Some banks, credit unions, and other lenders offer secured personal loans. To secure the loan, you'll need to put something valuable up for collateral, such as a vehicle, car, or savings account balance. Other secured bank loans are backed by a Certificate of Deposit (CD) or money market account balance.
The interest rate and fees may be lower for a secured personal loan, but with bad credit, this loan option may still be harder to qualify for. Also, if you fail to repay the loan, you could lose your collateral, so secured loans may be more risky. 
How Will a $6,000 Loan Affect My Credit?
A $6,000 loan will directly affect your credit score and credit history. If you make your payments on time, your credit score can improve and help your credit history. However, if you miss payments or default on the loan, your credit score will drop, and you will have a negative credit history. 
Therefore, it's important to borrow what you can afford to repay and make your payments on time.
A $6,000 personal loan will also impact your debt-to-income (DTI) ratio. Your DTI is determined by taking the total of all your minimum monthly debt payments and dividing it by your gross monthly income. So if your total minimum monthly debt payments add up to $800 and your gross monthly income is $4,000, your DTI is 20% (800 / 4,000). 

Lenders like to see a lower DTI when you're applying for a loan because it shows that you can handle another monthly payment and still be able to pay all your necessary bills. It's no secret that if someone were faced with paying their rent or mortgage versus a monthly loan payment, they would choose to pay for their housing first. 
Lenders like to see that your current debt load is manageable enough and it makes financial sense to borrow money. 
That said, your DTI and total debt load will also impact your credit score. The amount of debt you have, also known as "amounts owed," makes up 30% of your credit score. If you take on a $6,000 personal loan and already have several existing debts on your credit report, this could increase your total debt amount and negatively impact your score. 
But when you start to pay down the balance on your personal loan, your credit score may increase. Other smaller factors that also affect your credit score include new accounts and credit mix, which are the different types of accounts you have on your credit report (mortgage, personal loan, auto loan, student loans, etc.). 

Each factor makes up 10% of your credit score (20% total), so adding a $6,000 personal loan may help boost your credit score if it improves your credit mix. 
Loans Are Available to Bad Credit Borrowers
By considering these best $6,000 loans for bad credit and following the tips on qualifying for a personal loan with bad credit, you can find the best personal loan for your needs. Also, using some of the online lender networks in this article can help you get preapproved quickly and compare your monthly payments and interest rates.
Just remember to only borrow what you can afford to repay and make your payments on time to improve your credit score and credit history.
Advertiser Disclosure
BadCredit.org is a free online resource that offers valuable content and comparison services to users. To keep this resource 100% free for users, we receive advertising compensation from the financial products listed on this page. Along with key review factors, this compensation may impact how and where products appear on the page (including, for example, the order in which they appear). BadCredit.org does not include listings for all financial products.
Our Editorial Review Policy
Our site is committed to publishing independent, accurate content guided by strict editorial guidelines. Before articles and reviews are published on our site, they undergo a thorough review process performed by a team of independent editors and subject-matter experts to ensure the content's accuracy, timeliness, and impartiality. Our editorial team is separate and independent of our site's advertisers, and the opinions they express on our site are their own. To read more about our team members and their editorial backgrounds, please visit our site's About page.