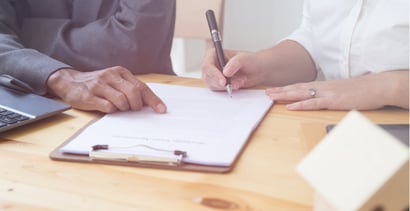 We hear a collective sigh of relief when we write about bad credit loans that don't need a cosigner. Using a cosigner can be tricky business, one that can easily bruise feelings and destroy trust.
If you'd rather not subject yourself and a cosigner to a lot of potential drama, take note of our reviewed lenders who can arrange loans for loners — that is, borrowers who don't want to use a cosigner despite having a low credit score.
Cash Loans | Personal Loans | Auto Loans | FAQs
Cash Loans That Don't Require a Cosigner
These three lending networks can arrange cash loans that have a short loan term with the highest APRs, usually repaid within 90 days. Each company can prequalify you for a cash loan or payday loan and then link you to a direct lender that will complete the application process.
While a cosigned loan is certainly possible, borrowers can get approved for all types of loans, including emergency loans, without a cosigner.
Short-term loans up to $5,000
Online marketplace of lenders
Funds available in as few as 24 hours
Simple online form takes less than 5 minutes
Trusted by more than 2 million customers
| Loan Amount | Interest Rate | Loan Term | Loan Example |
| --- | --- | --- | --- |
| Up to $5,000 | Varies | Varies | See representative example |
MoneyMutual is our perennially top-ranked company for cash loans it arranges between you and the lenders on its network. The company can help you find both short-term cash loans and longer-term personal loans. With this choice, you can obtain a cash payday loan that you quickly repay or a bad credit personal loan with a repayment term ranging from three to 72 payment installments.
SmartAdvances.com uses an extensive network of public lenders to match you to a provider of short-term cash advances. If an online lender approves your application for an unsecured loan, the proceeds will be transferred as quickly as the next business day directly to your financial institution. This network encrypts all transmitted data to help ensure that your information will remain secure and private.
CreditLoan.com, headquartered in Tampa, Florida, uses its extensive lender network to provide borrowers with short loan term offers, including emergency loans, subject to state regulations. The company's website is extremely helpful, offering a variety of online tools and resources, including a loan calculator. The website displays the TRUSTe® seal, a guarantee of data security and privacy that has protected more than 33 million visitors.
Personal Loans That Don't Require a Cosigner
Typically, the personal loans arranged by these three lender-matching services have terms of three to 36 months and APRs that top out at 36%. These services are free to consumers (the lending-matching service charges no origination fee) and imply no obligation to accept a loan.
You may be able to arrange an unsecured loan without a creditworthy cosigner even if you have a bad credit score as reported by a credit bureau, although a cosigned loan is often easier to obtain.
24/7 Lending Group can help you find the best personal loan for your circumstances, good credit not required. You may qualify for an installment loan or a short-term payday loan, depending on the results of a soft credit check.
CashUSA.com can put you in touch with lenders offering fixed-rate personal loans in a variety of loan amounts and terms. To prequalify, you must be a U.S. citizen or permanent resident, at least 18 years of age, with after-tax income of no less than $1,000 per month, as well as a valid email address, phone number, and active checking account registered in your name at a bank or credit union. Upon prequalification, CashUSA.com will match you to a direct provider of personal loans where you can expect a quick decision and, if approved, next-day funding.
With a name like Bad Credit Loans, the audience for this matching service can expect to work with lenders that are highly experienced in helping borrowers with poor credit obtain personal loans. The requirements for prequalification include U.S. citizenship, age of 18 or older, dependable monthly income, and a valid checking account, phone number, and email address. If a direct public or private lender on the Bad Credit Loans network approves your loan application, your money should appear in your bank account within one to two business days.
Auto Loans That Don't Require a Cosigner
These dealership networks can put you into your next vehicle despite having bad credit. You also may be able to arrange cash-out refinancing on your current car. Trade-ins and down payments improve your prospects for loan approval, with or without a cosigner.
Network of dealer partners has closed $1 billion in bad credit auto loans
Specializes in bad credit, no credit, bankruptcy and repossession
In business since 1999
Easy, 30-second pre-qualification form
Bad credit applicants must have $1500/month income to qualify
| Interest Rate | In Business Since | Application Length | Reputation Score |
| --- | --- | --- | --- |
| 3.99% - 29.99% | 1999 | 3 minutes | 9.5/10 |
Auto Credit Express can match you to a dealer via its nationwide network to help you obtain a vehicle loan on affordable terms, even when you have a less-than-good credit score. It takes only a minute to request and prequalify for an auto loan. You should be quickly contacted by a nearby bad credit car dealership that can complete your loan before the day ends.
Car.Loan.com works with a network of dealers that are comfortable arranging loans for bad credit consumers, even those who have gone through a bankruptcy. You can complete the online request form in just a minute or two to receive preapproval and be matched with the best offers on its nationwide online lender network. You don't need a creditworthy cosigner to obtain a loan for a new or used car, and you may also qualify for cash-out refinancing on your current vehicle.
MyAutoLoan.com can swiftly get you up to four car loan offers via its network of dealerships that feature buy here, pay here financing. The company's website offers several valuable online tools, including an interest rate estimator, the latest car loan APRs, and a loan payment calculator that uses current car loan interest rates. If you have equity in your current car, you can quickly arrange a cash-out refinancing loan.
What is a Cosigner?
A cosigner is a person, often a family member or friend, who pledges to repay an unsecured debt if you fail to do so. It's a beneficial arrangement in which borrowers are able to fulfill their financial obligations, but serious problems can result when a borrower doesn't follow through as promised.
Typically, a cosigner has a good credit score. Often, spouses fill the role, but friends, work colleagues, and other family members are popular choices. Parents often cosign student loans and student loan refinancing for their children, and adult children may help elderly parents by cosigning a mortgage for property at a retirement village.
Lenders appreciate the extra security that cosigners provide, knowing that the chances of default are sharply lower. Cosigners not only increase access to loans, but they may also help you get a lower interest rate.

Obviously, cosigners undertake some risk when they agree to guarantee the debt of someone with bad credit. After all, the cosigner is now obligated to repay the loan, and the cosigner's credit score is in jeopardy should the borrower prove unable or unwilling to repay.
Here are some things cosigners are not:
Cosigners are not character witnesses for borrowers. For example, a borrower may be an all-around skunk who happens to be financially responsible.
Cosigners are not necessarily co-owners. For instance, cosigning for a car loan does not make you a co-owner unless you have an ownership interest (i.e., money) in the car.
Cosigners do not automatically have spending rights for credit cards. A cosigner must also be designated as an authorized user of the card to use it. And authorized users do not have to be cosigners. In fact, authorized users are not responsible for the debts they run up — that dubious honor falls upon the account owner.
Cosigners are not exempt from state law. It's important for prospective cosigners to understand the rights and obligations specified under the state's relevant statutes.
Cosigners may not find it so easy to borrow when needed. The cosigned debt likely is reported in the credit reports of the primary borrower and the cosigner. This can raise the cosigner's debt-to-income ratio and/or credit utilization ratio, complicating access to a new loan or credit card.
Cosigners may not understand the extent of their liabilities. If a borrower stops paying bills, the cosigner is responsible not only for the loan balance but also for any late fees and/or penalty interest caused by missed payments.
Cosigners are not ATMs. They are humans, and they have feelings that can get hurt when a borrower fails to make a timely loan payment. Relationships can suffer and even be irreparably broken when borrowers take advantage of a cosigner.
So what's in it for the cosigner? Often it's nothing more than the satisfaction of helping a family member or friend. Cosigners may feel enormous pride when they help a child get their first credit card or loan, especially if cosigning helps to garner a lower interest rate.
How Can I Get a Loan With Bad Credit and No Cosigner?
We've made the point several times that secured loans are easier to get, even when you have bad credit and don't use a cosigner. In this article, we've limited our discussion of secured loan offers to automobile dealership networks, but you can also arrange secured loans in several other ways, including:
Home equity loans and home equity lines of credit, in which you can cash out some of the equity you've accumulated in your home. Equity is the amount that an asset's value exceeds the current amount of debt owed — in this case, your mortgage balance. FHA loan programs can help mortgage lenders provide excellent loan terms — it's hard for mortgage lenders to beat an FHA loan.
Collateralized bank and credit union loans, in which you post cash, securities, or personal property to secure a loan.
Pawnshop loans are a type of secured loan collateralized by your personal property, but they are expensive, and you can easily lose the property if you don't redeem it by a set date.
You may be able to get a cash advance from a credit card, but this type of loan begins accruing interest right away and doesn't provide the normal credit card grace period for purchases.
Because these are secured loans, you won't need a cosigner to receive approval.
In terms of unsecured loans, the lender networks we've reviewed here all serve bad credit consumers, and none mandate the use of a cosigner. But let's be clear — it doesn't hurt to apply with a cosigner.
But for many consumers, this isn't a realistic prospect, which makes these networks all the more valuable.
Some lenders will provide you with a future income-based loan even when you currently have a low credit score or no score at all. A future income-based loan is a relatively new product that has slowly become more popular among younger borrowers.
Can I Get a Student Loan Without a Cosigner?
Student loans have allowed millions of students to attend college and graduate school.
You can get most federal student loans and student loan refinancing, including Perkins Loan and Stafford Loan programs (for an unsubsidized or subsidized loan), without a cosigner. But cosigning is a standard operating procedure for a private student loan lender.
Federal Student Loans
Undergraduates applying for a Direct Student Loan (also called a Stafford Loan) or Perkins Loan can sign the loan agreement on their own — there is no provision for cosigning.
You apply for a federal loan (for either an unsubsidized or a subsidized loan) and other student aid through the Free Application for Federal Student Aid (FAFSA®) program, for which there is no origination fee and your credit score plays no part in the process.
However, graduate and professional students may apply for a grad PLUS loan that accommodates a cosigner (or co-endorser). The need for a cosigner on a grad PLUS loan can come about when the student has an adverse credit history, such as:
Delinquency
Default
Write-off/charge-off
Bankruptcy
Repossession
Foreclosure
Garnishment
Tax lien
If you have one or more derogatory items on your credit report, chances are you'll need a cosigner for a Grad Direct Plus Loan.
The Parent Direct Plus Loan program is one in which the parent takes out a federal loan on behalf of an undergraduate student. To be clear, the parent is the loan signer, not its cosigner. Moreover, the parent owns the loan and is responsible for repaying it.
Private Student Loans
Private lenders, from large national banks to online student loan providers, often require a parent to cosign a student loan. This is not surprising, since most students have little or no credit history.
While private student loans lack many of the beneficial features found in federal student loans, they can be customized to the needs of the borrower. They can also provide consolidation and refinancing options unavailable from federal student loans.
For example, only a private student loan lender can consolidate a mix of existing private and federal loans.
Private student loans may be taken out by a student or a parent. When a student signs for a private loan, the chances are that a parent will cosign it, thereby guaranteeing payments. Conversely, a private loan taken by the parent will not need the student's signature.
Can I Get a Personal Loan With a 450 Credit Score?
The personal loan networks reviewed above work with customers of every stripe, including ones with a minimum credit score. And make no mistake, you have to work pretty hard to drive your credit bureau score into the 450 neighborhood.
As this graphic shows, 450 is almost the minimum credit score, well below the average FICO credit score.

While relatively few consumers with very poor credit will qualify for a personal installment loan or a business loan, there are ways you can win approval despite your gloomy score.
Significantly, you can request preapproval when you contact one of the online installment loan networks. Your credit score is not a criterion for preapproval. Rather, the factors that matter are:
The status of your citizenship or residence.
Your age — most states require you to be at least 18.
You must have a Social Security number, email address, phone number, and an active checking account in your name.
You must reliably earn a stated minimum amount of monthly income. For example, CashUSA.com requires you earn at least $1,000 per month.
The reason why your credit is not a big factor for preapproval is that the lender-matching networks perform only a soft pull of your credit. Hard inquiries are the job of the direct lenders recommended by the loan networks. While preapproval does not guarantee you'll eventually be approved for a personal or business loan, it at least does not rule you out.
While some direct lenders will simply turn down bad credit loan applicants with a 450 credit score, others may look for ways to say "yes." For example, if the damage to your credit score took place several years ago and you've been an angel since, the lender may approve the loan on the basis of your monthly income. In any event, the lender almost certainly will do a hard pull of your credit before finalizing an offer.
Naturally, consumers with low credit scores are likely to be charged the lender's maximum APR (usually 36%) if their personal loan applications are approved. In addition, expect a long repayment term, up to six years, so each monthly payment is as small as possible. While this makes the bad credit loan more affordable, it also maximizes the overall interest charges.
By and large, personal loans are unsecured debt, often called signature loans since that's all the guarantee the borrower needs to give. But some personal loan providers will offer secured loans backed by your collateral.
Typically the collateral (cash or property) will be worth more than the loan amount, giving the lender plenty of headroom to liquidate the collateral on a defaulted loan.
You can short-circuit the drama of a 450 credit score by having a cosigner for the loan. The loan's characteristics will be based on the cosigner's credit rather than yours. We see again that a co-signature can act as a key to unlock a personal loan that would otherwise be inaccessible.
What Credit Score is Needed For Auto Loan Approval?
For the auto loan networks reviewed above, a credit score is not a decisive factor to get loan approval. Remember, these loans are secured by your car, and the dealer can resort to repossession if you stop making loan payments.
Of course, you're likely to access better deals if you can improve your FICO credit score to 620 or more, as you can see in the graphic below from Experian:

You can improve your prospects by depositing a down payment and/or supplying a trade-in vehicle. The larger the deposit and more valuable the trade-in, the more likely you'll obtain loan approval. Cash-out refinancing is even easier since you are supplying the vehicle upfront.
It never hurts to raise your score before applying for credit. That means paying your bills on time, keeping your debts in check, and fixing mistakes in your credit reports. You can clean up your credit reports yourself or use a credit repair agency to do all the hard work.
Research Bad Credit Loans That Don't Need a Cosigner
We don't think you should need to have a cosigner all up in your business to get a loan, even when your credit is bad. If you agree, then this review of bad credit loans that don't need a cosigner is meant for you. You can follow up for more information and prequalification by visiting a lending network's website.
Advertiser Disclosure
BadCredit.org is a free online resource that offers valuable content and comparison services to users. To keep this resource 100% free for users, we receive advertising compensation from the financial products listed on this page. Along with key review factors, this compensation may impact how and where products appear on the page (including, for example, the order in which they appear). BadCredit.org does not include listings for all financial products.
Our Editorial Review Policy
Our site is committed to publishing independent, accurate content guided by strict editorial guidelines. Before articles and reviews are published on our site, they undergo a thorough review process performed by a team of independent editors and subject-matter experts to ensure the content's accuracy, timeliness, and impartiality. Our editorial team is separate and independent of our site's advertisers, and the opinions they express on our site are their own. To read more about our team members and their editorial backgrounds, please visit our site's About page.