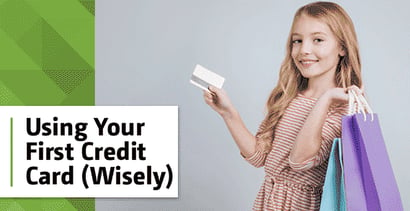 As with so many things in life, having some guiding words to help you along the way when you're navigating a new experience can be invaluable. With that in mind, we've compiled the following tips for using your first credit card wisely.
The day you get approved for your first credit card can be a milestone of adulthood. It signifies that you are now a creditworthy member of society and that financial institutions trust you to handle credit and debt.
Of course, that first card won't exactly be the keys to the kingdom. Rather than a five-figure credit limit, your new card will likely have a small, more reasonable credit line to see how well you handle your debt.
Ideally, your first credit card should be used primarily to establish and build your credit. When used properly, credit cards can be good credit-building tools. We've included the following tips for making the most of your first credit card, starting with selecting the right card.
Choosing the Right Card
The world of credit cards is nearly full to bursting with credit card options, making choosing your first card a potentially difficult decision.
Without a credit history, your options will likely be limited to entry-level and subprime unsecured cards or secured credit cards. The unsecured options will typically have high annual fees and APRs, while secured credit cards will require a deposit to open and maintain.
Don't let a low FICO score stop you from applying – we approve applications others may not.
You don't need good credit to apply.
Just complete the short application and find out in 60 seconds if you're approved.
When you need assistance our award-winning US-based Customer Service agents are there to help.
FICO scores are used to represent the creditworthiness of a person and may be one indicator to the credit type you are eligible for. However, credit score alone does not guarantee or imply approval for any PREMIER Bankcard® product.
| Application Length | Interest Rate | Reports Monthly | Reputation Score |
| --- | --- | --- | --- |
| 4 minutes | See Provider Website | Yes | 9.0/10 |
You don't need good credit to apply.
We help people with bad credit, every day.
Just complete the short application and find out in 60 seconds if you're approved.
You can build* or rebuild your credit: apply for a PREMIER Bankcard credit card, keep your balance low, and pay all your monthly bills on time.
Don't let a low FICO score stop you from applying – we approve applications others may not.
FICO scores are used to represent the creditworthiness of a person and may be one indicator to the credit type you are eligible for. However, credit score alone does not guarantee or imply approval for any PREMIER Bankcard® product.
*Build credit by keeping your balance low and paying all your bills on time every month.
| Application Length | Interest Rate | Reports Monthly | Reputation Score |
| --- | --- | --- | --- |
| 4 minutes | See Provider Website | Yes | 9.0/10 |
Brink's gives you the peace of mind you deserve. Securing cash and valuables since 1859.
With Brink's Direct Deposit, you can get paid faster* than a paper check.
No late fees or interest charges because this is not a credit card.
Use the Brink's Money Prepaid Mobile App to manage your account on the go and get text message or email alerts (Message & data rates may apply.)
*Card issued by Republic Bank & Trust Company, Member FDIC. Card may be used everywhere Mastercard Debit cards are accepted. "Apply Now" for full details.
See additional Brink's Prepaid Mastercard® Details.
| Application Length | Interest Rate | Reports Monthly | Reputation Score |
| --- | --- | --- | --- |
| 5 minutes | N/A (Prepaid) | No | 7.5/10 |
While building credit should be your primary goal, it's easy to get sidetracked by flashy rewards or big limits. Even with a short credit history, you'll probably find that you are eligible for cards that provide rewards — but don't expect to qualify for premium reward cards.
Keep in mind that most rewards credit cards, especially those for consumers with poor or limited credit, will charge an annual fee. But be sure to crunch the numbers before you give in to the allure of a rewards card to make sure you'll come out ahead in the end.
If you have no credit or a poor credit history, then your most affordable option is likely a secured credit card even with the deposit requirements. That's because your security deposit is completely refundable provided you close your account in good standing. Plus, secured cards often have lower rates and fees than unsecured cards.
For a secured card, an upfront deposit is required for you to secure the credit line. Usually, the credit line is equivalent to the amount of your deposit, which typically ranges from a minimum of $250 up to $3,000.
Depending on your specific credit profile and banking history, you may qualify for a partially secured credit card. Partially secured cards still require a deposit, but they will give you a credit limit that is larger than the amount you deposit.
Always Pay on Time
Once you receive your credit card, the real work begins. However, no matter what else you do with the card from here on out, the most important thing is to always, always, always make at least the minimum required payment, on time, every month.
There are three key reasons to avoid late payments, starting with the late fees. Nearly every credit card will charge you a fee for making a late payment — and, yes, a day late is still late, so you'll likely be charged a fee.
Late payments also typically activate a credit card's penalty APR, which is a very high interest rate that will then apply to all of your purchases. Penalty APRs are often 29% or higher, and they can remain in effect indefinitely depending on the card.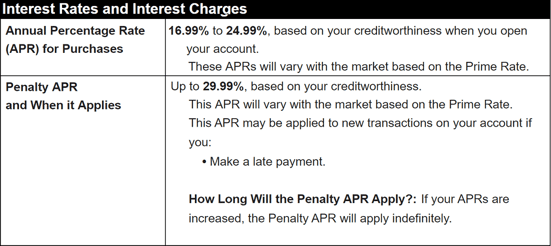 The last, but likely most vital, reason to avoid missing a credit card payment is the damage it can do to your credit score. Once a payment is more than 30 days past due, the credit card company will report the delinquent payment to the credit bureaus.
Your payment history makes up 35% of your FICO score – the credit score that most lenders use. Therefore, even if you miss one payment, you can do significant damage to your credit scores. Plus, delinquent payments remain on your credit reports for up to seven years, meaning that damage can take years to undo.
The best way to avoid late payments is to set up an automated payment from your bank account to your credit card. Your bank will then pay your credit card on the date you specify each month for you, ensuring you don't forget a due date.
Keep Your Balances Low
Another good tip is to keep your credit card balances low. Just because you're given a $1,000 credit limit doesn't mean that you should use it all — especially if you can't pay off the entire balance at the end of the month (interest fees get expensive).
No matter how low your credit card limit, it's your responsibility to manage it. In part, it means using your new credit card responsibility. With a low limit, however, it's quite easy to use up all of your available credit, which can damage your credit score.
Essentially, the more of your credit you use, the higher your credit utilization ratio. Your utilization ratio, or rate, is the ratio of how much credit you are using versus how much credit you have available, as shown in the example below.


A high utilization rate can cause your credit score to drop. A common rule of thumb is to keep your credit utilization under 30% of your total credit card limit, but that's just a figure used for convenience. There isn't really a magic number; in general, the lower your utilization rate, the better.
Overall, creditors — and, thus, credit scoring models — get nervous when you carry too much credit card debt. If you have credit cards that are maxed out (or anywhere close), creditors consider it a sign of potential financial trouble, and that makes them nervous about giving you more money.
While keeping a low utilization rate can be a challenge if you have low credit limits, one way to make sure your utilization rate stays low is to make several payments every month.
Your credit utilization ratio is usually reported to the credit bureaus when your statement closes. By making payments before your statement closes, you can help ensure the lowest possible balance is reported.
And no, you don't need to have a balance reported to get credit for using your cards. Your payment history will still be reported to the credit bureaus even if you pay your balance in full every month before your statement closes (so long as you did, in fact, use your card that period).


One way to make sure you don't charge too much to your card is to limit what you purchase with the card. You can use your card for a small monthly bill, like your phone bill or a streaming service, that you know you can pay off by the end of each month to continue building your payment history without overindulging.
Simply set up automatic payments then put the card in a safe place, out of temptation's way. Then, set your bank account to pay the credit card automatically each month to make sure you're never late.
Don't Be Afraid to Ask for an Increase on Your Credit Limit
As a first-time cardholder, you'll likely end up with a fairly low credit limit (unless you obtain a secured credit card and put down a large deposit). While it can be disheartening to tote around a card with a $300 limit, a low credit line doesn't last forever.
In some cases, your financial institution will automatically review your account to see if you are eligible for a credit limit increase. If you qualify, the issuer will simply increase your credit limit, often without telling you (though some may send an email or notification).
At the same time, you may not always be able to count on unsolicited credit limit increases. However, if you feel ready to take on a credit limit increase, you can ask your financial institution for one.
One thing to keep in mind is that requesting a credit limit increase may result in a hard credit inquiry as the issuer evaluates your eligibility for an increase. On the other hand, an unsolicited credit limit increase will generally use a soft credit inquiry.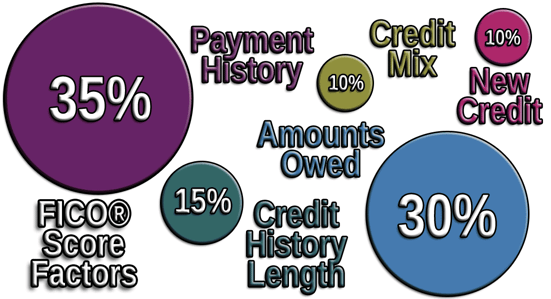 It's only a good idea to ask for a credit limit increase if you have already established a positive payment history. Otherwise, it is like an employee asking your boss for a raise after being on the job for only a few weeks.
As long as you continue using your credit card responsibly by keeping a low utilization ratio and making on-time payments, you'll likely be able to qualify for unsecured credit and higher credit limits down the line. Remember that building positive credit takes time, so it is important to be patient.
If you find yourself struggling to build credit due to errors or unsubstantiated accounts on your credit reports, consider credit repair as a way to clean up your credit reports. You can do this on your own or use an experienced credit repair company like Lexington Law.
Advertiser Disclosure
BadCredit.org is a free online resource that offers valuable content and comparison services to users. To keep this resource 100% free for users, we receive advertising compensation from the financial products listed on this page. Along with key review factors, this compensation may impact how and where products appear on the page (including, for example, the order in which they appear). BadCredit.org does not include listings for all financial products.
Our Editorial Review Policy
Our site is committed to publishing independent, accurate content guided by strict editorial guidelines. Before articles and reviews are published on our site, they undergo a thorough review process performed by a team of independent editors and subject-matter experts to ensure the content's accuracy, timeliness, and impartiality. Our editorial team is separate and independent of our site's advertisers, and the opinions they express on our site are their own. To read more about our team members and their editorial backgrounds, please visit our site's About page.