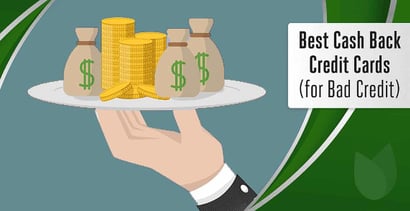 Short of "I love you," is there any phrase in the English language more magnificent than "cash back?" And isn't it doubly so when coupled with "bad credit?" 
Cash back credit cards for bad credit are unexpected, improbable… and waiting for you. We've assembled a collection of unsecured and secured cards that welcome subprime consumers with open arms and fistfuls of cash. They won't make you rich, but, hey, every little bit helps. More importantly, they will help you build credit if you pay your bills on time.
Best Unsecured Cash Back Cards For Bad Credit
The number of unsecured cash back cards for bad credit has grown over the years. That's good because competition helps improve the breed, which, alas, still suffers from wicked high fees and APRs. 
Still, there's never been a better time for subprime consumers to obtain cash back unsecured cards, and the following deserve a good look.
The Aspire® Cash Back Reward Card is an unsecured credit card that pays cash back rewards. It is the best credit card among the unsecured cards we review here. As with all unsecured subprime cards, its APR is high, so you will want to avoid the hefty interest charges by paying your balance in full each month. 
The Revvi Card pays you 1% cash back on every eligible purchase you make. This cash rewards credit card offers a small initial credit limit (up to $300), but you may qualify for a higher limit after a year of on-time payments. The application takes only a few minutes to complete. If accepted, you'll pay a one-time program fee. 
The Fortiva® Mastercard® Credit Card is another unsecured credit card that offers cash back rewards on select purchases. You can prequalify for a credit limit of up to $1,000 based on your income and creditworthiness. Your initial credit limit determines your annual and account maintenance fees, which reduce over time. You can avoid the card's high APR by paying in full each billing cycle.
Best Secured Cash Back Cards For Bad Credit
If the unsecured cards' APRs and fees have left your head swimming, regain your composure by checking out the following secured cash back cards. For the most part, they are less costly and have better perks. Yes, they require a deposit, but unlike fees, it is refundable.
The First Progress Platinum Prestige Mastercard® Secured Credit Card accepts applicants with no credit, limited credit, or poor credit. The issuer allows credit limits that start at  $200 and are equal to the size of your refundable security deposit. This card provides the lowest APR and highest annual fee among the otherwise identical trio of cards this issuer offers. It's best for consumers who stretch their payments over multiple months.
The First Latitude Platinum Mastercard® Secured Credit Card accepts deposits of up to $2,000 for an equal spending limit. This secured credit card charges an annual fee and a small, one-time setup fee. The First Latitude card doesn't have a minimum credit score requirement. You can get a second unsecured credit card by paying your bills on time for six months. 
6. Bank of America® Customized Cash Rewards Secured Credit Card
The Bank of America® Customized Cash Rewards Secured Credit Card offers tiered cash back rewards of up to 3%. You can choose the merchant category for the top bonus rate.

Cash back rates of 3%, 2%, and 1%
Choose your highest rewards category
No annual fee
You can deposit $200 to $5,000 (subject to bank approval) for an equal credit line. The card provides free FICO scores and offers optional overdraft protection.
7. Quicksilver Secured from Capital One
Quicksilver Secured from Capital One pays generous rewards and charges no annual fee. The minimum deposit amount for this everyday card is $200.


Earn 1.5% cash back rewards on all eligible purchases
Reports to each major credit bureau
No annual fee
Capital One periodically checks your eligibility for an upgrade to an unsecured card. 
8. Discover it Secured
The Discover it® Secured Card charges no annual fee and accepts security deposits of from $200 to $2,500 

Earn 2% cash back at restaurants & gas stations on up to $1,000 in combined purchases each quarter
Minimum $200 deposit required
No annual fee
In addition to reasonable fees, this card also provides new cardmembers a year-end Cashback Match of all the cash back posted on their account during the first year following account opening. 
What Is Bad Credit?
Bad credit is a FICO score below 580 within the system's 300 to 850 range. It is assigned to cardholders who make financial mistakes, including late or missed payments, collections, account write-offs, bankruptcies, and other adverse events.
Approximately 16% of Americans have bad credit.

When you have bad credit, the available credit cards offer basic features and low credit limits. In addition, loans are expensive and generally hard to access.
How Does a Cash Back Credit Card Work?
Cash back cards provide cash rewards for spending on eligible purchases. The cards offer three cash back schemes: flat, tiered, and revolving.
Flat rate: These cards let you receive 1% to 2% cash back on all eligible purchases. There are no limits on the amount of cash back you can earn.
Tiered rates: These cards offer various reward rates for different merchant types (e.g., office stores, restaurants, gas stations, etc.). They may limit the purchase amounts that can earn the bonus rates. All other eligible purchases receive the card's default cash back rate, usually 1%.
Rotating categories: These cards specify a new merchant category each quarter for the top bonus cash rate. You must reenroll quarterly to receive these rewards. These cards often include tiered rates, with default rates for all other purchases.
Generally, cash rewards never expire while the account remains open. In most cases, you can collect your rewards at any time and in any amount. Depending on the card, you may receive a check, electronic deposit, statement credit, or gift card each time you redeem your cash back rewards.
Consider the following factors before selecting a cash back credit card:
Your lifestyle: Decide whether you want a flat-rate card that rewards you equally for all your purchases or a tiered or rotating cash back card that offers bonus rewards tied to specific merchant types. Also, consider whether you would prefer a travel rewards card with points or miles instead of cash back. Some of these allow you to cash in your points, but others — typically co-branded airline miles cards — do not. Any travel card should waive foreign transaction fees.
Introductory promotions: Many cash back cards pay new cardmembers a signup bonus for spending a set amount on purchases during an initial period after account opening (usually three to four months). Some cards may provide an intro 0% APR on purchases and balance transfer transactions. But cash back cards for poor credit seldom offer these promotions.
Card costs: Unsecured cards for bad credit, including those offering cash back rewards, generally have high fees and APRs. Secured cards are more affordable, with lower interest rates and fees. Always compare the mandatory Schumer Boxes before choosing a credit card.
Benefits: Subprime cash back cards usually offer meager benefits. You should expect $0 liability protection, and you may also receive free FICO scores. Other benefits are more elusive.
Other factors you may want to consider include the credit limit (which equals the deposit on a secured credit card) and reporting to all three credit bureaus (for rebuilding credit efficiently through consistent on-time payments).
Which Are Better: Secured or Unsecured Cards?
For consumers with bad credit, secured cards often make more sense. They are easier to get, have higher credit limits, charge lower fees and interest rates, and refund your deposit when you close the account or graduate to an unsecured card.
Secured credit card issuers are more willing to approve subprime applicants because the security deposit reduces the default risk. These cards are great for establishing first-time credit or rebuilding credit after a financial setback.

In most cases, issuers distribute unsecured cards to replace the secured ones of creditworthy cardmembers. Depending on the card, it may take as few as six consecutive on-time payments to graduate to an unsecured credit card and receive a deposit refund. 
Alternatively, a secured card issuer may increase your credit limit without you needing to make an additional deposit.
What Interest Rate and Credit Limit Should I Expect?
Most unsecured credit cards for bad credit have high APRs (up to 36%) and low credit limits (starting at $200). Secured cards usually charge less interest (i.e., below 30%) and may allow you to set your credit limit as high as $5,000 with a matching security deposit.
Unsecured subprime cards seldom provide initial credit limits above $1,000, but a few offer to double your credit limit after a set period of on-time periods. 
An interesting scenario is to put a large deposit on a secured card and wait for a promotion to an unsecured card. This way, you end up with a limit higher on your unsecured card than you'd get by applying for the card directly.
How Do I Use a Credit Card to Build Credit?
You can begin building credit by paying your credit card bills on time and keeping your outstanding balances low. It also helps to keep old credit card accounts open and to refrain from applying for several cards within a short period.
Pay on time: You must make timely payments to improve your credit. Your credit score should rise as the major credit bureaus accumulate your payment data. Positive results usually require six to 12 consecutive months of on-time payments. If you repeatedly find paying your bills on time challenging, consider contacting a nonprofit credit counseling organization. It can help you work out a budget and come up with lifestyle changes to help you live within your means. If you have multiple debts, a counselor can show you how a debt consolidation plan can reduce your monthly expenses and debt-to-income (DTI) ratio.

Reduce your debt: Your credit utilization ratio (CUR), the sum of all your credit card balances divided by your total available credit, can significantly impact your credit history. CURs above 1% can hurt your FICO score; the same goes for CURs above 30% for VantageScore. It also helps to pay down loans, perhaps by taking a personal loan to consolidate debt. As your DTI improves, your access to better credit terms should rise.
Keep old credit cards open: Closing an unused credit card account may reduce your average account age and damage your credit score. It's better to use all your credit cards at least once a year to prevent them from going dormant.
Restrain new card applications: Every credit card application causes the issuer to make a hard credit check that may impact your credit score. Too many applications in a short period may cause disproportionate harm, as FICO may assume that you are in financial distress. 
You also can help your credit score by fixing your credit reports. Erroneous, unfair, and unverifiable derogatory information on your credit reports needlessly damages your credit score. 
The law gives you the right to dispute and correct mistakes, either by yourself or with the help of a credit repair company. Your score should improve within one or two months after the credit bureaus remove negative information from your credit reports.
Remember, even though major derogatory items can remain on your credit reports for up to 10 years, their impact on your credit score wanes after the first two to three years.
Can I Get a Credit Card With a 480 Credit Score?
A couple secured credit cards do not check credit, making it possible to get a card despite having a low credit score (or none at all). In addition, student and store credit cards have relatively lower credit approval standards.
Most student credit cards are available to undergraduates with no credit background, and some may also accept applicants with a low credit score. You are eligible for a student credit card if you are enrolled at least half-time in an approved undergraduate educational or training institution.
Closed-loop store credit cards are also relatively easy to get. You can use them only in the issuing store (and its affiliates), and they usually have low initial credit limits. A couple of examples include the Target RedCard and the Amazon Store Card.
Can I Get a Cash Back Business Credit Card For Bad Credit?
Few subprime business cash back cards are available to business owners. They are usually secured cards, including the Business Advantage Unlimited Cash Rewards Mastercard Secured credit card from Bank of America.

$1,000 minimum security deposit
Earn 1.5% cash back on every purchase
No annual fee
Look for card features such as a $0 annual fee, provision for balance transfer transactions, and free employee cards (most subprime business cards charge for each extra account user). Some provide unlimited cash back on all purchases, while others may offer tiered rewards for business-related purchases.
You Don't Need Good Credit to Get Cash Back
Cash back credit cards for bad credit are real and available right now. They give subprime consumers a way to enjoy some of the benefits other cardmembers take for granted. This review should help you decide if these cards are for you and, if so, which fit your lifestyle best. Use them wisely, and you may soon be evaluating credit cards for good credit.
Advertiser Disclosure
BadCredit.org is a free online resource that offers valuable content and comparison services to users. To keep this resource 100% free for users, we receive advertising compensation from the financial products listed on this page. Along with key review factors, this compensation may impact how and where products appear on the page (including, for example, the order in which they appear). BadCredit.org does not include listings for all financial products.
Our Editorial Review Policy
Our site is committed to publishing independent, accurate content guided by strict editorial guidelines. Before articles and reviews are published on our site, they undergo a thorough review process performed by a team of independent editors and subject-matter experts to ensure the content's accuracy, timeliness, and impartiality. Our editorial team is separate and independent of our site's advertisers, and the opinions they express on our site are their own. To read more about our team members and their editorial backgrounds, please visit our site's About page.