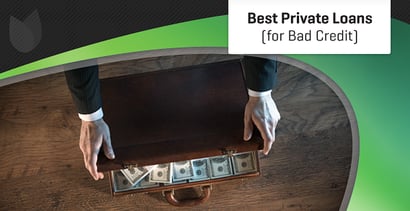 Depending on the context, the term private can refer to something hidden, an event or product restricted to specific parties, something that belongs to a specific individual, or something considered to be confidential.
In the realm of consumer loans, private takes on yet another meaning, one that basically boils down to: not federal. For example, private student loans are those offered from a direct lender, rather than through the federal government.
If your credit score isn't exactly the most impressive, due to some financial mistakes in the past or simply not having an established credit history, finding private loans for bad credit may seem like a challenge but there are loans available for almost any situation.
Nearly every type of loan available to consumers can be obtained as a private loan; in fact, there are few loan types that are not private loans, as things like personal and auto loans are rarely backed by the government.
Personal Loans | Auto Loans | Credit Card Loans | Student Loans | Tips for Getting a Loan
Best Private Personal Loan Providers
For the most part, all personal loans are private loans obtained from a direct lender such as a bank, credit union, or other financial organization. Personal loans are often the most flexible loan type, as they can typically be used for just about anything.
While flexible, however, personal loans do tend to have some of the highest interest rates, making it extra important to compare rates and fees. Online lending networks, like those below, can be a simple way to connect with multiple lenders through a single application.
As implied by the name, you can apply for a loan through an online lending network by filling out the quick application on the network's website. Questions will require basic personal information, including employer and income data.
Although online lending networks can be great ways to connect with lenders from around the country, it's important to note that lending networks are not direct lenders. Once you select a lender/offer, you'll deal with the lender directly to finalize your loan agreement and obtain your funds.
Best Private Auto Loan Providers
The vast majority of auto loans, another category of loan rarely touched by the government, will be private loans obtained from a financial organization like a bank or credit union. Auto loans are fairly strict, and they can only be used to purchase or refinance an automobile (car, truck, etc.).
As with any loan type, be sure you compare lenders and loan offers so you end up with the best deal. If you have poor credit, your best bet for financing may be to use a dealer with flexible loan terms. An online dealer network, such as those below, can help you find a local dealer without needing to fill out multiple applications.
Two major factors typically determine if you're approved for an auto loan, the first of which is, obviously, your credit profile. The lower your credit score, the less likely you are to be approved for a loan.
The other primary factor is the amount of money you wish to borrow. Applicants with low credit scores aren't very likely to be approved for a large loan. This is where secondary factors, like your income and down payment, can have a big impact.
For example, making a down payment can show you are serious about repaying your loan. A decent down payment can also reduce the total amount you need to borrow, increasing your chances of being approved.
Best Private Credit Card Loan Providers
As you might expect, nearly all credit cards will be issued by an independent bank or credit union. And while there are a variety of federal credit unions that issue credit cards, these organizations are not actually part of the government and their cards don't count as federal loans.
Unlike most other loan types, credit cards are revolving credit lines, which means they can be used again and again. At the same time, credit cards tend to have high APRs, making them less-than-ideal for long-term financing.
Perhaps the most compelling reason to use a credit card to finance small purchases is that most cards will allow you to avoid interest fees by paying your balance within the grace period, which is the time between when the purchase posts to your account and the due date for that billing cycle.
In other words, if your card offers a grace period, you won't be charged interest fees so long as you pay off your entire balance before your due date. Keep in mind that not all credit cards will offer a grace period, so check your card's terms and conditions to be sure.
Additionally, a credit card grace period only applies to interest on new purchases. Other transaction types, such as balance transfers or cash advances, won't qualify; these transactions will start to accrue interest as soon as they post to your account.
Best Private Student Loan Providers
Although most experts recommend using federal student loans if possible, private loans can be used to fill in any financing gaps left by other financing methods.
That said, private student loans tend to have higher interest rates — and each private lender can set its own loan terms — so it's important to compare lenders before entering into an agreement with a single lender.
Additionally, given that most students have no or limited credit history, the vast majority of private student loans will require a qualified cosigner, which generally means someone with an established credit history and an average or better credit score.
While known worldwide as a credit card network and issuer, Discover's banking branch also offers a variety of financial products, including private student loans for nearly all stages of your post-secondary education.


Offers undergrad, graduate & postgraduate loans
Variable & fixed-rate loans available
100% of school-certified costs covered
One of the best things about Discover's student loans is that you won't need to pay any extraneous fees, as there are no application, origination, or late fees.
College Ave is an online direct lender created with the goal of making private student loans easier to obtain. It offers a range of private student loans, including undergraduate, graduate, career, and refinance loans.


Offers undergraduate, graduate & career loans
Variable & fixed-rate loans available
Customizable repayment options
Loans from College Ave have no application or early repayment fees. Repayment plans can be customized to your needs, with the ability to make payments during your education, or to defer payments until you graduate.
Citizens One is the lending arm of Citizens Bank, which operates branches in the New England and northern Midwest regions of the US. Citizens One private student loans are available to students from any region, though discounts are available to current Citizens Bank members with qualifying accounts.


Multi-year loan approval for qualified applicants
Offers undergraduate and graduate loans
Variable & fixed-rate loans available
As with other private student loan providers, Citizens One offers several loan terms and repayment options, including the ability to start repaying your loan before you graduate to help you pay off your loans faster.
If you're concerned about racking up hard inquiries as you search for the right student loan lender, rest assured that you won't have to sacrifice your credit score to comparison shop.
Similar to auto and mortgage loan inquiries, multiple student loan inquiries made within the same period of time (usually a two-week period) will typically be counted as a single inquiry by most credit scoring models.
Tips for Getting a Private Loan
In most cases, there are few differences between obtaining a private loan or any other type of loan, particularly in the process. You'll need to fill out the loan application, provide necessary credit and income documentation, then finalize the loan agreement before your funds are dispersed.
Instead, the major differences between private loans and federal or government-backed loans will typically be in the qualification requirements or the loan terms. For example, private student loans may have higher interest rates than federal student loans, as federal student loan terms are regulated by the government.
Similarly, private loans may have higher credit score, income, or down payment requirements (depending on the loan type). Thankfully, these factors can balance each other out in many cases. A higher credit score, for instance, can mean a lower down payment requirement (and vice versa).
If you are having trouble qualifying for a private loan due to your credit, the best solution may be to wait while you work on your scores. For example, paying down outstanding debt — especially high credit card balances — can help boost your score quickly.
In many cases, time can do a lot to help your credit score. That's because most negative items, such as late payments, can only remain on your credit reports for up to seven years (10 years in the case of some bankruptcies).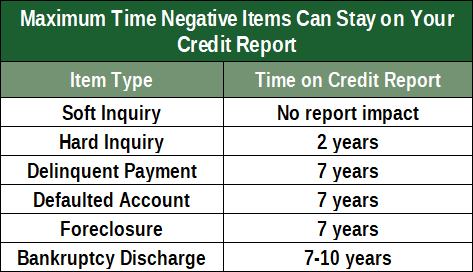 Furthermore, negative items tend to lose score impact over time, particularly if you build a recent positive payment history to offset them. If you have negative items on your credit reports that are dragging down your scores, simply out-waiting them may be enough to boost your score and get your loan application approved.
If nothing else works, consider asking a responsible friend or family member with good credit to cosign your loan. Cosigners agree to take responsibility for the loan if the primary borrower can't (or won't), which lowers the risk to the lender.
Of course, while cosigners reduce lender risk, they themselves are taking on considerable risk; if the primary borrower stops paying the loan, the cosigner will be responsible for repayment. Plus, the loan will be reported to the bureaus under both names, meaning your cosigner's credit could be damaged if you don't repay your loan as agreed.
Financing May Be an Application Away
As with most words, the meaning of the term private varies widely with context. In the financial world, it usually refers to loans or credit lines offered by a private institution, rather than a government organization.
While each type of loan has its pros and cons, the decision of whether to obtain a private or government-backed loan will depend on your individual situation and financial needs. No matter what type of loan you decide to obtain, be sure to do your research before entering into an agreement with a lender.
Advertiser Disclosure
BadCredit.org is a free online resource that offers valuable content and comparison services to users. To keep this resource 100% free for users, we receive advertising compensation from the financial products listed on this page. Along with key review factors, this compensation may impact how and where products appear on the page (including, for example, the order in which they appear). BadCredit.org does not include listings for all financial products.
Our Editorial Review Policy
Our site is committed to publishing independent, accurate content guided by strict editorial guidelines. Before articles and reviews are published on our site, they undergo a thorough review process performed by a team of independent editors and subject-matter experts to ensure the content's accuracy, timeliness, and impartiality. Our editorial team is separate and independent of our site's advertisers, and the opinions they express on our site are their own. To read more about our team members and their editorial backgrounds, please visit our site's About page.