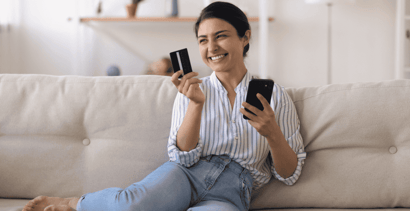 The process of getting accepted for a credit card and quickly activating it is becoming more streamlined and easier to do. Instant approval credit cards with instant use can be helpful if you're looking to start using the card immediately and earn rewards or bonuses. 
While there are several instant approval credit cards to consider, how fast you get approved can vary depending on the card issuer and other factors such as your credit score, income, and monthly debt payments, among other things.
Select Prime Issuers Allow Instant Use of Their Cards
If you have good or excellent credit, you shouldn't have a hard time getting approved for a credit card from a major bank. Some of these card issuers also offer credit card options for fair credit as well. 
Just remember that instant approval credit cards with instant use will vary depending on the card issuer's policies. Some card issuers may approve your application instantly, but you will still need to wait until a physical card arrives in the mail to start using it. Others provide digital access to your credit card number right away. 
Here are some instant credit card approval policy details for each of these prime card issuers: 
American Express: American Express provides an instant credit card number when you apply online for certain cards. This card number can be used right away for online purchases and other card benefits. You can also add your card number to your mobile wallet for convenience right after getting approved.
Capital One: Capital One offers instant approval credit card options on select cards and can make your virtual number available right away when you log into your account online.
Chase: Chase is another prime card issuer that allows you to use your credit card before it arrives in the mail. Upon approval, you can add your virtual card number to your digital wallet (such as Apple Pay, Samsung Pay, or Google Pay) and make in-store or online purchases. 
U.S Bank: U.S. Bank offers instant approval and instant use on some of its credit cards by allowing you to use a virtual card number. If the bank is able to verify your identity and approve you for a card, you can set up an account with U.S. bank to view your card number and card details online.
Citi: You may have the option to receive a temporary virtual credit card number upon approval of select Citi cards. This virtual card number is randomly selected and not included for all Citi credit cards. You can use it to make online purchases until your physical card arrives in the mail. All purchases made with your temporary card number will appear on your regular monthly statement. 
Cards For Bad Credit With Instant Approval and Use in 7-14 Days
Instant approval credit cards are exactly what they sound like — cards that provide an instant decision in seconds or minutes after you apply. But not all issuers offer cards for bad credit that can be used instantly and will mail your physical card within seven to 14 days. 
If you have bad credit, the following instant approval credit cards are available to use upon receiving and activating the card.
The Aspire® Cash Back Reward Card is a standard unsecured credit card that provides your free credit score, transaction alerts, and online 24/7 access. This card may require fees like an annual fee or monthly maintenance fee, depending on your application, but you can expect the card to arrive quickly after approval. 
You'll earn a flat cash back rewards rate for each purchase you make with this card, including bill payments. You'll be able to see your VantageScore from TransUnion after 60 days.
The Revvi Card is a Visa cash back rewards credit card geared toward people with less-than-perfect credit. You can apply online in four steps and get an instant approval decision. If you've received a credit card offer in the mail for the Revvi Card, you can enter your reservation code online to accept the offer and proceed with getting your card activated. 
This card does require a program fee to open your account and an annual fee. The one-time program fee is due within 60 days of your approved application, but the sooner you pay the fee, the sooner you can activate and use your card. 
The Fortiva® Mastercard® Credit Card also provides an instant credit decision and reports payment history to all three major credit bureaus (Experian, TransUnion, and Equifax). This card doesn't charge a program fee, and you can prequalify online with no initial hard credit check to improve your chances of getting instant approval.
This card still has a few fees, including an annual fee and a monthly maintenance fee. Card users are also periodically considered for credit limit increases depending on past card usage and payment history. 
The FIT® Platinum Mastercard® is offered through Continental Finance Company and usually provides an instant approval decision. After you're approved, your FIT® Platinum Mastercard® and welcome materials will be mailed within three business days.
While you may start out with a lower credit limit, once you make at least six on-time monthly credit card payments, your limit may double. This card also gives you your free monthly credit score when you enroll in e-statements. 
Loans You Can Get Instantly and Funded Tomorrow
If you're struggling to qualify for a credit card or simply want to explore your options, a personal loan may be an alternative to consider. Personal loans can also provide quick approval and fast funding, where funds can be deposited into your bank account the next business day. 
Several personal loan lenders cater to borrowers with average credit or bad credit. Here are some of the best personal loans to consider when you need money fast: 
+ See More Personal Loans for Bad Credit
Be sure to carefully compare loan offers to ensure the funds will arrive on time and to secure the best interest rate and terms.
Other Ways to Get Money Today
Life happens, and sometimes you need money quickly to make a purchase right away. Whether it's a medical emergency, car repairs, or a deposit, there are a few alternative ways to get money that you can spend today. 
Pawn Loans
If you have something of value that you're willing to part with temporarily, you can get a pawn loan. Pawnshops offer loans based on the value of the item you bring in, such as jewelry, electronics, and musical instruments. You'll need to repay the loan plus interest on time or the pawnshop can claim your item as collateral.
Pawn loans typically offer low amounts, but this can still help you cover an urgent, smaller expense. Just be sure to read the fine print before agreeing to a loan and attempt to negotiate if you feel your item is worth more than what the shop is offering you.  
Selling Items Online
If you have unused and unwanted items lying around your home, selling these things can be an excellent way to make some quick cash. There are several online marketplaces where you can sell items such as clothes, electronics, or furniture.
Some popular options include eBay, Craigslist, and Facebook Marketplace. To increase your chances of selling your items faster, take clear pictures and include a detailed description so shoppers know more about the items they're considering purchasing. Local resale stores offering cash on the spot for your items are another great option. 
Credit Union Payday Alternative Loans 
Credit unions offer payday alternative loans, which are loans of up to $2,000 that you can use to cover unexpected expenses. These loans are often more affordable than traditional payday loans, which can have high fees and interest rates as high as 700%. 

You'll need to be a credit union member to apply for a payday alternative loan. If you're not a member, it could be worth applying to your local credit union to explore their options.
Gig Work
If you have a talent or can provide a needed service, consider picking up paying gigs to help you get the money you need quickly. Several gig work platforms like Fiverr, Upwork, and Task Rabbit can help connect you with paying customers. 
Some examples of services you could offer include yard work, pet care, writing, or graphic design. Even if you don't earn a lot of money from a single gig, you can build up a steady client base over time and ask for referrals to grow your income. 
What Is a Bad Credit Score?
Your credit score is a number that ranges from 300 to 850 and is based on information in your credit report. A bad credit score is a credit score that is below 579, according to FICO. A low credit score can mean a higher interest rate on loans, difficulty getting approved for loans, and even difficulty renting an apartment or obtaining insurance. 

A bad credit score can be caused by various factors such as missed payments, high credit card balances, or bankruptcies. Even with a low credit score, it's essential to work on improving it so you can access better credit opportunities in the future.
Luckily, there are several ways to improve your credit score. Start by: 
Making all payments on time. Your payment history accounts for a significant portion of your credit score, so it's important to always make your payments on time.
Keeping your balances low. Another factor that affects your credit score is your credit utilization ratio, which is the amount of credit you're using compared to your credit limit, and you should aim to keep your balances below 30% of your credit limit.
Don't apply for too many credit cards. Applying for multiple credit cards within a short period can hurt your credit score, so it's best to only apply for credit you really need.
Can I Get a Credit Card With a Bad Credit Score?
Yes, you can get a credit card with a bad credit score. Some credit card issuers offer credit cards specifically to people with bad credit or no credit. These cards typically have higher APRs, high fees, and lower credit limits, but they still provide a solid way to build credit when you make consistent on-time payments. 
The Fortiva® Mastercard® Credit Card allows you to increase your credit limit after using the card responsibly for some time. The FIT® Platinum Mastercard® is another credit card option for bad credit that allows you to get a credit limit increase after making payments on time for at least six months. 
One type of credit card that may be more accessible for people with bad credit is a secured credit card, which is different from a prepaid card. With a secured credit card, you'll need to put down a deposit that acts as your credit limit. This helps minimize the risk for the credit card issuer and may make it easier to approve you for unsecured credit in the future. 
What Is The Best Instant Use Credit Card?
When looking for the best instant-use credit card, it's important to consider various factors such as the interest rate, fees, and the credit limit offered. Some of the best instant use credit cards are offered by American Express, Chase, and Capital One. 
However, these cards may require a good or excellent credit score to qualify. Some cards may only require a fair credit score. 
Capital One is a credit card issuer that shares which type of credit score rating they consider for each of their credit cards. You can choose from credit-building cards, travel rewards cards, student cards, and business credit cards, among others.  
If you're still working on improving your credit, one of the best options is the Fortiva® Mastercard® Credit Card because it doesn't require a program fee to activate the card.
This card issuer also reports your monthly payments to each major credit bureau and will periodically consider cardholders for a credit limit increase. 
What Credit Limit Can I Get Approved For With a 500 Credit Score?
Your credit limit will depend on various factors, including your income, credit history, and the card issuer's underwriting criteria. Each card issuer sets its own eligibility requirements and credit limit ranges, but with a lower credit score, you are likely to start with a lower credit limit of anywhere from $200 to $1,000. 
The good news is that your credit limit can increase after just a few months. As long as you commit to making on-time payments and keeping your credit utilization below 30%, your card issuer may offer you a credit limit increase. And even if you're not offered a credit limit increase, you can request one. 
Some card issuers make it easy to request a credit limit increase online, while others may ask that you call customer service. Either way, the card issuer will consider your credit history and past payment history with that particular card. If your annual income has increased, this could also help you qualify for a credit limit increase. 
How Do I Use My Credit Card to Build Credit?
Using your credit card responsibly is essential to building your credit score. Credit cards are one of the best tools to build your credit because you'll establish a recurring payment history as you make charges and pay your bill each month. 
Payment history is the biggest factor impacting 35% of your FICO credit score calculation. Your credit card issuer will report your payments to the credit bureaus each month.

Be sure to pay at least your minimum payment each month on time so you don't miss any payments that can negatively impact your credit history. Consider setting up automatic payments each month so you never miss a payment due date. If your balance is higher than your minimum payment, try to pay the balance in full each month to avoid interest charges and accumulating debt. 
As mentioned earlier, your credit utilization rate is another factor that impacts your credit score. Your credit utilization represents your total balance divided by your total credit limit. If you have a $400 balance on a credit card with a $1,000 limit, your credit utilization ratio is 40% (400/1,000). 
Finally, consider keeping your credit card open long-term since this will increase the age of your credit history, which is yet another important factor that impacts your score. Typically, the longer your average age of accounts on your credit report, the more positive the impact on your credit score. 
If you have some cards with annual or monthly maintenance fees, it can be difficult to keep them open long-term, so you should always consider what's best for you.
Find the Best Financing For Your Situation
While having a bad credit score can be challenging, there are still several instant approval credit cards with instant use to consider. Prime credit card issuers offer cards for consumers with fair credit as well as secured and unsecured cards for people looking to rebuild their credit scores. 
By choosing the right type of credit card, making on-time payments, and keeping your balances low, you can use your credit card to rebuild your credit score and improve your financial standing. Also, remember that other quick cash options, including personal loans or alternative financing solutions, may be more helpful than taking on a new credit card account. 
Remember to always be responsible and keep track of your credit score to ensure you have access to several options so you can choose what works best for your situation.
Aspire® Cash Back Reward Card & Other Resources
We hope you've found our guide "5 Instant Approval Credit Cards With Instant Use (Sep. 2023)" to be helpful in meeting your financial needs. To learn more about Aspire® Cash Back Reward Card, our top recommendation in this guide, be sure to visit the Aspire® Cash Back Reward Card website for full details about the offer.
Our experts rate Aspire® Cash Back Reward Card as one of the best options in credit cards for those with bad credit, giving it a 4.7/5.0 rating overall. Among its features:
Earn 3% Cash Back Rewards* on Gas, Groceries and Utility Bill Payments
Earn 1% Cash Back Rewards* on all other eligible purchases
Up to $1,000 credit limit subject to credit approval
Prequalify** without affecting your credit score
No security deposit
Free access to your VantageScore 4.0 score from TransUnion®†
*See Program Terms for important information about the cash back rewards program.
** Prequalify means that you authorize us to make a soft inquiry (that will not affect your credit) to create an offer. If you accept an offer a hard inquiry will be made. Final approval is not guaranteed if you do not meet all applicable criteria (including adequate proof of ability to repay). Income verification through access to your bank account information may be required.
† Your credit score will be available in your online account starting 60 days after your account is opened. (Registration required.) The free VantageScore 4.0 credit score provided by TransUnion® is for educational purposes only. This score may not be used by The Bank of Missouri (the issuer of this card) or other creditors to make credit decisions.
For more resources similar to this "5 Instant Approval Credit Cards With Instant Use (Sep. 2023)" guide, see our other popular picks for those with bad credit:
Whether you choose Aspire® Cash Back Reward Card or any other option in our credit cards category, be sure to read and understand the terms before signing up. You'll find that taking the time to fully understand credit cards is one of the smartest financial decisions you can make.
Advertiser Disclosure
BadCredit.org is a free online resource that offers valuable content and comparison services to users. To keep this resource 100% free for users, we receive advertising compensation from the financial products listed on this page. Along with key review factors, this compensation may impact how and where products appear on the page (including, for example, the order in which they appear). BadCredit.org does not include listings for all financial products.
Our Editorial Review Policy
Our site is committed to publishing independent, accurate content guided by strict editorial guidelines. Before articles and reviews are published on our site, they undergo a thorough review process performed by a team of independent editors and subject-matter experts to ensure the content's accuracy, timeliness, and impartiality. Our editorial team is separate and independent of our site's advertisers, and the opinions they express on our site are their own. To read more about our team members and their editorial backgrounds, please visit our site's About page.