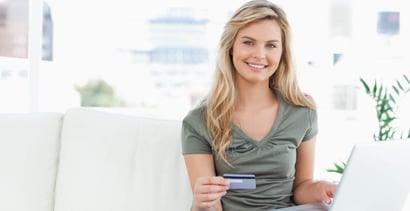 Secured credit cards have a few tricks up their sleeve. Sure, they are an excellent option for subprime consumers who want to own a credit card but can't (or don't want to) qualify for expensive unsecured cards that target folks with bad credit.
But secured cards' other superpower is that several offer initial credit limits much higher than those of unsecured cards. These high-limit secured cards require a large security deposit, but the card will eventually refund the money. 
Do the math: Would you rather own a bad-credit unsecured card with monster fees and a puny credit limit? Or a secured card with a refundable deposit, low costs, better perks, and a high credit limit? If high-limit secured cards seem like the obvious answer, we invite you to continue reading to learn about the best on the market.
Highest Overall Secured Card Credit Limit
At least one secured card can provide a $10,000 credit limit from day one. That's the same minimum credit limit as that for top-of-the-line Visa Infinite cards for consumers with good-to-excellent credit. The nice thing about a $10,000 limit is that you can easily use it for a big-ticket purchase.
The Secured Chime Credit Builder Visa® Credit Card is a secured credit card with a credit limit that can go as high as $10,000. Your limit is based on what you transfer over to the secured account. You only need a Chime Checking Account with a qualifying direct deposit of $200 or more to apply.
The card is excellent for building credit without interest or annual fees, and there's no credit check to apply. If you misplace your card, you can disable it at any time to prevent fraudulent transactions.
More Secured Cards With High Limits
The following cards can provide a maximum credit limit of $3,000 to $5,000 when you make a matching security deposit. Some even offer cash back rewards and generous benefits.
Although the initial maximum credit limit on the First Progress Platinum Select Mastercard® Secured Credit Card is $2,000, you can obtain an ultimate credit limit of $5,000 over time. This secured credit card has the intermediate APR and annual fee, and is one of three similar offerings from Synovus Bank of Columbus, Georgia. 
The First Progress Platinum Prestige Mastercard® Secured Credit Card offers the same initial and ultimate credit limits of $2,000 and $5,000, respectively, as that of the Select version. The First Progress Platinum Prestige Mastercard® Secured Credit Card has the highest annual fee of the trio but the lowest APR. You may prefer this card if you tend to finance balances over multiple billing periods.
The First Latitude Platinum Mastercard® Secured Credit Card also comes from Synovus Bank and has the same initial ($2,000) and ultimate ($5,000) credit limits as the bank's similar cards listed above. It offers cash back rewards and the lowest initial credit limit — $100 — available from any secured card.
The OpenSky® Secured Visa® Credit Card is a good choice for subprime consumers who want to avoid a credit check. You can deposit $200 to $3,000 to establish your credit line. This secured Visa credit card limits cash advances to 50% of your security deposit. After the account has been open for one year, you may request a decrease in your credit limit to an amount as low as $200. This Visa secured card requires an annual fee and does not pay cash back rewards.
The Merrick Bank Secured Credit Card offers credit limits of $200 to $3,000 when you make an equal deposit. You can choose a low starting credit limit and add money over time. Applicants can also select a credit card color at no extra cost. Merrick Bank does not allow you to own more than one of its secured cards.
The maximum credit limit (and security deposit) for the First Progress Platinum Elite Mastercard® Secured Credit Card starts at $2,000 but can rise to $5,000 with permission from the issuer. It sports the lowest annual fee of the First Progress offerings but the highest APR, so you may prefer this card if you pay your entire balance each month. Of the three similar Platinum Mastercards, this is the only one that doesn't offer cash back rewards.
Highest Secured Credit Limits For Business Owners
These cards can help the owner of a new or small business establish a company credit profile. Business credit cards may offer far higher credit limits than personal secured cards. They are the best credit card option for startups.
8. First National Bank of Omaha Business Edition® Secured Mastercard® Credit Card
The First National Bank of Omaha Business Edition® Secured Mastercard® Credit Card offers credit limits between $2,000 and $100,000 with a security deposit equal to 110% of your credit line.

Security deposit earns a reasonable interest rate
Provides discounts on QuickBooks and TurboTax
$39 annual fee
The card provides Mastercard Easy Savings, free management reports, flexible cash flow management, and other business benefits.
9. Business Advantage Unlimited Cash Rewards Secured Card
Bank of America issues the Business Advantage Unlimited Cash Rewards Secured credit card. A WalletHub contributor claims a maximum deposit amount of $50,000, but we've also seen references to a maximum limit of $10,000.

$1,000 minimum security deposit
Earn 1.5% cash back on every purchase
No annual fee
The card features flexible redemption options, cash flow management tools, travel accident insurance, auto rental insurance, lost luggage assistance, and free access to business credit scores from the Dun & Bradstreet credit bureau.
What is a Secured Credit Card?
A secured credit card is pretty much the same as a plain unsecured card, except it requires cash collateral. When you get a secured card, you receive a credit line equal to your security deposit. 
Credit limits on secured cards for consumers typically range between $100 and $10,000. Secured cards for small businesses may have credit limits of $100,000 or more.
You may find a partially secured card with a deposit smaller than your assigned credit limit. Receiving a partially secured card depends on your credit profile, and your eligibility is up to the credit card issuer.
A secured credit card's mandatory deposit has several implications, including the following:
Refunds: You will receive a full refund of your deposit minus any balance due if you close the card account. Secured cards start with deposits as low as $100 but can reach $5,000 to $10,000 if you are willing to deposit those amounts.
Lower costs: Secured cards are less risky, so issuers can charge lower interest rates and fees, because they are less worried about the cost if a cardmember defaults. Few secured cards impose setup or monthly maintenance fees, and interest rates often top out around 29% (some cards have APRs lower than 25%). Contrast a secured card's refundable deposit with the cost of an unsecured subprime card sporting a $200 credit limit. The unsecured card may charge, for example, a $99 setup fee, a $10 monthly maintenance fee, and a $79 annual fee. The money you spend on those fees is gone, whereas secured cards carry fewer fees and will eventually refund your deposit.
Higher credit limits: Secured cards usually offer a minimum credit limit of $100 to $300 (with a matching security deposit). But most secured cards let you deposit additional funds to increase your credit limit. In this review, the top credit limit for a secured consumer card is $10,000, a generous amount considering the cardmember's subprime credit status. Some secured cards will increase your credit limit without an additional deposit. Most eventually refund your money even if you keep the account open.
Good rewards: Many secured cards offer cash back rewards, whereas unsecured credit cards for consumers with poor credit seldom offer rewards. And if they do, it's typically just 1%.
No credit check: Many secured cards don't pull an applicant's credit history. After all, cardmembers secure their credit lines with cash deposits, making credit history less relevant. With a secured card, you can avoid rejection due to bad credit and bypass a hard inquiry to a credit bureau that could impact your already poor credit score.
Issuers of secured credit cards are more likely to approve subprime applicants because security deposits reduce the issuer's economic exposure to defaults. The credit card issuer will simply siphon your unpaid balance from your security deposit if you don't make your payments. The issuer may also cancel your account to prevent any additional spending.
The bottom line: Secured cards offer an excellent opportunity for rebuilding credit after a financial setback.
What is the Highest Limit Available For First Progress Cards?
First Progress Platinum Secured Cards offer credit limits as high as $5,000. While $2,000 is the largest amount the issuer permits at the start, over time, the bank may choose to increase your credit limit without requiring you to add to the deposit account.
The three First Progress Platinum Secured Cards offer different annual fees and APRs, allowing you to choose which combination works best for you. The Select and Prestige cards offer cash back on eligible purchases, but the Elite version doesn't provide rewards.

Synovus Bank issues all three First Progress Platinum Secured Cards and the First Latitude Platinum Mastercard® Secured Credit Card. Synovus's founding parent, Georgia state-chartered Columbus Bank and Trust, traces its roots back to 1888 and is FDIC-insured.
Do Secured Cards Increase Your Credit Limit?
Secured credit cards help consumers and small businesses build or rebuild credit. These cards require a cash deposit, which serves as collateral and defines the credit limit. 
Consistently using your secured credit card responsibly — by always paying your monthly bill on time and keeping your credit utilization (i.e., credit used to credit available) ratio low — can help you improve your credit history.
A secured credit card issuer can raise your credit limit in several ways, including the following:
Graduation to an unsecured card: Many issuers review secured card accounts periodically. They may offer to "graduate" you to an unsecured card with a higher credit limit and refund your original deposit
Increased credit limit: If a card issuer notices you use your card responsibly, it may increase your credit limit without an additional deposit. The card is then semi-secured.
Additional deposit: Most issuers allow you to increase your credit limit by depositing more money into your secured account.
Request a limit increase: You can ask for a credit limit increase without an additional matching deposit. The issuer may pull your credit report, which could impact your credit score. It's best to wait at least six months between requests.
Transition to a different credit card: You may qualify for an unsecured credit card with a higher limit if your credit score rises and your credit report improves. You can apply for an unsecured card from the same or a different issuer. You could then close the secured card account and get your deposit back. But you may want to keep a secured account open to maintain a higher credit limit, lower credit utilization ratio, and longer average credit account age.
Be sure you are ready for a higher credit limit before asking for one. You could hurt your credit utilization ratio if you went on a shopping spree and spent the equivalent of your increase. Overspending can damage your credit and land you in an uncomfortable amount of debt.
How Do I Get a $10,000 Credit Limit?
You can get a $10,000 credit limit on the Secured Chime Credit Builder Visa® Credit Card with a matching $10,000 deposit. But unlike other secured cards, that deposit can be used to pay off your monthly balance. Your payments are then reported to the credit bureaus, which may help you build credit with responsible use.
You can deposit money into the Credit Builder secured account within the Chime app, and there is no credit check to apply.
How Do I Get My Deposit Back?
The easiest way to get your deposit back is for the secured card's issuer to refund it after a periodic review of your account. As a result, you may now own an unsecured card with many of the same positive benefits as your original secured card.
But you should ensure the replacement card doesn't have a higher APR or fees. Ideally, the issuer will graduate you to a better card, perhaps with more rewards and benefits. You have the right to refuse a replacement card that charges more than the secured card did or is inferior in a meaningful way.

You can also receive a refund by canceling your current secured card. You will get a full refund if you've paid your entire balance. The issuer will deduct any amounts you owe before dispatching your refund, and it may require a few weeks to get your money back.
Some cards allow you to reduce your deposit after a set period. You'll receive a refund equal to the difference between the old and new deposits, but your credit limit will drop to the new deposit amount. 
Can I Be Denied a Secured Credit Card?
Issuers are unlikely to deny you a secured credit card based on your credit score. But owning other credit cards can cause problems. Several big card issuers limit new cards for applicants with too many cards, including cards from competitors.
The most well-known example is the Chase 5/24 Rule, which limits you to no more than five new credit cards within a 24-month period, regardless of who issued the cards. The rule is unusual, as all the other limitation rules apply only to the issuer's credit cards.
Citi employs the 8/65/95 Rule, which requires you to:
Wait eight days to apply for a second card after applying for another Citi card
Wait 65 days before applying for a third Citi card
Wait 95 days before applying for additional Citi business credit cards
The Citi 8/65/95 Rule applies only to Citi accounts.
Capital One has a simple rule: You can own no more than two Capital One credit cards at any one time. Some exceptions may apply — for example, the rule may not cover some cobranded Capital One cards.
The American Express 4/4 Rule limits you to four of its charge cards and four of its credit cards. Charge cards are similar to credit cards except that there is no preset spending limit, and you must pay your entire balance each month.
Discover limits you to two of its cards at any time, and you must own a Discover card for at least a year before applying for another.
Do Credit Unions Offer Secured Credit Cards?
Many credit unions do offer secured cards, and they deserve strong consideration if you are eligible for one.
Cards from credit unions provide several advantages. When you compare their products to those from banks and other issuers, credit unions:
Charge a lower interest rate on credit products and loans
Provide better access to subprime credit products and loans
Offer higher APRs on savings products
Offer credit-builder accounts to establish or rebuild credit
Have lower fees — and fewer of them
Offer personalized customer service and consumer education
Are nonprofit institutions that put revenues back into products and services
Credit unions and banks offer similar services, but credit unions are usually friendlier. Boards consisting of volunteer members run credit unions, so they have a natural regard for members, who are also the shareholders. 
Most credit unions limit membership based on several factors, including where you work, live, or worship, or whether you belong to a certain organization. But a few credit unions are open to anybody with $5 and a dream.

Your approval chances for loans and credit cards generally improve when you join a credit union. Credit unions may be more likely to reconsider your credit card application after an initial rejection.
Virtually all credit unions offer secured credit cards and report your payments to all three major credit bureaus, allowing you to build credit efficiently. Each credit bureau issues a credit report and calculates your credit score based on the payment data it receives.
While credit unions have many positive features, you should consider a few factors before becoming a member:
Credit limits: Smaller credit unions may provide credit limits lower than those big banks can offer. These limits may apply to secured and unsecured credit cards.
Cross-collateralization: Credit unions may apply your collateral to more than one product. One example is if you have a car loan and a credit card from the same credit union, and you miss payments to both accounts. The credit union may repo the car and refuse to return the title until you become current again on your auto loan and credit card payments.
Fewer perks: Unlike well-established banks such as Citi and Chase, most credit unions are modestly sized. These credit unions often can't afford to offer all the amazing credit card perks you can get from some big banks. For example, a small credit union may provide a card with a mediocre rewards program compared to one from a large financial institution.
When you join a credit union, you may pay a one-time membership fee for a checking or savings account. Some credit unions allow you to apply for a credit card before joining.
Research the Best Secured Credit Limits Online
Our review of secured credit cards with high limits makes it clear that you can get the best credit cards with maximum credit lines of $3,000 to $10,000. Please read each issuer's card agreement before choosing one. You want to avoid unpleasant surprises, even from the best secured credit card issuers.
Secured cards for small businesses may have dramatically higher credit limits. The two in our review allow deposits between $50,000 and $100,000 to your card's security account. Those amounts may buy you a pretty hefty spending limit that may make the difference between your company's success and failure.
Advertiser Disclosure
BadCredit.org is a free online resource that offers valuable content and comparison services to users. To keep this resource 100% free for users, we receive advertising compensation from the financial products listed on this page. Along with key review factors, this compensation may impact how and where products appear on the page (including, for example, the order in which they appear). BadCredit.org does not include listings for all financial products.
Our Editorial Review Policy
Our site is committed to publishing independent, accurate content guided by strict editorial guidelines. Before articles and reviews are published on our site, they undergo a thorough review process performed by a team of independent editors and subject-matter experts to ensure the content's accuracy, timeliness, and impartiality. Our editorial team is separate and independent of our site's advertisers, and the opinions they express on our site are their own. To read more about our team members and their editorial backgrounds, please visit our site's About page.