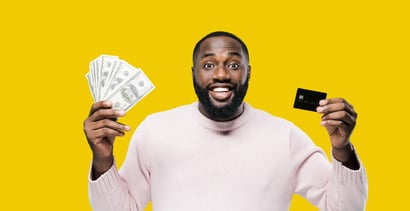 A $2,000 credit limit is pretty good when you have bad credit. Most unsecured credit cards for consumers with subprime credit scores are not nearly as generous. Nevertheless, we've assembled a list of seven $2,000 limit credit cards for bad credit, some of which require no security deposit. 
In addition to the purchasing power a $2,000 credit limit provides, these cards also give cardmembers a chance to improve their credit through timely payments. Succeeding at that worthy goal unlocks access to the best credit card offerings with higher spending limits. And that's pretty good, too.
Unsecured Cards With $2,000 Limits Within 6 Months
These two cards are twins from the same issuer, Celtic Bank. They can provide an initial credit limit as high as $1,000 but will double it if you pay your bill on time for six consecutive months. That's remarkable because achieving that result usually requires a secured card.
These cards offer modest benefits, including zero liability for fraudulent transactions and the ability to track your credit score.
The Surge® Platinum Mastercard® has a high credit limit yet accepts consumers with poor credit. The price of admission is a significant annual fee. It also charges a monthly maintenance fee, which is waived for the first year of card ownership. This encourages you to move on to a better, less expensive card when your credit score improves. 
Naturally, not all applicants will qualify for the maximum credit line. Your limit depends on several factors, including income, other debts, and recent payment history. You can order the Surge card with a premium design for an extra fee.
The lack of the premium design option is the only difference we can detect between the Reflex® Platinum Mastercard® and its Surge twin. It, too, can provide you with a credit limit of up to $2,000 after six months of timely payments.
The card allows you to take a cash advance 95 days after account opening. You need a bank account to qualify for the Reflex card.
Secured Cards With Immediate $2,000 Credit Limits
Secured cards are an excellent choice for consumers with subprime credit. These cards allow deposits of $2,000 to get a matching credit limit. Typically, you receive a $200 or $300 initial limit that you can immediately increase through a larger deposit.
Compared to unsecured cards, these cards are easier to get, have lower fees, and charge less interest. During the first year, most allow you to graduate to an unsecured credit card and receive a refund of your security deposit. Of course, even with the best secured credit card, you must play your part by paying your bills on time.
The First Progress Platinum Select Mastercard® Secured Credit Card is one of three secured cards from this issuer. It accepts refundable deposits of $200 to $2,000 that fully secure your credit line. 
This secured Mastercard provides a grace period in which your purchases won't be charged interest when paid off before the due date. It does not require a minimum credit score for approval and reports your payments to all three credit bureaus.
The First Progress Platinum Prestige Mastercard® Secured Credit Card has the highest annual fee and the lowest APR in the First Progress trio of secured cards. The low APR makes this secured Mastercard the trio's card of choice if you plan to finance your purchases over multiple months. 
Each First Progress card charges different rates and fees, so be sure to take a look at the cardholder agreements to determine which would better suit your needs.
The maximum deposit for the OpenSky® Secured Visa® Credit Card is $3,000, with your credit limit equaling the amount you put down. But remember that you can get that money back after using the account responsibly over a set period. This card is perfect for consumers with poor credit because OpenSky does not check credit and approves 85% of all applicants.
The card's annual fee and APR are quite competitive. The bank reports to all three major credit bureaus to help you build credit history.
You can deposit up to $2,000 to the First Latitude Platinum Mastercard® Secured Credit Card for an equal spending limit. This card pays cash back on eligible purchases and reports your account to each of the three major credit bureaus to help you build credit with responsible use. You can avoid the card's purchase APR by paying your entire balance each billing cycle.
No minimum credit history or credit score is required for approval. You can get a second, unsecured card by paying your bills on time for six months. This card charges a small, one-time setup fee and an annual fee.
Over time, the Applied Bank® Secured Visa® Gold Preferred® Credit Card allows a maximum credit limit of $5,000. The card has a deceptively low fixed interest rate — it does not provide an interest-free grace period, which means it charges interest on all your purchases that you do not pay on the same day.
You can manage the card account online and through the bank's mobile app. It employs embedded chip technology for enhanced security and protection when you make purchases at chip-enabled merchant terminals. This card requires no hard credit check for approval.
What Is Bad Credit?
You have bad credit if your FICO credit score is below 580 within the 300 to 850 score range. Bad credit can arise from credit mistakes, including:
Payments more than 30 days late
Large amounts of debt relative to income
Defaulted and written-off accounts
Collections
Repossessions
Settlements
Foreclosures
Bankruptcies
Loans and credit cards are challenging to get when you have bad credit, and the ones available usually have annoying features, such as high interest rates and fees. 
Regularly reviewing your credit reports can help improve credit and prevent fraud. The Fair Credit Reporting Act (FCRA) entitles you to one free report from each of the three major credit bureaus (Experian, Equifax, and TransUnion). The bureaus extended this to free weekly reports during the COVID-19 pandemic. 
These comprehensive and detailed reports allow you to address the items pulling down your score. Part of your report review should focus on possible errors, such as incorrect, obsolete, or unverifiable data, that needlessly depress your credit scores. 
You can dispute questionable items directly by contacting the credit bureau online or through the mail:
You'll need to explain why you disagree with a report item and provide available documentation to support your claim. The bureaus have 30 days to respond and must delete or correct items in error. You can appeal decisions that disagree with your disputes but you must provide additional information. 
Consider hiring a credit repair company if you don't know where to begin or don't have the time to do it yourself. A subscription usually costs between $50 and $150 monthly, and you can cancel anytime. Some even offer a money-back guarantee if you don't see results.
A credit repair company will submit an agreed number of monthly disputes, track progress, and update you. While it can't guarantee results, your score may improve if the company removes derogatory items from your reports.
Can I Get a $2,000 Credit Limit With Bad Credit?
Very few unsecured credit cards will give you a $2,000 credit line if you have poor credit. You'll have more luck with secured cards, but even then, not all allow subprime consumers to deposit $2,000 or more.
It takes six months of timely payments for the two reviewed unsecured cards, Surge® Platinum Mastercard® and Reflex® Platinum Mastercard®, to offer a limit as high as $2,000. Keeping your unpaid balances relatively small is helpful because it indicates you can successfully manage your debts.
Secured credit cards are easier to obtain, and they're cheaper too. You must deposit an amount equal to your credit limit, but that deposit is refundable. Secured cards should have lower annual fees and APRs than their unsecured cousins, and you'll never have to pay monthly maintenance fees.
Some secured cards let you deposit $2,000 or more immediately, but others may set lower initial limits and only allow additional deposits after a set interval. 
Many secured cards automatically refund your deposit after a period of timely payments. Some may instead give you an unsecured credit increase or offer you an unsecured card in addition to your secured one.
Increasing your credit score and income is the best route to a higher credit limit. According to Experian, the average American had $30,233 in available credit across all their credit cards in 2021. This figure indicates that you can access significantly higher credit limits by raising your score. And reporting income increases to your issuing bank can incentivize it to provide you with more credit.
What Is the Highest Limit Available With Bad Credit?
You may be able to get a credit limit as high as $5,000 if you have bad credit, but only via a secured credit card. That's the top credit limit available from the Applied Bank® Secured Visa® Gold Preferred® Credit Card, and other secured cards may allow credit limits of $5,000 or more. 
Equifax reports that 3.95 million credit cards were issued to consumers with a VantageScore below 620 between March 2022 and May 2022. The average initial credit limit on new subprime cards was $865.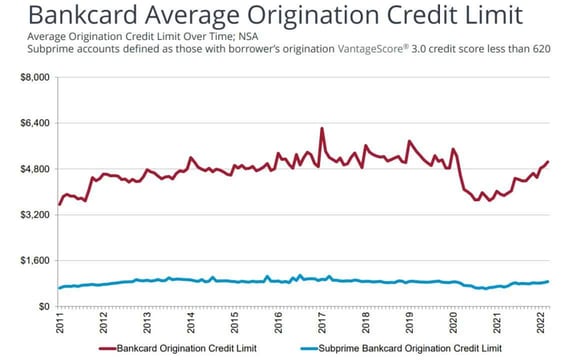 So while initial limits may be lower than you hope for, it is possible to increase that limit over time. The two unsecured cards featured in this article advertise possible credit limits of $2,000 in as soon as six months.
How Do I Increase My Credit Limit?
Increasing your limit involves knowing how to negotiate with your credit card issuer. It also involves raising your credit score because the higher you can boost your credit score, the larger the credit limit you can achieve.
You can increase your secured card's credit limit by depositing additional cash up to the limits the card issuer imposes. If you have an unsecured card, your card issuer may award you a credit limit boost after you exercise creditworthy behavior for a set period.
You can request a credit limit increase from the bank directly but do so intelligently. That means waiting until you've compiled a record of on-time payments for a significant period — six months to one year — before contacting the credit issuer. 
Tactically, you want to show why you deserve a higher credit line, not plead why you need one. Here are some reasons you can offer:
Your long-time loyalty to the card
Your record of timely payments
Your practice of repaying most or all of your balance each month and always paying more than the minimum balance
Your habit of keeping a relatively low unpaid balance
Your recent income increase
If you already have multiple credit cards, you may find proposing a balance transfer plan helpful. Tell the customer rep you'd like to use the higher limit to finance balance transfers to consolidate your debt. 
Card issuers love balance transfers because of the interest and fees they'll collect. Plus, they like the idea of taking away balances from rival issuers. 
Always show respect to card representatives. If they turn you down, thank them for their time and ask when you can contact them again. 
What Is the Easiest Credit Card to Get With Bad Credit?
Student, secured, and store credit cards are the easiest to get when you have no, limited, or bad credit:
Student credit cards: These are the best bargains in the credit card industry. You can get one if you are an undergraduate attending college (or a job-training school) at least half-time, and you don't need any credit history. These cards offer relatively good perks that can help students save money.
Secured credit cards: Your deposit goes into an insured escrow account. The card issuer will tap the account if you fail to make the minimum payment or default on your debt. In other words, the deposit shifts risk from the issuer to you. That makes it much easier to get a "Yes" when you apply for a secured card.
Store cards: These cards are notoriously easy to get. They are closed-loop cards usable only at the issuing store (and affiliates). They usually have modest credit limits and high APRs.
If you can't qualify for a satisfactory credit card, consider getting a prepaid debit card. These do not require a credit history or bank account since they don't provide credit. Moreover, you can't use them for rebuilding credit. You can use them to store money for purchases, bill-paying, transfers, and ATM withdrawals. The best ones charge small or no monthly fees.
Do I Need a Bank Account For a Credit Card?
You need a bank account for most credit cards. Banks require this so you can make electronic payments. Many cards ask you to set up recurring monthly payments large enough to cover the minimum amount due. Having a linked checking or savings account provides a means for automatic payments.
Trying to pay your credit card bills without a bank account would be awkward. You don't want to send cash in the mail, money orders are expensive, and paying with a prepaid debit card triggers fees.
Some credit cards may check your banking history when evaluating your application, especially if you have a limited credit background. They will check for negative items, such as bounced checks, overdrafts, and unpaid fees that indicate you may be a risky customer.
If you haven't opened a bank account yet, consider whether you'd prefer a bank with brick-and-mortar branches or one that operates online exclusively. The former can provide personal service, but the latter is usually cheaper.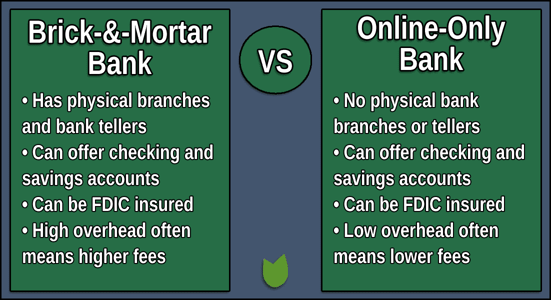 You may also want to consider opening an account at a credit union instead of a bank. Credit unions usually provide better service and lower costs. They are also a good source of credit cards, and you can open a credit-builder account there. A credit-builder account (or "loan") lets you establish a credit history through timely repayments.
You must join the credit union before opening the account, but doing so usually costs only $5. Many credit unions impose geographical or other requirements that limit membership, but some accept members without preconditions.
How Do I Use My Credit Card To Build Credit?
You can start building credit by using your credit card responsibly, meaning paying on time and keeping unpaid credit balances relatively small. Using your available credit recklessly by piling up debt and missing payment deadlines will have the opposite effect.
Your credit score reflects your past behavior. As time passes, your current behavior dominates your scoring, giving you a chance to recover from past mistakes through creditworthy practices.
Negative information "evaporates" from your credit history over time. The time it takes negative items to disappear from your credit reports varies from two to 10 years, depending on the transgression.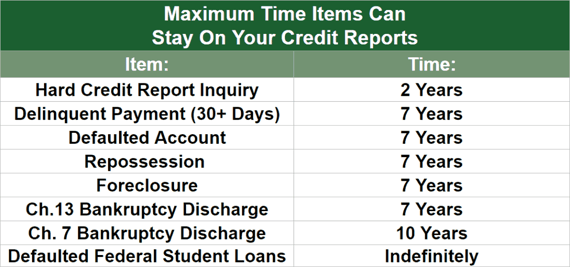 The magnitude of the damage depends on the mistake. For example, a 30-day late payment can drop your credit score by as much as 100 points. But you can recover from the loss in a reasonable period by paying your bills on time, even though the item will remain in your credit history for seven years.
Not all creditors report your activity to the major credit bureaus. Payday lenders, pawnshops, and title loan providers don't communicate with the bureaus, so they can't help you when rebuilding credit.
Some lenders report to only one or two of the credit bureaus. This practice often leads to different credit scores at each bureau. But virtually all subprime credit card issuers — secured and unsecured — report your activity to all three bureaus. This method is the most efficient way to succeed at building credit effectively.
Other forms of credit, including personal loans, auto loans, mortgages, and other products, allow you to prove yourself to lenders as a responsible consumer who pays bills on time. Reporting builds credit and provides future access to better financial products. 
Additionally, a new credit card can improve your credit utilization (i.e., credit used / credit available), which accounts for 30% of your overall FICO credit score. Getting a new card will reduce your CUR when you don't immediately use it because it will increase the credit available without boosting the credit used.
How Can I Improve My Approval Odds?
Strategies to improve your odds for credit card approval include prequalifying for the card, selecting secured cards, recruiting a cosigner, and becoming an authorized user.
1) Get Prequalified
Issuers provide a fast decision without impacting your credit score when you attempt to prequalify for a credit card. During this step, the issuer checks your qualifications without a hard credit pull. Typically, you must meet the following criteria to prequalify for a credit card:
Age: 18 or older
Residence: US citizen or permanent resident
Income: Sufficient income or government benefits to pay the credit card bills
Housing: Your current address and your monthly housing costs
Identification: Your Social Security Number, bank account and routing numbers, email address, and phone number
If you receive preapproval, you can submit a formal application and learn instantly whether the issuer will provide final approval. Remember, no credit card promises guaranteed approval.
Successful preapproval doesn't promise guaranteed approval. But it certainly can help avoid needlessly applying for a card when you don't have any chance of final approval.
2) Use Secured Credit Cards
Generally, secured cards are more interested in your cash deposit than your credit score. A few secured credit cards guarantee not to perform a hard credit check when you apply. Lousy credit won't prevent you from getting these cards. Other secured cards may pull credit but give little weight to the results. 
The main difference between secured and unsecured credit cards is that the secured variety requires you to make a deposit upon approval, which is how the issuer protects itself from defaults. The minimum deposit amount is typically $200 or $300, equal to the card's credit limit.
3) Find a Cosigner
Recruiting a cosigner can improve your approval odds for certain cards, but many credit card issuers don't allow them. Cosigners should have good credit, and they should trust you. 
You and the cosigner are equally responsible for timely payments. This reduces the issuer's risk that the cardowners will default on their debt, thereby improving approval odds. 
4) Become an Authorized User
You can ask a friend or relative to make you an authorized credit card user. The cardowner makes the request to the card issuer and may have to pay a fee. You'll receive your own card copy of the card with spending privileges, although the primary owner may restrict your credit limit. Almost all credit cards accept authorized users.
You should understand that the credit card company will hold only the primary owner responsible for the authorized user's spending. Primary cardholders are 100% liable for all charges.
This policy explains why primary cardholders should only add authorized users they trust. Otherwise, owners risk unanticipated bills that they must pay, regardless of any verbal agreements with authorized users.
A $2,000-Limit Credit Card For Bad Credit Is Within Reach
Our review of seven $2,000 limit credit cards for bad credit should give hope to subprime consumers looking for a reasonably large credit line. A limit of $2,000 is, indeed, no fortune, especially during high inflation. But it does represent a little breathing room if you need to finance purchases over multiple months. 
We recommend you get a secured card, which is ultimately cheaper, easier to get, and will probably convert to an unsecured card — and you'll get your deposit back — within a year.
Surge® Platinum Mastercard® & Other Resources
We hope you've found our guide "$2,000 Limit Credit Cards For Bad Credit (Sep. 2023)" to be helpful in meeting your financial needs. To learn more about Surge® Platinum Mastercard®, our top recommendation in this guide, be sure to visit the Surge® Platinum Mastercard® website for full details about the offer.
Our experts rate Surge® Platinum Mastercard® as one of the best options in credit cards for those with bad credit, giving it a 4.5/5.0 rating overall. Among its features:
Up to $1,000 credit limit doubles up to $2,000! (Simply make your first 6 monthly minimum payments on time)
All credit types welcome to apply!
Monthly Credit Score – Sign up for electronic statements, and get your Vantage 3.0 Score Credit Score From Experian
Initial Credit Limit of $300 – $1,000* (subject to available credit)
Monthly reporting to the three major credit bureaus
See if you're Pre-Qualified without impacting your credit score
Fast and easy application process; results in seconds
Online account access 24/7
Checking Account Required
For more resources similar to this "$2,000 Limit Credit Cards For Bad Credit (Sep. 2023)" guide, see our other popular picks for those with bad credit:
Whether you choose Surge® Platinum Mastercard® or any other option in our credit cards category, be sure to read and understand the terms before signing up. You'll find that taking the time to fully understand credit cards is one of the smartest financial decisions you can make.
Advertiser Disclosure
BadCredit.org is a free online resource that offers valuable content and comparison services to users. To keep this resource 100% free for users, we receive advertising compensation from the financial products listed on this page. Along with key review factors, this compensation may impact how and where products appear on the page (including, for example, the order in which they appear). BadCredit.org does not include listings for all financial products.
Our Editorial Review Policy
Our site is committed to publishing independent, accurate content guided by strict editorial guidelines. Before articles and reviews are published on our site, they undergo a thorough review process performed by a team of independent editors and subject-matter experts to ensure the content's accuracy, timeliness, and impartiality. Our editorial team is separate and independent of our site's advertisers, and the opinions they express on our site are their own. To read more about our team members and their editorial backgrounds, please visit our site's About page.