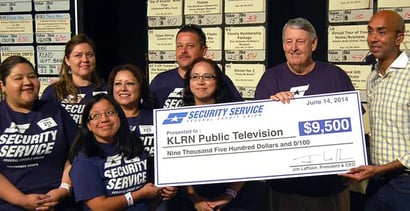 From big names to up-and-comers, BadCredit.org experts share their picks for the top resources in the personal finance industry.
Credit unions are known for being active members of the community they serve by investing in the very same people who bank with them.
These 10 credit unions go above and beyond when it comes to their charitable efforts.
Educational Community Credit Union
eccu1.org


Serving: Southern Michigan
Personal checking accounts sometimes come with the bonus of puppy love. The $2,500 in funds ECCU gave to the SPCA will help feed and provide medical care for the animals, especially when other funding is tight. "Do the right thing" is a core value for EECU, and that translates to helping the community. They even have staff who volunteer there!
Social Clout: 2,430+ Facebook likes, 435+ Twitter followers
Twitter Handle: @eccu1
URL: eccu1.org
Cabrillo Credit Union
cabrillocu.com


Serving: The greater San Diego, California, area
For more than 20 years, Cabrillo has been supporting the needs of the youngest patients in San Diego, donating more than $208,000 total to Rady Children's Hospital. Through their fundraising efforts just this year, they were able to bring in more than $17,000. They do more than money management. At Cabrillo, they make miracles happen for those who need them.
Social Clout: 45+ Facebook likes, 480+ Twitter followers
Twitter Handle: @cabrillocu
URL: cabrillocu.com
Mountain America Credit Union
macu.com


Serving: Utah, Idaho, Arizona, New Mexico and Nevada 
"People helping people" is the philosophy at Mountain America — they reach out to their community through seminars, scholarships and sponsorships. MACU even recently contributed just under $70,000 to Shriners Hospitals for Children, Susan G. Komen for the Cure and the Huntsman Cancer Foundation. They've donated more than $155,000 going to HCF in in the past decade.
Social Clout: 123,335+ Facebook likes, 6,255+ Twitter followers
Twitter Handle: @mountainamerica
URL: macu.com
1st MidAmerica Credit Union
1stmidamerica.org


Serving: Bethalto, Illinois and surrounding areas
Volunteering is the name of the game for 1st MidAmerica. They feel strongly about community outreach programs and doing their part, participating in awareness walks, educational seminars and fundraisers among other events. They also donate to community causes such as Habitat for Humanity and Adopt a Family. They've recently merged, giving them even more volunteers to help out their community. It's no wonder they were named an All-American credit union.
Social Clout: 1,375+ Facebook likes, 165+ Twitter followers
Twitter Handle: @1stMidAmerica
URL: 1stmidamerica.org
Greylock Federal Credit Union
greylock.org


Serving: Pittsfield, Massachusetts, and surrounding areas
Greylock is all about benefiting and enriching children's lives. Not only did they donate $2,500 to the YMCA on behalf of the Marilyn Hamilton Literacy Program, but they also gave $5,000 to a program that provides a free YMCA program to those children who are members of both institutions. They definitely know how to give back!
Social Clout: 1,460+ Facebook likes
URL: greylock.org
Security Service Federal Credit Union
ssfcu.org


Serving: Texas, Colorado and Utah
SSFCU shows its service to the community frequently throughout the year, but their work with the Utah Food Bank is amazing. The $10,000 in funds they gave to them will be used to operate a mobile pantry for homeless veterans living at Valor House. They've also contributed $9,500 to local public television station KLRN.
Social Clout: 1,540+ Facebook likes, 580+ Twitter followers
Twitter Handle: @SSFCU
URL: ssfcu.org
Pasadena Federal Credit Union
pfcu.org


Serving: Pasadena, California
Being engaged and passionate about helping people is what PFCU does best (after taking care of your finances). Whether they're supporting the Girl Scouts, helping the public libraries or raising funds for the animals in the Pasadena Humane Society's Annual Wiggle Waggle Walk, they do whatever they can to make a difference. That's why they were featured on the UN's "The Year of the Cooperative" in 2012.
Social Clout: 3,575+ Facebook likes, 410+ Twitter followers
Twitter Handle: @pasadenafcu
URL: pfcu.org
Scott Credit Union
scu.org


Serving: Edwardsville, Illinois, and surrounding areas
Giving back to local communities is a top priority for Scott Credit Union. They work at various community and philanthropic events during the year, even asking organizations to ask them for support when they need help. They also award their employees for their volunteer hours in the community – all of their employees volunteered more than 2,400 hours in 2013.
Social Clout: 33,130+ Facebook likes, 725+ Twitter followers
Twitter Handle: @ScottCU
URL: scu.org
Georgia United Credit Union
georgiaunitedcu.org


Serving: Northern Georgia
Georgia United is committed to helping its communities. They do this through countless projects, like financial education programs, new teacher orientations and scholarships. They've awarded more than $142,000 in the last 20 years. They recently participated in their School Crashers makeover program with more than 150 volunteers to beautify and improve an elementary school.
Social Clout: 1,785+ Facebook likes, 115+ Twitter followers
Twitter Handle: @GAUnitedCU
URL: georgiaunitedcu.org
Alliant Credit Union
alliantcreditunion.org

Serving: Illinois, Colorado, California, Virginia, Arizona, Texas and New Jersey
To emphasize their commitment to community service, Alliant developed its Civic Affairs Program. Through this, they participate in Super Bowl Chili Day, as well as various food and clothing drives. They also host financial literacy classes, sponsor two different annual scholarships and support Bears Care, a Chicago Bears charity.
Social Clout: 13,320+ Facebook likes, 4,060 Twitter followers
Twitter Handle: @AlliantCU
URL: alliantcreditunion.org
Photo source: facebook.com, twitter.com, greylock.org, gr8saver.ie