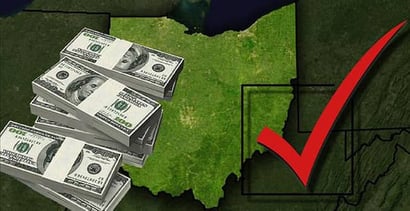 From big names to up-and-comers, BadCredit.org experts share their picks for the top resources in the personal finance industry.
Ohio brought us the Halle Berry, Neil Armstrong, John D. Rockefeller and Nine Inch Nails — but can they be counted on for quality credit unions?
The answer is an astounding YES.
These five credit unions stood out in particular. They share a common value for consumer-oriented products, community-based financial education services and a pledge to better the socioeconomic well-being of their members.
If you're looking for a trusted financial partnership, look no further than the top five credit unions of the Buckeye State.


With 29 local Member Centers and more than 40,000 ATMs nearby, Wright-Patt Credit Union is committed to providing clients with convenience as well as confidence in their brand. They offer a variety of tools and tips for smarter saving and borrowing, such as their SavvyMoney Checkup, Financial Calculators and Financial News RSS Feeds. As a valued member, you are given access to special deals and discounts, as well as online polls to survey your opinions, solidifying Wright-Patt Credit Union's commitment to excellence.
Asset Size: $2,903,082,496.00
Membership: 290,305
Twitter Handle: @wpcu
URL: wpcu.coop
General Electric Credit Union


General Electric Credit Union is a non-profit, member-owned finance institution backed by a volunteer Board of Directors. In this trusted partnership, your savings are federally insured up to at least $250,000 and protected by the National Credit Union Administration. Their supervisory committee ensures the proper protocols are followed regarding records and transactions. Their professional philosophy is "people helping people," and in everything they do, they look out for their partners' best interests.
Asset Size: $1,981,338,886.00
Membership: 142,686
Twitter Handle: none
URL: gecreditunion.org
KEMBA Financial Credit Union


KEMBA Financial Credit Union is a not-for-profit, consumer-focused financial cooperative committed to enriching the financial well-being of their members. They've harnessed their deep understanding of credit union ownership and devoted their business to helping individuals understand the benefits of frugality and saving. With access to competitive rates on savings dividends and loan products exclusive to members, KEMBA Financial Credit Union handles all of your finance needs "not for profit, not for charity, but for service."
Asset Size: $914,987,336.00
Membership: 75,203
Twitter Handle: @KEMBAfinancial
URL: kemba.org
Directions Credit Union Inc.


Currently protecting more than $500 million in assets for approximately 70,000 members, Directions Credit Union Inc. has been offering quality financial services for more than 60 years. They offer competitive interest rates on loans, attractive dividend rates on deposits and minimal fees for other services. With online resources to better the economic health of their members and their communities, the choice is clear — life is easier with Directions.
Asset Size: $594,125,715.00
Membership: 70,792
Twitter Handle: @directionscu
URL: directionscu.org


Telhio Credit Union has been a strong and safe financial partnership trusted in the central Ohio community for over 75 years. Providing quality service, educational resources and quality deals to members consistently are all top priorities. They have developed a trustworthy rapport throughout the community and are committed to preserving the democratic principles of volunteer involvement. Staff, volunteers and members are all encouraged to improve the socioeconomic well-being of their communities.
Asset Size: $530,200,319.00
Membership: 47,022
Twitter Handle: @TelhioCU
URL: telhio.org
Photo sources: serialsworld.net; facebook.com; twitter.com