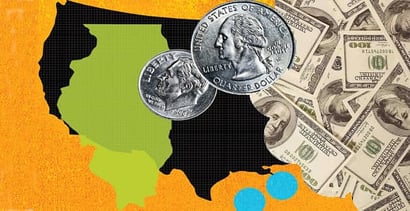 From big names to up-and-comers, BadCredit.org experts share their picks for the top resources in the personal finance industry.
The state of Illinois is renowned for its backward flowing river and the invention of ice cream sundaes (among many other things). Now its impressive credit unions can be added to that list.
The assets, membership and customer service provided at these 10 credit unions are unparalleled. They consistently focus on their members' needs and provide invaluable guidance and support to their community. Of all the amazing credit unions in the prairie state, these 10 were truly the best.
Citizens Equity First Credit Union


CEFCU is different — in a good way. They handle your money to best benefit you and return earnings to every CEFCU member through higher savings dividends, lower loan rates and fewer fees. They put members first because helping people is what they're all about. They're an invaluable financial resource.
Asset Size: $4,922,974,947.00
Membership: 304,709
Twitter Handle: @CEFCU
URL: cefcu.com


What is the Alliant advantage? The rewards you get from being a member at this fine credit union. They provide easy-to-use products and superior services  tailored to your specific needs, so you know you're getting the best financial value. It's no wonder so many people call Alliant their credit union.
Asset Size: $8,088,974,762.00
Membership: 285,497
Twitter Handle: @AlliantCU
URL: alliantcreditunion.org


At Baxter, they strive to provide you with better financial services and more innovative products than most financial institutions do. That's because they recognize the value of their members. Here you'll find lower rates, lower fees and higher dividends. Both you and your wallet will be thrilled with BCU.
Asset Size: $1,981,381,902.00
Membership: 191,908
Twitter Handle: @BCUTweets
URL: bcu.org


Your life is their commitment. The folks at Consumers Credit Union understand what you need — long-term stability. So they  created a financial institution you can bank on, offering member-focused attention and diverse banking options to ensure they meet your needs. You can rely on them.
Asset Size: $603,828,274.00
Membership: 61,450
Twitter Handle: @MyConsumersCU
URL: myconsumers.org
1st MidAmerica Credit Union


With a mission to exceed their members' expectations and a goal to improve everyone's financial lives, 1st MidAmerica means business. They consistently strive to provide the best financial opportunities and resources possible. With them, no matter the size of your account, every member counts.
Asset Size: $577,259,655.00
Membership: 57,862
Twitter Handle: @1stMidAmerica
URL: 1stmidamerica.org


Founded in 1938, the people at GLCU still embrace their founding concept — putting members first. A visionary board of directors and dedicated employees have brought this credit union into the 21st century with quality products and unrivaled services. They create a simple, seamless financial relationship.
Asset Size: $625,436,577.00
Membership: 56,931
Twitter Handle: @GreatLakesCU
URL: glcu.org
University of Illinois Employees Credit Union


Serving both the campus and the community, UIECU has dedicated itself to its members by providing personalized service and promoting its philosophy of people helping people. They work every day to create a long-lasting relationship with you that makes a difference in all aspects of your life.
Asset Size: $294,825,462.00
Membership: 43,094
URL: uiecu.org


GCS considers itself "community-powered banking," where they find the perfect balance for their members. They're big enough to provide convenience but also small enough to offer customized financial services. Never pushy or profit-driven, they really focus on meeting your best financial interests.
Asset Size: $309,500,417.00
Membership: 41,165
Twitter Handle: @GCS_CU
URL: mygcscu.com
DHCU Community Credit Union


Seventy-five years ago, eight hardworking folks and $40 in assets started DHCU. Its growth since then has been exponential. While they offer similar services to other financial institutions, they personalize customers' experiences and products.
Asset Size: $479,966,918.00
Membership: 40,825
Twitter Handle: @DHCUCommunityCU
URL: dhcu.org
Motorola Employees Credit Union


Since 1939, MECU has been consistently putting their members' needs first, offering financial strength and security, as well as an unparalleled variety of products and services. These folks know how to balance numbers and build relationships.
Asset Size: $844,224,379.00
Membership: 38,479
URL: mecu.org
Photo sources: facebook.com, uiecu.org, chicagomag.com