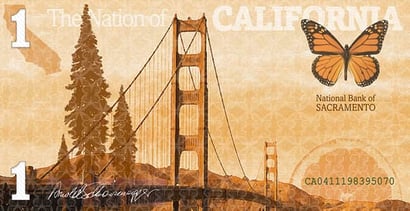 From big names to up-and-comers, BadCredit.org experts share their picks for the top resources in the personal finance industry.
California is known for having it all. With beautiful beach weather, a bustling economy and some of the tastiest food in the United States, it's almost impossible to top what they have to offer.
The same can be said for credit unions in the Golden State. These five credit unions in particular stand out with their great services and impressive community outreach. In the land of the gold rush, these folks know how to take care of your precious metals … er, money.


Founded in 1933, Golden 1 is now one of the largest credit unions in the country. With more than 600,000 members and $8 billion in assets, they still stick to their original vision: to provide financial solutions with value, convenience and exceptional service. They provide the same quality of service to their community by offering scholarships, sponsorships, donations and their own volunteered hours.
Social Clout: 47,965+ Facebook likes; 7,955+ Twitter followers
Twitter Handle: @golden1cu
URL: golden1.com

With initial assets totaling a mere $500, Patelco has definitely come a long way since 1936. Nowadays they serve folks from more than 1,000 businesses and communities. They embrace the credit union philosophy of "people helping people" not only in the financial services they provide but in the ways they give back. From financial literacy classes to blood drives, they do it all.
Social Clout: 6,960+ Facebook likes; 725+ Twitter followers
Twitter Handle: @patelcopays
URL: patelco.org
Logix Federal Credit Union


At Logix, you'll find banking with a twist. Founded as the Lockheed Aircraft Employees Federal Credit Union in 1937, they have a history of innovation and customer support. That's why you'll always find better rates, lower fees and improved services with them. Equally impressive is their dedication to the community. Since 2008, they have donated more than $300,000 and 1,250 volunteer hours.
Social Clout: 7,640+ Facebook likes; 755+ Twitter followers
Twitter Handle: @LogixFCU
URL: logixbanking.com
California Coast Credit Union

At California Coast, they focus on your best interest. That means they provide the services and technology you need, as well as some you didn't even know you wanted. This certainly applies to their members, but it also applies to their communities. By offering scholarships and volunteering their time and knowledge to help out local organizations, they consider themselves a "true community partner."
Social Clout: 7,950+ Facebook likes; 1,160+ Twitter followers
Twitter Handle: @CalCoastCU
URL: calcoastcu.org


Provident is committed to absolute safety and soundness, doing everything they can to protect your assets while still offering you superior financial services. Since their roots go back to serving educators, they make it their mission to support local schools and educational programs through donations and volunteering. They are truly looking out for you in everything they do.
Social Clout: 4,805+ Facebook likes; 570+ Twitter followers
Twitter Handle: @ProvidentCU
URL: providentcu.org
Photo sources: facebook.com, laurenswanson.com