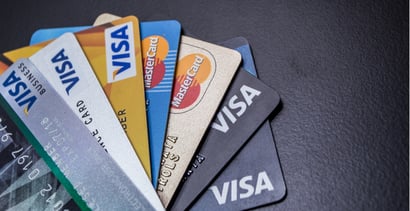 Knowing how to get a major credit card with bad credit can save you from needless rejection. Of course, a rebuff from a major credit card (i.e., a card operating on one of the four major payment networks) is hardly on par with your date's "it's not you, it's me" line. But repeated rejections from credit card issuers indicate you likely have a serious financial problem you need to address. 
Thankfully, many major credit cards cater to consumers with bad credit. The problem is that these cards aren't well-known — you won't see celebrities hawking them in glitzy TV ads. But they are readily available to those in the know. That group will include you by the end of this article.
A more fundamental challenge is gaining access to better credit cards with lower fees and better perks. You'll first have to rebuild your credit to own these, which is not a trivial exercise. We'll show you how to leverage a subprime credit card into a better credit score. If you're successful, you'll be able to stuff your wallet with great credit cards — the best revenge against all those rejections. 
Find the Right Major Credit Card For Your Credit Score
It may seem unfair to boil down your financial status to a credit score. Like it or not, credit scores profoundly affect your ability to get a credit card or loan, an apartment, and even a job. To obtain the right major credit card, you need to know your credit score (actually, credit scores — you have dozens) and what the scores mean.
Your credit scores originate from the three major credit bureaus (Experian, Equifax, and TransUnion). They continually collect consumer credit data, organize it, report it, and use it to calculate a credit score. FICO is the dominant scoring system, with scores ranging from 300 (poor credit) to 850 (perfect credit). 
VantageScore is another leader with the same scoring range but slightly different credit categories. These systems produce scores that predict the chances you'll default on debt within two years. 
Creditors, lenders, collection agencies, and other interested parties source the consumer data, including payments and debt balances, that credit bureaus compile. By applying a scoring algorithm to all that data, the bureaus produce credit reports and scores that place you in a lending risk category:

Here are several sources for obtaining your credit scores. When you know your credit scores, you can concentrate your search on the appropriate credit card category. Our reviews indicate the target audiences for all the credit cards we evaluate, information you can use to decide where to apply for a card. 
You have bad credit if your FICO Score is below 580. If you're brand new to credit, you probably have no score yet — it can take several months to get your first score after opening a credit account. 
The following ratings focus on major credit cards for bad, limited, or no credit. Later on, we'll discuss how to improve your credit scores and expand your universe of attainable credit cards.
Unsecured Major Credit Cards For Bad Credit
Unsecured credit cards do not require you to deposit any money. Instead, your credit score is the primary factor that determines whether an issuer will approve your application. The following unsecured cards are the most likely to approve your application despite a low credit score.
You can use the PREMIER Bankcard® Mastercard® Credit Card wherever merchants welcome the Mastercard brand. This is the best credit card for easy approval, even if your credit score is below par. The card charges a monthly maintenance fee and an annual fee, so be sure to read the terms and conditions so you know the cost of credit before applying (See Provider Website for full Terms & Conditions).
The PREMIER Bankcard® Grey Credit Card provides an interest-free grace period longer than those most credit cards offer. The card structures its setup and maintenance fees according to your credit limit. PREMIER Bankcard may increase your credit limit after 12 months of on-time payments (See Provider Website for full Terms & Conditions).
Surge® Platinum Mastercard® from Celtic Bank provides Mastercard Zero Liability Protection to protect you from charges you didn't make. The accompanying mobile app lets you pay bills, specify direct deposits, view statements, and check payment due dates. The Surge® Platinum Mastercard® doesn't have a penalty APR, and its purchase APR undercuts those of some competitors. 
The Aspire® Cash Back Reward Card is one of the two cards in this group that offers cash back rewards. This Mastercard from the Bank of Missouri provides access to your VantageScore 4.0 score from TransUnion® and free transaction alerts. You also get an instant credit decision, online and mobile account access, and $0 fraud liability.
The Fortiva® Mastercard® Credit Card, also from the Bank of Missouri, offers bonus cash back on eligible grocery, gas, and utility expenditures, and standard cash back on all other eligible purchases. The card provides $0 fraud liability, transaction alerts, and an instant credit decision. Your credit limit determines your annual and maintenance fees. 
The FIT® Platinum Mastercard® will help improve your credit report and score. It promises to consider doubling your credit limit after a period of on-time payments.
Secured Major Credit Cards For Bad Credit
By depositing refundable collateral equal to your credit limit, you can quickly obtain these secured cards despite lousy credit. Some of them do not require a minimum credit score. All use a major payment network that unlocks worldwide acceptance. 
You can use these cards to build credit because all report your payments to at least one credit bureau.
The OpenSky® Secured Visa® Credit Card features worldwide acceptance wherever merchants welcome the Visa logo. This secured Visa credit card from Capital Bank provides email alerts, fraud protection, a grace period, and a competitive APR. The annual fee is moderate, and there are no setup or monthly maintenance charges.
The First Progress Platinum Select Mastercard® Secured Credit Card is one of three similar credit cards from Synovus Bank. This platinum secured credit card charges relatively low fees and interest rates.
You don't need a checking account or a credit score to get the PREMIER Bankcard® Secured Credit Card. It offers a relatively low interest rate, moderate annual fee, and an affordable minimum deposit (See Provider Website for full Terms & Conditions). You can use the card at Cirrus ATMs across North America to get cash advances.
You'll get an instant decision when you apply for the Applied Bank® Secured Visa® Gold Preferred® Credit Card. The card doesn't charge setup, maintenance, or credit limit increase fees, and there is no penalty APR for late payments. This secured Visa credit card lacks a grace period for purchases but charges a low APR.
How Do I Qualify For a Major Credit Card?
Acceptance requirements for major credit cards vary by issuer. Unsecured credit cards have stricter qualification criteria than secured cards.
Qualifying For an Unsecured Card
Major credit cards usually comply with the baseline requirements of their payment networks. For example, to become a Visa cardmember, you must:
Be at least 18 years old
Have a US mailing address
Have a steady income
Own some form of valid Taxpayer Identification Number, such as a Social Security number
Have debts and housing costs low enough to let you pay your credit card bill on time 
Have the minimum credit score required by the issuer  —  Visa doesn't impose a minimum 
All major payment networks have roughly the same requirements. Each major unsecured credit card layers its own requirements atop those of its payment network. 
Some issuers limit the number of cards you can own. This isn't usually a problem for subprime unsecured credit cards because their issuers tend to offer only one or two different cards. On the other hand, cards for good credit may have elaborate rules (e.g., the Chase 5/24 Rule) that caps how many cards you can own.
Cards for consumers with a bad credit score (i.e., FICO scores below 580) often compete by advertising lax qualification requirements. For example, the PREMIER Bankcard® Mastercard® Credit Card requires a minimum credit score of 500 (See Provider Website for full Terms & Conditions). The other reviewed cards may want higher or lower scores. 
Unsecured credit cards for bad credit also vary in the amount of debt they allow and the income they require. Both figures emphasize the importance of subprime cards since their issuers use this information to evaluate default risk.
Most credit cards allow you to prequalify by submitting identification and financial data. Prequalifying for a credit card isn't the same as applying for one: 
Prequalification doesn't require a hard pull of your personal credit reports, but an issuer will make a hard credit check when you formally apply.
Successful prequalification is not a final decision  —  it does not guarantee an issuer will approve your application.
Prequalification does not impact your credit score. 
The most significant advantage of prequalification is discovering whether you have a chance for final approval. If you fail the prequalification step, there is no point in applying for the card and having a hard credit check done that will harm your credit score. You can also prequalify for a business credit card.
The credit bureaus keep track of hard and soft inquiries. A creditor conducts a hard inquiry when you apply for a credit card or a bad credit loan. Your application authorizes the creditor to receive copies of your personal credit reports that it uses to decide whether to approve your request. 
FICO associates new credit applications with increased default risk. Accordingly, a hard inquiry may depress your FICO Score by a few points and remains on your credit report for two years.
The impact is minor unless you apply for new credit too frequently (for example, more than six applications in the 12 months), which creditors may interpret as financial distress.
All other requests for your credit reports are soft inquiries resulting from various events such as:
Your attempt to prequalify for a credit card
Inquiries from potential employers, landlords, and utility companies
Your request to see your own reports
Soft inquiries do not impact your personal or business credit card score, and only you can view them. 
If an issuer rejects your credit card application, it's good to wait a while before reapplying. This pause will give you time to consider the reasons for your rejection and the remedial actions you must take. It will also signal to potential creditors that you aren't desperate to open a new account immediately.
Qualifying For a Secured Card
Secured cards give subprime consumers an alternate way to obtain credit. These cards relax their qualifying requirements for credit score, income, and debts in exchange for a cash deposit guaranteeing the cardowner's credit line. 
Applying for a secured credit card follows pretty much the same procedure as that for an unsecured card. But the card issuer may refrain from a hard pull of your credit and score. A few credit cards do not check your credit at all, including the Applied Bank® Secured Visa® Gold Preferred® Credit Card and the OpenSky® Secured Visa® Credit Card. 
You must pay the required deposit before receiving final approval for a secured credit card. The card may also require you to prepay an annual fee. Failure to deposit collateral by the issuer's deadline will terminate the application. 
Several secured cards require a $200 initial security deposit to back a $200 credit limit. Others allow larger initial deposits, and all secured cards permit cardowners to increase their deposits over time, subject to the issuer's approval. Maximum deposits vary from $1,000 to $10,000 among different issuers.
The role of the security deposit is to provide funds to the card issuer in the event you do not pay your bill on time. It is not a prepayment for your account  —  you must submit at least the minimum payment by the due date, just as with unsecured cards. 
If the issuer has to dip into your security account because of a late payment, it will reduce your available credit limit temporarily until you replenish your deposit. If the problem occurs repeatedly, the issuer will likely cancel the card and refund your remaining balance.
You'll also receive a refund if you close your account or upgrade to an unsecured card. Pay attention to the terms of any upgrade.
In some cases, you'll continue using the same card with the same terms, except for the security deposit. But if the issuer offers you a different card, check the fine print  —  the new card may have extra fees. 
What Are the Four Major Credit Card Networks?
The four US credit card networks are Visa, Mastercard, American Express, and Discover. The last two issue credit cards, and American Express also offers charge cards. 
Visa is the largest network, with a heritage going back to the original mass-marketed consumer credit card from Bank of America. Mastercard is second, followed by the smaller Discover and Amex networks. 

The four networks route transactions and cash between card issuers and merchants, for which they charge merchants interchange fees. They also partner with dining, travel entertainment, and transportation companies, giving cardholders access to travel perks and various protections.
The four networks differ in market penetration, merchant costs, banking partners, and cardholder benefits.
Market Penetration
At the start of 2021, the worldwide market for major, open-loop credit cards approached half a billion active accounts. Some networks' statistics at that time were:
Visa: $2 trillion of purchase volume (54% of total purchase volume/49.5% of cards in circulation)
Mastercard: $837 billion (23%/34.52%)
American Express: $693 billion (19%7.55%)
Discover: $149 billion (4%/8.39%)
In the US, virtually all merchants that accept any credit card welcome all four brands. American Express and Discover have reached parity with Visa and Mastercard in the last couple of years. Some merchants have exclusive deals with one brand — for example, Costco accepts only Visa cards.
Merchant Costs
Merchants must pay a discount rate for credit card processing and data exchange. The discount rate has two components:
Assessment fee: An interchange fee merchants pay directly to the payment network.
Acquirer fee: Merchant service providers (or acquirers) handle credit card payments for a merchant's business and collect an interchange fee set by the network.
The average discount rates for each network are:
Visa 1.43% – 2.4%
Mastercard 1.55% – 2.6%
Discover 1.56% – 2.3%
American Express 2.50% – 3.5%
Merchants may have to pay additional fees for hardware leasing and other services. 
Banking Partners
Banks issue their own credit cards or issue cards as a service to third parties, for example, airline and retail cards. Visa and Mastercard do not issue credit cards and instead rely on banking partners, including Chase, Citibank, and Bank of America. 
Discover and Amex issue their own credit cards and generally don't partner with banks.
Cardholder Benefits
The payment networks provide a base level of credit card benefits, such as $0 fraud protection. Visa and Mastercard have multiple service tiers with various benefit packages. 
For example, cards that belong to the top-tier World Elite Mastercard level deliver free travel insurance, exclusive deals, and complimentary 24/7 concierge service. The ultimate Visa benefit level, Visa Infinite, provides shopping and travel protections, concierge service, and auto rental collision damage waiver.
Is it Impossible to Get a Credit Card With Bad Credit?
A bad credit score need not prevent you from owning a credit card, including some respectable secured cards with benefits and rewards. Getting a secured credit card depends primarily on your collateral, not your credit score. A couple of secured cards mentioned earlier don't even perform credit checks.

Unsecured cards are a little trickier to get since you don't back them with a security deposit. Nonetheless, many unsecured cards actively recruit new cardmembers who have poor credit.
But bear in mind that this type of card is no bargain, as it is likely to carry high interest rates, many fees, tight credit limits, and few benefits or rewards. 
Despite their flaws, these cards are available to many subprime consumers and provide them access to the world of credit. Once you have a credit card, you can improve your credit score by adopting creditworthy behavior. 
How Do I Rebuild My Credit With a Credit Card?
FICO devotes many web pages to explaining how to build your credit, and much of its advice centers on credit cards. The good news is that you can begin repairing a poor credit score by using credit responsibly — paying on time, repaying debts, refraining from new credit applications, and keeping old accounts open.
One note of caution: Prepaid cards are useless for building credit. A prepaid card is a debit card and does not report activity to the credit bureaus. Consider a prepaid card if you can't qualify for a credit card. Prepaid cards do not require you to have a bank account or credit score.
Make Timely Payments
Paying your bills on time, which represents 35% of your FICO Score, is the single best thing you can do to build credit. Logistically, paying your credit card bills each billing cycle should be a snap:
The card issuer sends you a statement (electronically or on paper) at the close of each billing cycle (typically every 30 days). The statement lists all activity in the period, your current balance, the minimum payment amount, and the payment due date.
The payment due date is typically 21 to 28 days after the statement date (i.e., the cycle closing date). This interval is an interest-free grace period for virtually all credit cards. The grace period doesn't apply if you have an unpaid balance from a previous billing cycle.
The minimum payment amount is approximately 5% of your unpaid balance. You can avoid interest charges on purchases by paying your balance in full by the due date.
You can pay your bill online, by check, or using the issuer's mobile app. You can also set up automatic monthly payments to ensure you never miss one.
Given the lengthy grace period and the small minimum amount due, it should be easy to pay your credit card bills on time. But missed payments happen, and they can hurt your credit score.
Creditors can report late payments to the credit bureaus 30 days after the due date. The infraction will immediately cause your score to drop, but delaying further worsens the damage. The bureaus track and reclassify your late payments as they age. 

Sometimes, a credit card company will charge off your payment and cancel your card. But the issuer may try to recoup the debt via its collection department or an external agency. Charge-offs and collections cause further harm to your credit score.
A one-time slip-up won't wreck your credit score, assuming you pay the balance as soon as you become aware of the problem. But repeated and prolonged late payments can cause your score to drop by dozens of points.
Moreover, late payments remain on your credit reports for seven years, although their impact on your score wanes over time.
Even if late payments have already damaged your credit score, you can begin rebuilding your credit by making timely payments going forward. But the best idea is to avoid the problem from the start by managing your bills responsibly.
Reduce Your Debt
Another 30% of your FICO Score derives from the amount of money you owe. FICO calculates your credit utilization ratio (CUR), which equals your current credit card balances divided by the credit available. CURs above 30% hurt your credit score.
You can help your score by reducing your CUR to less than 30% and keeping it there. If you own more than one credit card, consider consolidating your debt through balance transfer transactions or a personal bad credit loan.

Debt consolidation will free you from multiple minimum payments each month and may save you money if you can snag a lower interest rate on the consolidated balance. 
The long-term solution to too much debt is to align your spending with your income. Sure, credit cards let you stretch out your payments over many months, but you shouldn't rely on this feature if it overloads you with debt. 
Don't Apply for Too Many Credit Accounts
FICO nicks your credit score by a few points when you apply for a new credit account or loan. The logic is that new credit dilutes your ability to pay your bills and may indicate financial distress.
New credit accounts for 10% of your FICO Score. 
As described earlier, FICO tracks hard credit inquiries as a surrogate for new credit. Don't apply for new credit cards more often than once every six months if you are rebuilding credit. 
Keep Old Accounts Open
FICO associates the age of your accounts — the older the better — with financial stability and rewards you for managing your credit successfully. Credit history length accounts for 15% of your FICO Score, so it behooves you to keep old credit card accounts open and to use them occasionally. 
In addition, closing a credit card account may hurt your CUR by reducing your available credit. You should use all your credit cards at least once per year because the credit bureaus may exclude unused cards from the CUR calculation.
What Will the Credit Card Company Do If You Are Denied?
A credit card issuer may deny your application for several reasons. Your credit score may be too low, or perhaps you already have another card from the issuer. You don't have to guess the reason — the issuer must send you an Adverse Action Notice explaining the reason for its denying your application. 
The notice also reveals the source of the information on which the issuer based its decision – typically, the name of the credit bureau that supplied the credit report. 
The notice is valuable in a couple of respects:
If the decision was based on erroneous information, you can fix your credit reports and resubmit the application.
If the decision was based upon valid information, it will show you where you need to improve your credit behavior. 
Fixing your credit reports means removing incorrect, unfair, or unverifiable information. You can do this on your own by ordering free copies of your credit reports, reviewing them for errors, and filing disputes with the credit bureaus. The bureau must immediately remove or correct the offending item if you win a dispute.
Alternatively, you can subscribe to a credit repair service. Most subscriptions cost between $50 and $150 per month and run for about six months, although you can cancel at any time.
They can't promise a higher credit score, but reputable credit repair companies aggressively pursue your interests by challenging the credit bureaus to back up questionable information.
Major Credit Cards Are Available For All Credit Scores
Now that you know how to get a major credit card with bad credit, you're better able to apply for cards that are more likely to accept you. Moreover, we've given you enough information to know which cards are worth the effort. 
You can find out more about each reviewed credit card by clicking on the APPLY HERE links in the offer tables. Read about a card's fees and limits before applying to avoid regrets.
Advertiser Disclosure
BadCredit.org is a free online resource that offers valuable content and comparison services to users. To keep this resource 100% free for users, we receive advertising compensation from the financial products listed on this page. Along with key review factors, this compensation may impact how and where products appear on the page (including, for example, the order in which they appear). BadCredit.org does not include listings for all financial products.
Our Editorial Review Policy
Our site is committed to publishing independent, accurate content guided by strict editorial guidelines. Before articles and reviews are published on our site, they undergo a thorough review process performed by a team of independent editors and subject-matter experts to ensure the content's accuracy, timeliness, and impartiality. Our editorial team is separate and independent of our site's advertisers, and the opinions they express on our site are their own. To read more about our team members and their editorial backgrounds, please visit our site's About page.