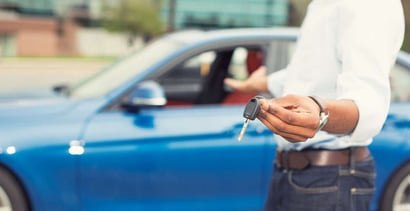 The average price for a new car is $47,000 compared to $28,000 for a used car, according to Kelly Blue Book. Either way, buying a car can get expensive, and most people need to take out a loan. 
Auto loans for fair credit are simply auto loans that don't have strict credit requirements. Instead, these lenders may consider other factors such as your income and ability to repay the loan. 
Even if you don't have a great credit score, it's still important to compare some of the best auto loan options that you qualify for to ensure you're getting the best terms for your situation.
Filter options best for:

1. Auto Credit Express: Best Overall
Auto Credit Express provides auto loans for new and used cars throughout the U.S. and Canada. This auto lender caters to borrowers with bad credit or no credit score, including those who have been denied a loan due to having filed bankruptcy in the past.
You can submit an application online in just minutes to see which lenders and loan options you may qualify for.
Auto Credit Express uses a network of more than 1,200 partner lenders to help you find an auto lender in your area who accepts bad credit. This company has been around for more than 20 years and has helped borrowers finance more than $1 billion collectively. 
This company is free to use and the requirements will vary depending on the lender. But you'll generally need a pre-tax monthly income of at least $1,500 to $2,000. You'll also need proof of residency, at least six months of working history, and several personal references.
2. PenFed Credit Union: Best For Low Rates
PenFed Credit Union is a member-owned financial institution, which means it doesn't have shareholders to answer to. It returns its profits to its members through low-rate financial products and dividends.
Anyone can apply to become a member of PenFed Credit Union and enjoy low-rate financing, regardless of their credit history.
The PenFed website shares tools to help you make smart decisions regarding your loan, including up-to-date interest rates and calculators to estimate your loan terms. You can easily prequalify on its website.
Fair credit isn't a barrier to auto loan approval. People with worse scores can still get approved, but the lower your score, the higher your interest rate will be.
3. RefiJet: Best For Refinancing
Refinancing your loan could help you save money by locking in a lower interest rate or possibly lowering your monthly payment. To qualify for a better rate, though, you typically need a great credit score. RefiJet helps you reap the benefits of refinancing your auto loan even if you have fair credit.
With RefiJet, you can get pre-qualified online to receive several options from lenders all in one place. Prequalifying is easy to do online and won't hurt your score.
Once you review your offers from different auto lenders and choose the best options, RefiJet helps streamline the process by handling all the paperwork to submit to the lender. 
People who use RefiJet save an average of $150 per month on their auto loan and enjoy up to two months of not having a loan payment after refinancing. You can also refinance to remove a co-signer, buy out your lease, or get cash back from some of the equity you have in your vehicle. 
4. Car.Loan.Com: Best For Low Credit Scores
Car.Loan.com Auto Loan simplifies the process of shopping for a car loan online even when you have fair credit or bad credit. You can fill out an auto loan request form on the website to get matched with dealers in your area that can provide a loan. From there, you just head to the dealership and choose a car you'd like to buy knowing that you're already approved for financing. 
With Car.Loan.com, you can still apply for an auto loan if you have a thin credit file or even if there's a bankruptcy on your credit report. This company specializes in bad credit auto financing and works with several partner lenders to help you narrow down the best auto loan for your needs. 
You may even connect with buy here pay here car lots through Car.Loan.com. Buy here pay here lots have in-house financing instead of relying on banks, credit unions, or third-party lenders. They often don't rely on a strict credit rating or even factor in your credit score since they can set their own financing terms and collect loan payments directly from you. 
5. LendingTree: Best For Comparing Options
LendingTree is an online lender marketplace that specializes in several types of loans, including auto loans. While LendingTree is not geared specifically for people with fair credit, you can find a variety of auto loan options in your area based on your financial profile. 
LendingTree allows you to get a free quote online and compare offers from multiple lenders in your area within just minutes. You can shop loan offers based on specifics such as the length of your auto loan term, down payment amount, and even the make of the car you want to finance. 
Keep in mind that LendingTree is a lender network and doesn't issue or service your actual auto loan. Instead, you'll need to apply directly with the lender you choose after comparing loan options.
The following reputable lenders all provide loan offers to LendingTree users. These auto lenders also accept all types of credit and have more flexible loan requirements:
Carvana
Capital One Auto Finance
New Roads
iLending
6. MyAutoloan.Com: Best For Private Party Loans
myAutoloan.com helps you finance a new or used car if you have fair credit or bad credit. Applying online is quick and easy, and this company even has a 4.1 rating out of 5 on Trustpilot.
You just select the type of loan and add your personal information such as your address, employment, and financial data like your income. Even if you have poor credit, you can still receive loan options from multiple lenders. From there, you'll receive offers from different lenders so you can compare your options.
MyAutoloan.com is the best option for buying out your lease as well as private party loans if you don't use a dealership or car lot to make your purchase.
When you're matched with a lender, this doesn't mean you'll be automatically approved so you will still need to submit a formal application. MyAutoloan.com just takes the extra work off your plate by researching lending offers and narrowing down your best option.
How Do I Qualify For an Auto Loan With Fair Credit?
The qualifications for an auto loan for a borrower with fair credit can vary depending on the lender. In general, though, you'll need to be at least 18 years old and earn enough money to show you can make the car payment each month. 
Some lenders prefer that you earn at least $1,500 to $2,000 per month before taxes. This adds up to about $20,000 to $24,000 annually. Even if you meet the minimum income requirements, you may not qualify for a very high loan amount.
The vehicle you're financing should also be 10 years old or newer and have under 125,000 miles. Lenders also consider your existing debt amounts as well as the value of the vehicle compared to the loan amount. 
How Much Should I Put Down For an Auto Loan With Fair Credit?
If you don't have good credit, it could be helpful to make a larger down payment. Some auto lenders don't require a down payment at all, but you must have excellent credit to qualify for this. It's not unheard of for a borrower with a low credit score to have a down payment required by their lender. 
Most auto lenders expect a minimum down payment of $1,000 or 10% of the price of the vehicle. This lowers your total loan amount which will also reduce your loan-to-value ratio. The loan-to-value (LTV) ratio is a percentage that represents the total dollar value of your loan divided by the actual cash value of your vehicle. 

The car often serves as collateral for the loan. If your loan amount is more than the car is actually worth, the lender won't earn their money back if you fail to make payments and they need to seize the car and resell it.
According to Consumer Finance, lenders may seek a larger down payment from you to lower your loan amount and improve your LTV ratio.
What Is the Minimum FICO Score Required For an Auto Loan?
The minimum FICO score required for an auto loan varies since most lenders set their own requirements and standards. Auto loans through banks or credit unions may require a higher FICO score, and you may not qualify for the average interest rate you see advertised.
But some lenders may accept a FICO score as low as 575 for a bad credit auto loan or even a fair credit auto loan. If you're a borrower with fair credit, consider using one of the auto lending companies mentioned above to shop around and compare offers from different lenders without impacting your credit. This will help you avoid multiple hard credit inquiries or get denied by lenders during your search.
Check your credit report and scores before searching for an auto loan, review your credit card balances, and see if there are any errors on your report to dispute. 
Even though you can get approved for an auto loan with a low credit score, you will likely pay a higher interest rate or be limited to a lower loan amount.    
How Can I Increase My Chances of Approval?
There are several things you can do to increase your chances of approval for auto financing. If you have poor credit, start by reviewing your credit history to see where you can make improvements.
Maybe you can pay down a credit card or an account in collections. If you have a thin credit profile or very little history, try getting a credit builder loan or opening a secured credit card. The more you improve your credit score, the better chances you have for approval and a lower auto loan rate. 
Another way to increase your chances of approval is by making a larger down payment. This means you'll need a smaller loan amount. Shopping around for lenders using a company like Auto Credit Express or LendingTree can help maximize your options as well. 

If you're a member of a credit union, such as Navy Federal Credit Union, you can also try to see if they have special options for members. A consumer credit union is owned by the members, and it may have better auto loan options even if you have fair credit.
How is An Auto Loan Different From a Personal Loan?
A personal loan can be used for almost anything from medical bills or home repairs to debt consolidation and college tuition. Meanwhile, an auto loan can only be used to finance or refinance a vehicle. 
Whether you're looking for auto financing or the best personal loan, lenders will still review your credit score to determine your terms. Good credit will help you secure better terms for an auto loan or personal loan.
The average repayment term for a personal loan is two to seven years while it's two to six years for an auto loan.
Personal loans also tend to have higher borrowing limits of up to $100,000, but they can also have higher loan rates as well. When you're looking to buy a car, it's best to choose an auto loan over a personal loan.
Fair Credit Isn't a Barrier to Car Ownership
Having fair credit doesn't prevent you from getting an auto loan. There are plenty of bad credit car loan options available if you're a borrower with fair credit, which means you should be able to easily qualify. Having fair credit also means you are closer to having good credit so focus on improving your credit score and building a positive credit history. 
Shop around and compare auto financing offers from different lenders to avoid too many credit inquiries. This will help you apply for an auto loan quickly and with confidence. 
Advertiser Disclosure
BadCredit.org is a free online resource that offers valuable content and comparison services to users. To keep this resource 100% free for users, we receive advertising compensation from the financial products listed on this page. Along with key review factors, this compensation may impact how and where products appear on the page (including, for example, the order in which they appear). BadCredit.org does not include listings for all financial products.
Our Editorial Review Policy
Our site is committed to publishing independent, accurate content guided by strict editorial guidelines. Before articles and reviews are published on our site, they undergo a thorough review process performed by a team of independent editors and subject-matter experts to ensure the content's accuracy, timeliness, and impartiality. Our editorial team is separate and independent of our site's advertisers, and the opinions they express on our site are their own. To read more about our team members and their editorial backgrounds, please visit our site's About page.