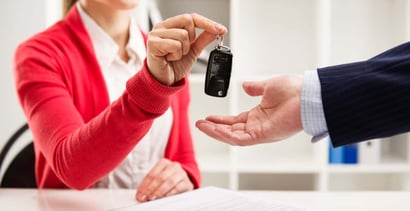 Getting an auto loan can seem near impossible with bad credit. But lenders know that not everyone has perfect credit and some companies cater to poor credit borrowers by offering flexible loan requirements and terms. 
Contrary to popular belief, if you've had negative marks on your account, don't have enough credit history, or have a bankruptcy in your past, you can still qualify for an auto loan if you work with the right lender. A bad credit auto loan may come with more fees or a higher interest rate, but if your bottom line is to get a working car, you still have plenty of options.
Best Car Loan Companies For Bad Credit
The following five companies offer subprime borrowers the best car loan options. It only takes minutes to get preapproved for a car loan online, and you can usually secure your loan the same day you apply.
Auto Credit Express helps you find bad credit financing for new and pre-owned inventory through special lenders that accept bad credit, even if you have a bankruptcy on your credit report. 
The company has been around for decades and can help connect you to local dealerships willing to approve you for a bad credit car loan. These dealers may require as little as $500 or no money down. 
To get started, you need to fill out a quick loan request form online or submit your information by phone. Auto Credit Express doesn't check your credit, but the lender they refer you to may. 
Car.Loan.com Auto Loan is a fast and proven way to find an auto loan lender that accepts bad credit. Its initial process for auto financing involves filling out an online request that just takes three minutes to complete. Then, it will respond within 24 hours (often sooner) with some lender options you can use within its network. This company has been around for more than two decades and is a trusted resource in the subprime auto lending space. 
Car.Loan.com is free to use and works with nationwide lenders and Buy Here Pay Here car lots that offer in-house financing instead of third-party lenders. Buy Here Pay Here lots can help you get approved since they have more freedom to set their financing terms and will consider factors like a consistent income over your credit. 
LendingTree is a well-known place to shop for loans and compare the best rates and lenders. This company partners with many lenders, but not all of them work with borrowers with subprime credit. Still, you will be able to find some options in its nationwide network which features hundreds of lenders — some of which offer new and used car specials.
Some of the lender partners accept credit scores as low as 550 and allow you to borrow more than enough to purchase a used or new car at today's market rates. 
Like many other sites on this list, you can fill out a short form online and receive offers and quotes from auto lenders. LendingTree is free to use and provides ongoing support with free credit monitoring and personalized recommendations. 
myAutoloan.com is another financing option for new or pre-owned vehicles. Start by filling out a short application on the website. You may receive offers from lenders that will look past your credit score, and you can choose which loan terms work for you. 
Lenders will likely look at the length of time you've spent at your current job and your recent pay stubs. If you've filed for bankruptcy in the past, Chapter 7 or Chapter 13 bankruptcies need to be discharged or dismissed before you can apply for an auto loan.
If you're looking to refinance your current auto loan, RefiJet is one of the best options, even if your credit isn't great. This Colorado-based company has a nationwide auto loan refinancing program that can lower your monthly payment (if you qualify for lower interest rates), buy out your lease, or change your loan terms. 
You can prequalify online and receive offers from lenders to refinance your loan. RefiJet also handles all the paperwork and submits it to the lender, so you don't have to complete multiple applications. The average RefiJet customer can save $150 a month on their auto loan, which is $1,800 per year. 
Typical Auto Loan Requirements
Getting approved for a car loan is similar to getting a personal loan. Here are the general requirements to get an auto loan:
Driver's license and proof of residency: A utility bill or lease/mortgage statement can usually serve as proof of residency.
Proof of income and employment: Lenders require proof of income, so you will need to bring one to three of your most recent pay stubs or benefits statements.
Minimum credit score: Each lender has different credit score requirements, but if your credit score is below 600, you may have trouble getting approved for a loan with a traditional lender, such as a bank, credit union, or even a dealership. 
Down payment: Some lenders require a downpayment while others don't, but putting money down will lower the total amount you need to finance. If you have bad credit, it may be harder to find a lender that will approve your loan without a down payment. However, down payment requirements may start low at just $500. 
Of course, the actual requirements vary by lender, but these are the standard criteria.
4 Tips For Loan Approval
Aside from maintaining a high credit score, you can do several other things to improve your chances of getting approved for an auto loan.
Use a cosigner: If you know someone who has a great credit score and is willing to vouch for you, add them to your loan as a cosigner. This can help you get a lower interest rate and better terms. Keep in mind that the cosigner will be responsible for payments if you aren't able to make them, so make sure you give them reassurance that you will make timely payments on your loan or get one month ahead. 
Make a sizable down payment: This can also help you get approved for a loan. A general best practice is to make a down payment that's 10% to 20% of the price of the vehicle. 
Trade-in your car: Trading in your existing vehicle can be helpful if you're looking to finance a new car. Dealerships may offer you a certain price for your car, which can lower your total loan amount. 
Quickly boost your credit score: Consider using a service like Experian Boost to help add positive payment history to your Experian credit report and score.
Overall, it's a good idea to try to lower your loan amount because it reduces the risk to the lender, even if you have a low credit score. Some lenders have a minimum loan amount they will offer, usually about $5,000 to $7,500. 
You can consider a used car that costs less and make a larger down payment so you won't need to borrow as much.
Example Costs of a Bad Credit Auto Loan
Getting an auto loan when you have bad credit can cost you more money over time. But how much more? 
Using an auto loan calculator can help you estimate the cost of your loan, including all the factors that make up your monthly payment. 
According to the Consumer Finance Protection Bureau, the average interest rate for auto loans for subprime credit ranges from 15% to 20%. Auto Loan Express states on its website that its auto loan rates range from 0% to 25%. This means the lower your credit score, the more likely you are to receive an interest rate of around 20% or higher.
For example, say you want to buy a $25,000 car and put $3,000 as a downpayment. You receive a 17% interest rate and your monthly payment for a 60-month loan term is $597.70.
Here's how your total loan costs would break down.
Now, if you have prime or excellent credit, you will qualify for a much lower interest rate. Let's say your rate is now 5.5%. Here's what your total loan costs would be.
As you can see from this example with much lower interest rates, you'd save $138.32 per month or $1,659 per year. 
You'd save $8,299.29 in interest over your 60-month term. Between the monthly payment and interest costs, a bad credit car loan can cost you $10,000.
Not to mention, your insurance rates could be higher since many insurers factor in your credit score when determining premiums. Having bad credit can also lead you to purchase a car that doesn't come with dealership perks, such as an extended warranty or a maintenance plan. 
The bottom line: Having good credit is not required to get an auto loan, but it can save you some money. 
How Does a Car Loan Affect My Credit?
A car loan can have several effects on your credit reports and scores. You may see an initial dip in your credit score because of the hard inquiry placed on your credit report by the lender when it makes your approval decision.
Inquiries, or hard credit checks, represent one factor — new credit — of your FICO Score and are worth 10% of your score.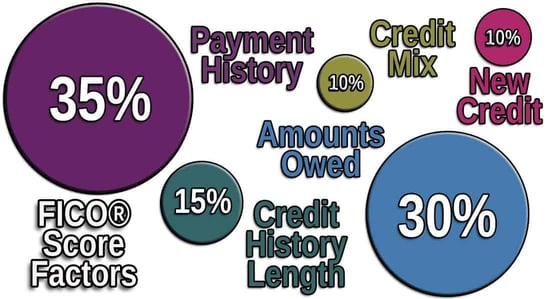 The new account will then be added to your credit reports and will lessen your overall credit history length (15% of your FICO Score).
But an auto loan can also improve your score over time for two reasons. The biggest reason is payment history (35% of your FICO Score) — so long as you repay your loan on time each month, you'll create a positive payment history that will help build and maintain positive credit scores.
Your credit mix (10% of your FICO Score) will also improve because the three major credit bureaus like to see that you can manage a variety of account types well, including student loans, mortgages, credit card accounts, personal loans, and auto loans. 
Is There a Minimum Credit Score or Income to Get a Car Loan?
Ideally, you want to approach auto lenders with a great credit score, but this is not always possible. Each lender has its own minimum credit score requirements to get a car loan. 
Your FICO score ranges from 300 to 850, and big banks tend to look for a credit score of at least 670. Capital One offers to pre-approve borrowers for an auto loan with a soft credit pull so you don't have to worry about submitting a full application and risk not getting approved due to your credit score. 
A bad credit loan comes in handy because even if you can't qualify with a traditional option like Capital One, companies like Auto Credit Express can help you get a loan with a credit score below 670. Some of the lenders in that network work with people who have a credit score of 620 or even lower. 
Income requirements vary among lenders, too. Generally, subprime lenders may require that you earn an average of $1,500 to $2,000 per month before taxes from a single income source. 
In addition to some income and credit requirements, lenders also put limits on the age of your car. If you're looking at preowned inventory at a particular dealer, some lenders may not finance a vehicle more than 10 years old. 
What Should I Look at When Comparing Auto Loan Offers?
When comparing loan offers, be sure to look at the different APR options and whether they change if you adjust your term length. Remember, your minimum payment can be affected by both the interest rate and the repayment term. The longer your loan term, the more likely you are to get a higher interest rate, which increases the overall cost of your loan. 
You may not be able to finance new inventory at a dealership or take advantage of any of those special financing offers with a bad credit score. But it's still possible to find a good loan offer with reasonable fees. 
Use a loan calculator to estimate how much you'd spend on your loan and compare all your options. 
What If I Can't Make My Payments?
Financial hardship can affect anyone at any time. If you cannot make payments on your car, you run the risk of losing your car. Car loans are secured, meaning they're backed by an asset. In this case, the asset is the vehicle, and your auto lender can repossess it if you miss consecutive payments.
Start by contacting your lender to let them know you're struggling to make payments. They may have relief options available or allow you to make a partial payment. Communicating with your lender is important because, if you don't work out an agreement before missing your payment, it may negatively affect your credit score.

If you have good credit and don't want to hurt your score with a missed payment, look into options like refinancing to see if you can lower your interest rate and payment amount. Or, you may even want to trade your car in for a more affordable vehicle. 
In a worst-case scenario, the lender could charge late fees or other penalties and repossess your car. Some lenders allow you to get your car back and reinstate your loan once you get caught up with payments. Either way, this can leave a pretty bad mark on your credit report that can affect your credit score and your ability to get financing for several years.
Car Loans Are Generally Easy to Get, Even With Poor Credit
Getting a car loan with poor credit is possible thanks to auto loan companies that help poor-credit borrowers. Bad credit auto financing is costly, but it gives the borrower a chance to get a vehicle for their transportation needs.
The best car loan for bad credit will depend heavily on your financial situation and which lenders are willing to offer you an auto loan. Start comparing offers from different lenders or use a company like Auto Credit Express or LendingTree to gather quotes from different lenders all in one place. 
Advertiser Disclosure
BadCredit.org is a free online resource that offers valuable content and comparison services to users. To keep this resource 100% free for users, we receive advertising compensation from the financial products listed on this page. Along with key review factors, this compensation may impact how and where products appear on the page (including, for example, the order in which they appear). BadCredit.org does not include listings for all financial products.
Our Editorial Review Policy
Our site is committed to publishing independent, accurate content guided by strict editorial guidelines. Before articles and reviews are published on our site, they undergo a thorough review process performed by a team of independent editors and subject-matter experts to ensure the content's accuracy, timeliness, and impartiality. Our editorial team is separate and independent of our site's advertisers, and the opinions they express on our site are their own. To read more about our team members and their editorial backgrounds, please visit our site's About page.