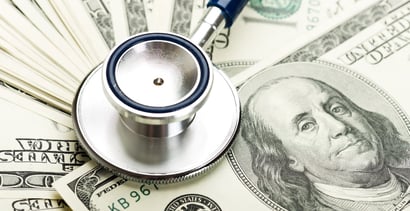 Illness and injury play no favorites — rich or poor, good credit or bad, folks need medical care when they get sick or hurt. Unfortunately, medical bills are often devastating, especially if you have minimal insurance, a bad credit rating, or both.
However, folks have alternatives that can help them manage healthcare costs through medical loans for bad credit, cash advances, public benefits, advocacy groups, and crowdfunding. If your credit leaves much to be desired, read on to learn about the best medical loans and alternatives to help you financially recover from medical problems. We'll look at a number of potential lenders and credit cards that may be well-suited to your unique situation. We'll also explore some options off the beaten path and answer some frequently asked questions.
Lenders | Credit | Alternatives | FAQs
Medical Loan Providers for Bad Credit
The following companies provide personal loans you can use to pay medical bills. Most providers are general loan-matching services, while one — LightStream — offers direct loans. All of these providers work with bad-credit consumers and offer APRs that often beat the rates for credit card advances.
Loans from $500 to $10,000
Receive a loan decision in minutes
Get funds directly to your bank account
Use the loan for any purpose
| Loan Amount | Interest Rate | Loan Term | Loan Example |
| --- | --- | --- | --- |
| $500 to $10,000 | 5.99% - 35.99% | 3 to 72 Months | See representative example |
CashUSA.com matches loan requests of up to $10,000 for any purpose, including paying medical bills. Its network of lenders evaluates your loan request and may make you an offer even if you have bad credit, as long as you earn at least $1,000 per month after taxes. CashUSA.com charges no fees for matching you to a lender.
Loans from $250 to $5,000
Cash deposited directly into your account
Get money as soon as tomorrow
Bad credit OK
More than 750,000 customers since 1998
| Loan Amount | Interest Rate | Loan Term | Loan Example |
| --- | --- | --- | --- |
| $250 to $5,000 | Varies | Varies | See representative example |
CreditLoan matches you to lenders for loans between $250 and $5,000. You can use the loan proceeds for any purpose. Once approved by a lender, you can receive your loan funds in as little as 24 hours. You must be a resident of the United States.
Loans from

$500

to

$10,000

Get connected with a lender
Simple form & quick funding
Get your money as soon as next the business day, if approved
| Loan Amount | Interest Rate | Loan Term | Loan Example |
| --- | --- | --- | --- |
| $500 to $10,000 | 5.99% - 35.99% | 3 to 60 Months | See representative example |
Bad Credit Loans will match loan requests from $500 to $10,000 with the lenders on its network. If you have bad credit, your loan limit will be $1,000. You must have regular income or benefits to qualify for a loan. Terms range from three to 36 months. Bad Credit Loans arranges personal loans you can use for any reason.
Loans from

$1,000

to

$35,000

Large lender network
Fast loan decision
Use the loan for any purpose
Funding as soon as one business day, if approved
| Loan Amount | Interest Rate | Loan Term | Loan Example |
| --- | --- | --- | --- |
| $500 to $35,000 | 5.99% - 35.99% | 3 to 72 Months | See representative example |
PersonalLoans.com facilitates personal loans from $1,000 to $35,000 to consumers with credit scores as low as 580. You'll need a minimum monthly gross income of $2,000 from a job, Social Security, disability benefits, or some other reliable source. PersonalLoans®.com does not do a hard credit pull when you apply for its matching service and charges no fee.
5. LightStream


LightStream, a division of SunTrust Bank, offers direct medical financing with APRs starting at 5.95% (when you use automatic repayments) and maxing out at 17.29%.
You can borrow as much as $100,000 with up to a 72-month loan term, or you can choose an 84-month term for loans starting at $25,000. You can use LightStream medical loans for any medical expenses. This lender guarantees that it will beat competitor rates by 0.10 percentage points.
6. American Medical Loans
American Medical Loans


is a loan matching service with a network of financial services companies. If you have a low credit score, you can apply for a bad credit medical loan with American Medical Loans.
You can use the loan proceeds to pay for general medical care, surgery, in vitro fertilization, dental/orthodontic care, vision care, cosmetic surgery, and alternative medical care. The matching service offered by American Medical Loans is free to consumers.
7. AMS Financial


AMS Financial, a DBA for Shogun Enterprises, is a matching service for medical financing and health care loans. When you request a medical loan, AMS Financial collects basic information and generates leads for the lenders on its network.
AMS Financial plays no role in making loan decisions, nor does it endorse the actual lenders. Its lender network includes more than 25 medical and dental loans and medical credit card options for consumers with bad credit.
Credit Card Medical Loans for Bad Credit
Credit card purchases and advances can provide you with at least some of the financing you need to pay medical bills, but a bad credit score may put most credit cards beyond your reach. That's not the case with these three cards, all designed to work with consumers who have poor or no credit. These cards require you to have a checking account.
Up to $1,000 credit limit doubles up to $2,000! (Simply make your first 6 monthly minimum payments on time)
All credit types welcome to apply!
Monthly Credit Score – Sign up for electronic statements, and get your Vantage 3.0 Score Credit Score From Experian
Initial Credit Limit of $300 – $1,000 (subject to available credit)
Monthly reporting to the three major credit bureaus
See if you're Pre-Qualified without impacting your credit score
Fast and easy application process; results in seconds
Online account access 24/7
Checking Account Required
| Application Length | Interest Rate | Reports Monthly | Reputation Score |
| --- | --- | --- | --- |
| 9 minutes | 29.99% APR (Variable) | Yes | 8.5/10 |
The Surge® Platinum Mastercard® offers you the opportunity to obtain an unsecured credit card despite having a low credit score. Not unexpectedly, its APR is high due to the risk profiles of its cardholders. But you could receive an initial credit limit of up to $1,000, which may be enough to help with a short-term medical expense.
9. Merrick Bank Double Your Line® Mastercard®
This offer is currently not available.
| Application Length | Interest Rate | Reports Monthly | Reputation Score |
| --- | --- | --- | --- |
| N/A | N/A | N/A | N/A |
The Merrick Bank Double Your Line® Mastercard® gives folks who are rebuilding their credit access to a genuine Mastercard with a credit limit of up to $1,350. Its APR tops out about six percentage points lower than some other unsecured cards for bad credit, making this card the better choice.
10. CareCredit®


The CareCredit® card focuses on medical financing for consumers with all types of credit. It offers deferred-interest financing for a set number of months (6, 12, 18, or 24), and reduced-rate long-term financing for periods from 24 to 60 months.
With deferred-interest financing, you pay no interest if you repay the loan within a specified period. If you miss the deadline, all interest becomes due retroactively. You can apply for the CareCredit® card online or at the office of a participating healthcare provider. Unlike other credit cards, this one never expires.
Alternatives to Medical Loans for Bad Credit
Even if you can't qualify for a medical loan, you may be able to access medical care through one of the following programs. These are a good choice if you are otherwise unable to pay for medical care.
Health Resources & Services Administration


The Health Resources & Services Administration (HRSA) can direct you to a Health Center Program in your area. Health centers are federally funded, community-based organizations offering primary comprehensive medical care.
Charges for services are on a sliding scale, and the centers accept Medicare and Medicaid beneficiaries. They also offer pharmaceutical discounts and vaccinations to children. Services are administered regardless of your ability to pay.
Benefit Finder
Benefit Finder


is a service of Benefits.gov, the official U.S. government source of information for more than 1,200 federal and state assistance programs.
Its purpose is to deliver access to government assistance programs, including those covering medical issues, to eligible residents. Each program listed in the Benefit Finder requires you to fill out an application, which usually takes 10 to 20 minutes.
Insure Kids Now


The federal government's Insure Kids Now website can direct you to your state's Children's Health Insurance Program (CHIP). This program provides health insurance to income-eligible children up to age 19.
Insure Kids Now can also direct you to your state's Medicaid program. Each state sets its own eligibility rules for these programs. Generally, a family of four with an annual income up to $49,200 may be eligible for CHIP.
Crowdfunding Platforms
Crowdfunding platforms offer peer-to-peer (P2P) financing, where individuals make loans to other individuals. Some crowdfunding platforms, such as GoFundMe and CoFund Health, allow individuals to raise donations for various causes, including medical bills.
In all cases, the platforms facilitate the connection between investors/donors and borrowers/recipients. Thanks to their low operating costs, P2P lending platforms can often accommodate folks with bad credit.
Advocacy Groups
Advocacy groups operate to advance an agenda by offering information, organizing events, and lobbying for legislative action. Some also offer limited funding. For example, the Patient Advocacy Group offers financial aid grants to patients meeting specified medical and financial criteria.
Another group, Families USA, advocates on behalf of consumers to make healthcare equally affordable and accessible to all. The National Health Council maintains a national directory of health-related organizations, including patient advocacy groups.
Other Programs
Hill-Burton Obligated Facilities offer free medical care if your income is below the poverty line. You may qualify for reduced costs if your income is less than twice the poverty line. There are around 140 of these clinics nationwide that provide a wide array of medical services.
FreeClinics.com is a state-by-state directory of free medical/healthcare clinics, free walk-in clinics, and sliding-scale clinics. You may be able to receive free medical, dental, and eye care from a clinic listed on this website.
How Do I Qualify and Apply for a Medical Loan?
If you have poor credit, the most straightforward way to get a medical loan is to apply for an online personal or installment loan. The reason is that personal loan providers don't place restrictions on how you spend the loan proceeds, so you can use their loans for any kind of health-related costs. Furthermore, certain online lenders specialize in loans to consumers with poor credit.
Most of the online lenders in this review are loan-matching services. When you use one, you'll fill out two applications:
The matching service requires a preliminary loan request application that collects basic information. The matching service may perform a soft pull of your credit reports that will not lower your score. Based on the information it gathers, the matching service will make your loan request available to its network of direct lenders.
A direct lender on the matching service's network that's interested in offering you a loan will have you complete a detailed loan application requiring more extensive information regarding your income and expenses. The direct lender will do a hard pull of your credit reports, which can temporarily cost you a few points of credit score.
It is the direct lenders, not the matching services, that determine whether you'll receive a loan, as each sets its own underwriting standards. In other words, the matching services provide convenient one-stop shopping for loan providers but play no role in the actual loan offer.
Lightstream is a direct lender rather than a matching service. It requires only a single application form, but you don't get exposure to multiple lenders available to the users of matching services. However, you will have a good idea of a direct lender's loan rates and terms before you apply.
Can Medical Bills Impact Your Credit Score?
Your credit score could suffer if you fail to pay medical bills, but prompt payment will not improve your credit score. That's because the three major credit bureaus (Experian, TransUnion, and Equifax) do not include your medical history on your credit reports.
If you pay your bills within a specified period, your timely payments will have no impact. However, your creditor may decide to sell its delinquent loans to a collection agency. It is the collection agencies, not the doctors or hospitals, that make the credit bureaus aware of the unpaid bills.
The credit bureaus will make note of a medical bill collection once the bill is at least 180 days past due. However, for privacy's sake, your credit report will not divulge the creditor — the doctor or medical office.
If your unpaid medical bills appear on your credit history, expect them to remain for seven years beyond the original delinquency date. You can assume your reported medical bill delinquencies will negatively impact your credit score.
However, thanks to recent regulatory changes, credit bureaus using FICO Score 9 automatically reduce the impact of medical bill delinquencies. Furthermore, the bureaus must remove the derogatory information entirely once you pay the collection.
Some states offer additional protections. For example, Massachusetts and California do not permit medical bills to go to collection when an appeal is pending regarding an insurance denial for necessary medical care. Some states prevent wage garnishments or home liens due to unpaid medical debt.
About 30% of insured Americans with medical expenses of at least $500 in the last two years had their unpaid medical debt forwarded to a collection agency, according to Consumer Reports. However, a large percentage of these collections are the result of errors. Therefore, it's imperative that you periodically check your credit reports and fix any mistakes relating to unpaid medical bills.
What is a Secured Medical Loan?
A secured medical loan is a loan used to pay medical expenses that uses the borrower's assets for collateral. This differs from an unsecured loan, which requires only a signature and an average or better credit score.
Often, the collateral is the equity in your home or automobile, but banks and credit unions also provide cash-secured loans. With these, you put money into an account or CD, where an amount equal to the outstanding loan balance remains frozen until you repay the loan.
The problem with cash-secured loans is that if you had enough cash to secure the loan, you could pay the medical bill directly. It is precisely the lack of cash that prompts patients to seek a medical loan.
Secured medical loans do have attractive features. For one, they often have low APRs because the collateral reduces the risk to lenders. However, a poor credit rating will still increase your loan interest rate. You may be able to get a longer term from a secured loan — up to 10 years or more — and borrow a larger sum based on the value of your collateral.
Without a doubt, patients who have bad credit will find it easier to get a secured medical loan — if they have collateral. On the downside, you can lose your collateral if you don't repay the loan on time. If you use your home as collateral, you'll need to refinance it, which can be costly and time-consuming.
Find the Care You Need with the Right Financing
Everyone has the right to necessary medical care, whatever their financial situation. Nonetheless, folks with bad credit may incur significant medical debt when they get sick or injured.
The medical loans for bad credit reviewed in this article offer a way for patients to get help repaying their medical bills. Other alternatives include getting a peer-to-peer loan or donation from a crowdfunding platform, applying for a grant from a healthcare advocacy organization, and using medical facilities that accept all patients regardless of their ability to pay.
Advertiser Disclosure
BadCredit.org is a free online resource that offers valuable content and comparison services to users. To keep this resource 100% free for users, we receive advertising compensation from the financial products listed on this page. Along with key review factors, this compensation may impact how and where products appear on the page (including, for example, the order in which they appear). BadCredit.org does not include listings for all financial products.
Our Editorial Review Policy
Our site is committed to publishing independent, accurate content guided by strict editorial guidelines. Before articles and reviews are published on our site, they undergo a thorough review process performed by a team of independent editors and subject-matter experts to ensure the content's accuracy, timeliness, and impartiality. Our editorial team is separate and independent of our site's advertisers, and the opinions they express on our site are their own. To read more about our team members and their editorial backgrounds, please visit our site's About page.